Abstract
Objective
We describe our experience with whole-exome sequencing (WES) in fetuses with central nervous system (CNS) abnormalities following a normal chromosomal microarray result.
Methods
During the study period (2014–2017) 7 cases (9 fetuses) with prenatally diagnosed CNS abnormality, whose chromosomal microarray analysis was negative, were offered whole-exome sequencing analysis.
Results
A pathogenic or a likely pathogenic variant was found in 5 cases including a previously described, likely pathogenic de novo TUBA1A variant (Case #1); a previously described homozygous VRK1 variant (Case #2); an X-linked ARX variant (Case #3); a likely pathogenic heterozygous variant in the TUBB3 gene (Case #5). Finally, in two fetuses of the same couple (Case #6), a compound heterozygous state was detected, consisting of the NPHP1 gene deletion and a sequence variant of uncertain significance. Two additional cases had normal WES results.
Conclusion
Whole-exome sequencing may improve prenatal diagnosis in fetuses with CNS abnormalities.
Access options
Access options
Subscribe to Journal
Get full journal access for 1 year
$248.00
only $20.67 per issue
All prices are NET prices.
VAT will be added later in the checkout.
Rent or Buy article
Get time limited or full article access on ReadCube.
from$8.99
All prices are NET prices.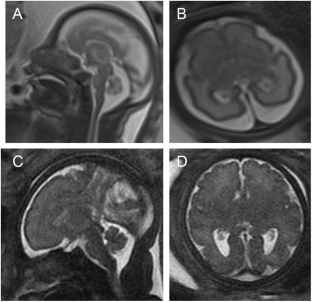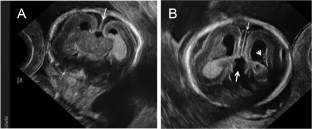 References
1.

Onkar D, Onkar P, Mitra K. Evaluation of fetal central nervous system anomalies by ultrasound and its anatomical co-relation. J Clin Diagn Res. 2014;8:AC05–07.

2.

Sun L, Wu Q, Jiang SW, Yan Y, Wang X, Zhang J, et al. Prenatal diagnosis of central nervous system anomalies by high-resolution chromosomal microarray analysis. Biomed Res Int. 2015;2015:426379.

3.

Huang J, Wah IY, Pooh RK, Choy KW. Molecular genetics in fetal neurology. Semin Fetal Neonatal Med. 2012;17:341–6.

4.

Drury S, Williams H, Trump N, Boustred C, Lench N, Scott RH, et al. Exome sequencing for prenatal diagnosis of fetuses with sonographic abnormalities. Prenat Diagn. 2015;35:1010–7.

5.

Beaudet AL. Using fetal cells for prenatal diagnosis: history and recent progress. Am J Med Genet C Semin Med Genet. 2016;172:123–7.

6.

Du L, Xie HN, Huang LH, Xie YJ, Wu LH. Prenatal diagnosis of submicroscopic chromosomal aberrations in fetuses with ventricular septal defects by chromosomal microarray-based analysis. Prenat Diagn. 2016;36:1178–84.

7.

Yang X, Li R, Fu F, Zhang Y, Li D, Liao C. Submicroscopic chromosomal abnormalities in fetuses with increased nuchal translucency and normal karyotype. J Matern Fetal Neonatal Med. 2017;30:194–8.

8.

Best S, Wou K, Vora N, Van der Veyver IB, Wapner R, Chitty LS. Promises, pitfalls and practicalities of prenatal whole exome sequencing. Prenat Diagn. 2017;38:10–19.

9.

de Wit MC, Srebniak MI, Govaerts LC, Van Opstal D, Galjaard RJ, Go AT. Additional value of prenatal genomic array testing in fetuses with isolated structural ultrasound abnormalities and a normal karyotype: a systematic review of the literature. Ultrasound Obstet Gynecol. 2014;43:139–46.

10.

Charan P, Woodrow N, Walker SP, Ganesamoorthy D, McGillivray G, Palma-Dias R. High-resolution microarray in the assessment of fetal anomalies detected by ultrasound. Aust N Z J Obstet Gynaecol. 2014;54:46–52.

11.

Malinger G, Kidron D, Schreiber L, Ben-Sira L, Hoffmann C, Lev D, et al. Prenatal diagnosis of malformations of cortical development by dedicated neurosonography. Ultrasound Obstet Gynecol. 2007;29:178–91.

12.

Manzini MC, Walsh CA. What disorders of cortical development tell us about the cortex: one plus one does not always make two. Curr Opin Genet Dev. 2011;21:333–9.

13.

Saunders CJ, Miller NA, Soden SE, Dinwiddie DL, Noll A, Alnadi NA, et al. Rapid whole-genome sequencing for genetic disease diagnosis in neonatal intensive care units. Sci Transl Med. 2012;4:154ra135.

14.

Yang Y, Muzny DM, Reid JG, Bainbridge MN, Willis A, Ward PA, et al. Clinical whole-exome sequencing for the diagnosis of mendelian disorders. N Engl J Med. 2013;369:1502–11.

15.

Vora NL, Powell B, Brandt A, Strande N, Hardisty E, Gilmore K, et al. Prenatal exome sequencing in anomalous fetuses: New opportunities and challenges. Genet Med. 2017;19:1207–16.

16.

Lei TY, Fu F, Li R, Wang D, Wang RY, Jing XY, et al. Whole-exome sequencing for prenatal diagnosis of fetuses with congenital anomalies of the kidney and urinary tract. Nephrol Dial Transplant. 2017;32:1665–75.

17.

Abou Tayoun AN, Spinner NB, Rehm HL, Green RC, Bianchi DW. Prenatal DNA sequencing: clinical, counseling, and diagnostic laboratory considerations. Prenat Diagn. 2017;38:26–32.

18.

Kehrer C, Hoischen A, Menkhaus R, Schwab E, Muller A, Kim S, et al. Whole exome sequencing and array-based molecular karyotyping as aids to prenatal diagnosis in fetuses with suspected simpson-golabi-behmel syndrome. Prenat Diagn. 2016;36:961–5.

19.

Casey J, Flood K, Ennis S, Doyle E, Farrell M, Lynch SA. Intra-familial variability associated with recessive ryr1 mutation diagnosed prenatally by exome sequencing. Prenat Diagn. 2016;36:1020–6.

20.

Ellard S, Kivuva E, Turnpenny P, Stals K, Johnson M, Xie W, et al. An exome sequencing strategy to diagnose lethal autosomal recessive disorders. Eur J Hum Genet. 2015;23:401–4.

21.

Drury S, Boustred C, Tekman M, Stanescu H, Kleta R, Lench N, et al. A novel homozygous ercc5 truncating mutation in a family with prenatal arthrogryposis--further evidence of genotype-phenotype correlation. Am J Med Genet A. 2014;164A:1777–83.

22.

Carss KJ, Hillman SC, Parthiban V, McMullan DJ, Maher ER, Kilby MD, et al. Exome sequencing improves genetic diagnosis of structural fetal abnormalities revealed by ultrasound. Hum Mol Genet. 2014;23:3269–77.

23.

Richards S, Aziz N, Bale S, Bick D, Das S, Gastier-Foster J, et al. Standards and guidelines for the interpretation of sequence variants: a joint consensus recommendation of the american college of medical genetics and genomics and the association for molecular pathology. Genet Med. 2015;17:405–24.

24.

Gonzaga-Jauregui C, Lotze T, Jamal L, Penney S, Campbell IM, Pehlivan D, et al. Mutations in vrk1 associated with complex motor and sensory axonal neuropathy plus microcephaly. JAMA Neurol. 2013;70:1491–8.

25.

Renbaum P, Kellerman E, Jaron R, Geiger D, Segel R, Lee M, et al. Spinal muscular atrophy with pontocerebellar hypoplasia is caused by a mutation in the vrk1 gene. Am J Hum Genet. 2009;85:281–9.

26.

Vinograd-Byk H, Sapir T, Cantarero L, Lazo PA, Zeligson S, Lev D, et al. The spinal muscular atrophy with pontocerebellar hypoplasia gene vrk1 regulates neuronal migration through an amyloid-beta precursor protein-dependent mechanism. J Neurosci. 2015;35:936–42.

27.

Parisi MA, Bennett CL, Eckert ML, Dobyns WB, Gleeson JG, Shaw DW, et al. The nphp1 gene deletion associated with juvenile nephronophthisis is present in a subset of individuals with joubert syndrome. Am J Hum Genet. 2004;75:82–91.

28.

Senocak EU, Oguz KK, Haliloglu G, Topcu M, Cila A. Structural abnormalities of the brain other than molar tooth sign in joubert syndrome-related disorders. Diagn Interv Radiol. 2010;16:3–6.

29.

Koyama S, Sato H, Wada M, Kawanami T, Emi M, Kato T. Whole-exome sequencing and digital pcr identified a novel compound heterozygous mutation in the nphp1 gene in a case of joubert syndrome and related disorders. BMC Med Genet. 2017;18:37.

30.

Mackie FL, Carss KJ, Hillman SC, Hurles ME, Kilby MD. Exome sequencing in fetuses with structural malformations. J Clin Med. 2014;3:747–62.

31.

Pangalos C, Hagnefelt B, Lilakos K, Konialis C. First applications of a targeted exome sequencing approach in fetuses with ultrasound abnormalities reveals an important fraction of cases with associated gene defects. PeerJ. 2016;4:e1955.

32.

Committee Opinion no. 682. Microarrays and next-generation sequencing technology: The use of advanced genetic diagnostic tools in obstetrics and gynecology. Obstet Gynecol. 2016;128:e262–e268.

33.

ACMG Board of Directors. Points to consider in the clinical application of genomic sequencing. Genet Med. 2012;14:759–61.

34.

Kalynchuk EJ, Althouse A, Parker LS, Saller DN Jr., Rajkovic A. Prenatal whole-exome sequencing: parental attitudes. Prenat Diagn. 2015;35:1030–6.
Ethics declarations
Conflict of interest
The authors declare that they have no conflict of interest.
Electronic supplementary material
Further reading
Ying Ma

,

Yan Pei

,

Chenghong Yin

,

Yuxin Jiang

,

Jingjing Wang

,

Xiaofei Li

,

Lin Li

,

Karl Oliver Kagan

&

Qingqing Wu

Archives of Gynecology and Obstetrics (2019)

Martina Leombroni

,

Asma Khalil

,

Marco Liberati

&

Francesco D'Antonio

European Journal of Paediatric Neurology (2018)