Abstract
Objective
To examine the relationship between chorionicity and neurodevelopmental outcomes in very low birth weight twins at 3 years of age.
Study design
A retrospective cohort study of 3538 twins who were admitted to 91 tertiary perinatal centers in the Neonatal Research Network of Japan between 2003 and 2012.
Results
In a comparison of the followed-up 796 monochorionic twins and 786 dichorionic twins, the overall rate of neurodevelopmental impairment was higher in monochorionic twins; specifically, the rate of disability in the language-social area of the Japanese standardized developmental test was higher in monochorionic twins than in dichorionic twins (adjusted odds ratio, 1.55; 95% confidence interval, 1.07–2.25; P = 0.02).
Conclusions
Chorionicity was associated with neurodevelopmental outcome (especially for language and social development) in a large cohort of very low birth weight twins who had a high rate of perinatal morbidity and neurodevelopmental impairment.
Access options
Subscribe to Journal
Get full journal access for 1 year
$299.00
only $24.92 per issue
All prices are NET prices.
VAT will be added later in the checkout.
Rent or Buy article
Get time limited or full article access on ReadCube.
from$8.99
All prices are NET prices.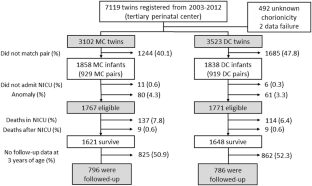 References
1.

Lorenz JM. Neurodevelopmental outcomes of twins. Semin Perinatol. 2012;36(3):201–12.

2.

Steingass KJ, Taylor HG, Wilson-Costello D, Minich N, Hack M. Discordance in neonatal risk factors and early childhood outcomes of very low birth weight (<1.5 kg) twins. J Perinatol. 2013;33(5):388–93.

3.

Gnanendran L, Bajuk B, Oei J, Lui K, Abdel-Latif ME. Neurodevelopmental outcomes of preterm singletons, twins and higher-order gestations: a population-based cohort study. Arch Dis Child Fetal Neonatal Ed. 2015;100(2):F106–114.

4.

Garite TJ, Clark RH, Elliott JP, Thorp JA. Twins and triplets: the effect of plurality and growth on neonatal outcome compared with singleton infants. Am J Obstet Gynecol. 2004;191(3):700–7.

5.

Adegbite AL, Castille S, Ward S, Bajoria R. Neuromorbidity in preterm twins in relation to chorionicity and discordant birth weight. Am J Obstet Gynecol. 2004;190(1):156–63.

6.

Hack KE, Derks JB, Elias SG, Franx A, Roos EJ, Voerman SK, et al. Increased perinatal mortality and morbidity in monochorionic versus dichorionic twin pregnancies: clinical implications of a large Dutch cohort study. BJOG. 2008;115(1):58–67.

7.

Oldenburg A, Rode L, Bodker B, Ersbak V, Holmskov A, Jorgensen FS, et al. Influence of chorionicity on perinatal outcome in a large cohort of Danish twin pregnancies. Ultrasound Obstet Gynecol. 2012;39(1):69–74.

8.

Minakami H, Honma Y, Matsubara S, Uchida A, Shiraishi H, Sato I. Effects of placental chorionicity on outcome in twin pregnancies. A cohort study. J Reprod Med. 1999;44(7):595–600.

9.

Kusuda S, Fujimura M, Uchiyama A, Totsu S, Matsunami K. Trends in morbidity and mortality among very-low-birth-weight infants from 2003 to 2008 in Japan. Pediatr Res. 2012;72(5):531–8.

10.

Yumi K, Jun M, Naohiro Y, Satoshi K, Masanori F. NICU-Network. Outcomes of very-low-birthweight infants at 3 years of age born in 2003-4 in Japan. Pediatr Int. 2011;53(6):1051–8.

11.

Kusuda S, Fujimura M, Sakuma I, Aotani H, Kabe K, Itani Y, et al. Morbidity and mortality of infants with very low birth weight in Japan: center variation. Pediatrics. 2006;118(4):e1130–1138.

12.

Quintero RA, Morales WJ, Allen MH, Bornick PW, Johnson PK, Kruger M. Staging of twin-twin transfusion syndrome. J Perinatol. 1999;19:550–5.

13.

Itabashi K, Fujimura M, Kusuda S, Tamura M, Hayashi T, Takahashi T, et al. New standard of birth weight for gestational age in Japan. J Jpn Pediatr Soc. 2011;114:1271–93. [in Japanese]

14.

Papile LA, Burstein J, Burstein R, Koffler H. Incidence and evolution of subependymal and intraventricular hemorrhage: a study of infants with birth weights less than 1,500 gm. J Pediatr. 1978;92(4):529–34.

15.

Bell MJ, Ternberg JL, Feigin RD, Keating JP, Marshall R, Barton L, et al. Neonatal necrotizing enterocolitis. Therapeutic decisions based upon clinical staging. Ann Surg. 1978;187(1):1–7.

16.

Kono Y, Mishina J, Sato N, Watanabe T, Honma Y. Developmental characteristics of very low-birthweight infants at 18 months' corrected age according to birthweight. Pediatr Int. 2008;50(1):23–28.

17.

Mishina J. Protocols for follow-up of high-risk infants. Perinat Med. 2000;30:1263–72. [in Japanese]

18.

Bax MC. Terminology and classification of cerebral palsy. Dev Med Child Neurol. 1964;6:295–7.

19.

Kono Y, Yonemoto N, Kusuda S, Hirano S, Iwata O, Tanaka K, et al. Developmental assessment of VLBW infants at 18 months of age: a comparison study between KSPD and Bayley III. Brain Dev. 2016;38(4):377–85.

20.

Kanda Y. Investigation of the freely available easy-to-use software 'EZR' for medical statistics. Bone Marrow Transplant. 2013;48(3):452–8.

21.

Hack KEA, Koopman-Esseboom C, Derks JB, Elias SG, de Kleine MJK, Baerts W, et al. Long-term neurodevelopmental outcome of monochorionic and matched dichorionic twins. PLoS ONE. 2009;4(8):e6815.

22.

Edmonds CJ, Isaacs EB, Cole TJ, Rogers MH, Lanigan J, Singhal A, et al. The effect of intrauterine growth on verbal IQ scores in childhood: a study of monozygotic twins. Pediatrics. 2010;126(5):e1095–1101.

23.

Lucas A, Morley R, Cole TJ. Randomised trial of early diet in preterm babies and later intelligence quotient. BMJ. 1998;317(7171):1481–7.

24.

Sago H, Hayashi S, Saito M, Hasegawa H, Kawamoto H, Kato N, et al. The outcome and prognostic factors of twin-twin transfusion syndrome following fetoscopic laser surgery. Prenat Diagn. 2010;30(12-13):1185–91.

25.

Ong SS, Zamora J, Khan KS, Kilby MD. Prognosis for the co-twin following single-twin death: a systematic review. BJOG. 2006;113(9):992–8.
Acknowledgements
Institutions enrolled in the study of the Neonatal Research Network, Japan, were as follows: Sapporo City General Hospital, Asahikawa Kosei General Hospital, Engaru-Kosei General Hospital, Kushiro Red Cross Hospital, Obihiro-Kosei General Hospital, Tenshi Hospital, NTT Higashinihon Sapporo Hospital, Nikko Memorial Hospital, Nayoro City General Hospital, Sapporo Medical University, Asahikawa Medical University, Aomori Prefectural Central Hospital, Iwate Medical University, Iwate Prefectural Ofunato Hospital, Iwate Prefectural Kuji Hospital, Iwate Prefectural Ninohe Hospital, Sendai Red Cross Hospital, Akita Red Cross Hospital, Tsuruoka Municipal Shonai Hospital, Yamagata University, Yamagata Prefectural Central Hospital, Fukushima Medical University, Takeda General Hospital, Fukushima National Hospital, Tsukuba University, Tsuchiura Kyodo Hospital, Ibaraki Children's Hospital, Dokkyo Medical University, Jichi Medical University, Ashikaga Red Cross Hospital, Gunma Children's Medical Center, Kiryu Kosei General Hospital, Fuji Heavy Industries Health Insurance Society Ota Memorial Hospital, Gunma University, Saitama Children's Medical Center, Nishisaitama-chuo National Hospital, Saitama Medical University Saitama Medical Center, Kawaguchi Municipal Medical Center, Jichi Medical University Saitama Medical Center, Asahi General Hospital, Chiba Kaihin Municipal Hospital, Kameda Medical Center, Tokyo Women's Medical University Yachiyo Medical Center, Juntendo University Urayasu Hospital, Tokyo Metropolitan Children's Medical Center, Tokyo Women's Medical University, Aiiku Hospital, Nihon University Itabashi Hospital, National Center for Global Health and Medicine, Tokyo Medical University, Teikyo University, Showa University, Japan Red Cross Medical Center, National Center for Child Health and Development, Tokyo Metropolitan Otsuka Hospital, Toho University, Tokyo Metropolitan Bokuto Hospital, Tokyo Jikei Medical University, Tokyo Medical and Dental University, Saint Luku's International Hospital, Juntendo University, Sanikukai Hospital, Katsushika Red Cross Hospital, Yokohama Rosai Hospital, Yokohama City University Medical Center, St. Marianna University School of Medicine Hospital, Kanagawa Children's Medical Center, Tokai University, Kitazato University, Odawara Municipal Hospital, Nippon Medical School Musashi Kosugi Hospital, Saiseikai Yokohamashi Tobu Hospital, National Hospital Organization Yokohama Medical Center, Yamanashi Prefectural Central Hospital, Nagano Children's Hospital, Shinshu University, Iida Municipal Hospital, National Hospital Organization Shinshu Ueda Medical Center, Saku General Hospital, Niigata University, Niigata Prefectural Central Hospital, Niigata Municipal Hospital, Nagaoka Red Cross Hospital, Koseiren Takaoka Hospital, Toyama Prefectural Central Hospital, Toyama University, Ishikawa Medical Center for Maternal and Child Health, Kanazawa Medical University, Kanazawa Medical Center, Fukui Prefectural Hospital, Fukui University, Gifu Prefectural General Medical Center, National Hospital Organization Nagara Medical Center, Takayama Red Cross Hospital, Seirei Hamamatsu Hospital, Shizuoka Saiseikai Hospital, Shizuoka Children's Hospital, Hamamatsu Medical University, Numazu Municipal Hospital, Yaizu City Hospital, Fujieda Municipal General Hospital, Nagoya Red Cross Daini Hospital, Nagoya University, Nagoya Red Cross Daiichi Hospital, Toyohashi Municipal Hospital, Nagoya City West Medical Center, Anjo kosei Hospital, Tosei General Hospital, Komaki Municipal Hospital, TOYOTA Memorial Hospital, Okazaki Municipal Hospital, Konan Kosei Hospital, National Mie Central Medical Center, Ise Red Cross Hospital, Yokkaichi Municipal Hospital, Otsu Red Cross Hospital, Shiga University of Medical Science Hospital, Nagahama Red Cross Hospital, Uji Tokushukai Hospital, The Japan Baptist Hospital, Kyoto University, Kyoto Red Cross Daiichi Hospital, National Maizuru Medical Center, Fukuchiyama City Hospital, Kyoto Prefectural University of Medicine Hospital, Kyoto City Hospital, Mitsubishi Kyoto Hospital, Yodogawa Christian Hospital, Osaka Medical Center and Research Institute for Maternal and Child Health, Osaka University, Takatsuki General Hospital, Kansai Medical University, Osaka City General Hospital, Osaka City Sumiyoshi Hospital, Aizenbashi Hospital, Toyonaka Municipal Hospital, National Cerebral and Cardiovascular Center, Kitano Hospital, Saiseikai Suita Hospital, Chifune Hospital, Bellland General Hospital, Rinku General Medical Center, Osaka Red Cross Hospital, Yao Municipal Hospital, Osaka General Medical Center, Osaka City University, Hyogo Prefectural Kobe Children's Hospital, Kobe University, Kakogawa West City Hospital, Saiseikai Hyogoken Hospital, Kobe City Medical Center General Hospital, Hyogo College of Medicine Hospital, Himeji Red Cross Hospital, Toyooka Public Hospital, Hyogo Prefectural Awaji Medical Center, Nara Medical University, Wakayama Medical University, Tottori Prefectural Central Hospital, Tottori University, Shimane Prefectural Central Hospital, Matsue Red Cross Hospital, Kurashiki Central Hospital, Tsuyama Central Hospital, Kawasaki Medical School Hospital, National Hospital Organization Okayama Medical Center, Okayama Red Cross Hospital, Hiroshima City Hiroshima Citizens Hospital, Hiroshima Prefectural Hospital, Hiroshima University, Tsuchiya General Hospital, National Hospital Organization Kure Medical Center, Yamaguchi University, Yamaguchi Grand Medical Center, Tokushima University, Tokushima Municipal Hospital, Kagawa University, National Hospital Organization Kagawa Children's Hospital, Matsuyama Red Cross Hospital, Ehime Prefectural Central Hospital, Kochi Health Science Center, St. Mary's Hospital, National Kyushu Medical Center, Kurume University, Kitakyushu Municipal Medical Center, University of Occupational and Environmental Health, Fukuoka University, Kyushu University, Iizuka Hospital, National Hospital Organization Kokura Medical Center, National Hospital Organization Saga Hospital, National Hospital Organization Nagasaki Medical Center, Kumamoto City Hospital, Kumamoto University, Oita Prefectural Hospital, Almeida Memorial Hospital, Nakatsu Municipal Hospital, Miyazaki University, National Hospital Organization Miyakonojo Medical Center, Kagoshima City Hospital, Imakiire General Hospital, Okinawa Prefectural Nanbu Medical Center & Children's Medical Center, Okinawa Prefectural Chubu Hospital, Naha City Hospital, and Okinawa Red Cross Hospital
Ethics declarations
Conflict of interest
The authors declare that they have no conflict of interest.
Electronic supplementary material
About this article
Cite this article
Ichinomiya, K., Maruyama, K., Koizumi, A. et al. Comparison of neurodevelopmental outcomes between monochorionic and dichorionic twins with birth weight ≤ 1500 g in Japan: a register-based cohort study. J Perinatol 38, 1407–1413 (2018). https://doi.org/10.1038/s41372-018-0190-z
Received:

Revised:

Accepted:

Published:

Issue Date:
Further reading
B Tosello

,

A Garbi

,

J Blanc

,

E Lorthe

,

L Foix‐L'Hélias

,

C D'Ercole

,

N Winer

,

D Subtil

,

F Goffinet

,

G Kayem

,

N Resseguier

,

C Gire

,

Pierre‐Yves Ancel

,

Catherine Arnaud

,

Pascal Boileau

,

Thierry Debillon

,

Pierre Delorme

,

Thomas Desplanches

,

Caroline Diguisto

,

Géraldine Gascoin

,

Adrien Gaudineau

,

Bruno Langer

,

Mathilde Letouzey

,

Emeline Maisonneuve

,

Stéphane Marret

,

Isabelle Monier

,

Andrei Morgan

,

Jean‐Christophe Rozé

,

Thomas Schmitz

,

Loïc Sentilhes

,

Héloïse Torchin

,

Christophe Vayssière

&

Jennifer Zeitlin

BJOG: An International Journal of Obstetrics & Gynaecology (2021)