Abstract
Objective:
To evaluate whether infants with congenital diaphragmatic hernia (CDH) can be safely resuscitated with a reduced starting fraction of inspired oxygen (FiO2) of 0.5.
Study design:
A retrospective cohort study comparing 68 patients resuscitated with starting FiO2 0.5 to 45 historical controls resuscitated with starting FiO2 1.0.
Results:
Reduced starting FiO2 had no adverse effect upon survival, duration of intubation, need for ECMO, duration of ECMO, or time to surgery. Furthermore, it produced no increase in complications, adverse neurological events, or neurodevelopmental delay. The need to subsequently increase FiO2 to 1.0 was associated with female sex, lower gestational age, liver up, lower lung volume–head circumference ratio, decreased survival, a higher incidence of ECMO, longer time to surgery, periventricular leukomalacia, and lower neurodevelopmental motor scores.
Conclusion:
Starting FiO2 0.5 may be safe for the resuscitation of CDH infants. The need to increase FiO2 to 1.0 during resuscitation is associated with worse outcomes.
Relevant articles
Open Access articles citing this article.
Lucy Chai See Lum

,

Tindivanum Muthurangam Ramanujam

…

Chin Seng Gan

BMC Pediatrics Open Access 07 July 2022
Access options
Subscribe to this journal
Receive 12 print issues and online access
$259.00 per year
only $21.58 per issue
Rent or buy this article
Get just this article for as long as you need it
$39.95
Prices may be subject to local taxes which are calculated during checkout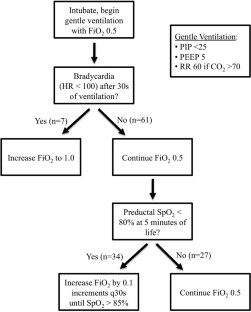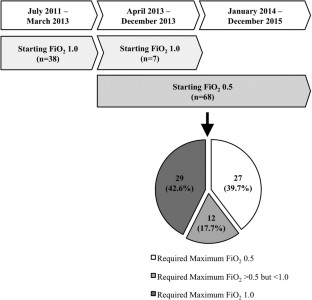 References
Gosche JR, Islam S, Boulanger SC. Congenital diaphragmatic hernia: searching for answers. Am J Surg. 2005;190:324–32.

DiFiore JW, Fauza DO, Slavin R, Wilson JM. Experimental fetal tracheal ligation and congenital diaphragmatic hernia: a pulmonary vascular morphometric analysis. J Pediatr Surg. 1995;30:917–23.

Bloss RS, Aranda JV, Beardmore HE. Congenital diaphragmatic hernia: pathophysiology and pharmacologic support. Surgery. 1981;89:518–24.

Lotze A, Knight GR, Anderson KD, Hull WM, Whitsett JA, O'Donnell RM, et al. Surfactant (beractant) therapy for infants with congenital diaphragmatic hernia on ECMO: evidence of persistent surfactant deficiency. J Pediatr Surg. 1994;29:407–12.

Kumar VHS. Current concepts in the management of congenital diaphragmatic hernia in infants. Indian J Surg. 2015;77:313–21.

Masumoto K, Teshiba R, Esumi G, Nagata K, Takahata Y, Hikino S, et al. Improvement in the outcome of patients with antenatally diagnosed congenital diaphragmatic hernia using gentle ventilation and circulatory stabilization. Pediatr Surg Int. 2009;25:487–92.

te Pas AB, Kamlin CO, Dawson JA, O'Donnell C, Sokol J, Stewart M, et al. Ventilation and spontaneous breathing at birth of infants with congenital diaphragmatic hernia. J Pediatr. 2009;154:369–73.

Kays DW, Langham MR Jr., Ledbetter DJ, Talber JL. Detrimental effects of standard medical therapy in congenital diaphragmatic hernia. Ann Surg. 1999;230:340–8.

Ijsselstijn H, Tibboel D, Hop WJ, Molenaar JC, de Jongste JC. Long-term pulmonary sequelae in children with congenital diaphragmatic hernia. Am J Respir Crit Care Med. 1997;155:174–80.

ECC Guidelines. Neonatal resuscitation. Circulation. 2000;102:I-343–57.

van den Hout L, Sluiter I, Gischler S, De Klein A, Rottier R, Ijsselstijn H, et al. Can we improve the outcome of congenital diaphragmatic hernia? Pediatr Surg Int. 2009;25:733–43.

Perrone S, Bracciali C, Di Virgilio N, Buonocore G. Oxygen use in neonatal care: a two-edged sword. Front Pediatr. 2017;4:143.

Ozxurekci Y, Aykac K. Oxidative stress related diseases in newborns. Oxid Med Cell Longev. 2016;2016:1–9.

Sola A, Rogido MR, Deulofeut R. Oxygen as a neonatal health hazard; call for détente in clinical practice. Acta Paediatr. 2007;96:801–12.

Saugstad OD, Sejersted Y, Solberg R, Wollen EJ, Bjørås M. Oxygenation of the newborn: a molecular approach. Neonatology. 2012;101:315–25.

Minoo P, Segura L, Coalson JJ, King RJ, DeLemos RA. Alterations in surfactant protein gene expression associated with premature birth and exposure to hyperoxia. Am J Physiol. 1991;261:L386–392.

Northway WH, Rosan RC, Porter DY. Pulmonary disease following respiratory therapy of hyaline-membrane disease. N Engl J Med. 1998;267:357–67.

Bancalari E, Gerhardt T. Bronchopulmonary dysplasia. Pediatr Clin North Am. 1986;33:1–23.

Deulofeut R, Sola A. Risk for late bacterial sepsis in infants ≤ 1,000 grams: another beneficial effect of avoiding hyperoxia?. J Investig Med. 2006;54:S276

Victor VM, Rocha M, Esplugues JV, De la Fuente M. Role of free radicals in sepsis: antioxidant therapy. Curr Pharm Des. 2005;11:3141–58.

Lin PW, Stoll BJ. Necrotising enterocolitis. Lancet. 2006;368:1271–83.

Guven A, Gundogdu G, Vurucu S, Uysal B, Oztas E, Ozturk H, et al. Medical ozone therapy reduces oxidative stress and intestinal damage in an experimental model of necrotizing enterocolitis in neonatal rats. J Pediatr Surg. 2009;44:1730–5.

Wheatley CM, Dickinson JL, Mackey DA, Craig JE, Sale MM. Retinopathy of prematurity: recent advances in our understanding. Arch Dis Child Fetal Neonatal Ed. 2002;87:F78–82.

Saldeño YP, Favareto V, Mirpuri J. Prolonged persistent patent ductus arteriosus: potential perdurable anomalies in premature infants. J Perinatol. 2012;32:953–8.

Perrone S, Tataranno LM, Stazzoni G, Ramenghi L, Buonocore G. Brain susceptibility to oxidative stress in the perinatal period. J Matern Fetal Neonatal Med. 2015;28:2291–5.

Volpe JJ. Neurobiology of periventricular leukomalacia in the premature infant. Pediatr Res. 2001;50:553–62.

Ramani M, van Groen T, Kadish I, Bulger A, Ambalavanan N. Neurodevelopmental impairment following neonatal hyperoxia in the mouse. Neurobiol Dis. 2013;50:69–75.

Saugstad OD. Take a breath—but do not add oxygen (if not needed). Acta Paediatr. 2007;96:789–800.

Naumburg E, Bellocco R, Cnattingius S, Johnson A, Ekbom A. Supplementary oxygen and risks of childhood lymphatic leukaemia. Acta Pediatr. 2002;91:1233–328.

Spector LG, Klebanoff MA, Feussner JH, Georgieff MK, Ross JA. Childhood cancer following neonatal oxygen supplementation. J Pediatr. 2005;147:27–31.

Paneth N. The evidence mounts against use of pure oxygen in newborn resuscitation. J Pediatr. 2005;147:4–6.

The Neonatal Inhaled Nitric Oxide Study Group (NINOS). Inhaled nitric oxide and hypoxic respiratory failure in infants with congenital diaphragmatic hernia. Pediatrics. 1997;99:838–45.

Porta NFM, Steinhorn RH. Pulmonary vasodilator therapy in the NICU: inhaled nitric oxide, sildenafil, and other pulmonary vasodilating agents. Clin Perinatol. 2012;39:149–64.

Lakshminrusimha S, Russell JA, Steinhorn RH, Swartz DD, Ryan RM, Gugino SF, et al. Pulmonary hemodynamics in neonatal lambs resuscitated with 21%, 50%, and 100% oxygen. Pediatr Res. 2007;62:313–8.

Lakshminrusimha S, Swartz DD, Gugino SF, Ma CX, Wynn KA, Ryan RM, et al. Oxygen concentration and pulmonary hemodynamics in newborn lambs with pulmonary hypertension. Pediatr Res. 2009;66:539–44.

Farrow KN, Groh BS, Schumacker PT, Lakshminrusimha S, Czech L, Gugino SF, et al. Hyperoxia increases phosphodiesterase 5 expression and activity in ovine fetal pulmonary artery smooth muscle cells. Circ Res. 2008;102:226–33.

Snoek KG, Reiss IK, Greenough A, Capolupo I, Urlesberger B, Wessel L, et al. Standardized postnatal management of infants with congenital diaphragmatic hernia in Europe: The CDH EURO Consortium Consensus – 2015 Update. Neonatology. 2016;110:66–74.

Sola A. Oxygen saturation in the newborn and the importance of avoiding hyperoxia-induced damage. NeoReviews. 2015;16:e393–405.

Danzer E, Gerdes M, Bernbaum J, D'Agostino J, Bebbington MW, Siegle J, et al. Neurodevelopmental outcome of infants with congenital diaphragmatic hernia prospectively enrolled in an interdisciplinary follow-up program. J Pediatr Surg. 2010;45:1759–66.

Leeuwen L, Walker K, Halliday R, Fitzgerald DA. Neurodevelopmental outcome in congenital diaphragmatic hernia survivors during the first three years. Early Hum Dev. 2014;90:413–5.

Danzer E, Gerdes M, D'Agostino JA, Hoffman C, Bernbaum J, Bebbington W, et al. Longitudinal neurodevelopment and neuromotor outcome in congenital diaphragmatic hernia patients in the first 3 years of life. J Perinatol. 2013;33:893–8.

Danzer E, Zarnow D, Gerdes M, D'Agostino JA, Siegle J, Bebbington MW, et al. Abnormal brain development and maturation on magnetic resonance imaging in survivors of severe congenital diaphragmatic hernia. J Pediatr Surg. 2012;47:453–61.

Bernbaum J, Schwartz IP, Gerdes M, D'Agostino JA, Coburn CE, Polin RA. Survivors of extracorporeal membrane oxygenation at 1 year of age: the relationship of primary diagnosis with health and neurodevelopmental sequelae. Pediatrics. 1995;96:907–13.

D'Agostino JA, Bernbaum JC, Gerdes M, Schwartz IP, Coburn CE, Hirschl RB, et al. Outcome for infants with congenital diaphragmatic hernia requiring extracorporeal membrane oxygenation: the first year. J Pediatr Surg. 1995;30:10–15.

Stolar CJ, Crisafi MA, Driscoll YT. Neurocognitive outcome for neonates treated with extracorporeal membrane oxygenation: are infants with congenital diaphragmatic hernia different? J Pediatr Surg. 1995;30:366–71.

Kapadia VS, Chalek LF, Sparks JE, Allen JR, Savani RC, Wyckoff MH. Resuscitation of preterm neonates with limited versus high oxygen strategy. Pediatrics. 2013;132:e1488–e1496.
Acknowledgements
Research reported in this study was supported by the National Center for Advancing Translational Sciences of the National Institutes of Health under award number TL1TR001880 for author JSR.
Ethics declarations
Conflict of interest
:The authors declare that they have no conflict of interest.
Electronic supplementary material
About this article
Cite this article
Riley, J.S., Antiel, R.M., Rintoul, N.E. et al. Reduced oxygen concentration for the resuscitation of infants with congenital diaphragmatic hernia. J Perinatol 38, 834–843 (2018). https://doi.org/10.1038/s41372-017-0031-5
Received:

Revised:

Accepted:

Published:

Issue Date:

DOI: https://doi.org/10.1038/s41372-017-0031-5
This article is cited by
Lucy Chai See Lum
Tindivanum Muthurangam Ramanujam
Chin Seng Gan

BMC Pediatrics (2022)

Michelle J. Yang
Stephen Fenton
Bradley A. Yoder

Journal of Perinatology (2020)