Abstract
This study aims to assess the associations of functional outcomes following acute ischemic stroke (IS) with ambulatory pulse rate (PR) and characterize the time-variant properties of the associations. The prospective cohort consisted of 1831 patients who had ambulatory blood pressure (BP) and PR monitoring following acute IS, and neurologic status evaluated at discharge and 3-month follow-up. The neurologic disability was defined as modified Rankin Scale ≥3. Logistic regression and generalized penalized functional regression models were used to examine the associations of ambulatory BP and PR with neurologic disability. Adjusting for covariates, the neurologic disability at discharge and 3-month was associated with high average 24-h, daytime, and nocturnal PR (odds ratio, OR = 1.20–1.34; p < 0.05 for all), high standard derivation of nocturnal PR (OR = 1.19 and 1.32; p < 0.05 for both), and low nocturnal PR decline (OR = 0.76 and 0.76; p < 0.05 for both). The OR functions of ambulatory PR on neurologic disability were "W-shaped" from 0 a.m. to 12 p.m., with ORs >1 in the wee hours and at noon, and ORs <1 before dawn and at night. The ambulatory BP profiles were not associated with neurologic disability at discharge or 3-month. The ambulatory PR is associated with the risk of short-term neurologic disability of stroke patients, with four different phases in a 24-h cycle. Ambulatory PR monitoring, especially nocturnal PR monitoring, has significant clinical implications for the prevention of short-term neurologic disability in stroke inpatients.
Access options
Subscribe to Journal
Get full journal access for 1 year
$119.00
only $9.92 per issue
All prices are NET prices.
VAT will be added later in the checkout.
Tax calculation will be finalised during checkout.
Buy article
Get time limited or full article access on ReadCube.
$32.00
All prices are NET prices.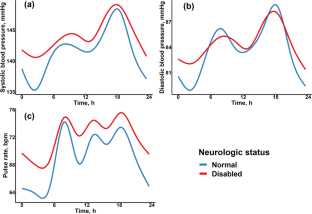 Data availability
Data are available upon reasonable request. All data are available to researchers on request for purposes of reproducing the results or replicating the procedure by directly contacting the corresponding author.
References
O'Donnell MJ, Xavier D, Liu L, Zhang H, Chin SL, Rao-Melacini P, et al. Risk factors for ischaemic and intracerebral haemorrhagic stroke in 22 countries (the INTERSTROKE study): a case-control study. Lancet. 2010;376:112–23.

Webb AJ, Fischer U, Mehta Z, Rothwell PM. Effects of antihypertensive-drug class on interindividual variation in blood pressure and risk of stroke: a systematic review and meta-analysis. Lancet. 2010;375:906–15.

Lawes CM, Hoorn SV, Rodgers A. Global burden of blood-pressure-related disease, 2001. Lancet. 2008;371:1513–8.

Lewington S, Clarke R, Qizilbash N, Peto R, Collins R,Prospective Studies Collaboration. Age-specific relevance of usual blood pressure to vascular mortality: a meta-analysis of individual data for one million adults in 61 prospective studies. Lancet. 2002;360:1903–13.

Yang W-Y, Melgarejo JD, Thijs L, Zhang Z-Y, Boggia J, Wei F-F, et al. Association of office and ambulatory blood pressure with mortality and cardiovascular outcomes. JAMA. 2019;322:409.

Mancia G, Verdecchia P. Clinical value of ambulatory blood pressure: evidence and limits. Circ Res. 2015;116:1034–45.

Boggia J, Li Y, Thijs L, Hansen TW, Kikuya M, Björklund-Bodegård K, et al. Prognostic accuracy of day versus night ambulatory blood pressure: a cohort study. Lancet. 2007;370:1219–29.

Staessen JA, Beilin L, Parati G, Waeber B, White W. Task force IV: clinical use of ambulatory blood pressure monitoring. Blood Press Monit. 1999;4:319–31.

Kikuya M, Ohkubo T, Asayama K, Metoki H, Obara T, Saito S, et al. Ambulatory blood pressure and 10-year risk of cardiovascular and noncardiovascular mortality: the Ohasama study. Hypertension. 2005;45:240–5.

Verdecchia P, Schillaci G, Reboldi G, Franklin SS, Porcellati C. Different prognostic impact of 24-hour mean blood pressure and pulse pressure on stroke and coronary artery disease in essential hypertension. Circulation. 2001;103:2579–84.

Pierdomenico SD, Pierdomenico AM, Cuccurullo F. Morning blood pressure surge, dipping, and risk of ischemic stroke in elderly patients treated for hypertension. Am J Hypertens. 2014;27:564–70.

Clement DL, De Buyzere ML, De Bacquer DA, de Leeuw PW, Duprez DA, Fagard RH, et al. Prognostic value of ambulatory blood-pressure recordings in patients with treated hypertension. N Engl J Med. 2003;348:2407–15.

Tomii Y, Toyoda K, Suzuki R, Naganuma M, Fujinami J, Yokota C, et al. Effects of 24-hour blood pressure and heart rate recorded with ambulatory blood pressure monitoring on recovery from acute ischemic stroke. Stroke. 2011;42:3511–7.

Zhao J, Yuan F, Fu F, Liu Y, Xue C, Wang K, et al. Blood pressure variability and outcome in acute severe stroke: a post hoc analysis of CHASE-A randomized controlled trial. J Clin Hypertens Greenwich Conn. 2021;23:96–102.

Xu J, Liu Y, Tao Y, Xie X, Gu H, Pan Y, et al. The design, rationale, and baseline characteristics of a nationwide cohort registry in China: blood pressure and clinical outcome in TIA or ischemic stroke. Patient Prefer Adherence. 2016;10:2419–27.

Yamamoto Y, Akiguchi I, Oiwa K, Satoi H, Kimura J. Diminished nocturnal blood pressure decline and lesion site in cerebrovascular disease. Stroke. 1995;26:829–33.

O'Brien E, Parati G, Stergiou G, Asmar R, Beilin L, Bilo G, et al. European Society of Hypertension Position Paper on ambulatory blood pressure monitoring. J Hypertens. 2013;31:1731–68.

Verdecchia P, Angeli F, Mazzotta G, Garofoli M, Ramundo E, Gentile G, et al. Day-night dip and early-morning surge in blood pressure in hypertension: prognostic implications. Hypertension. 2012;60:34–42.

Sheppard JP, Hodgkinson J, Riley R, Martin U, Bayliss S, McManus RJ. Prognostic significance of the morning blood pressure surge in clinical practice: a systematic review. Am J Hypertens. 2015;28:30–41.

Broderick JP, Adeoye O, Elm J. Evolution of the modified rankin scale and its use in future. Stroke Trials Stroke. 2017;48:2007–12.

Goldsmith J, Bobb J, Crainiceanu CM, Caffo B, Reich D. Penalized functional regression. J Comput Graph Stat. 2011;20:830–51.

Appiah KO, Nath M, Manning L, Davison WJ, Mazzucco S, Li L, et al. Increasing blood pressure variability predicts poor functional outcome following acute stroke. J Stroke Cerebrovasc Dis J Natl Stroke Assoc. 2021;30:105466.

Naito H, Hosomi N, Kuzume D, Nezu T, Aoki S, Morimoto Y, et al. Increased blood pressure variability during the subacute phase of ischemic stroke is associated with poor functional outcomes at 3 months. Sci Rep. 2020;10:811.

Zhang Y, Wang H, Xu K, Wang P, Li X-Y, Zhao J-B, et al. Ambulatory blood pressure variability within the first 24 h after admission and outcomes of acute ischemic stroke. J Am Soc Hypertens. 2018;12:195–203.

Lee K-J, Kim BJ, Han M-K, Kim J-T, Choi K-H, Shin D-I, et al. Effect of heart rate on stroke recurrence and mortality in acute ischemic stroke with atrial fibrillation. Stroke. 2020;51:162–9.

Nolte CH, Erdur H, Grittner U, Schneider A, Piper SK, Scheitz JF, et al. Impact of heart rate on admission on mortality and morbidity in acute ischaemic stroke patients—results from VISTA. Eur J Neurol. 2016;23:1750–6.

Vazir A, Claggett B, Cheng S, Skali H, Shah A, Agulair D, et al. Association of resting heart rate and temporal changes in heart rate with outcomes in participants of the atherosclerosis risk in communities study. JAMA Cardiol. 2018;3:200.

Kabutoya T, Hoshide S, Ishikawa J, Eguchi K, Shimada K, Kario K. The effect of pulse rate and blood pressure dipping status on the risk of stroke and cardiovascular disease in Japanese hypertensive patients. Am J Hypertens. 2010;23:749–55.

Routledge FS, McFetridge-Durdle JA, Dean CR, Canadian Hypertension Society. Night-time blood pressure patterns and target organ damage: a review. Can J Cardiol. 2007;23:132–8.

Hajjar I, Zhao P, Alsop D, Abduljalil A, Selim M, Novak P, et al. Association of blood pressure elevation and nocturnal dipping with brain atrophy, perfusion and functional measures in stroke and nonstroke individuals. Am J Hypertens. 2010;23:17–23.

Li Y, Thijs L, Hansen TW, Kikuya M, Boggia J, Richart T, et al. Prognostic value of the morning blood pressure surge in 5645 subjects from 8 populations. Hypertension. 2010;55:1040–8.

Ali K, Leong KMW, Houlder S, Getov S, Lee R, Rajkumar C. The relationship between dipping profile in blood pressure and neurologic deficit in early acute ischemic stroke. J Stroke Cerebrovasc Dis. 2011;20:10–15.

Kario K. Morning surge in blood pressure and cardiovascular risk: evidence and perspectives. Hypertension. 2010;56:765–73.

Luo Y, Wang Y, Wu Y, Xu Y, Head GA, Barry M, et al. Association between the rate of the morning surge in blood pressure and cardiovascular events and stroke. Chin Med J. 2013;126:510–4.

Turin TC, Kita Y, Rumana N, Takashima N, Ichikawa M, Sugihara H, et al. Morning surge in circadian periodicity of ischaemic stroke is independent of conventional risk factor status: findings from the Takashima Stroke Registry 1990-2003. Eur J Neurol. 2009;16:843–51.

Kario K, Pickering TG, Hoshide S, Eguchi K, Ishikawa J, Morinari M, et al. Morning blood pressure surge and hypertensive cerebrovascular disease: role of the alpha adrenergic sympathetic nervous system. Am J Hypertens. 2004;17:668–75.
Ethics declarations
Competing interests
The authors declare no competing interests.
Additional information
Publisher's note Springer Nature remains neutral with regard to jurisdictional claims in published maps and institutional affiliations.
Supplementary information
Rights and permissions
Springer Nature or its licensor holds exclusive rights to this article under a publishing agreement with the author(s) or other rightsholder(s); author self-archiving of the accepted manuscript version of this article is solely governed by the terms of such publishing agreement and applicable law.
About this article
Cite this article
Fan, B., Lv, W., Xu, J. et al. Time-variant associations of ambulatory pulse rate with short-term neurologic functional outcomes following acute ischemic stroke. J Hum Hypertens (2022). https://doi.org/10.1038/s41371-022-00763-0
Received:

Revised:

Accepted:

Published:

DOI: https://doi.org/10.1038/s41371-022-00763-0