Abstract
Hypertension in reproductive age women, particularly in low-and-middle income countries (LMICs) is an area that is less explored. This study assesses the risk of hypertension in relation to two critical women's health issues in the LMICs – child marriage and adolescent childbearing. The health consequences of these issues have been primarily studied in the context of reproductive health. There is a dearth of evidence on the long-term health outcomes associated with these early life events. The current study, by linking child marriage and adolescent motherhood with hypertension in young adult and early middle-aged women, is commensurate with the body of literature that examines the link between potentially early adversity and later life risk of chronic health outcomes. Using the most recent data on 582,358 women aged 20 to 49 years from India, this study examined whether child brides and adolescent mothers at age 20 s, 30 s, and 40 s had a higher risk of having hypertension compared to women who were not married before age 18 years or did not give birth by age 19 years in respective age groups. Estimating multivariable logistic regressions, we found that child brides and adolescent mothers were about 1.2 times more likely to have hypertension later in life. The elevated risk of hypertension among child brides and adolescent mothers were evident at every age group. These results were robust after controlling for various sociodemographic, anthropometric, and behavioral characteristics as well as across urban and rural, and poor and non-poor subgroups.
Access options
Subscribe to this journal
Receive 12 digital issues and online access to articles
$119.00 per year
only $9.92 per issue
Rent or buy this article
Get just this article for as long as you need it
$39.95
Prices may be subject to local taxes which are calculated during checkout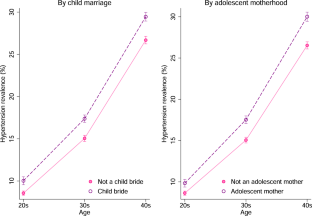 References
Pletcher MJ, Vittinghoff E, Thanataveerat A, Bibbins-Domingo K, Moran AE. Young adult exposure to cardiovascular risk factors and risk of events later in life: the framingham offspring study. PloS one. 2016;11:e0154288.

Vogel B, Acevedo M, Appelman Y, Merz CN, Chieffo A, Figtree GA, et al. The Lancet women and cardiovascular disease Commission: reducing the global burden by 2030. Lancet. 2021;397:2385–438.

Mills KT, Bundy JD, Kelly TN, Reed JE, Kearney PM, Reynolds K, et al. Global disparities of hypertension prevalence and control: a systematic analysis of population-based studies from 90 countries. Circulation. 2016;134:441–50.

Ahmad A, Oparil S. Hypertension in women: recent advances and lingering questions. Hypertension. 2017;70:19–26.

Chen HY, Chauhan SP. Hypertension among women of reproductive age: Impact of 2017 American College of Cardiology/American Heart Association high blood pressure guideline. Int J Cardiol Hypertension. 2019;1:100007.

Azeez O, Kulkarni A, Kuklina EV, Kim SY, Cox S. Hypertension and diabetes in non-pregnant women of reproductive age in the United States. Preventing Chronic Disease. 2019;16:190105.

Pradhan R, Wynter K, Fisher J. Factors associated with pregnancy among adolescents in low-income and lower middle-income countries: a systematic review. J Epidemiol Community Health. 2015;69:918–24.

Fan S, Koski A. The health consequences of child marriage: a systematic review of the evidence. BMC Pub Health. 2022;22:1–7.

Amjad S, MacDonald I, Chambers T, Osornio‐Vargas A, Chandra S, Voaklander D, et al. Social determinants of health and adverse maternal and birth outcomes in adolescent pregnancies: a systematic review and meta‐analysis. Paediatr Perinat Epidemiol. 2019;33:88–99.

Grønvik T, Fossgard, Sandøy I. Complications associated with adolescent childbearing in Sub-Saharan Africa: A systematic literature review and meta-analysis. PloS One. 2018;13:e0204327.

Vikram K. Early marriage and health among women at midlife: Evidence from India. J Marriage Fam. 2021;83:1480–501.

Efevbera Y, Bhabha J, Farmer P, Fink G. Girl child marriage, socioeconomic status, and undernutrition: evidence from 35 countries in Sub-Saharan Africa. BMC Med. 2019;17:1–2.

Datta BK, Husain MJ, Kostova D. Hypertension in women: the role of adolescent childbearing. BMC Pub Health. 2021;21:1–4.

Datta B, Tiwari A. Adding to her woes: child bride's higher risk of hypertension at young adulthood. J Pub Health. 2022;fdac026. https://doi.org/10.1093/pubmed/fdac026.

International Institute for Population Sciences (IIPS) and ICF. National Family Health Survey (NFHS-5), 2019-21: India. Mumbai: IIPS. 2021.

Moser KA, Agrawal S, Davey Smith G, Ebrahim S. Socio-demographic inequalities in the prevalence, diagnosis and management of hypertension in India: analysis of nationally representative survey data. PloS One. 2014;9:e86043.

Prenissl J, Manne-Goehler J, Jaacks LM, Prabhakaran D, Awasthi A, Bischops AC, et al. Hypertension screening, awareness, treatment, and control in India: a nationally representative cross-sectional study among individuals aged 15 to 49 years. PLoS Med. 2019;16:e1002801.

Scott J, McMillian‐Bohler J, Johnson R, Simmons LA. Adverse childhood experiences and blood pressure in women in the United States: a systematic review. J Midwifery Women's Health. 2021;66:78–87.

Godoy LC, Frankfurter C, Cooper M, Lay C, Maunder R, Farkouh ME. Association of adverse childhood experiences with cardiovascular disease later in life: a review. JAMA Cardiol. 2021;6:228–35.

Rosendaal NT, Pirkle CM. Age at first birth and risk of later-life cardiovascular disease: a systematic review of the literature, its limitation, and recommendations for future research. BMC Pub Health. 2017;17:1–5.

Grandi SM, Filion KB, Yoon S, Ayele HT, Doyle CM, Hutcheon JA, et al. Cardiovascular disease-related morbidity and mortality in women with a history of pregnancy complications: systematic review and meta-analysis. Circulation. 2019;139:1069–79.

August P, Oparil S. Hypertension in women. J Clin Endocrinol Metab. 1999;84:1862–6.

Suvila K, Langén V, Cheng S, Niiranen TJ. Age of hypertension onset: overview of research and how to apply in practice. Curr Hypertension Rep. 2020;22:1–8.

Wang C, Yuan Y, Zheng M, Pan AN, Wang M, Zhao M, et al. Association of age of onset of hypertension with cardiovascular diseases and mortality. J Am Coll Cardiol. 2020;75:2921–30.

Escobar E. Hypertension and coronary heart disease. J Hum Hypertension. 2002;16:S61–3.

Amarchand R, Kulothungan V, Krishnan A, Mathur P. Hypertension treatment cascade in India: results from National Noncommunicable Disease Monitoring Survey. J Hum Hypertens. 2022. https://doi.org/10.1038/s41371-022-00692-y.

Haider MR, Gupta RD. Inequalities in Undiagnosed Hypertension Among Adult Population in Bangladesh: Evidence from a Nationally Representative Survey. High Blood Pressure & Cardiovascular. Prevention 2022;29:57–64.

Haider MR, Gupta RD. Inequalities in undiagnosed hypertension among adult Nepalese population: evidence from a nationally representative survey. Int J Cardiol Hypertension. 2020;5:100026.

Parsons J, Edmeades J, Kes A, Petroni S, Sexton M, Wodon Q. Economic impacts of child marriage: a review of the literature. Rev Faith Int Aff. 2015;13:12–22.

Ghosh S, Kumar M. Prevalence and associated risk factors of hypertension among persons aged 15–49 in India: a cross-sectional study. BMJ Open. 2019;9:e029714.

Government of India. National Multisectoral Action Plan for Prevention and Control of Common Noncommunicable Diseases: 2017–2022. Ministry of Health & Family Welfare. https://main.mohfw.gov.in/Major-Programmes/non-communicable-diseases-injury-trauma/Non-Communicable-Disease-II/National-Programme-for-Prevention-and-Control-of-Cancer-Diabetes-Cardiovascular-diseases-and-Stroke-NPCDCS. 2017 Oct.

Patel SA, Vashist K, Jarhyan P, Sharma H, Gupta P, Jindal D, et al. A model for national assessment of barriers for implementing digital technology interventions to improve hypertension management in the public health care system in India. BMC Health Serv Res. 2021;21:1–1.
Funding
This research did not receive any specific grant from funding agencies in the public, commercial, or not-for-profit sectors.
Ethics declarations
Competing interests
The authors declare no competing interests.
Ethical approval
The study used anonymized data from publicly available secondary source, and, therefore, ethics committee approval was not required. Participation in the survey was voluntary and informed consent was obtained prior interview. The survey protocols are reviewed and approved by the institutional review boards of the ICF and the International Institute for Population Sciences. Details of the ethical review of the NFHS-5 are available at: https://dhsprogram.com/Methodology/Protecting-the-Privacy-of-DHS-Survey-Respondents.cfm. The methods were carried out in accordance with the "U.S. Department of Health and Human Services regulations for the protection of human subjects" and relevant national guidelines.
Additional information
Publisher's note Springer Nature remains neutral with regard to jurisdictional claims in published maps and institutional affiliations.
About this article
Cite this article
Datta, B.K., Haider, M.R., Tiwari, A. et al. The risk of hypertension among child brides and adolescent mothers at age 20 s, 30 s, and 40 s: Evidence from India. J Hum Hypertens (2022). https://doi.org/10.1038/s41371-022-00730-9
Received:

Revised:

Accepted:

Published:

DOI: https://doi.org/10.1038/s41371-022-00730-9