Abstract
It is well documented that connective tissue disease (CTD) is a type of autoimmune disease characterized by chronic inflammation, which can occur across various organ systems throughout the whole body. Although the clinical manifestations of CTD are different, studies have shown that different CTD diseases have similar pathogenesis, implying that different CTD diseases may have similar clinical outcomes. Recent population-based studies have demonstrated an increased risk of cardiovascular disease (CVD) in patients with CTD compared with the control group, which is partially attributed to traditional cardiovascular risk factors, such as hypertension (HT), and that controlling the patients' blood pressure (BP) still constitutes one of the most effective means to prevent CVD. Although many studies have shown that the prevalence of HT in patients with CTD is higher than that in the general population, there is a lack of adequate data on the possible pathogenesis of HT. Also, the factors that promote the rise of BP, especially the relationship between connective tissue disease- hypertension (CTD-HT) and traditional cardiovascular risk factors (aging, sex, race, dyslipidemia, diabetes mellitus, smoking, obesity, etc.), have not been fully confirmed. In this review, we explore the mechanisms that might lead to elevated BP in patients with CTD and the factors that contribute to elevated BP and the management of CTD-HT, and we focus on whether traditional cardiovascular risk factors, the disease, and the presence of related therapeutic drugs are associated with an increased risk of HT in patients with CTD.
This is a preview of subscription content
Access options
Subscribe to Journal
Get full journal access for 1 year
$119.00
only $9.92 per issue
All prices are NET prices.
VAT will be added later in the checkout.
Tax calculation will be finalised during checkout.
Buy article
Get time limited or full article access on ReadCube.
$32.00
All prices are NET prices.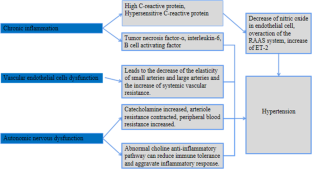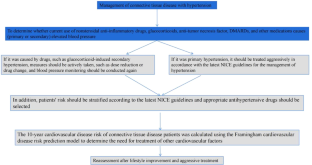 References
Yee CS, Su L, Toescu V, Hickman R, Situnayake D, Bowman S, et al. Birmingham SLE cohort: outcomes of a large inception cohort followed for up to 21 years. Rheumatology. 2015;54:836–43.

Lin CY, Shih CC, Yeh CC, Chou WH, Chen TL, Liao CC. Increased risk of acute myocardial infarction and mortality in patients with systemic lupus erythematosus: two nationwide retrospective cohort studies. Int J Cardiol. 2014;176:847–51.

Brito-Zerón P, Kostov B, Solans R, Fraile G, Suárez-Cuervo C, Casanovas A, et al. Systemic activity and mortality in primary Sjögren syndrome: predicting survival using the EULAR-SS Disease Activity Index (ESSDAI) in 1045 patients. Ann Rheum. Dis. 2016;75:348–55.

Aviña-Zubieta JA, Choi HK, Sadatsafavi M, Etminan M, Esdaile JM, Lacaille D. Risk of cardiovascular mortality in patients with rheumatoid arthritis: a meta-analysis of observational studies. Arthritis Rheum. 2008;59:1690–7.

Bengtsson C, Ohman ML, Nived O, Rantapää Dahlqvist S. Cardiovascular event in systemic lupus erythematosus in northern Sweden: incidence and predictors in a 7-year follow-up study. Lupus. 2012;21:452–9.

Chiu HY, Chang WL, Shiu MN, Huang WF, Tsai TF. Psoriasis is associated with a greater risk for cardiovascular procedure and surgery in patients with hypertension: a nationwide cohort study. J Dermatol. 2018;45:1381–8.

Singh G, Miller JD, Huse DM, Pettitt D, D'Agostino RB, Russell MW. Consequences of increased systolic blood pressure in patients with osteoarthritis and rheumatoid arthritis. J Rheumatol. 2003;30:714–9.

Bartoloni E, Alunno A, Gerli R. Hypertension as a cardiovascular risk factor in autoimmune rheumatic diseases. Nat Rev Cardiol. 2018;15:33–44.

Bartoloni E, Alunno A, Valentini V, Luccioli F, Valentini E, La Paglia G, et al. Role of inflammatory diseases in hypertension. High Blood Press Cardiovasc Prev. 2017;24:353–61.

Gandelman JS, Khan OA, Shuey MM, Neal JE, McNeer E, Dickson A, et al. Increased Incidence of Resistant Hypertension in Patients with Systemic Lupus Erythematosus: A Retrospective Cohort Study. Arthritis Care Res (Hoboken). 2020;72:534–43.

Radner H, Lesperance T, Accortt NA, Solomon DH. Incidence and prevalence of cardiovascular risk factors among patients with rheumatoid arthritis, psoriasis, or psoriatic arthritis. Arthritis Care Res (Hoboken). 2017;69:1510–8.

NCD Risk Factor Collaboration (NCD-RisC). Worldwide trends in blood pressure from 1975 to 2015: a pooled analysis of 1479 population-based measurement studies with 19·1 million participants. Lancet. 2017;389:37–55.

Bellomio V, Spindler A, Lucero E, Berman A, Sueldo R, Berman H. et al. Metabolic syndrome in Argentinean patients with systemic lupus erythematosus. Lupus. 2009;18:1019–25.

Sabio JM, Vargas-Hitos JA, Navarrete-Navarrete N, Mediavilla JD, Jiménez-Jáimez J, Díaz-Chamorro A, et al. Prevalence of and factors associated with hypertension in young and old women with systemic lupus erythematosus. J Rheumatol. 2011;38:1026–32.

Barra LJ, Pope JE, Hitchon C, Boire G, Schieir O, Lin D, et al. The effect of rheumatoid arthritis-associated autoantibodies on the incidence of cardiovascular events in a large inception cohort of early inflammatory arthritis. Rheumatology (Oxford). 2017;56:768–76.

Bartels CM, Johnson H, Voelker K, Thorpe C, McBride P, Jacobs EA, et al. Impact of rheumatoid arthritis on receiving a diagnosis of hypertension among patients with regular primary care. Arthritis Care Res (Hoboken). 2014;66:1281–8.

Souza CS, de Castro CCS, Carneiro FRO, Pinto JMN, Fabricio LHZ, Azulay-Abulafia L, et al. Metabolic syndrome and psoriatic arthritis among patients with psoriasis vulgaris: Quality of life and prevalence. J Dermatol. 2019;46:3–10.

Masson W, Galimberti ML, Anselmi CL, Cagide A, Galimberti RL. Enfermedad coronaria en pacientes con psoriasis. Med (B Aires). 2013;73:423–7.

Juarez M, Toms TE, de Pablo P, Mitchell S, Bowman S, Nightingale P, et al. Cardiovascular risk factors in women with primary Sjögren's syndrome: United Kingdom primary Sjögren's syndrome registry results. Arthritis Care Res (Hoboken). 2014;66:757–64.

Monção CSA, Martins LN, Penteado MPS, Reis RCP, Santos FMM, Lanna CCD, et al. Incidence of cardiovascular risk factors in female patients with systemic lupus erythematosus: a 3-year follow-up cohort. Lupus. 2018;27:1790–8.

Taylor EB, Wolf VL, Dent E, Ryan MJ. Mechanisms of hypertension in autoimmune rheumatic diseases. Br J Pharmacol. 2019;176:1897–913.

Savoia C, Sada L, Zezza L, Pucci L, Lauri FM, Befani A, et al. Vascular inflammation and endothelial dysfunction in experimental hypertension. Int J Hypertens. 2011;2011:281240.

Dissanayake HU, Skilton MR, Polson JW. Autonomic dysfunction in programmed hypertension. J Hum Hypertens. 2019;33:267–76.

Caillon A, Paradis P, Schiffrin EL. Role of immune cells in hypertension. Br J Pharmacol. 2019;176:1818–28.

Bautista LE, Vera LM, Arenas IA, Gamarra G. Independent association between inflammatory markers (C-reactive protein, interleukin-6, and TNF-alpha) and essential hypertension. J Hum Hypertens. 2005;19:149–54.

Midtbø H, Gerdts E, Kvien TK, Olsen IC, Lønnebakken MT, Davidsen ES, et al. The association of hypertension with asymptomatic cardiovascular organ damage in rheumatoid arthritis. Blood Press. 2016;25:298–304.

Verma S, Anderson TJ. The ten most commonly asked questions about endothelial function in cardiology. Cardiol Rev. 2001;9:250–2.

Wang CH, Li SH, Weisel RD, Fedak PW, Dumont AS, Szmitko P, et al. C-reactive protein upregulates angiotensin type 1 receptors in vascular smooth muscle. Circulation. 2003;107:1783–90.

Davas EM, Tsirogianni A, Kappou I, Karamitsos D, Economidou I, Dantis PC. Serum IL-6, TNFalpha, p55 srTNFalpha, p75srTNFalpha, srIL-2alpha levels and disease activity in systemic lupus erythematosus. Clin Rheumatol. 1999;18:17–22.

Kelley VR, Wüthrich RP. Cytokines in the pathogenesis of systemic lupus erythematosus. Semin Nephrol. 1999;19:57–66.

Anyfanti P, Gavriilaki E, Douma S, Gkaliagkousi E. Endothelial dysfunction in patients with rheumatoid arthritis: the role of hypertension. Curr Hypertens Rep. 2020;22:56.

Triantafyllias K, de Blasi M, Lütgendorf F, Cavagna L, Stortz M, Weinmann-Menke J, et al. High cardiovascular risk in mixed connective tissue disease: evaluation of macrovascular involvement and its predictors by aortic pulse wave velocity. Clin Exp Rheumatol. 2019;37:994–1002.

Triantafyllias K, Cavagna L, Klonowski A, Drott U, Fiehn C, Wendel S, et al. Possible misclassification of cardiovascular risk by SCORE in antisynthetase syndrome: results of the pilot multicenter study RI.CAR. D.A. Rheumatology (Oxf). 2021;60:1300–12.

Wong M, Toh L, Wilson A, Karschimkus C, Prior D, Romas E, et al. Reduced arterial elasticity in rheumatoid arthritis and the relationship to vascular disease risk factors and inflammation. Arthritis Rheum. 2003;48:81–9.

Kuryliszyn-Moskal A, Klimiuk PA, Ciolkiewicz M, Sierakowski S. Clinical significance of selected endothelial activation markers in patients with systemic lupus erythematosus. J Rheumatol. 2008;35:1307–13.

Mathis KW. An impaired neuroimmune pathway promotes the development of hypertension in systemic lupus erythematosus. Am J Physiol Regul Integr Comp Physiol. 2015;309:R1074–7.

Wolf VL, Ryan MJ. Autoimmune disease-associated hypertension. Curr Hypertens Rep. 2019;21:10.

Queiro R, Lorenzo A, Tejón P, Pardo E, Coto P. Hypertension is associated with increased age at the onset of psoriasis and a higher body mass index in psoriatic disease. Clin Rheumatol. 2019;38:2063–8.

Păstrăguş C, Ancuţa C, Miu SS, Belibou IC, Chirieac R. Evaluări descriptive privind caracteristicile unui lot de pacienţi cu poliartrită reumatoidă, internaţi în vederea instituirii tratamentului recuperator, într-o clinică de specialitate, în perioada 2008–2010. Rev Med Chir Soc Med Nat Iasi. 2011;1 15:762–8.

Krum H, Swergold G, Curtis SP, Kaur A, Wang H, Smugar SS, et al. Factors associated with blood pressure changes in patients receiving diclofenac or etoricoxib: results from the MEDAL study. J Hypertens. 2009;27:886–93.

Zhang Y, Lacolley P, Protogerou AD, Safar ME. Arterial stiffness in hypertension and function of large arteries. Am J Hypertens. 2020;33:291–6.

Goronzy JJ, Shao L, Weyand CM. Immune aging and rheumatoid arthritis. Rheum Dis Clin North Am. 2010;36:297–310.

Tan TC, Fang H, Magder LS, Petri MA. Differences between male and female systemic lupus erythematosus in a multiethnic population. J Rheumatol. 2012;39:759–69.

Crowson CS, Rollefstad S, Ikdahl E, Kitas GD, van Riel PLCM, Gabriel SE. et al. Impact of risk factors associated with cardiovascular outcomes in patients with rheumatoid arthritis. Ann Rheum Dis. 2018;77:48–54.

Rafikova O, Sullivan JC. Estrogen: good, bad, or both? Hypertension. 2014;63:449–50.

Salem ML. Estrogen, a double-edged sword: modulation of TH1- and TH2-mediated inflammations by differential regulation of TH1/TH2 cytokine production. Curr Drug Targets Inflamm Allergy. 2004;3:97–104.

Chaiamnuay S, Bertoli AM, Roseman JM, McGwin G, Apte M, Durán S, et al. African-American and Hispanic ethnicities, renal involvement and obesity predispose to hypertension in systemic lupus erythematosus: results from LUMINA, a multiethnic cohort (LUMINAXLV). Ann Rheum Dis. 2007;66:618–22.

Solomon A, Christian BF, Norton GR, Woodiwiss AJ, Dessein PH. Risk factor profiles for atherosclerotic cardiovascular disease in black and other Africans with established rheumatoid arthritis. J Rheumatol. 2010;37:953–60.

Bruce IN, Urowitz MB, Gladman DD, Ibañez D, Steiner G. Risk factors for coronary heart disease in women with systemic lupus erythematosus: The Toronto Risk Factor Study. Arthritis Rheum. 2003;48:3159–67.

Panoulas VF, Douglas KMJ, Milionis HJ, Stavropoulos-Kalinglou A, Nightingale P, Kita MD, et al. Prevalence and associations of hypertension and its control in patients with rheumatoid arthritis. Rheumatology. 2007;46:1477–82.

Baker JF, Stokes A, Pedro S, Mikuls TR, George M, England BR, et al. Obesity and the risk of incident chronic opioid use in rheumatoid arthritis. Arthritis Care Res (Hoboken). 2021;73:1405–12.

Chen SK, Barbhaiya M, Fischer MA, Guan H, Yoshida K, Feldman CH, et al. Heart failure risk in systemic lupus erythematosus compared to diabetes mellitus and general medicaid patients. Semin Arthritis Rheum. 2019;49:389–95.

Chen H-H, Perng W-T, Chiou J-Y, Wang Y-H, Huang J-Y, Wei JC-C. Risk of dementia among patients with Sjogren's syndrome: a nationwide population-based cohort study in Taiwan. Semin Arthritis Rheum. 2019;48:895–9.

Singh JA, Cleveland JD. The risk of Sjogren's syndrome in the older adults with gout: a medicare claims study. Joint Bone Spine. 2019;86:615–9.

Iskandar IYK, Ashcroft DM, Warren RB, Yiu ZZN, McElhone K, Lunt M, et al. Demographics and disease characteristics of patients with psoriasis enrolled in the british association of dermatologists biologic interventions register. Br J Dermatol. 2015;173:510–8.

Szabó MZ, Szodoray P, Kiss E. Dyslipidemia in systemic lupus erythematosus. Immunol Res. 2017;65:543–50.

Tselios K, Koumaras C, Gladman DD, Urowitz MB. Dyslipidemia in systemic lupus erythematosus: just another comorbidity? Semin Arthritis Rheum. 2016;45:604–10.

Gerli R, Bartoloni Bocci E, Vaudo G, Marchesi S, Vitali C, Shoenfeld Y. Traditional cardiovascular risk factors in primary Sjogren's syndrome-role of dyslipidaemia. Rheumatology. 2006;45:1580–1.

Vaudo G, Bocci EB, Shoenfeld Y, Schillaci G, Wu R, Del Papa N, et al. Precocious intima-media thickening in patients with primary Sjögren's syndrome. Arthritis Rheum. 2005;52:3890–7.

Bartoloni E, Alunno A, Cafaro G, Valentini V, Bistoni O, Bonifacio AF, et al. Subclinical atherosclerosis in primary sjögren's syndrome: does inflammation matter? Front Immunol. 2019;10:817.

Ardoin SP, Schanberg LE, Sandborg C, Yow E, Barnhart HX, Mieszkalski KI. et al. Laboratory markers of cardiovascular risk in pediatric SLE: the APPLE baseline cohort. Lupus. 2010;19:1315–25.

Pérez-De-Lis M, Akasbi M, Sisó A, Diez-Cascon P, Brito-Zerón P, Diaz-Lagares C, et al. Cardiovascular risk factors in primary Sjögren's syndrome: a case-control study in 624 patients. Lupus. 2010;19:941–8.

Li G, Chi W, Bai B, Li Y, Wei T, Fu L. Dose-response associations between metabolic indexes and the risk of comorbid type 2 diabetes mellitus among rheumatoid arthritis patients from Northern China: a case-control study. BMJ Open 2019;9:e028011–e.

Dregan A, Charlton J, Chowienczyk P, Gulliford MC. Chronic inflammatory disorders and risk of type 2 diabetes mellitus, coronary heart disease, and stroke. Circulation. 2014;130:837–44.

Mandrup-Poulsen T, Pickersgill L, Donath MY. Blockade of interleukin 1 in type 1 diabetes mellitus. Nat Rev Endocrinol. 2010;6:158–66.

Donath MY, Dinarello CA, Mandrup-Poulsen T. Targeting innate immune mediators in type 1 and type 2 diabetes. Nat Rev Immunol. 2019;19:734–46.

McInnes IB, Schett G. The pathogenesis of rheumatoid arthritis. New Engl J Med. 2011;365:2205–19.

Queiro R, Lorenzo A, Pardo E, Brandy A, Coto P, Ballina J. Prevalence and type II diabetes-associated factors in psoriatic arthritis. Clin Rheumatol. 2018;37:1059–64.

Liu XZ, Gao Y, Fan J, Xu X, Zhang J, Gao J, et al. Metabolic abnormalities in rheumatoid arthritis patients with comorbid diabetes mellitus. Clin Rheumatol. 2017;37:219–26.

Arnson Y, Shoenfeld Y, Amital H. Effects of tobacco smoke on immunity, inflammation and autoimmunity. J Autoimmun. 2010;34:J258–65.

Medeiros MM, Xavier de Oliveira ÍM, Ribeiro ÁT. Prevalence of metabolic syndrome in a cohort of systemic lupus erythematosus patients from Northeastern Brazil: association with disease activity, nephritis, smoking, and age. Rheumatol Int. 2016;36:117–24.

Koku Aksu AE, Saraçoğlu ZN, Metintaş S, Sabuncu İ, Çetin Y. Age and gender differences in Framingham risk score and metabolic syndrome in psoriasis patients: A cross-sectional study in the Turkish population. Anatol J Cardiol. 2017;17:66–72.

Rizk A, Gheita TA, Nassef S, Abdallah A. The impact of obesity in systemic lupus erythematosus on disease parameters, quality of life, functional capacity and the risk of atherosclerosis. Int J Rheum Dis. 2011;15:261–7.

Augusto KL, Bonfa E, Pereira RMR, Bueno C, Leon EP, Viana VST, et al. Metabolic syndrome in Sjögren's syndrome patients: a relevant concern for clinical monitoring. Clin Rheumatol. 2015;35:639–47.

Manzi S, Meilahn EN, Rairie JE, Conte CG, Medsger TA, Jansen-McWilliams L, et al. Age-specific incidence rates of myocardial infarction and angina in women with systemic lupus erythematosus: comparison with the Framingham study. Am J Epidemiol. 1997;145:408–15.

Hajiebrahimi M, Song C, Hägg D, Andersson TML, Villacorta R, Linder M. The occurrence of metabolic risk factors stratified by psoriasis severity: a Swedish population-based matched cohort study. Clin Epidemiol. 2020;12:737–44.

Kalbak K. Incidence of arteriosclerosis in patients with rheumatoid arthritis receiving long-term corticosteroid therapy. Ann Rheum Dis. 1972;31:196–200.

Zhao Q, Hong D, Zhang Y, Sang Y, Yang Z, Zhang X. Association between anti-TNF therapy for rheumatoid arthritis and hypertension: a meta-analysis of randomized controlled trials. Medicine (Baltimore). 2015;94:e731–e.

Faria AP, Ritter AMV, Santa-Catharina A, Souza DP, Naseri EP, Bertolo MB, et al. Effects of anti-TNF alpha therapy on blood pressure in resistant hypertensive subjects: a randomized, double-blind, placebo-controlled pilot study. Efeitos da terapia com anti-tnf alfa na pressão arterial em pacientes com hipertensão resistente: um estudo piloto randomizado, duplo-cego e controlado por placebo. Arq Bras Cardiol. 2021;116:443–51.

Morrison A, Ramey DR, van Adelsberg J, Watson DJ. Systematic review of trials of the effect of continued use of oral non-selective NSAIDs on blood pressure and hypertension. Curr Med Res Opin. 2007;23:2395–404.

Lee MS, Chang CH, Lin RY, Lai MS. Risks of hypertension associated with cyclosporine, nonsteroidal anti-inflammatory drugs, and systemic glucocorticoids in patients with psoriasis: a nationwide population-based nested case-control study in Taiwan. Pharmacoepidemiol Drug Saf. 2016;25:133–40.

Hadwen B, Stranges S, Barra L. Risk factors for hypertension in rheumatoid arthritis patients-A systematic review. Autoimmun Rev. 2021;20:102786.

Hogan J, Schwenk MH, Radhakrishnan J. Should mycophenolate mofetil replace cyclophosphamide as first-line therapy for severe lupus nephritis? Kidney Int. 2012;82:1256–60.

Herrera J, Ferrebuz A, MacGregor EG, Rodriguez-Iturbe B. Mycophenolate mofetil treatment improves hypertension in patients with psoriasis and rheumatoid arthritis. J Am Soc Nephrol. 2006;17:S218–25.

Anyfanti P, Gkaliagkousi E, Triantafyllou A, et al. Hypertension in rheumatic diseases: prevalence, awareness, treatment, and control rates according to current hypertension guidelines. J Hum Hypertens. 2021;35:419–27.

Jones NR, McCormack T, Constanti M, McManus RJ. Diagnosis and management of hypertension in adults: NICE guideline update 2019. Br J Gen Pract. 2020;70:90–1.

Tselios K, Koumaras C, Urowitz MB, Gladman DD. Do current arterial hypertension treatment guidelines apply to systemic lupus erythematosus patients? a critical appraisal. Semin Arthritis Rheum. 2014;43:521–5.

Coca A, Sierra C (eds). Hipertension arterial. En, Khamashta MA, Vilardell M. Lupuseritematoso sistémico. Barcelona: Caduceo Multimedia SL; 2009. p. 435–49.

Dandona P, Dhindsa S, Ghanim H, Chaudhuri A. Angiotensin II and inflammation: the effect of angiotensin-converting enzyme inhibition and angiotensin II receptor blockade. J Hum Hypertens. 2006;21:20–7.
Acknowledgements
We want to thank Dr. Peiying Gao for her helpful assistance in preparing this manuscript. This work was supported by the National Natural Science Foundation of China [Grant 81300243].
Ethics declarations
COMPETING INTERESTS
The authors declare no competing interests.
Additional information
Publisher's note Springer Nature remains neutral with regard to jurisdictional claims in published maps and institutional affiliations.
About this article
Cite this article
Luo, Q., Zhang, Y., Yang, X. et al. Hypertension in connective tissue disease. J Hum Hypertens (2022). https://doi.org/10.1038/s41371-022-00696-8
Received:

Revised:

Accepted:

Published:

DOI: https://doi.org/10.1038/s41371-022-00696-8