Abstract
Arterial stiffness is an independent cardiovascular risk factor. However, the association between sodium/potassium intake and arterial stiffness in the Chinese population is unclear. Therefore, we performed a large, community-based cross-sectional study to reach a more definitive conclusion. The study was conducted at the Third Xiangya Hospital in Changsha between August 2017 and September 2019. Urinary sodium, potassium, and creatinine levels were tested from spot urine samples during physical examinations of each recruited participant. The 24-hour estimated urinary sodium excretion (eUNaE) and estimated urinary potassium excretion (eUKE) levels were calculated using the Kawasaki formula (used as a surrogate for intake). The brachial-ankle pulse wave velocity (baPWV) and ankle brachial index (ABI) were measured using an automatic waveform analyzer. In 22,557 subjects with an average age of 49.3 ± 10.3 years, the relationships of the ABI and baPWV with the levels of eUNaE, eUKE and the ratio of sodium to potassium (Na/K ratio) were analyzed. A significant negative relationship was found between the eUKE and baPWV levels (β = 2.41, p < 0.01), whereas the Na/K ratio was positively associated with baPWV (β = 2.46, p < 0.01), especially in the overweight and hypertensive populations (both pinteraction = 0.04). The association of eUNaE quartiles with baPWV presented a J-shaped curve after adjusting for confounders. In addition, a positive association was observed between the Na/K ratio and the ABI (β = 0.002, p < 0.01). In this study, high potassium and/or low sodium intake was further confirmed to be related to vascular stiffness in Chinese individuals.
This is a preview of subscription content
Access options
Subscribe to Journal
Get full journal access for 1 year
$119.00
only $9.92 per issue
All prices are NET prices.
VAT will be added later in the checkout.
Tax calculation will be finalised during checkout.
Buy article
Get time limited or full article access on ReadCube.
$32.00
All prices are NET prices.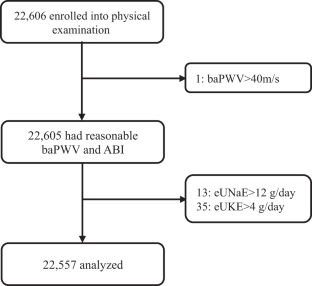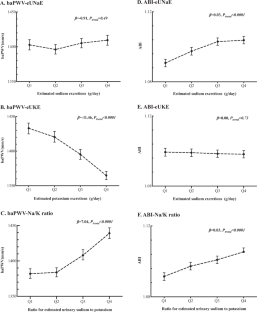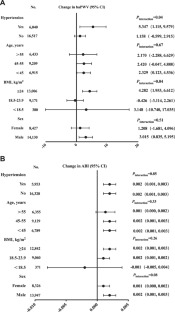 Data availability
The dataset and code supporting the conclusions of this article are available upon reasonable request from the authors.
References
Laurent S, Boutouyrie P, Asmar R, Gautier I, Laloux B, Guize L, et al. Aortic stiffness is an independent predictor of all-cause and cardiovascular mortality in hypertensive patients. Hypertension. 2001;37:1236–41.

Mitchell GF, Powell JT. Arteriosclerosis: a primer for "in focus" reviews on arterial stiffness. ATVB. 2020;40:1025–7.

Chirinos JA, Segers P, Hughes T, Townsend R. Large-artery stiffness in health and disease: JACC state-of-the-art review. J Am Coll Cardiol. 2019;74:1237–63.

Mancia G, Fagard R, Narkiewicz K, Redon J, Zanchetti A, Böhm M, et al. ESH/ESC guidelines for the management of arterial hypertension: the Task Force for the Management of Arterial Hypertension of the European Society of Hypertension (ESH) and of the European Society of Cardiology (ESC). Eur Heart J. 2013;34:2159–219. 2013

Laurent S, Cockcroft J, Van Bortel L, Boutouyrie P, Giannattasio C, Hayoz D, et al. Expert consensus document on arterial stiffness: methodological issues and clinical applications. Eur Heart J. 2006;27:2588–605.

Laurent S, Cockcroft J, Van Bortel L, Boutouyrie P, Giannattasio C, Hayoz D, et al. Abridged version of the expert consensus document on arterial stiffness☆. ARTRES. 2007;1:2.

Schellinger IN, Mattern K, Raaz U. The Hardest Part. Arterioscler Thromb Vasc Biol. 2019;39:1301–6.

Munakata M. Brachial-Ankle pulse wave velocity: background, method, and clinical evidence. Pulse (Basel). 2016;3:195–204.

Baier D, Teren A, Wirkner K, Loeffler M, Scholz M. Parameters of pulse wave velocity: determinants and reference values assessed in the population-based study LIFE-Adult. Clin Res Cardiol. 2018;107:1050–61.

Tomiyama H, Shiina K. State of the art review: Brachial-Ankle PWV. J Atheroscler Thromb. 2020;27:621–36.

Ohkuma T, Ninomiya T, Tomiyama H, Kario K, Hoshide S, Kita Y, et al. Brachial-Ankle Pulse Wave Velocity and the Risk Prediction of Cardiovascular Disease: An Individual Participant Data Meta-Analysis. Hypertension. 2017;69:1045–52.

Hu B-C, Li Y, Liu M, Sheng C-S, Wang J-G. Ankle-brachial index in relation to the natriuretic peptide system polymorphisms and urinary sodium excretion in Chinese. Atherosclerosis. 2013;230:86–91.

Giugliano G, Sannino A, Brevetti L, Perrino C, Schiattarella GG, Franzone A, et al. Ankle/brachial index to everyone. BMC Surg. 2012;12:S18. Suppl 1

Golledge J, Moxon JV, Rowbotham S, Pinchbeck J, Quigley F, Jenkins J. High ankle brachial index predicts high risk of cardiovascular events amongst people with peripheral artery disease. PLoS One. 2020;15:e0242228.

Resnick HE, Lindsay RS, McDermott MM, Devereux RB, Jones KL, Fabsitz RR, et al. Relationship of high and low ankle brachial index to all-cause and cardiovascular disease mortality: the Strong Heart Study. Circulation 2004;109:733–9.

Blanch N, Clifton PM, Keogh JB. Postprandial effects of potassium supplementation on vascular function and blood pressure: a randomised cross-over study. Nutr Metab Cardiovasc Dis. 2014;24:148–54.

D'Elia L, Galletti F, La Fata E, Sabino P, Strazzullo P. Effect of dietary sodium restriction on arterial stiffness: systematic review and meta-analysis of the randomized controlled trials. J Hypertens. 2018;36:734–43.

Jennings A, Berendsen AM, de Groot LCPGM, Feskens EJM, Brzozowska A, Sicinska E, et al. Mediterranean-style diet improves systolic blood pressure and arterial stiffness in older adults. Hypertension. 2019;73:578–86.

Jung S, Kim MK, Shin J, Choi BY, Lee Y-H, Shin DH, et al. High sodium intake and sodium to potassium ratio may be linked to subsequent increase in vascular damage in adults aged 40 years and older: the Korean multi-rural communities cohort (MRCohort). Eur J Nutr. 2019;58:1659–71.

Zhang Z, Liao H, Zhang X, Meng Q, Shi R, Feng J, et al. Associations of urinary sodium excretion with central hemodynamics and changes in vascular structure and function at high altitude. J Clin Hypertens (Greenwich). 2021;23:1907–14.

García-Ortiz L, Recio-Rodríguez JI, Rodríguez-Sánchez E, Patino-Alonso MC, Agudo-Conde C, Rodríguez-Martín C, et al. Sodium and potassium intake present a J-shaped relationship with arterial stiffness and carotid intima-media thickness. Atherosclerosis. 2012;225:497–503.

Tan M, He FJ, Wang C, MacGregor GA. TwEnty-four-hour Urinary Sodium And Potassium Excretion In China: A Systematic Review And Meta-analysis. J Am Heart Assoc. 2019;8:e012923.

Sun N, Mu J, Li Y. Working Committee of Salt evaluation, Blood Pressure Management, Chinese Medical Association Hypertension Professional Committee, Hypertension Group, Chinese Society of Cardiology. An expert recommendation on salt intake and blood pressure management in Chinese patients with hypertension: A statement of the Chinese Medical Association Hypertension Professional Committee. J Clin Hypertens (Greenwich). 2019;21:446–50.

Yang P, Chen Z, Yin L, Peng Y, Li X, Cao X, et al. Salt intake assessed by spot urine on physical examination in Hunan, China. Asia Pac J Clin Nutr. 2019;28:845–56.

Li Y, Yin L, Peng Y, Liu X, Cao X, Wang Y, et al. The association of blood pressure with estimated urinary sodium, potassium excretion and their ratio in hypertensive, normotensive, and hypotensive Chinese adults. Asia Pac J Clin Nutr. 2020;29:101–9.

Lu Y, Pechlaner R, Cai J, Yuan H, Huang Z, Yang G, et al. Trajectories of Age-Related Arterial Stiffness in Chinese Men and Women. J Am Coll Cardiol. 2020;75:870–80.

Diehm C, Allenberg JR, Pittrow D, Mahn M, Tepohl G, Haberl RL, et al. German Epidemiological Trial on Ankle Brachial Index Study Group. Mortality and vascular morbidity in older adults with asymptomatic versus symptomatic peripheral artery disease. Circulation. 2009;120:2053–61.

Natsuaki C, Inoguchi T, Maeda Y, Yamada T, Sasaki S, Sonoda N, et al. Association of borderline ankle-brachial index with mortality and the incidence of peripheral artery disease in diabetic patients. Atherosclerosis 2014;234:360–5.

Peng S, Wang J, Xiao Y, Yin L, Peng Y, Yang L, et al. The association of carotid artery atherosclerosis with the estimated excretion levels of urinary sodium and potassium and their ratio in Chinese adults. Nutr J. 2021;20:50.

Tabara Y, Takahashi Y, Kumagai K, Setoh K, Kawaguchi T, Takahashi M, et al. Descriptive epidemiology of spot urine sodium-to-potassium ratio clarified close relationship with blood pressure level: the Nagahama study. J Hypertens. 2015;33:2407–13.

Andrus EC, Allen EV, Merritt HH, Duff GL, Moore RA, Kendall FE, et al. The pathogenesis of arteriosclerosis. Int J Epidemiol. 2015;44:1791–3.

O'Donnell MJ, Yusuf S, Mente A, Gao P, Mann JF, Teo K, et al. Urinary sodium and potassium excretion and risk of cardiovascular events. JAMA. 2011;306:2229–38.

O'Donnell M, Mente A, Rangarajan S, McQueen MJ, Wang X, Liu L, et al. Urinary sodium and potassium excretion, mortality, and cardiovascular events. N Engl J Med. 2014;371:612–23.

Todd AS, Macginley RJ, Schollum JBW, Williams SM, Sutherland WHF, Mann JI, et al. Dietary sodium loading in normotensive healthy volunteers does not increase arterial vascular reactivity or blood pressure. Nephrol (Carlton). 2012;17:249–56.

Lennon-Edwards S, Ramick MG, Matthews EL, Brian MS, Farquhar WB, Edwards DG. Salt loading has a more deleterious effect on flow-mediated dilation in salt-resistant men than women. Nutr Metab Cardiovasc Dis. 2014;24:990–5.

Polónia J, Maldonado J, Ramos R, Bertoquini S, Duro M, Almeida C, et al. Estimation of salt intake by urinary sodium excretion in a Portuguese adult population and its relationship to arterial stiffness. Rev Port Cardiol. 2006;25:801–17.

Lennon-Edwards S, Allman BR, Schellhardt TA, Ferreira CR, Farquhar WB, Edwards DG. Lower potassium intake is associated with increased wave reflection in young healthy adults. Nutr J. 2014;13:39.

Sun Y, Byon CH, Yang Y, Bradley WE, Dell'Italia LJ, Sanders PW, et al. Dietary potassium regulates vascular calcification and arterial stiffness. JCI Insight. 2017;2:e94920.

Cunha MR, Cunha AR, Marques BCAA, Mattos SS, D'El-Rei J, França NM, et al. Association of urinary sodium/potassium ratio with structural and functional vascular changes in non-diabetic hypertensive patients. J Clin Hypertens (Greenwich). 2019;21:1360–9.

Dai XW, Wang C, Xu Y, Guan K, Su YX, Chen YM. Urinary Sodium and Potassium Excretion and Carotid Atherosclerosis in Chinese Men and Women. Nutrients. 2016;8:612.

Yang Q, Liu T, Kuklina EV, Flanders WD, Hong Y, Gillespie C, et al. Sodium and potassium intake and mortality among US adults: prospective data from the Third National Health and Nutrition Examination Survey. Arch Intern Med. 2011;171:1183–91.

Castro H, Raij L. Potassium in hypertension and cardiovascular disease. Semin Nephrol. 2013;33:277–89.

He FJ, Campbell NRC, Ma Y, MacGregor GA, Cogswell ME, Cook NR. Errors in estimating usual sodium intake by the Kawasaki formula alter its relationship with mortality: implications for public health. Int J Epidemiol. 2018;47:1784–95.
Acknowledgements
We gratefully acknowledge the voluntary participation of all the study subjects. This work was supported by funding from the National Science Foundation of China (81973324, 81872685, and 82003537), the Hunan Young Talent grant (2020RC3063), the Hunan Science Foundation (2020JJ5858, 2020JJ4439) and the Wisdom Accumulation and Talent Cultivation Project of the Third XiangYa Hospital of Central South University (YX202002).
Ethics declarations
Competing interests
The authors declare no competing interests.
Additional information
Publisher's note Springer Nature remains neutral with regard to jurisdictional claims in published maps and institutional affiliations.
About this article
Cite this article
Yang, Q., Jiang, W., He, Y. et al. The association of arterial stiffness with estimated excretion levels of urinary sodium and potassium and their ratio in Chinese adults. J Hum Hypertens (2022). https://doi.org/10.1038/s41371-022-00671-3
Received:

Revised:

Accepted:

Published:

DOI: https://doi.org/10.1038/s41371-022-00671-3