Abstract
Information on the association between homocysteine (HCY) levels and carotid atherosclerosis (CAS) in hypertension (HTN) is limited. A cross-sectional study was performed to examine the relationship of plasma HCY concentration with CAS in 1700 hypertensives (61.62 ± 12.16 year). The prevalence of CAS and carotid intima–media thickness (CIMT) progressively increased across quartiles of HCY levels (P < 0.001). Correlation analysis showed significantly positive correlation between HCY and CAS (r = 0.261, P < 0.001). In a logistic regression, HCY independently predicted the presence of CAS (OR 1.284, 95% CI 1.163–1.418). Further investigation revealed that interaction effect of HCY was substantial for gender (P for interaction 0.023), age (P for interaction <0.001) and smoking (P for interaction 0.025) on CAS. Thus, in hypertensives, those of male, aged ≥55 year and current smokers, in which HCY ≥ 13.49 μmol/L were more likely to suffer CAS, suggesting a role of HCY in the development and progression of CAS in these patients, and HCY determination should be recommended to better stratify the cardiovascular risk.
This is a preview of subscription content
Access options
Subscribe to Journal
Get full journal access for 1 year
$119.00
only $9.92 per issue
All prices are NET prices.
VAT will be added later in the checkout.
Tax calculation will be finalised during checkout.
Buy article
Get time limited or full article access on ReadCube.
$32.00
All prices are NET prices.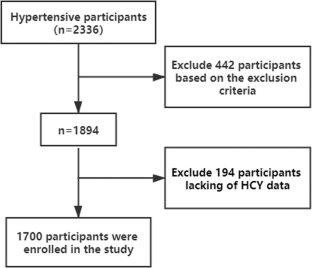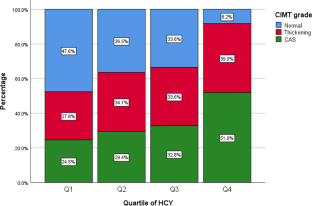 References
Baszczuk A, Musialik K, Kopczyński J, Thielemann A, Kopczyński Z, Kęsy L, et al. Hyperhomocysteinemia, lipid and lipoprotein disturbances in patients with primary hypertension. Adv Med Sci. 2014;59:68–73.

Ramasamy K, Mishra C. Commentary: role of hyperhomocysteinemia in proliferative diabetic retinopathy: a case-control study. Indian J Ophthalmol. 2018;66:1440.

McCully KS. Homocysteine and the pathogenesis of atherosclerosis. Expert Rev Clin Pharm. 2015;8:211–9.

Homocysteine Studies Collaboration. Homocysteine and risk of ischemic heart disease and stroke: a meta-analysis. JAMA. 2002;288:2015–22.

China Hypertension Prevention and Control Guidelines Revision Committee. China Guidelines for Prevention and Treatment of Hypertension 2010[J]. Chin J Hypertens. 2011;19:701–43.

Lim U, Cassano PA. Homocysteine and blood pressure in the Third National Health and Nutrition Examination Survey, 1988–1994[J]. Am J Epidemiol. 2002;156:1105–13.

Tsai MY, Arnett DK, Eckfeldt JH, Williams RR, Ellison RC. Plasma homocysteine and its association with carotid intimal-medial wall thickness and prevalent coronary heart disease: NHLBI family heart study[J]. Atherosclerosis. 2000;151:519–24.

Dietrich M, Jacques PF, Polak JF, Keyes MJ, Pencina MJ, Evans JC, et al. Segment-specific association between plasma homocysteine level and carotid artery intima-media thickness in the Framingham Offspring Study[J]. J Stroke Cerebrovasc Dis. 2011;20:155–61.

Rundek T, Blanton SH, Bartels S, Dong C, Raval A, Demmer RT, et al. Traditional risk factors are not major contributors to the variance in carotid intima-media thickness[J]. Stroke. 2013;44:2101–8.

Unger T, Borghi C, Charchar F, Khan NA, Poulter NR, Prabhakaran D, et al. International Society of Hypertension global hypertension practice guidelines. J Hypertens. 2020;38:982–1004.

Lu JM, Endocrinology DO, Hospital PG. Updated key points of 2013 China guideline for type 2 diabetes. Chin J Diabetes. 2014;6:447–98.

Wang T, Xu G, Cai X, Gong J, Xie Q, Xie L. Association of homocysteine with carotid-femoral pulse wave velocity in a southern Chinese population. Aging. 2019;11:9709–18.

Mancia G, De Backer G, Dominiczak A, Cifkova R, Fagard R, Germano G, et al. Guidelines for the management of arterial hypertension: the task force for the management of arterial hypertension of the European society of hypertension (ESH) and of the european society of cardiology (ESC). Eur Heart J. 2007;28:1462–536.

Kuo F, Gardener H, Dong C, Cabral D, Della-Morte D, Blanton SH, et al. Traditional cardiovascular risk factors explain the minority of the variability in carotid plaque. Stroke. 2012;43:1755–60.

Holmes MV, Newcombe P, Hubacek JA, Sofat R, Ricketts SL, Cooper J, et al. MTHFR 677C→T polymorphism and risk of coronary heart disease: a meta-analysis. JAMA. 2002;288:2023–31.

Nahid A, Morteza F, Abdohamid S. Evaluation of homocysteine level as a risk facor among patients with ischemic stroke and its subtypes. Iran J Med Sci. 2013;38:233–9.

Kong X, Huang X, Zhao M, Xu B, Xu R, Song Y, et al. Platelet count affects efficacy of folic acid in preventing first stroke. J Am Coll Cardiol. 2018;71:2136–46.

Willeit K, Pechlaner R, Egger G, Weger S, Oberhollenzer M, Willeit J, et al. Carotid atherosclerosis and incident atrial fibrillation. Arterioscler Thromb Vasc Biol. 2013;33:2660–5.

Duschek N, Ghai S, Sejkic F, Falkensammer J, Skrinjar E, Huber K, et al. Homocysteine improves risk stratification in patients undergoing endarterectomy for asymptomatic internal carotid artery stenosis. Stroke. 2013;44:2311–4.

Bogdanski P, Miller-Kasprzak E, Pupek-Musialik D, Jablecka A, Lacinski M, Jagodzinski PP, et al. Plasma total homocysteine is a determinant of carotid intimamedia thickness and circulating endothelial progenitor cells in patients with newly diagnosed hypertension. Clin Chem Lab Med. 2012;50:1107–13.

Okura T, Miyoshi K, Irita J, Enomoto D, Nagao T, Kukida M, et al. Hyperomocysteinemia is one of the risk factors associated with cerebrovascular stiffness in hypertensive patients, especially elderly males. Sci Rep. 2014;4:5663.

Catena C, Colussi G, Url-Michitsch M, Nait F, Sechi LA. Subclinical carotid artery disease and plasma homocysteine levels in patients with hypertension. J Am Soc Hypertens. 2015;9:167–75.

Yang X, Zhou Y, Liu C, Gao X, Wang A, Guo Y, et al. Homocysteine and carotid plaque stability: a crosssectional study in Chinese adults. PLoS ONE. 2014;9:e94935.

Polak JF, Szklo M, Kronmal RA, Burke GL, Shea S, Zavodni AE, et al. The value of carotid artery plaque and intima-media thickness for incident cardiovascular disease: the multi-ethnic study of atherosclerosis. J Am Heart Assoc. 2013;2:e000087.

Polak JF, Pencina MJ, Meisner A, Pencina KM, Brown LS, Wolf PA, et al. Associations of carotid artery intima-media thickness (IMT) with risk factors and prevalence of cardiovascular disease: comparison of mean common artery IMT with maximum internal carotid artery IMT. J Ultrasound Med. 2010;29:1759–68.

Stangl V, Günther C, Jarrin A, Bramlage P, Moobed M, Staudt A, et al. Homocysteine inhibits TNF-alpha induced endothelial adhesion molecule expression and monocyte adhesion via nuclear factor-kappaB dependent pathway[J]. Biochem Biophys Res Commun. 2001;280:1093–100.

Fryer RH, Wilson BD, Gubler DB, Fitzgerald LA, Rodgers GM. Homocysteine, a risk factor for premature vascular disease and thrombosis, induces tissue factor activity in endothelial cells[J]. Arterioscler Thromb. 1993;13:1327–33.

Koohpeyma H, Goudarzi I, Elahdadi SM, Lashkarbolouki T, Shabani M. Postnatal administration of homocysteine induces cerebellar damage in rats: protective effect of folic acid. Neurotox Res. 2019;35:724–38.

Ma SC, Zhang HP, Jiao Y, Wang YH, Zhang H, Yang XL, et al. Homocysteine-induced proliferation of vascular smooth muscle cells occurs via PTEN hypermethylation and is mitigated by resveratrol. Mol Med Rep. 2018;17:5312–9.

Xu R, Huang F, Wang Y, Liu Q, Lv Y, Zhang Q. Gender-and age-related differences in homocysteine concentration: a cross-sectional study of the general population of China. Sci Rep. 2020;10:17401.

Cohen E, Margalit I, Shochat T, Goldberg E, Krause I. Gender differences in homocysteine concentrations, a population-based cross-sectional study. Nutr Metab Cardiovasc Dis. 2019;29:9–14.

Saito M, Marumo K. The effects of homocysteine on the skeleton. Curr Osteoporos Rep. 2018;16:554–60.

Proctor DN, O' Brien PC, Atkinson EJ, Nair KS. Comparison of techniques to estimate total body skeletal muscle mass in people of different age groups. Am J Phys. 1999;277:489–95.

Graham MR, Grace FM, Boobier W, Hullin D, Kicman A, Cowan D, et al. Homocysteine induced cardiovascular events: a consequence of long term anabolic-androgenic steroid (AAS) abuse. Br J Sports Med. 2006;40:644–8.

Hak AE, Polderman KH, Westendorp ICD, Jakobs C, Hofman A, Witteman JCM, et al. Increased plasma homocysteine after menopause. Atherosclerosis. 2000;149:163–8.

Schierbeck LL, Rejnmark L, Tofteng CL, Stilgren L, Eiken P, Mosekilde L, et al. Effect of hormone replacement therapy on cardiovascular events in recently postmenopausal women: randomised trial. BMJ. 2012;345:e6409.

Keller AC, Klawitter J, Hildreth KL, Christians U, Putnam K, Kohrt WM, et al. Elevated plasma homocysteine and cysteine are associated with endothelial dysfunction across menopausal stages in healthy women. J Appl Physiol. 2019;126:1533–40.

Tian J, Gu X, Sun Y, Ban X, Xiao Y, Hu S, et al. Effect of statin therapy on the progression of coronary atherosclerosis. BMC Cardiovasc Disord. 2012;12:70.

Noda H, Iso H, Irie F, Sairenchi T, Ohtaka E, Ohta H. Gender difference of association between LDL cholesterol concentrations and mortality from coronary heart disease amongst Japanese: the Ibaraki Prefectural Health Study. J Intern Med. 2010;267:576–87.

Chen S, Wu P, Zhou L, Shen Y, Li Y, Song H. Relationship between increase of serum homocysteine caused by smoking and oxidative damage in elderly patients with cardiovascular disease. Int J Clin Exp Med. 2015;8:4446–54.

Singh D. Effect of cigarette smoking on serum homocysteine and vitamin B12 level in male population of Udaipur. Biochem Anal Biochem. 2016;5:3.
Acknowledgements
The authors thank the participants and participating physicians from The First Affiliated Hospital of Fujian Medical University, China.
Funding
This work was supported by National Natural Science Foundation of China [Grant Number: 82170355].
Ethics declarations
Competing interests
The authors declare no competing interests.
Ethics approval and consent to participate
Our study was in accordance with the ethical standards formulated in the Helsinki Declaration, and the protocol was approved by Branch for Medical Research and Clinical Technology Application, Ethics Committee of the First Affiliated Hospital of Fujian Medical University (IEC-FOM-013-2.0). Informed consent was obtained from all patients involved.
Additional information
Publisher's note Springer Nature remains neutral with regard to jurisdictional claims in published maps and institutional affiliations.
Supplementary information
About this article
Cite this article
Chen, A., Wu, W., Gong, J. et al. Association of homocysteine with carotid atherosclerosis in hypertension. J Hum Hypertens (2022). https://doi.org/10.1038/s41371-022-00665-1
Received:

Revised:

Accepted:

Published:

DOI: https://doi.org/10.1038/s41371-022-00665-1