Abstract
Psoriatic disease is associated with vascular and myocardial dysfunction. We aimed to evaluate endothelial glycocalyx barrier properties and microvascular perfusion in psoriatic patients, as well as their correlation with carotid intima-media thickness (cIMT) and markers of left ventricular (LV) myocardial deformation. We examined 297 psoriatic patients and 150 controls, adjusted for age, sex, and atherosclerotic risk factors. The severity of psoriatic disease was estimated using the psoriasis area and severity index (PASI). Perfused boundary region (PBR), a marker of glycocalyx barrier function, was measured non-invasively in sublingual microvessels with a diameter 5–25 μm using Sidestream Dark Field camera (Microscan, GlycoCheck). Increased PBR indicates reduced glycocalyx thickness. Indexes of microvascular perfusion, including red blood cells filling (RBCF) and functional microvascular density, were also calculated. We measured cIMT, coronary flow reserve (CFR) and markers of myocardial deformation by speckle-tracking imaging, namely global longitudinal strain (GLS) and percentage changes between peak twisting and untwisting at mitral valve opening (%dpTw-UtwMVO). Compared to controls, psoriatic patients had higher PBR5-25μm (2.13 ± 0.29μm versus 1.78 ± 0.25μm, p < 0.001) and lower RBCF and functional microvascular density (p < 0.001). Increased PASI was associated with elevated PBR and more impaired cIMT and GLS (p < 0.05). There was an inverse association of PBR with RBCF and functional microvascular density (p < 0.001). In psoriatic population, increased PBR was related to increased cIMT, reduced CFR, impaired GLS and decreased %dpTw-UtwMVO (p < 0.001). Glycocalyx thickness is reduced in psoriatic patients, which in turn impairs microvascular perfusion, and is associated with carotid IMT and impaired coronary and myocardial function.
Clinical Trial Registration—URL: http://www.clinicaltrials.gov. Unique identifier: NCT02144857.
Your institute does not have access to this article
Access options
Subscribe to Journal
Get full journal access for 1 year
$119.00
only $9.92 per issue
All prices are NET prices.
VAT will be added later in the checkout.
Tax calculation will be finalised during checkout.
Buy article
Get time limited or full article access on ReadCube.
$32.00
All prices are NET prices.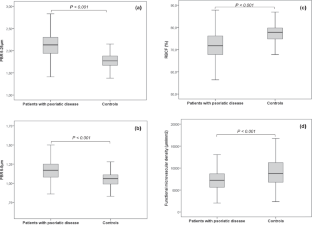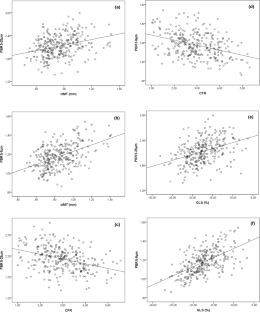 References
Ogdie A, Yu Y, Haynes K, Love TJ, Maliha S, Jiang Y, et al. Risk of major cardiovascular events in patients with psoriatic arthritis, psoriasis and rheumatoid arthritis: a population-based cohort study. Ann Rheum Dis. 2015;74:326–32.

Lazou A, Ikonomidis I, Bartekova M, Benedek T, Makavos G, Palioura D, et al. Chronic inflammatory diseases, myocardial function and cardioprotection. Br J Pharm. 2020;177:5357–74.

Garshick MS, Ward NL, Krueger JG, Berger JS. Cardiovascular risk in patients with psoriasis: JACC review topic of the week. J Am Coll Cardiol 2021;77:1670–80.

Ikonomidis I, Pavlidis G, Katsimbri P, Lambadiari V, Parissis J, Andreadou I, et al. Tocilizumab improves oxidative stress and endothelial glycocalyx: a mechanism that may explain the effects of biological treatment on COVID-19. Food Chem Toxicol. 2020;145:111694.

Lee DH, Dane MJ, van den Berg BM, Boels MG, van Teeffelen JW, de Mutsert R, et al. Deeper penetration of erythrocytes into the endothelial glycocalyx is associated with impaired microvascular perfusion. PLoS One. 2014;9:e96477.

Brezinski EA, Follansbee MR, Armstrong EJ, Armstrong AW. Endothelial dysfunction and the effects of TNF inhibitors on the endothelium in psoriasis and psoriatic arthritis: a systematic review. Curr Pharm Des. 2014;20:513–28.

Osto E, Piaserico S, Maddalozzo A, Forchetti G, Montisci R, Famoso G, et al. Impaired coronary flow reserve in young patients affected by severe psoriasis. Atherosclerosis. 2012;221:113–7.

Bülbül Şen B, Ekiz Ö, Rifaioğlu EN, Büyükkaya E, Karakaş MF, Büyükkaya Ş, et al. Assessment of subclinical left ventricular dysfunction in patients with psoriasis by speckle tracking echocardiography: A Speckle Tracking Study. Int J Dermatol. 2016;55:158–64.

Langley RG, Ellis CN. Evaluating psoriasis with Psoriasis Area and Severity Index, Psoriasis Global Assessment, and Lattice System Physician's Global Assessment. J Am Acad Dermatol. 2004;51:563–9.

Schoels MM, Aletaha D, Alasti F, Smolen JS. Disease activity in psoriatic arthritis (PsA): defining remission and treatment success using the DAPSA score. Ann Rheum Dis. 2016;75:811–8.

Yilmaz O, Afsar B, Ortiz A, Kanbay M. The role of endothelial glycocalyx in health and disease. Clin Kidney J. 2019;12:611–9.

Vlahu CA, Lemkes BA, Struijk DG, Koopman MG, Krediet RT, Vink H. Damage of the endothelial glycocalyx in dialysis patients. J Am Soc Nephrol. 2012;23:1900–8.

Lekakis J, Abraham P, Balbarini A, Blann A, Boulanger CM, Cockcroft J, et al. Methods for evaluating endothelial function: a position statement from the European Society of Cardiology Working Group on Peripheral Circulation. Eur J Cardiovasc Prev Rehabil. 2011;18:775–89.

Machin DR, Gates PE, Vink H, Frech TM, Donato AJ. Automated measurement of microvascular function reveals dysfunction in systemic sclerosis: a cross-sectional study. J Rheumatol. 2017;44:1603–11.

Ikonomidis I, Katsanos S, Triantafyllidi H, Parissis J, Tzortzis S, Pavlidis G, et al. Pulse wave velocity to global longitudinal strain ratio in hypertension. Eur J Clin Invest. 2019;49:e13049.

Vlachopoulos C, Xaplanteris P, Aboyans V, Brodmann M, Cífková R, Cosentino F, et al. The role of vascular biomarkers for primary and secondary prevention. A position paper from the European Society of Cardiology Working Group on peripheral circulation: endorsed by the Association for Research into Arterial Structure and Physiology (ARTERY) Society. Atherosclerosis. 2015;241:507–32.

Dijk JM, van der Graaf Y, Bots ML, Grobbee DE, Algra A. Carotid intima-media thickness and the risk of new vascular events in patients with manifest atherosclerotic disease: the SMART study. Eur Heart J. 2006;27:1971–8.

Ikonomidis I, Pavlidis G, Katsimbri P, Andreadou I, Triantafyllidi H, Tsoumani M, et al. Differential effects of inhibition of interleukin 1 and 6 on myocardial, coronary and vascular function. Clin Res Cardiol. 2019;108:1093–101.

Makavos G, Ikonomidis I, Andreadou I, Varoudi M, Kapniari I, Loukeri E, et al. Effects of interleukin 17 A inhibition on myocardial deformation and vascular function in psoriasis. Can J Cardiol 2020;36:100–11.

Ikonomidis I, Aboyans V, Blacher J, Brodmann M, Brutsaert DL, Chirinos JA, et al. The role of ventricular-arterial coupling in cardiac disease and heart failure: assessment, clinical implications and therapeutic interventions. A consensus document of the European Society of Cardiology Working Group on Aorta & Peripheral Vascular Diseases, European Association of Cardiovascular Imaging, and Heart Failure Association. Eur J Heart Fail. 2019;21:402–24.

Ikonomidis I, Pavlidis G, Thymis J, Birba D, Kalogeris A, Kousathana F, et al. Effects of glucagon-like peptide-1 receptor agonists, sodium-glucose cotransporter-2 inhibitors, and their combination on endothelial glycocalyx, arterial function, and myocardial work index in patients with type 2 diabetes mellitus after 12-month treatment. J Am Heart Assoc. 2020;9:e015716.

Ikonomidis I, Papadavid E, Makavos G, Andreadou I, Varoudi M, Gravanis K, et al. Lowering interleukin-12 activity improves myocardial and vascular function compared with tumor necrosis factor-a antagonism or cyclosporine in psoriasis. Circ Cardiovasc Imaging. 2017;10:e006283.

Ikonomidis I, Frogoudaki A, Vrettou AR, Andreou I, Palaiodimou L, Katogiannis K, et al. Impaired arterial elastic properties and endothelial glycocalyx in patients with embolic stroke of undetermined source. Thromb Haemost. 2019;119:1860–8.

Vena GA, Vestita M, Cassano N. Psoriasis and cardiovascular disease. Dermatol Ther. 2010;23:144–51.

Pryshchep S, Sato K, Goronzy JJ, Weyand CM. T cell recognition and killing of vascular smooth muscle cells in acute coronary syndrome. Circ Res. 2006;98:1168–76.

Alba BK, Greaney JL, Ferguson SB, Alexander LM. Endothelial function is impaired in the cutaneous microcirculation of adults with psoriasis through reductions in nitric oxide-dependent vasodilation. Am J Physiol Heart Circ Physiol. 2018;314:H343–H349.

Mundi S, Massaro M, Scoditti E, Carluccio MA, van Hinsbergh VWM, Iruela-Arispe ML, et al. Endothelial permeability, LDL deposition, and cardiovascular risk factors-a review. Cardiovasc Res. 2018;114:35–52.

Lambadiari V, Pavlidis G, Kousathana F, Maratou E, Georgiou D, Andreadou I, et al. Effects of different antidiabetic medications on endothelial glycocalyx, myocardial function, and vascular function in type 2 diabetic patients: One year follow-up study. J Clin Med. 2019;8:983.

Mulivor AW, Lipowsky HH. Inflammation- and ischemia-induced shedding of venular glycocalyx. Am J Physiol Heart Circ Physiol. 2004;286:H1672–H1680.

Triantafyllou C, Nikolaou M, Ikonomidis I, Bamias G, Kouretas D, Andreadou I, et al. Effects of anti-inflammatory treatment and surgical intervention on endothelial glycocalyx, peripheral and coronary microcirculatory function and myocardial deformation in inflammatory bowel disease patients: A two-arms two-stage clinical trial. Diagnostics. 2021;11:993.

Ikonomidis I, Voumvourakis A, Makavos G, Triantafyllidi H, Pavlidis G, Katogiannis K, et al. Association of impaired endothelial glycocalyx with arterial stiffness, coronary microcirculatory dysfunction, and abnormal myocardial deformation in untreated hypertensives. J Clin Hypertens. 2018;20:672–9.

Ikonomidis I, Marinou M, Vlastos D, Kourea K, Andreadou I, Liarakos N, et al. Effects of varenicline and nicotine replacement therapy on arterial elasticity, endothelial glycocalyx and oxidative stress during a 3-month smoking cessation program. Atherosclerosis. 2017;262:123–30.

Nieuwdorp M, Holleman F, de Groot E, Vink H, Gort J, Kontush A, et al. Perturbation of hyaluronan metabolism predisposes patients with type 1 diabetes mellitus to atherosclerosis. Diabetologia. 2007;50:1288–93.

Park H, Han M, Kim YD, Yoo J, Lee HS, Choi JK, et al. Impact of the total number of carotid plaques on the outcome of ischemic stroke patients with atrial fibrillation. J Clin Med. 2019;8:1897.

Inaba Y, Chen JA, Bergmann SR. Carotid plaque, compared with carotid intima-media thickness, more accurately predicts coronary artery disease events: a meta-analysis. Atherosclerosis. 2012;220:128–33.

Mitchell C, Korcarz CE, Gepner AD, Kaufman JD, Post W, Tracy R, et al. Ultrasound carotid plaque features, cardiovascular disease risk factors and events: The Multi-Ethnic Study of Atherosclerosis. Atherosclerosis. 2018;276:195–202.

Ikonomidis I, Makavos G, Papadavid E, Varoudi M, Andreadou I, Gravanis K, et al. Similarities in coronary function and myocardial deformation between psoriasis and coronary artery disease: the role of oxidative stress and inflammation. Can J Cardiol. 2015;31:287–95.

Machin DR, Nguyen D, Bramwell RC, Lesniewski LA, Donato AJ. Dietary glycocalyx precursor supplementation ameliorates age-related vascular dysfunction. FASEB J. 2019;33:828.1–828.1.
Ethics declarations
Competing interests
The authors declare no competing interests.
Additional information
Publisher's note Springer Nature remains neutral with regard to jurisdictional claims in published maps and institutional affiliations.
About this article
Cite this article
Ikonomidis, I., Pavlidis, G., Lambadiari, V. et al. Endothelial glycocalyx and microvascular perfusion are associated with carotid intima-media thickness and impaired myocardial deformation in psoriatic disease. J Hum Hypertens (2021). https://doi.org/10.1038/s41371-021-00640-2
Received:

Revised:

Accepted:

Published:

DOI: https://doi.org/10.1038/s41371-021-00640-2