Abstract
Coarctation of the aorta is an arteriopathy with life-long sequelae, with remarkably increased cardiovascular events in young adults even after successful repair and despite blood pressure status. There are data on arterial remodelling in adults after coarctation correction, however, these data are scarce in childhood. Thus, the aim of this cross-sectional study was to evaluate changes in arterial wall function and morphology in children following successful coarctation repair and to compare these changes among patients with different blood pressure status and coarctation correction modes. Blood pressure status, echocardiographic parameters, arterial wall structure and stiffness, endothelial function and central blood pressure measurements were evaluated in 110 children aged 6–18 years following successful coarctation repair with right arm blood pressure not exceeding leg blood pressure by ≥20 mmHg. The prevalence of arterial hypertension was 50%. The mean carotid intima-media thickness SDS was 3.1 ± 1.5 and above 1.65 SDS in 91 of 110 patients. Increased right carotid intima-media thickness was associated with left ventricular hypertrophy, office blood pressure difference between leg and right arm, recoarctation in the past and interventional coarctation correction. Increased local common carotid artery stiffness was associated with increased pulse pressure and central systolic blood pressure. Potentially decreased endothelial function was related to a slight increase of peak and mean systolic gradient in the descending aorta. After successful coarctation repair and with a low blood pressure gradient, children still have a high prevalence of arterial hypertension and significant arterial remodelling, indicating accelerated biological age and advanced arteriosclerosis.
Access options
Subscribe to this journal
Receive 12 digital issues and online access to articles
$119.00 per year
only $9.92 per issue
Rent or buy this article
Get just this article for as long as you need it
$39.95
Prices may be subject to local taxes which are calculated during checkout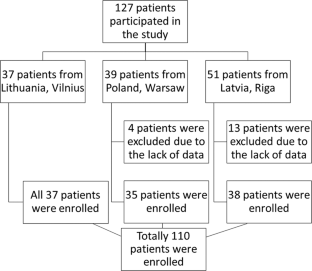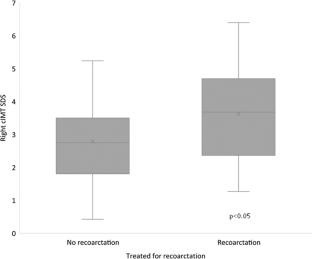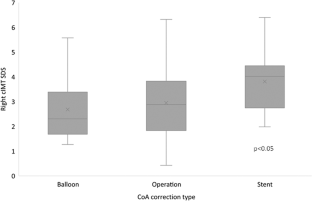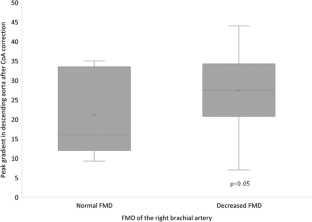 References
Swan L, Kraidly M, Vonder Muhll I, Collins P, Gatzoulis MA. Surveillance of cardiovascular risk in the normotensive patient with repaired aortic coarctation. Int J Cardiol. 2010;139:283–8.

Kenny D, Hijazi ZM. Coarctation of the aorta: from fetal life to adulthood. Cardiol J. 2011;18:487–95.

Brili S, Tousoulis D, Antoniades C, Aggeli C, Roubelakis A, Papathanasiu S, et al. Evidence of vascular dysfunction in young patients with successfully repaired coarctation of aorta. Atherosclerosis. 2005;182:97–103.

Yokoyama U, Ichikawa Y, Minamisawa S, Ishikawa Y. Pathology and molecular mechanisms of coarctation of the aorta and its association with the ductus arteriosus. J Physiol Sci. 2017;67:259–70.

Batko K, Krzanowski M, Pietrzycka A, Gajda M, Dumnicka P, Fedak D, et al. Interplay of nitric oxide metabolites and markers of endothelial injury, inflammation and vascular disease in the spectrum of advanced chronic kidney disease. Kardiol Pol. 2019;78:51–8.

Doyon A, Kracht D, Bayazit AK, Deveci M, Duzova A, Krmar RT, et al. Carotid artery intima-media thickness and distensibility in children and adolescents: reference values and role of body dimensions. Hypertension. 2013;62:550–6.

Jourdan C, Wuhl E, Litwin M, Fahr K, Trelewicz J, Jobs K, et al. Normative values for intima-media thickness and distensibility of large arteries in healthy adolescents. J Hypertens. 2005;23:1707–15.

Lurbe E, Agabiti-Rosei E, Cruickshank JK, Dominiczak A, Erdine S, Hirth A, et al. European Society of Hypertension guidelines for the management of high blood pressure in children and adolescents. J Hypertens. 2016;34:1887–920. 2016

Flynn JT, Daniels SR, Hayman LL, Maahs DM, McCrindle BW, Mitsnefes M, et al. Update: ambulatory blood pressure monitoring in children and adolescents: a scientific statement from the American Heart Association. Hypertension. 2014;63:1116–35.

Khoury PR, Mitsnefes M, Daniels SR, Kimball TR. Age-specific reference intervals for indexed left ventricular mass in children. J Am Soc Echocardiogr. 2009;22:709–14.

Desimone G, Devereux RB, Daniels SR, Koren MJ, Meyer RA, Laragh JH. Effect of growth on variability of left-ventricular mass - assessment of allometric signals in adults and children and their capacity to predict cardiovascular risk. J Am Coll Cardiol. 1995;25:1056–62.

Lai WW, Mertens LL, Cohen MS, Geva T. Echocardiography in pediatric and congenital heart disease: from fetus to adult. Second edition.

Corretti MC, Anderson TJ, Benjamin EJ, Celermajer D, Charbonneau F, Creager MA, et al. Guidelines for the ultrasound assessment of endothelial-dependent flow-mediated vasodilation of the brachial artery: a report of the International Brachial Artery Reactivity Task Force. J Am Coll Cardiol. 2002;39:257–65.

Fischer DC, Schreiver C, Heimhalt M, Noerenberg A, Haffner D. Pediatric reference values of carotid-femoral pulse wave velocity determined with an oscillometric device. J Hypertens. 2012;30:2159–67.

Elmenhorst J, Hulpke-Wette M, Barta C, Dalla Pozza R, Springer S, Oberhoffer R. Percentiles for central blood pressure and pulse wave velocity in children and adolescents recorded with an oscillometric device. Atherosclerosis. 2015;238:9–16.

Johnson HM, Douglas PS, Srinivasan SR, Bond MG, Tang R, Li S, et al. Predictors of carotid intima-media thickness progression in young adults: the Bogalusa Heart Study. Stroke. 2007;38:900–5.

Brown ML, Burkhart HM, Connolly HM, Dearani JA, Cetta F, Li Z, et al. Coarctation of the aorta: lifelong surveillance is mandatory following surgical repair. J Am Coll Cardiol. 2013;62:1020–5.

Bambul Heck P, Pabst von Ohain J, Kaemmerer H, Ewert P, Hager A. Survival and cardiovascular events after coarctation-repair in long-term follow-up (COAFU): Predictive value of clinical variables. Int J Cardiol. 2017;228:347–51.

Toro-Salazar OH, Steinberger J, Thomas W, Rocchini AP, Carpenter B, Moller JH. Long-term follow-up of patients after coarctation of the aorta repair. Am J Cardiol. 2002;89:541–7.

Pickard SS, Gauvreau K, Gurvitz M, Gagne JJ, Opotowsky AR, Jenkins KJ, et al. A national population-based study of adults with coronary artery disease and coarctation of the aorta. Am J Cardiol. 2018;122:2120–4.

Luijendijk P, Lu H, Heynneman FB, Huijgen R, de Groot EE, Vriend JW, et al. Increased carotid intima-media thickness predicts cardiovascular events in aortic coarctation. Int J Cardiol. 2014;176:776–81.

Curtis SL, Bradley M, Wilde P, Aw J, Chakrabarti S, Hamilton M, et al. Results of screening for intracranial aneurysms in patients with coarctation of the aorta. AJNR Am J Neuroradiol. 2012;33:1182–6.

Vogt M, Kuhn A, Baumgartner D, Baumgartner C, Busch R, Kostolny M, et al. Impaired elastic properties of the ascending aorta in newborns before and early after successful coarctation repair: proof of a systemic vascular disease of the prestenotic arteries? Circulation. 2005;111:3269–73.

de Divitiis M, Pilla C, Kattenhorn M, Zadinello M, Donald A, Leeson P, et al. Vascular dysfunction after repair of coarctation of the aorta: impact of early surgery. Circulation. 2001;104:I165–70.

di Salvo G, Pacileo G, Limongelli G, Verrengia M, Rea A, Santoro G, et al. Abnormal regional myocardial deformation properties and increased aortic stiffness in normotensive patients with aortic coarctation despite successful correction: an ABPM, standard echocardiography and strain rate imaging study. Clin Sci. 2007;113:259–66.

Sehested J, Baandrup U, Mikkelsen E. Different reactivity and structure of the prestenotic and poststenotic aorta in human coarctation. Implications for baroreceptor function. Circulation. 1982;65:1060–5.

Lee MG, Allen SL, Kawasaki R, Kotevski A, Koleff J, Kowalski R, et al. High prevalence of hypertension and end-organ damage late after coarctation repair in normal arches. Ann Thorac Surg. 2015;100:647–53.

Eicken A, Pensl U, Sebening W, Hager A, Genz T, Schreiber C, et al. The fate of systemic blood pressure in patients after effectively stented coarctation. Eur Heart J. 2006;27:1100–5.

Ou P, Bonnet D, Auriacombe L, Pedroni E, Balleux F, Sidi D, et al. Late systemic hypertension and aortic arch geometry after successful repair of coarctation of the aorta. Eur Heart J. 2004;25:1853–9.

Bailie MD, Donoso VS, Gonzalez NC. Role of the renin-angiotensin system in hypertension after coarctation of the aorta. J Lab Clin Med. 1984;104:553–62.

Kenny D, Polson JW, Martin RP, Wilson DG, Caputo M, Cockcroft JR, et al. Surgical approach for aortic coarctation influences arterial compliance and blood pressure control. Ann Thorac Surg. 2010;90:600–4.

Bassareo PP, Marras AR, Manai ME, Mercuro G. The influence of different surgical approaches on arterial rigidity in children after aortic coarctation repair. Pediatr Cardiol. 2009;30:414–8.

Sarkola T, Redington AN, Slorach C, Hui W, Bradley T, Jaeggi E. Assessment of vascular phenotype using a novel very-high-resolution ultrasound technique in adolescents after aortic coarctation repair and/or stent implantation: relationship to central haemodynamics and left ventricular mass. Heart. 2011;97:1788–93.

Jesus CA, Assef JE, Pedra SR, Ferreira WP, Davoglio TA, Petisco AC, et al. Serial assessment of arterial structure and function in patients with coarctation of the aorta undergoing stenting. Int J Cardiovasc Imaging. 2016;32:729–39.

Ou P, Celermajer DS, Jolivet O, Buyens F, Herment A, Sidi D, et al. Increased central aortic stiffness and left ventricular mass in normotensive young subjects after successful coarctation repair. Am Heart J. 2008;155:187–93.

Lombardi KC, Northrup V, McNamara RL, Sugeng L, Weismann CG. Aortic stiffness and left ventricular diastolic function in children following early repair of aortic coarctation. Am J Cardiol. 2013;112:1828–33.

Dempsey AA, Parraga G, Altamirano-Diaz L, Welisch E, Park TS, Grattan M, et al. Increased blood pressure is associated with increased carotid artery intima-media thickness in children with repaired coarctation of the aorta. J Hypertens. 2019;37:1689–98.

Humphrey JD. Mechanisms of arterial remodeling in hypertension: coupled roles of wall shear and intramural stress. Hypertension. 2008;52:195–200.

McNulty M, Mahmud A, Spiers P, Feely J. Collagen type-I degradation is related to arterial stiffness in hypertensive and normotensive subjects. J Hum Hypertens. 2006;20:867–73.

Litwin M, Niemirska A, Sladowska J, Antoniewicz J, Daszkowska J, Wierzbicka A, et al. Left ventricular hypertrophy and arterial wall thickening in children with essential hypertension. Pediatr Nephrol. 2006;21:811–9.

Kaushal S, Backer CL, Patel JN, Patel SK, Walker BL, Weigel TJ, et al. Coarctation of the aorta: midterm outcomes of resection with extended end-to-end anastomosis. Ann Thorac Surg. 2009;88:1932–8.

Beekman RH, Rocchini AP, Behrendt DM, Bove EL, Dick M 2nd, Crowley DC, et al. Long-term outcome after repair of coarctation in infancy: subclavian angioplasty does not reduce the need for reoperation. J Am Coll Cardiol. 1986;8:1406–11.

Adjagba PM, Hanna B, Miro J, Dancea A, Poirier N, Vobecky S, et al. Percutaneous angioplasty used to manage native and recurrent coarctation of the aorta in infants younger than 1 year: immediate and midterm results. Pediatr Cardiol. 2014;35:1155–61.

Kowalski R, Lee MGY, Doyle LW, Cheong JLY, Smolich JJ, d'Udekem Y, et al. Reduced aortic distensibility is associated with higher aorto-carotid wave transmission and central aortic systolic pressure in young adults after coarctation repair. J Am Heart Assoc. 2019;8:e011411.

de Divitiis M, Pilla C, Kattenhorn M, Donald A, Zadinello M, Wallace S, et al. Ambulatory blood pressure, left ventricular mass, and conduit artery function late after successful repair of coarctation of the aorta. J Am Coll Cardiol. 2003;41:2259–65.

Weismann CG, Maretic A, Grell BS, Akesson A, Hlebowicz J, Liuba P. Multimodal assessment of vascular and ventricular function in children and adults with repaired aortic coarctation. Int J Cardiol. 2021;323:47–53.
Acknowledgements
This project was supported by the Association for European Paediatric and Congenital Cardiology, junior member research grant.
Ethics declarations
Competing interests
The authors declare no competing interests.
Additional information
Publisher's note Springer Nature remains neutral with regard to jurisdictional claims in published maps and institutional affiliations.
Supplementary information
About this article
Cite this article
Sendzikaite, S., Sudikiene, R., Lubaua, I. et al. Multi-centre cross-sectional study on vascular remodelling in children following successful coarctation correction. J Hum Hypertens 36, 819–825 (2022). https://doi.org/10.1038/s41371-021-00585-6
Received:

Revised:

Accepted:

Published:

Issue Date:

DOI: https://doi.org/10.1038/s41371-021-00585-6