Abstract
Background
The communities we live in are central to our health. Neighborhood disadvantage is associated with worse physical and mental health and even early mortality, while resident sense of safety and positive neighborhood sentiment has been repeatedly linked to better physical and mental health outcomes. Therefore, understanding where negative neighborhood sentiment and safety are salient concerns can help inform public health interventions and as a result, improve health outcomes. To date, fear of crime and neighborhood sentiment data or indices have largely been based on the administration of time consuming and costly standardized surveys.
Objective
The current study aims to develop a Neighborhood Sentiment and Safety Index (NSSI) at the census tract level, building on publicly available data repositories, including the US Census and ACS surveys, Data Axle, and ESRI repositories.
Methods
The NSSI was created using Principal Component Analysis. Mineigen and minimum loading values were 1 and 0.3, respectively. Throughout the step-wise PCA process, variables were excluded if their loading value was below 0.3 or if variables loaded into multiple components.
Results
The novel index was validated against standardized survey items from a longitudinal cohort study in the Northeastern United States characterizing experiences of (1) Neighborhood Characteristics with a Pearson correlation of −0.34 (p < 0.001) and, (2) Neighborhood Behavior Impact with a Pearson correlation of −0.33 (p < 0.001). It also accurately predicted the Share Care Community Well Being Index (Spearman correlation = 0.46) and the neighborhood deprivation index (NDI) (Spearman correlation = −0.75).
Significance
Our NSSI can serve as a predictor of neighborhood experience where data is either unavailable or too resource consuming to practically implement in planned studies.
Impact statement
To date, fear of crime and neighborhood sentiment data or indices have largely been based on the administration of time consuming and costly standardized surveys. The current study aims to develop a Neighborhood Sentiment and Safety Index (NSSI) at the census tract level, building on publicly available data repositories, including the US Census and ACS surveys, Data Axle, and ESRI repositories. The NSSI was validated against four separate measures and can serve as a predictor of neighborhood experience where data is either unavailable or too resource consuming to practically implement in planned studies.
Access options
Subscribe to this journal
Receive 6 print issues and online access
$259.00 per year
only $43.17 per issue
Rent or buy this article
Get just this article for as long as you need it
$39.95
Prices may be subject to local taxes which are calculated during checkout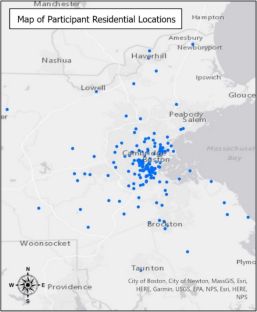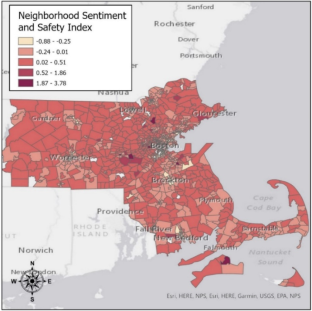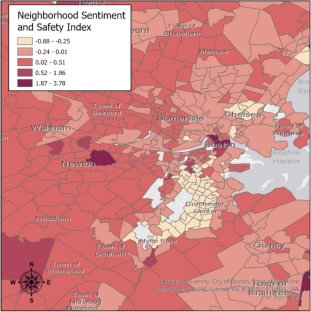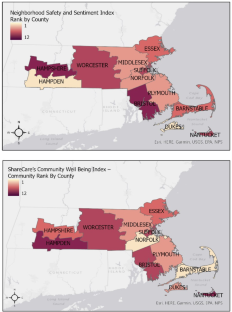 Data availability
All data included in the derivation of the NSSI exists within data repositories that are accessible without cost or with a subscription or purchase agreement. The data from validating source, ShareCare, is publically available on their website. The NDI provided by Children's Environmental Health Initiative (CEHI) is available through a data request to their repository. The cohort validating data in this paper was collected as part of the PRogramming of Intergenerational Stress Mechanisms (PRISM) pregnancy cohort study at the Icahn School of Medicine at Mount Sinai. Due to human subjects confidentiality, data are not publicly available; however, a limited dataset may be obtained from the corresponding author upon reasonable request.
References
Chetty R, Hendren N, Katz LF. The effects of exposure to better neighborhoods on children: new evidence from the moving to opportunity experiment. Am Econ Rev. 2016;106:855–902.

Diez Roux AV, Mair C. Neighborhoods and health. Ann N. Y Acad Sci. 2010;1186:125–45.

Factor R, Awerbuch T, Levins R. Social and land use composition determinants of health: variability in health indicators. Health Place. 2013;22:90–7.

Leventhal T, Brooks-Gunn J. The neighborhoods they live in: the effects of neighborhood residence on child and adolescent outcomes. Psychol Bull. 2000;126:309–37.

Ludwig J, et al. Neighborhood effects on the long-term well-being of low-income adults. Science. 2012;337:1505–10.

Robinson F, Keithley J. The impacts of crime on health and health services: a literature review. Health, Risk Soc. 2000;2:253–66.

Mouratidis K. Neighborhood characteristics, neighborhood satisfaction, and well-being: the links with neighborhood deprivation. Land Use Policy. 2020;99:104886.

Hajat A, et al. Examining the cross-sectional and longitudinal association between diurnal cortisol and neighborhood characteristics: evidence from the multi-ethnic study of atherosclerosis. Health Place. 2015;34:199–206.

Verheyen VJ, et al. Determinants of chronic biological stress, measured as hair cortisol concentration, in a general population of adolescents: from individual and household characteristics to neighborhood urbanicity. Front Public Health. 2021;9:669022.

Hackman DA, et al. Neighborhood environments influence emotion and physiological reactivity. Sci Rep. 2019;9:9498.

Flowerdew R, Manley DJ, Sabel CE. Neighbourhood effects on health: does it matter where you draw the boundaries? Soc Sci Med. 2008;66:1241–55.

Garner CL, Raudenbush SW. Neighborhood effects on Educational-attainment - a multilevel analysis. Socio Educ. 1991;64:251–62.

Sampson RobertJ, Morenoff JeffreyD, Gannon-Rowley T. Assessing "Neighborhood Effects": social processes and new directions in research. Annu Rev Sociol. 2002;28:443–78.

Sampson RJ, Bartusch DJ. Legal cynicism and (Subcultural?) tolerance of deviance: the neighborhood context of racial differences. Law Soc Rev. 1998;32:777–804.

Korotchenko S, Anderson KM. Community-based participatory research: how residents of a small low-income racially homogenous disadvantaged neighborhood perceive the effects of poverty stigma, community disorder, & feelings of unsafety on health. J Qualitative Crim Just Criminol. 2020;8.

Kristi SL. Connection to place: exploring community satisfaction and attachment among rural youth. Child Youth Environ. 2011;21:77–99.

Tung EL, Boyd K, Lindau ST, Peek ME. Neighborhood crime and access to health-enabling resources in Chicago. Prev Med Rep. 2018;9:153–6.

Sampson RJ, Wilson WJ, Katz H. Reassessing "Toward a theory of race, crime, and urban inequality": enduring and new challenges in 21st century America. Du Bois Rev: Soc Sci Res Race. 2018;15:13–34.

O'Brien D, Sampson RJ. Public and private spheres of neighborhood disorder: assessing pathways to violence using large-scale digital records. J Res Crime Delinquency. 2015;52:486–510.

Chiu YH, et al. Effects of prenatal community violence and ambient air pollution on childhood wheeze in an urban population. J Allergy Clin Immunol. 2014;133:713–722 e714.

Clark C, et al. Witnessing community violence in residential neighborhoods: a mental health hazard for urban women. J Urban Health. 2008;85:22–38.

Suglia SF, et al. Cumulative stress and cortisol disruption among Black and Hispanic pregnant women in an Urban Cohort. Psychol Trauma. 2010;2:326–334.

Dustmann C, Fasani F. The effect of local area crime on mental health. Economic J. 2016;126:978–1017.

Geron M, et al. Racial/ethnic and neighborhood disparities in metals exposure during pregnancy in the Northeastern United States. Sci Total Environ. 2022;820:153249.

Evenson KR, et al. Associations of adult physical activity with perceived safety and police-recorded crime: the multi-ethnic study of atherosclerosis. Int J Behav Nutr Phys Act. 2012;9:146.

Sundquist K, et al. Neighborhood violent crime and unemployment increase the risk of coronary heart disease: a multilevel study in an urban setting. Soc Sci Med. 2006;62:2061–71.

Sternthal MJ, Jun HJ, Earls F, Wright RJ. Community violence and urban childhood asthma: a multilevel analysis. Eur Respir J. 2010;36:1400–9.

Rees-Punia E, Hathaway ED, Gay JL. Crime, perceived safety, and physical activity: a meta-analysis. Prev Med. 2018;111:307–13.

Messer LC, Kaufman JS, Dole N, Herring A, Laraia BA. Violent crime exposure classification and adverse birth outcomes: a geographically-defined cohort study. Int J Health Geogr. 2006;5:22.

Wallace D, Chamberlain AW, Fahmy C. Changes in neighborhood social control and disorder and their relationship to exercise behavior. Environ Behav. 2019;51:717–48.

Sharecare CW-BI. Sharecare Community well-being index methodology. In, 5.25.2021. https://wellbeingindex.sharecare.com/research/community-well-being-index-methods/.

Pesta B, McDaniel M, Bertsch S. Toward an index of well-being for the fifty states. Intelligence. 2009. https://doi.org/10.1016/j.intell.2009.09.006.

Aj M, Cdm FH, Pj L. Perceived school and neighborhood safety, neighborhood violence and academic achievement in urban school children. Urban Rev. 2010;42:458–67.

Boldis BV, San Sebastian M, Gustafsson PE. Unsafe and unequal: a decomposition analysis of income inequalities in fear of crime in northern Sweden. Int J Equity Health. 2018;17:110.

Booth S, Pollard CM. Food insecurity, food crimes and structural violence: an Australian perspective. Aust N. Z J Public Health. 2020;44:87–8.

Calise TV, Chow W, Ryder A, Wingerter C. Food access and its relationship to perceived walkability, safety, and social cohesion. Health Promot Pr. 2019;20:858–67.

Cornaglia F, Feldman NE, Leigh A. Crime and mental well-being. J Hum Resour. 2014;49:110–40.

Deka D, Brown CT, Sinclair J. Exploration of the effect of violent crime on recreational and transportation walking by path and structural equation models. Health Place. 2018;52:34–45.

Deza M, Maclean JC, Solomon KT, National Bureau of Economic R. Local access to mental healthcare and crime. National Bureau of Economic Research: Cambridge, MA, 2020.

Di W. The impact of mass transit on public security - a study of Bay area rapid transit in San Francisco. Transportation Res Procedia. 2017;25:3233–52.

Fallahi F, Rodriguez G. Link between unemployment and crime in the US: a Markov-Switching approach. Soc Sci Res. 2014;45:33–45.

Finegan M, Firth N, Delgadillo J. Adverse impact of neighbourhood socioeconomic deprivation on psychological treatment outcomes: the role of area-level income and crime. Psychother Res. 2020;30:546–54.

Ha OK, Andresen MA, Davies G. The temporal (In)Stability of the unemployment and crime relationship. Int J Offender Ther Comp Criminol. 2020;64:840–59.

Lardier DT Jr., Reid RJ, Yu D, Garcia-Reid PA. Spatial analysis of alcohol outlet density and abandoned properties on violent crime in Paterson New Jersey. J Community Health. 2020;45:534–41.

Lochner L, Moretti E. The effect of education on crime: evidence from prison inmates, arrests, and self-reports. Am Economic Rev. 2004;94:155–89.

Mayer VL, Hillier A, Bachhuber MA, Long JA. Food insecurity, neighborhood food access, and food assistance in Philadelphia. J Urban Health. 2014;91:1087–97.

Meyer OL, Castro-Schilo L, Aguilar-Gaxiola S. Determinants of mental health and self-rated health: a model of socioeconomic status, neighborhood safety, and physical activity. Am J Public Health. 2014;104:1734–41.

Nieuwenhuis J, Hooimeijer P. The association between neighbourhoods and educational achievement, a systematic review and meta-analysis. J Hous Built Environ. 2016;31:321–47.

Vauclair CM, Bratanova B. Income inequality and fear of crime across the European region. Eur J Criminol. 2017;14:221–41.

Children's Environmental Health Initiative. Neighborhood Deprivation Index for year 2010, using the 2010 census geographic boundaries [Data set]. CEHI. 2022. https://doi.org/10.25614/ndi_2010_trt_allstates.

Messer LC, et al. The development of a standardized neighborhood deprivation index. J Urban Health. 2006;83:1041–62.

Brunst KJ, et al. Prenatal particulate matter exposure and mitochondrial dysfunction at the maternal-fetal interface: effect modification by maternal lifetime trauma and child sex. Environ Int. 2018;112:49–58.

Brunst KJ, et al. Racial/ethnic and sociodemographic factors associated with micronutrient intakes and inadequacies among pregnant women in an urban US population. Public Health Nutr. 2014;17:1960–70.

United States Census Bureau. 2010 Census: Massachusetts Profile. In. https://www2.census.gov/geo/maps/dc10_thematic/2010_Profile/2010_Profile_Map_Massachusetts.pdf.

ESRI Demographics. Crime Indexes. https://doc.arcgis.com/en/esri-demographics/latest/regional-data/crime-indexes.htm.

Data Axle. Data Axle Libraries. 2022. https://www.data-axle.com/how-we-help/library-academia/.

United States Census Bureau. 2010 Census. https://data.census.gov/cedsci/.

Jolliffe IT, NetLibrary I. Principal component analysis. Springer: New York, NY, 2002.

Jolliffe IT, Cadima J. Principal component analysis: a review and recent developments. Philosophical Transactions of the Royal Society A: Mathematical, Physical and Engineering Sciences 2016;374.

Sampson RJ, Raudenbush SW, Earls F. Neighborhoods and violent crime: a multilevel study of collective efficacy. Science. 1997;277:918–24.

Sampson RJ, Morenoff JD, Raudenbush S. Social anatomy of racial and ethnic disparities in violence. Am J Public Health. 2005;95:224–32.

Lub V, de Leeuw T. Perceptions of neighbourhood safety and policy response: a qualitative approach. Eur J Crim Policy Res. 2017;23:425–40.

Biderman AD, Reiss AJ. On exploring the "Dark Figure" of crime. ANNALS Am Acad Political Soc Sci. 1967;374:1–15.

Factor R. Reducing traffic violations in minority localities: designing a traffic enforcement program through a public participation process. Accid Anal Prev. 2018;121:71–81.

Factor R. A quasi-experiment testing a public participation process for designing and implementing an enforcement program among minorities. J Exp Criminol. 2019;15:77–86.

Mesch GS. Perceptions of risk, lifestyle activities, and fear of crime. Deviant Behav. 2000;21:47–62.

Pain R. Gender, race, age and fear in the city. Urban Stud. 2001;38:899–913.

Schafer JA, Huebner BM, Bynum TS. Fear of crime and criminal victimization: gender-based contrasts. J Crim Justice. 2006;34:285–301.

Scott H. Stranger Danger: explaining women's fear of crime. Western Criminol Rev. 2003;4:203–214.

Fear of Crime in the United States: Avenues for Research and Policy by Mark Warr. J Crim Justice. 2000;4.

Austin DM, Furr LA, Spine M. The effects of neighborhood conditions on perceptions of safety. J Crim Justice. 2002;30:417–27.

Goodey J. BOYS DON'T CRY: Masculinities, fear of crime and fearlessness. Br J Criminol. 1997;37:401–18.

Mcgarrell EF, Giacomazzi AL, Thurman QC. Neighborhood disorder, integration, and the fear of crime. Justice Q. 1997;14:479–500.

Propper C, et al. The impact of neighbourhood on the income and mental health of British social renters. Urban Stud. 2006;44:393–415.
Funding
This work was supported by NIH grants: R01ES030302, P30ES023515, UG3OD023337 and U54TR004213. During preparation of this manuscript WC was supported by K99ES032029.
Ethics declarations
Competing interests
The authors declare no competing interests.
Additional information
Publisher's note Springer Nature remains neutral with regard to jurisdictional claims in published maps and institutional affiliations.
Supplementary information
Rights and permissions
Springer Nature or its licensor (e.g. a society or other partner) holds exclusive rights to this article under a publishing agreement with the author(s) or other rightsholder(s); author self-archiving of the accepted manuscript version of this article is solely governed by the terms of such publishing agreement and applicable law.
About this article
Cite this article
Geron, M., Factor, R., Cowell, W. et al. Validation of a neighborhood sentiment and safety index derived from existing data repositories. J Expo Sci Environ Epidemiol 33, 207–217 (2023). https://doi.org/10.1038/s41370-022-00486-x
Received:

Revised:

Accepted:

Published:

Issue Date:

DOI: https://doi.org/10.1038/s41370-022-00486-x
Keywords
Geospatial analyses

Analytical methods

Health studies

New approach methodologies (NAMs)