Abstract
Phthalates are ubiquitous indoor pollutants which have been associated with child airway disease although results are inconclusive. This study examined associations between phthalate levels in residential indoor dust and croup during infancy. Settled indoor dust was collected in 482 homes of 6-month-old infants in the Swedish Environmental Longitudinal, Mother and child, Asthma and allergy (SELMA) study and analysed for seven phthalates and one phthalate replacement using gas chromatography tandem mass spectrometry. The incidence of parental reported croup at 12 months was 6.4% for girls and 13.4% for boys. Associations between phthalate dust levels and croup were analysed by logistic regression adjusted for potential confounders. We found significant associations between di-ethyl phthalate (DEP) and di-ethyl-hexyl phthalate (DEHP) in residential dust and parental reported croup (adjusted odds ratio (aOR) = 1.71; 95% CI: 1.08–2.73 and 2.07; 1.00–4.30, respectively). Stratified results for boys showed significant associations between DEP and butyl-benzyl phthalate (BBzP) in dust and infant croup (aOR = 1.86; 95% CI: 1.04–3.34 and 2.02; 1.04–3.90, respectively). Results for girls had questionable statistical power due to few cases. Our results suggest that exposure to phthalates in dust is a risk factor for airway inflammatory responses in infant children.
Access options
Subscribe to this journal
Receive 6 print issues and online access
$259.00 per year
only $43.17 per issue
Rent or buy this article
Prices vary by article type
from$1.95
to$39.95
Prices may be subject to local taxes which are calculated during checkout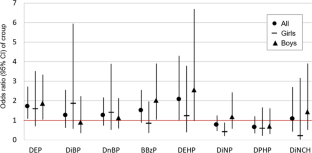 References
Swedish Chemical Agency. Phthalates which are toxic for reproduction and endocrine-disrupting—proposals for a phase-out in Sweden. Stockholm: Swedish Chemical Agency; 2015. Report No. 4/15.

Larsson K, Berglund M. Children's exposure to chemicals in indoor environments—a literature survey of chemicals in dust. Karolinska Institutet, Swedish Environmental Protection Agency; 2018.

Lucattini L, Poma G, Covaci A, de Boer J, Lamoree MH, Leonards PEG. A review of semi-volatile organic compounds (SVOCs) in the indoor environment: occurrence in consumer products, indoor air and dust. Chemosphere 2018;201:466–82.

Wormuth M, Scheringer M, Vollenweider M, Hungerbuhler K. What are the sources of exposure to eight frequently used phthalic acid esters in Europeans? Risk Anal. 2006;26:803–24.

Beko G, Weschler CJ, Langer S, Callesen M, Toftum J, Clausen G. Children's phthalate intakes and resultant cumulative exposures estimated from urine compared with estimates from dust ingestion, inhalation and dermal absorption in their homes and daycare centers. PLoS ONE. 2013;8:e62442.

Weiss JM, Gustafsson A, Gerde P, Bergman A, Lindh CH, Krais AM. Daily intake of phthalates, MEHP, and DINCH by ingestion and inhalation. Chemosphere 2018;208:40–9.

Ferguson A, Penney R, Solo-Gabriele H. A review of the field on children's exposure to environmental contaminants: a risk assessment approach. Int J Environ Res Public Health. 2017;14:1–25.

Tulve NS, Suggs JC, McCurdy T, Cohen Hubal EA, Moya J. Frequency of mouthing behavior in young children. J Expo Anal Environ Epidemiol. 2002;12:259–64.

Bølling AK, Holme JA, Bornehag CG, Nygaard UC, Bertelsen RJ, Nånberg E, et al. Pulmonary phthalate exposure and asthma - is PPAR a plausible mechanistic link? EXCLI J. 2013;12:733–59.

Li M-C, Chen C-H, Guo YL. Phthalate esters and childhood asthma: a systematic review and congener-specific meta-analysis. Environ Pollut. 2017;229:655–60.

Kolarik B, Naydenov K, Larsson M, Bornehag C-G, Sundell J. The association between phthalates in dust and allergic diseases among Bulgarian children. Environ Health Perspect. 2008;116:98–103.

Bi C, Maestre JP, Li H, Zhang G, Givehchi R, Mahdavi A, et al. Phthalates and organophosphates in settled dust and HVAC filter dust of U.S. low-income homes: association with season, building characteristics, and childhood asthma. Environ Int. 2018;121:916–30.

Noutsios GT, Floros J. Childhood asthma: causes, risks, and protective factors; a role of innate immunity. Swiss Med Wkly. 2014;144:1–14.

Mellis C. Respiratory noises: how useful are they clinically? Pediatr Clin North Am. 2009;56:1–17.

Tantisira KG, Colvin R, Tonascia J, Strunk RC, Weiss ST, Fuhlbrigge AL, et al. Airway responsiveness in mild to moderate childhood asthma: sex influences on the natural history. Am J Respir Crit Care Med. 2008;178:325–31.

Shu H, Wikstrom S, Jönsson BAG, Lindh CH, Svensson Å, Nånberg E, et al. Prenatal phthalate exposure was associated with croup in Swedish infants. Acta Paediatr. 2018;107:1011–9.

Bjornson CL, Johnson DW. Croup. Lancet 2008;371:329–39.

Bornehag CG, Moniruzzaman S, Larsson M, Lindstrom CB, Hasselgren M, Bodin A, et al. The SELMA study: a birth cohort study in Sweden following more than 2000 mother-child pairs. Paediatr Perinat Epidemiol. 2012;26:456–67.

Lindh CH, Rylander L, Toft G, Axmon A, Rignell-Hydbom A, Giwercman A, et al. Blood serum concentrations of perfluorinated compounds in men from Greenlandic Inuit and European populations. Chemosphere 2012;88:1269–75.

Jefferis BJ, Lawlor DA, Ebrahim S, Wannamethee SG, Feyerabend C, Doig M, et al. Cotinine-assessed second-hand smoke exposure and risk of cardiovascular disease in older adults. Heart 2010;96:854–9.

MacIntyre EA, Gehring U, Molter A, Fuertes E, Klumper C, Kramer U, et al. Air pollution and respiratory infections during early childhood: an analysis of 10 European birth cohorts within the ESCAPE Project. Environ Health Perspect. 2014;122:107–13.

Mazurek H, Breborowicz A, Doniec Z, Emeryk A, Krenke K, Kulus M, et al. Acute subglottic laryngitis. Etiology, epidemiology, pathogenesis and clinical picture. Adv Respir Med. 2019;87:308–16.

Bornehag CG, Sundell J, Weschler CJ, Sigsgaard T, Lundgren B, Hasselgren M, et al. The association between asthma and allergic symptoms in children and phthalates in house dust: a nested case-control study. Environ Health Perspect. 2004;112:1393–7.

Hsu NY, Lee CC, Wang JY, Li YC, Chang HW, Chen CY, et al. Predicted risk of childhood allergy, asthma, and reported symptoms using measured phthalate exposure in dust and urine. Indoor Air. 2012;22:186–99.

Ait Bamai Y, Araki A, Kawai T, Tsuboi T, Saito I, Yoshioka E, et al. Associations of phthalate concentrations in floor dust and multi-surface dust with the interior materials in Japanese dwellings. Sci Total Environ. 2014;468–469:147–57.

Odebeatu CC, Taylor T, Fleming LE, J. Osborne N. Phthalates and asthma in children and adults: US NHANES 2007–2012. Environ Sci Pollut Res Int. 2019;26:28256–69.

Whyatt RM, Perzanowski MS, Just AC, Rundle AG, Donohue KM, Calafat AM, et al. Asthma in inner-city children at 5-11 years of age and prenatal exposure to phthalates: the Columbia Center for Children's Environmental Health Cohort. Environ Health Perspect. 2014;122:1141–6.

Bornehag CG, Nanberg E. Phthalate exposure and asthma in children. Int J Androl. 2010;33:333–45.

Shu H, Jonsson BAG, Gennings C, Svensson A, Nanberg E, Lindh CH, et al. Temporal trends of phthalate exposures during 2007-2010 in Swedish pregnant women. J Expo Sci Environ Epidemiol. 2018;28:437–47.

Silva MJ, Jia T, Samandar E, Preau JL Jr., Calafat AM. Environmental exposure to the plasticizer 1, 2-cyclohexane dicarboxylic acid, diisononyl ester (DINCH) in US adults (2000-2012). Environ Res. 2013;126:159–63.

Bergh C, Torgrip R, Emenius G, Ostman C. Organophosphate and phthalate esters in air and settled dust—a multi-location indoor study. Indoor Air. 2011;21:67–76.

Lunderberg DM, Kristensen K, Liu Y, Misztal PK, Tian Y, Arata C, et al. Characterizing airborne phthalate concentrations and dynamics in a normally occupied residence. Environ Sci Technol. 2019;53:7337–46.

Tyrrell J, Melzer D, Henley W, Galloway TS, Osborne NJ. Associations between socioeconomic status and environmental toxicant concentrations in adults in the USA: NHANES 2001–2010. Environ Int. 2013;59:328–35.

Haustein K-O. Smoking and poverty. Eur J Cardiovasc Prev Rehabil. 2006;13:312–8.

Vlismas K, Stavrinos V, Panagiotakos DB. Socio-economic status, dietary habits and health-related outcomes in various parts of the world: a review. Cent Eur J Public Health. 2009;17:55–63.

Guo Y, Kannan K. Comparative assessment of human exposure to phthalate esters from house dust in China and the United States. Environ Sci Technol. 2011;45:3788–94.

Sakhi AK, Cequier E, Becher R, Bolling AK, Borgen AR, Schlabach M, et al. Concentrations of selected chemicals in indoor air from Norwegian homes and schools. Sci Total Environ. 2019;674:1–8.

Andersen C, Krais AM, Eriksson AC, Jakobsson J, Londahl J, Nielsen J, et al. Inhalation and dermal uptake of particle and gas-phase phthalates—a human exposure study. Environ Sci Technol. 2018;52:12792–800.

Weschler CJ, Nazaroff WW. SVOC partitioning between the gas phase and settled dust indoors. Atmos Environ (1994). 2010;44:3609–20.

Robinson L, Miller R. The impact of bisphenol A and phthalates on allergy, asthma, and immune function: a review of latest findings. Curr Environ Health Rep. 2015;2:379–87.

Holt P, Jones C. The development of the immune system during pregnancy and early life. Allergy 2000;55:688–97.

ECHA. Substance Information Diethyl phthalate: European Chemicals Agency 2020 [updated 26/05/2020]. Available from: https://echa.europa.eu/substance-information/-/substanceinfo/100.001.409.

Van Bever H, Wieringa M, Weyler J, Nelen V, Fortuin M, Vermeire P. Croup and recurrent croup: their association with asthma and allergy. Eur J Pediatr. 1999;158:253–7.
Acknowledgements
We would like to thank all the participating families.
Funding
This study was funded by grants from the Swedish Research Council for Environment, Agricultural Sciences and Spatial Planning (Formas), the Swedish Foundation for Health Care Sciences and Allergy Research, Swedish Asthma and Allergy Association's Research Foundation, and the County Council of Värmland.
Ethics declarations
Conflict of interest
The authors declare that they have no conflict of interest.
Additional information
Publisher's note Springer Nature remains neutral with regard to jurisdictional claims in published maps and institutional affiliations.
Supplementary information
About this article
Cite this article
Preece, AS., Shu, H., Knutz, M. et al. Phthalate levels in indoor dust and associations to croup in the SELMA study. J Expo Sci Environ Epidemiol 31, 257–265 (2021). https://doi.org/10.1038/s41370-020-00264-7
Received:

Revised:

Accepted:

Published:

Issue Date:

DOI: https://doi.org/10.1038/s41370-020-00264-7
Keywords
Croup

Dust

Exposure

Phthalate

SELMA study