Abstract
The adverse health effects of fine particulate matter (PM < 2.5 μm in diameter [PM2.5]) air pollution are well-documented. There is a growing body of evidence that high-efficiency particulate arrestance (HEPA) filtration can reduce indoor PM2.5 concentrations and deliver some health benefits via the reduction of exposure to PM. However, few studies have tested the ability of portable air filtration systems to lower overall personal-level PM2.5 exposures. The Reducing Air Pollution in Detroit Intervention Study (RAPIDS) was designed to evaluate cardiovascular health benefits and personal PM2.5 exposure reductions via indoor portable air filtration systems among senior citizens in Detroit, Michigan. We evaluated the utility of two commercially available high-efficiency (HE: true-HEPA) and low-efficiency (LE: HEPA-type) indoor air filtration to reduce indoor PM2.5 concentrations and personal PM2.5 exposures for 40 participants in a double-blinded randomized crossover intervention. Each participant was subjected to three intervention scenarios: HE, LE, or no filter (control) of three consecutive days each, during which personal, indoor, and outdoor PM2.5 concentrations were measured daily. For mean indoor PM2.5 concentrations, we observed 60 and 52% reductions using HE and LE filters, respectively, relative to no filtration. Personal PM2.5 exposures were reduced by 53 and 31% using HE and LE filters, respectively, when compared with the control scenario. To our knowledge, this is the first indoor air filtration intervention study to examine the effectiveness of both HE and LE filters in reducing personal PM2.5 exposures.
Access options
Subscribe to Journal
Get full journal access for 1 year
$119.00
only $19.83 per issue
All prices are NET prices.
VAT will be added later in the checkout.
Tax calculation will be finalised during checkout.
Buy article
Get time limited or full article access on ReadCube.
$32.00
All prices are NET prices.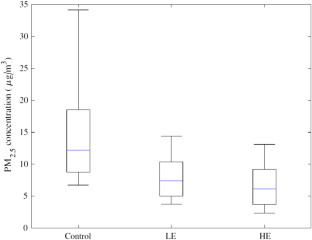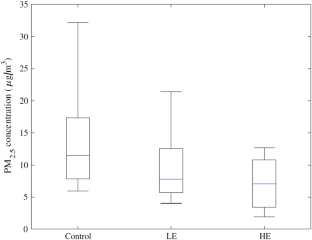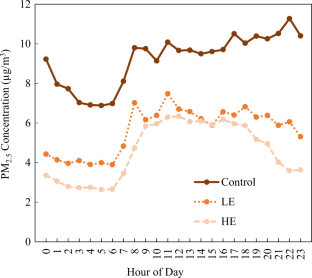 References
Wang C, Tu Y, Yu Z, Lu R. PM2.5 and cardiovascular diseases in the elderly: an overview. Int Environ Res Public Health. 2015;12:8187–97.

Fajersztajn L, Saldiva P, Pereira LAA, Leite VF, Buehler AM. Short-term effects of fine particulate matter pollution on daily health events in Latin America: a systematic review and meta-analysis. Int J Public Health. 2017. https://doi.org/10.1007/s00038-017-0960-y

Luo C, Zhu X, Yao C, Hou L, Zhang J, Cao J, et al. Short-term exposure to particulate air pollution and risk of myocardial infarction: a systematic review and meta-analysis. Environ Sci Pollut Res. 2015;22:14651–62.

World Health Organization Regional Office for Europe. Health Effects of Particulate Matter Policy implications for countries in eastern Europe and Caucasus and central Asia. World Health Organization; 2013.

Newby DE, Mannucci PM, Tell GS, Baccarelli AA, Brook RD, Donaldson K, et al. ESCWorking Group on Thrombosis, European Association for Cardiovascular Prevention and Rehabilitation; ESC Heart Failure Association. Expert position paper on air pollution and cardiovascular disease. Eur Heart J. 2015;36:83–93.

Chen R, Zhao A, Chen H, Zhao Z, Cai J, Wang C, et al. Cardiopulmonary benefits of reducing indoor particles of outdoor origin: a randomized, double-blind crossover trial of air purifiers. JACC . 2015;65:2279–87.

Allen RW, Carlsten C, Karlen B, Leckie S, van Eeden S, Vedal S, et al. An air filter intervention study of endothelial function among healthy adults in a woodsmoke-impacted community. Am J Respir Crit Care Med. 2011;183:1222–30.

Bräuner EV, Forchhammer L, Møller P, Barregard L, Gunnarsen L, Afshari A, et al. Indoor particles affect vascular function in the aged. Am J Respir Crit Care Med. 2008;177:419–25.

Kajbafzadeh M, Brauer M, Karlen B, Carlsten C, van Eeden S, Allen RW. The impacts of traffic-related and woodsmoke particulate matter on measures of cardiovascular health: a HEPA filter intervention study. Occup Environ Med. 2015;72:394–400.

Weichenthal S, Mallach G, Kulka R, Black A, Wheeler A, You H, et al. A randomized double-blind crossover study of indoor air filtration and acute changes in cardiorespiratory health in a First Nations community. Indoor Air. 2013;23:175–84.

Spilak MP, Karottki GD, Kolarik B, Frederiksen M, Loft S, Gunnarsen L. Evaluation of building characteristics in 27 dwellings in Denmark and the effect of using particle filtration units on PM2.5 concentrations. Build Environ. 2014;73:55–63.

Karottki DG, Spilak M, Frederiksen M, Gunnarsen L, Bräuner EV, Kolarik B, et al. An indoor air filtration study in homes of elderly: cardiovascular and respiratory effects of exposure to particulate matter. Environ Health. 2013;12:116.

Matz CJ, Stieb DM, Davis K, Egyed M, Rose A, Chou B, et al. Effects of age, season, gender and urban-rural status on time-activity: Canadian human activity pattern survey 2 (CHAPS 2). Int Environ Res Public Health. 2014;11:2108–24.

Zhang S, Li L, Gao W, Wang Y, Yao X. Interventions to reduce individual exposure of elderly individuals and children to haze: a review. J Thorac Dis. 2016;8:E62–E68.

Avery CL, Mills KT, Williams R, McGraw KA, Poole C, Smith RL, et al. Estimating error in using ambient PM2.5 concentrations as proxies for personal exposures: a review. Epidemiology. 2010;21:215–23.

Oglesby L, Kunzli N, Roosli M, et al. Validity of ambient levels of fine particles as surrogate for personal exposure to outdoor air pollution - results of the European EXPOLIS-EAS study. J Air Waste Manag Assoc. 2000;50:1251–61.

Rodes CE, Lawless PA, Evans GF, Sheldon LS, Williams RW, Vette AF. et al.The relationships between personal PM exposures for elderly populations and indoor and outdoor concentrations for three retirement center scenarios. J Expo Anal Environ Epidemiol. 2001;11:103–15.

Liu L-JS, Box M, Kalman D, Kaufman J, Koenig J, Larson T. et al. Exposure assessment of particulate matter for susceptible populations in Seattle, WA. Environ Health Perspect. 2003;111:909–18.

Keeler GJ, Dvonch JT, Yip FY, Parker EA, Isreal BA, Marsik FJ. et al. Assessment of personal and community-level exposures to particulate matter among children with asthma in Detroit, Michigan, as part of Community Action Against Asthma (CAAA). Environ Health Perspect. 2002;110:173–81.

USEPA. Reference Method for the Determination of Fine Particulate Matter as PM2.5 in the Atmosphere. 1997. EPA 40 CFR Pat50. USEPA, Washington DC.

Conover WJ. Practical Nonparametric Statistics. 3rd ed. John Wiley & Sons, Inc.: New York, NY, USA, 1999.

Pett MA. Nonparametric Statistics for Health Care Research Statistics for Small Samples and Unusual Distributions. Sage Publications: Thousand Oaks, California, USA, 1997. ISBN 0-8039-7038-2.

Zar JH. Biostatistical Analysis. 4th edn. Prentice Hall: Upper Saddle River, New Jersey, USA, 1999.

Skillings JH, Mack GA. On the use of a friedman-type statistic in balanced and unbalanced block designs. Technometrics. 1981;23:171–7.

Wilks DS. Statistical Methods in the Atmospheric Sciences. 3rd edn. Academic Press: San Diego, California, USA, 2011.

Wheeler AJ, Gibson MD, MacNeill M, Ward TJ, Wallace LA, Kuchta J, et al. Impacts of air cleaners on indoor air quality in residences impacted by wood smoke. Environ Sci Technol. 2014;48:12157–63.

Brugge D, Simon MC, Hudda N, Zellmer M, Corlin L, Cleland S. et al. Lessons from in-home air filtration intervention trials to reduce urban ultrafine particle number concentrations. Build Environ. 2017;126:266–75.

Shakya K, Noyes A, Kallin R, Peltier R. Evaluating the efficacy of cloth facemasks in reducing particulate matter exposure. J Expo Sci Environ Epidemiol. 2017;27:352–7.

Vieira JL, Guimaraes GV, de Andre PA, Saldiva PHN, Bocchi EA. Effects of reducing exposure to air pollution on submaximal cardiopulmonary test in patients with heart failure: Analysis of the randomized, double-blind and controlled FILTER-HF trial. Int J Cardiol. 2016;215:92–97.
Acknowledgements
This study was supported by the National Institute of Nursing Research grant R01NR014484. The authors would like to thank the study participants and the administrative staff at the residential facility. The authors also would like to acknowledge David Ciciora, Sue Lustig, and Kathryn Thompson for their field study efforts.
Ethics declarations
Conflict of interest
The authors declare that they have no conflict of interest.
About this article
Cite this article
Maestas, M.M., Brook, R.D., Ziemba, R.A. et al. Reduction of personal PM2.5 exposure via indoor air filtration systems in Detroit: an intervention study. J Expo Sci Environ Epidemiol 29, 484–490 (2019). https://doi.org/10.1038/s41370-018-0085-2
Received:

Revised:

Accepted:

Published:

Issue Date:

DOI: https://doi.org/10.1038/s41370-018-0085-2
Keywords
Personal exposure

particulate matter

inhalation exposure
This article is cited by
Melanie Leong
Catherine J. Karr
Heather L. Brumberg

Journal of Perinatology (2022)

Md. Aminul Islam
Atsuo Ikeguchi
Takanori Naide

Environmental Science and Pollution Research (2022)

Sangita Ghatge Goel
Shashank Somwanshi
Rajesh Gupta

Air Quality, Atmosphere & Health (2021)