Abstract
Phthalates exposure has been linked to multiple health risks, and US immigrants may have different exposures to phthalates due to lifestyle differences. Urinary concentrations of eight phthalate metabolites (mono-ethyl phthalate [MEP], mono-n-butyl phthalate [MnBP], mono-isobutyl phthalate [MiBP], mono-(3-carboxypropyl) phthalate [MCPP], mono-benzyl phthalate [MBzP], mono-2-ethylhexyl phthalate [MEHP], mono-(2-ethyl-5-hydroxyhexyl) phthalate [MEHHP], mono-(2-ethyl-5-oxohexyl) phthalate [MEOHP]) were measured in 10318 US-born and 3511 foreign-born individuals from NHANES 1999–2014. Using multivariate adjusted linear regression, we assessed whether phthalate metabolite levels differed by nativity in the whole population, within racial/ethnic groups, and by years in the US. We also tested whether immigrant demographics predicted phthalate metabolite levels. In fully adjusted models, MEP, MnBP, and MiBP were significantly higher, and MBzP significantly lower, among immigrants than US-born participants. Among immigrants, MnBP and MiBP significantly declined with longer time in the US (Ptrend = 0.029 and Ptrend = 0.039, respectively), while MCPP and MBzP significantly rose (Ptrend = 0.019 and Ptrend = 0.043, respectively). Results within each racial/ethnic group were consistent with the whole population. Among immigrants, women had significantly higher metabolite levels than men (all p < 0.01), and MEP, MnBP, and MCPP differed by race/ethnicity. Due to higher phthalate exposures, immigrants may be especially vulnerable to phthalate-associated health problems.
Relevant articles
Open Access articles citing this article.
Guowei Zeng

,

Qi Zhang

…

Kai-Hong Wu

Environmental Health Open Access 09 March 2022
Access options
Subscribe to this journal
Receive 6 print issues and online access
$259.00 per year
only $43.17 per issue
Rent or buy this article
Get just this article for as long as you need it
$39.95
Prices may be subject to local taxes which are calculated during checkout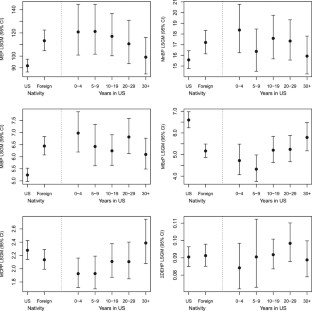 References
US Census. 2015. Projections of the Size and Composition of the U.S. Population: 2014 to 2060. https://www.census.gov/content/dam/Census/library/publications/2015/demo/p25-1143.pdf. Accessed 14 June 2017.

Carrasquillo O, Carrasquillo AI, Shea S. Health insurance coverage of immigrants living in the United States: differences by citizenship status and country of origin. Am J Pub Health. 2000;90:917–23.

Derose KP, Escarce JJ, Lurie N. Immigrants and health care: sources of vulnerability. Health Aff. 2007;26:1258–68.

Fan W, Qian Y. Native-immigrant occupational segregation and worker health in the United States, 2004-2014. Social Sci Med. 2017;183:130–41.

Kandula NR, Kersey M, Lurie N. Assuring the health of immigrants: what the leading health indicators tell us. Ann Rev Pub Health. 2004;25:357–76.

Lopéz G, Radford J. Statistical portrait of the foreign-born population in the United States. Pew Research Center. 2017. http://www.pewhispanic.org/2017/05/03/statistical-portrait-of-the-foreign-born-population-in-the-united-states-2015/ Accessed 23 May 2017.

Bradman A, Schwartz JM, Fenster L, Barr DB, Holland NT, Eskenazi B. Factors predicting organochlorine pesticide levels in pregnant Latina women living in a United States agricultural area. J Expo Sci Env Epid. 2007;17:388–99.

Chen SX, Wiseman CLS, Chakravartty D, Cole DC. Metal concentrations in newcomer women and environmental exposures: a scoping review. Int J Env Res Pub Health. 2017;14:277.

Petreas M, She J, Winkler J, Windham G, Rogers E, Zhao G, et al. High body burdens of 2,2'4,4'-tetrabromodiphenyl ether (BDE-47) in California women. Environ Health Persp. 2003;111:1175–9.

Quandt SA, Jones BT, Talton JW, Whalley LE, Galván L, Vallejos QM, et al. Heavy metals exposures among Mexican farmworkers in eastern North Carolina. Environ Res. 2010;100:83–88.

Braun JM, Sathyanarayana S, Hauser R. Phthalate exposure and children's health. Curr Opin Pediatr. 2013;25:247–54.

Ejaredar M, Nyanza EC, Ten Eycke K, Dewey D. Phthalate exposure and children's neurodevelopment: a systematic review. Environ Res. 2015;142:51–60.

Ferguson KK, McElrath TF, Meeker JD. Environmental phthalate exposure and preterm birth. JAMA Pediatr. 2014;168:61–7.

Mariana M, Feiteiro J, Verde I, Cairrao E. The effect of phthalates in the cardiovascular and reproductive system: a review. Environ Int. 2016;24:758–76.

Eldeirawi K, McConnell R, Freels S, Persky VW. Associations of place of birth with asthma and wheezing in Mexican American children. J Allergy Clin Immun. 2005;116:42–8.

Silverberg JI, Simpson EL, Durkin HG, Joks R. Prevalence of allergic disease in foreign-born American children. JAMA Pediatr. 2013;167:554–60.

Urquia ML, Glazier RH, Blondel B, Zeitlin J, Gissler M, Macfarlane A, et al. International migration and adverse birth outcomes: role of ethnicity, region of origin and destination. J Epidemiol Commun Health. 2010;64:243–51.

Phthalates Factsheet. 2016. National Biomonitoring Program: Centers for Disease Control and Prevention. https://www.cdc.gov/biomonitoring/phthalates_factsheet.html. Accessed 22 May 2017.

Zota AR, Calafat AM, Woodruff TJ. Temporal trends in phthalate exposures: findings from the National Heath and Nutrition Examination Survey, 2001-2010. Environ Health Persp. 2014;122:235–41.

Duty SM, Ackerman RM, Calafat AM, Hauser R. Personal care product use predicts urinary concentration of some phthalates. Environ Health Persp. 2005;113:1530–5.

Mitro SD, Dodson RE, Singla V, Adamkiewicz G, Elmi AF, Tilly MK, et al. Consumer product chemicals in indoor dust: a quantitative meta-analysis of U.S. studies. Environ Sci Technol. 2016;50:10661–72.

Hauser R, Calafat AM. Phthalates and human health. Occup Environ Med. 2005;62:806–18.

Koch HM, Preuss R, Angerer J. Di(2-ethylhexyl)phthalate (DEHP): human metabolism and internal exposure—an update and latest results. Int J Androl. 2006;29:155–65.

Anderson WAC, Castle L, Scotter MJ, Massey RC, Springall C. A biomarker approach to measuring human dietary exposure to certain phthalate diesters. Food Addit Contam. 2001;18:1068–74.

Huang T, Saxena AR, Isganaitis E, James-Todd T. Gender and racial/ethnic differences in the associations of urinary phthalate metabolites with markers of diabetes risk: National Health and Nutrition Examination Survey 2001-2008. Environ Health. 2014;13:6.

Silva MJ, Barr DB, Reidy JA, Malek NA, Hodge CC, Caudill SP, et al. Urinary levels of seven phthalate metabolites in the U.S. population from the National Health and Nutrition Examination Survey (NHANES) 1999-2000. Environ Health Persp. 2004;112:331–8.

Kobrosly RW, Parlett LE, Stahlhut RW, Barrett ES, Swan SH. Socioeconomic factors and phthalate metabolite concentrations among United States women of reproductive age. Environ Res. 2012;115:11–7.

Koo JW, Parham F, Kohn MC, Masten SA, Brock JW, Needham LL, et al. The association between biomarker-based exposure estimates for phthalates and demographic factors in a human reference population. Environ Health Persp. 2002;110:405–10.

Morello-Frosch R, Zuk M, Jerrett M, Shamasunder B, Kyle AD. Understanding the cumulative impacts of inequalities in environmental health: implications for policy. Health Aff. 2011;30:879–87.

Mahé A. The practice of skin-bleaching for a cosmetic purpose in immigrant communities. J Travel Med. 2014;21:282–7.

Hines CJ, Nilsen Hopf NB, Deddens JA, Calafat AM, Silva MJ, Grote AA, et al. Urinary phthalate metabolite concentrations among workers in selected industries: a pilot biomonitoring study. Ann Occup Hyg. 2009;53:1–17.

Quach T, Gunier R, Tran A, Von Behren J, Doan-Billings PA, Nguyen KD, et al. Characterizing workplace exposures in Vietnamese women working in California nail salons. Am J Public Health. 2011;101:S271–6.

Neuhouser ML, Thompson B, Coronado GD, Solomon CC. Higher fat intake and lower fruit and vegetables intakes are associated with greater acculturation among Mexicans living in Washington state. J Am Diet Assoc. 2004;104:51–7.

Peck JD, Sweeney AM, Symanski E, Gardiner J, Silva MJ, Calafat AM, et al. Intra- and inter-individual variability of urinary phthalate metabolite concentrations in Hmong women of reproductive age. J Expo Sci Env Epid. 2010;20:90–100.

Holland N, Huen K, Tran V, Street K, Nguyen B, Bradman A, et al. Urinary phthalate metabolites and biomarkers of oxidative stress in a Mexican-American cohort: variability in early and late pregnancy. Toxics. 2016;4:7.

NHANES (National Health and Nutrition Examination Survey). Interpretation Guidelines. 2006. https://www.cdc.gov/nchs/data/nhanes/nhanes_07_08/Interpretation_Guidelines.pdf

Laboratory Procedures Manual. January 2004. National Health and Nutrition Examination Survey. https://wwwn.cdc.gov/nchs/data/nhanes/2003-2004/manuals/lab.pdf

CDC Laboratory Procedure Manual, 1999-2000. Phthalate Monoesters. https://wwwn.cdc.gov/nchs/data/nhanes/1999-2000/labmethods/phpypa_met_phthalates.pdf.

. CDC Laboratory Procedure Manual, 2003-2004. Phthalate Monoesters. https://wwwn.cdc.gov/nchs/data/nhanes/2003-2004/labmethods/l24ph_c_met.pdf.

Phillip Morris USAPM USA Cigarette Non-Tobacco Ingredients. http://www.altria.com/our-companies/philipmorrisusa/our-products-and-ingredients/Documents/PM%20USA%20Non%20Tobacco%20Ingredients.pdf. Accessed 31 May 2017.

NHANES (National Health and Nutrition Examination Survey) Environmental Chemical Data Tutorial. 2013. Overview of NHANES survey design and weights. https://www.cdc.gov/Nchs/tutorials/environmental/orientation/sample_design/index.htm.

Dodson RE, Nishioka M, Standley LJ, Perovich LJ, Brody JG, Rudel RA. Endocrine disruptors and asthma-associated chemicals in consumer products. Environ Health Persp. 2012;120:935–43.

Koniecki D, Wang R, Moody RP, Zhu J. Phthalates in cosmetic and personal care products: concentrations and possible dermal exposure. Environ Res. 2011;111:329–36.

Branch F, Woodruff TJ, Mitro SD, Zota AR. Vaginal douching and racial/ethnic disparities in phthalates exposures among reproductive-aged women: National Health and Nutrition Examination Survey 2001-2004. Environ Health. 2015;14:57.

James-Todd T, Senie R, Terry MB. Racial/ethnic differences in hormonally-active hair product use: a plausible risk factor for health disparities. J Immig Minor Health. 2012;3:506–11.

Taylor KW, Baird DD, Herring AH, Engel LS, Nichols HB, Sandler DP, et al. Associations among personal care product use patterns and exogenous hormone use in the NIEHS Sister Study. J Expo Sci Env Epi. 2017;00:1–7.

Zota AR, Shamasunder B The environmental injustice of beauty: framing chemical exposures from beauty products as a health disparities concern. Am J Obstet Gynecol. 2017; e-pub ahead of print 16 Aug 2017;doi: https://doi.org/10.1016/j.ajog.2017.07.020.

Campaign for Healthier Solutions. 2015. A day late and a dollar short: discount retailers are falling behind on safer chemicals. http://ej4all.org/assets/media/documents/Report_ADayLateAndADollarShort.pdf. Accessed 29 June 2017.

Harley KG, Kogut K, Madrigal DS, Cardenas M, Vera IA, Meza-Alfaro G, et al. Reducing phthalate, paraben, and phenol exposure from personal care products in adolescent girls: findings from the HERMOSA intervention study. Environ Health Persp. 2016;124:1600–7.

Riley DM, Newby CA, Leal-Aleraz TO, Thomas VM. Assessing elemental mercury vapor exposure from cultural and religious practices. Environ Health Persp. 2001;109:779–84.

Wiseman CLS, Parnia A, Chakravartty D, Archbold J, Zawar N, Copes R, et al. Blood cadmium concentrations and environmental exposure sources in newcomer South and East Asian women in the Greater Toronto Area, Canada. Environ Res. 2017;154:19–27.

Al-Saleh I, Elkhatib R. Screening of phthalate esters in 47 branded perfumes. Environ Sci Pollut Res. 2016;23:455–68.

Yano K, Hirosawa N, Sakamoto Y, Katayama H, Moriguchi T, Asaoka K. Phthalate levels in baby milk powders sold in several countries. Bull Environ Contam Toxicol. 2005;74:373–9.

Just AC, Miller RL, Perzanowski MS, Rundle AG, Chen Q, Jung KH, et al. Vinyl flooring in the home is associated with children's airborne butylbenzyl phthalate and urinary metabolite concentrations. J Expo Sci Env Epid. 2015;25:574–9.

Bornehag CG, Lundgren B, Weschler CJ, Sigsgaard T, Hagerhed-Engman L, Sundell J. Phthalates in indoor dust and their association with building characteristics. Environ Health Persp. 2005;113:1399–404.

Serrano SE, Braun J, Trasande L, Dills R, Sathyanarayana S. Phthalates and diet: a review of the food monitoring and epidemiology data. Environ Health. 2014;13:43.

Colacino JA, Harris TR, Schecter A. Dietary intake is associated with phthalate body burden in a nationally representative sample. Environ Health Persp. 2010;118:998–1003.

Zota AR, Phillips CA, Mitro SD. Recent fast food consumption and Bisphenol A and phthalates exposures among the US population in NHANES, 2003-2010. Environ Health Persp. 2016;124:1521–1528.

Koch HM, Lorber M, Christensen KLY, Pälmke C, Koslitz S, Brüning T. Identifying sources of phthalate exposure with human biomonitoring: results of a 48 h fasting study with urine collection and personal activity patterns. Int J Hyg Env Health. 2013;216:672–81.

Lewin A, Arbuckle TE, Fisher M, Liang CL, Marro L, Davis M, et al. Univariate predictors of maternal concentrations of environmental chemicals: the MIREC study. Int J Hyg Env Health. 2017;220:77–85.

Ogden DT, Ogden JR, Schau HJ. Exploring the impact of culture and acculturation on consumer purchase decisions: toward a microcultural perspective. Acad Marketing Sci Rev. 2004;3:1–22.

Kara A, Kara NR. Ethnicity and consumer choice: a study of Hispanic decision processes across different acculturation levels. J Appl Bus Res. 1996;12:22–34.

Cho Y, Frisbie WP, Hummer RA, Rogers RG. Nativity, duration of residence, and the health of Hispanic adults in the United States. Int Migr Rev. 2004;38:184–211.

Goel MS, McCarthy EP, Phillips RS. Obesity among US immigrant subgroups by duration of residence. JAMA. 2004;292:2860–7.

Cuéllar I, Arnold B, Maldonaldo R. Acculturation rating scale for Mexican Americans-II: a revision of the original ARSMA Scale. Hispanic J Behav Sci. 1995;17:275–304.

Johnson-Agbakwu CE, Flynn P, Asiedu GB, Hedberg E, Radecki C. Adaptation of an acculturation scale for African refugee women. J Immigr Minor Health. 2016;18:252–62.

Kukaswadia A, Janssen I, Pickett W, Bajwa J, Georgiades K, Lalonde RN. Development and validation of the bicultural youth acculturation questionnaire. PLoS ONE. 2016;11:e0161048.
Acknowledgements
This study was funded by the National Institute of Environmental Health Sciences (R01ES026166 and T32ES007069).
Ethics declarations
Conflict of interest
The authors declare that they have no actual or potential competing financial interests and that their freedom to design, conduct, interpret, and publish research is not compromised by any controlling sponsor.
Electronic supplementary material
About this article
Cite this article
Mitro, S.D., Chu, M.T., Dodson, R.E. et al. Phthalate metabolite exposures among immigrants living in the United States: findings from NHANES, 1999–2014. J Expo Sci Environ Epidemiol 29, 71–82 (2019). https://doi.org/10.1038/s41370-018-0029-x
Received:

Revised:

Accepted:

Published:

Issue Date:

DOI: https://doi.org/10.1038/s41370-018-0029-x
This article is cited by
Guowei Zeng
Qi Zhang
Kai-Hong Wu

Environmental Health (2022)

Veronica A. Wang
MyDzung T. Chu
Tamarra James-Todd

Journal of Exposure Science & Environmental Epidemiology (2021)