Abstract
Rapid urbanization in developing countries, with significant rural-to-urban and between-urban areas migration, presents a natural epidemiological model to better understand population-level trends in asthma and allergy prevalance without confounding by genetic factors. This cross-sectional study, conducted November 2014 to January 2015 in Suzhou, China, investigated differences in asthma and allergic symptoms between domestic migrant residents and long-term residents and their children. Using multivariate logistic regression, the odds ratios for children in migrant families compared to those in long-term resident families in Suzhou for doctor-diagnosed asthma, pneumonia, rhinitis, and eczema were 0.56 (95% CI: 0.42.0.73), 0.60 (95% CI: 0.49, 0.72), 0.63 (95% CI:0.52, 0.77), and 0.73 (95% CI: 0.60, 0.89), respectively. While there was a lower prevalence of asthma and allergic symptoms for domestic migrants (children and parents) compared to the local population in Suzhou, migrant children had a higher asthma rate than their parents. This follows the trend of increasing asthma rates for children in the urban local population, suggesting an environmental component. Parental migration plays a role in both parental and children's health but further investigations are needed to determine how these results may be shaped by early life exposures, lifestyle differences, and other environmental factors.
This is a preview of subscription content
Access options
Subscribe to Journal
Get full journal access for 1 year
$119.00
only $19.83 per issue
All prices are NET prices.
VAT will be added later in the checkout.
Tax calculation will be finalised during checkout.
Buy article
Get time limited or full article access on ReadCube.
$32.00
All prices are NET prices.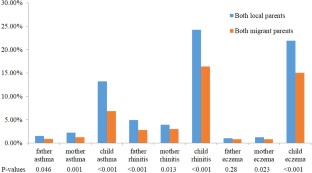 References
De Marco R, Cappa V, Accordini S, Rava M, Antonicelli L, Bortolami O, et al. Trends in the prevalence of asthma and allergic rhinitis in Italy between 1991 and 2010. Eur Respir J. 2012;39: 883–92.

Hansen TE, Evjenth B, Holt J. Increasing prevalence of asthma, allergic rhinoconjunctivitis and eczema among schoolchildren: three surveys during the period 1985–2008. Acta Paediatr. 2013;102:47–52.

Rottem M, Geller-Bernstein C, Shoenfeld Y. Atopy and asthma in migrants: the function of parasites. Int Arch Allergy Immunol. 2015;167:41–46.

Swerdlow AJ. Mortality and cancer incidence in Vietnamese refugees in England and Wales: a follow-up study. Int J Epidemiol. 1991;20:13–19.

Razum O, Zeeb H, Rohrmann S. The 'healthy migrant effect'–not merely a fallacy of inaccurate denominator figures. Int J Epidemiol. 2000;29:191–2.

Kliewer EV. Influence of migrants on regional variations of stomach and colon cancer mortality in the western United States. Int J Epidemiol. 1992;21:442–9.

Gibson PG, Henry RL, Shah S, Powell H, Wang H. Migration to a western country increases asthma symptoms but not eosinophilic airway inflammation. Pediatr Pulmonol. 2003;36:209–15.

Powell C, Nolan T, Carlin J, Bennett C, Johnson P. Respiratory symptoms and duration of residence in immigrant teenagers living in Melbourne, Australia. Arch Dis Child. 1999;81:159–62.

Tedeschi A, Barcella M, Dal Bo G, Miadonna A. Onset of allergy and asthma symptoms in extra-European immigrants to Milan, Italy: possible role of environmental factors. Clin Exp Allergy. 2003;33:449–54.

Grüber C, Illi S, Plieth A, Sommerfeld C, Wahn U. Cultural adaptation is associated with atopy and wheezing among children of Turkish origin living in Germany. Clin Exp Allergy. 2002;32: 526–31.

Ballin A, Somekh E, Geva D, Meytes D. High rate of asthma among immigrants. Med Hypotheses. 1998;51:281–4.

Wang H-Y, Wong GW, Chen Y-Z, Ferguson AC, Greene JM, Ma Y, et al. Prevalence of asthma among Chinese adolescents living in Canada and in China. Can Med Assoc J. 2008;179:1133–42.

Ventura M, Munno G, Giannoccaro F, Accettura F, Chironna M, Lama R, et al. Allergy, asthma and markers of infections among Albanian migrants to Southern Italy. Allergy. 2004;59:632–6.

Migliore E, Pearce N, Bugiani M, Galletti G, Biggeri A, Bisanti L, et al. Prevalence of respiratory symptoms in migrant children to Italy: the results of SIDRIA-2 study. Allergy. 2007;62:293–300.

Pereg D, Tirosh A, Lishner M, Goldberg A, Shochat T, Confino-Cohen R. Prevalence of asthma in a large group of Israeli adolescents: influence of country of birth and age at migration. Allergy. 2008;63:1040–5.

Partridge M, Gibson G, Pride N. Asthma in Asian immigrants. Clin Exp Allergy. 1979;9:489–94.

Kim AS, Majmudar SP, Yu BH. Allergic rhinitis in Korean immigrants to the United States. Allergy Asthma Proc. 2006;27:59–62. OceanSide Publications, Inc

Lombardi C, Canonica GW, Passalacqua G. The possible influence of the environment on respiratory allergy: a survey on immigrants to Italy. Ann Allergy, Asthma Immunol. 2011;106: 407–11.

Netuveli G, Hurwitz B, Sheikh A. Ethnic variations in incidence of asthma episodes in England & Wales: national study of 502,482 patients in primary care. Respir Res. 2005;6:120.

Bi Y, Wang L, Xu Y, Jiang Y, He J, Zhang M et al. Diabetes-related metabolic risk factors in internal migrant workers in China: a national surveillance study. Lancet Diabetes Endocrinol. 2015;4(2):125-135.

Wang X-R, Hui EC-M, Choguill C, Jia S-H. The new urbanization policy in China: Which way forward? Habitat Int. 2015;47: 279–84.

Lu S, Lin YT, Vikse JH, Huang CC Well-being of migrant and left-behind children in China: Education, health, parenting, and personal values. Int J Soc Welf. 2015;25:58–68.

Chen Y, Feng S. Access to public schools and the education of migrant children in China. China Econ Rev. 2013;26:75–88.

Chen X, Wang L, Wang Z. Shyness-Sensitivity and Social, School, and Psychological Adjustment in Rural Migrant and Urban Children in China. Child Dev. 2009;80:1499–513.

Salazar MA, Hu X Health and lifestyle changes among migrant workers in China: implications for the healthy migrant effect. Lancet Diabetes Endocrinol. 2015;4(2):89-90.

Asher M, Keil U, Anderson H, Beasley R, Crane J, Martinez F, et al. International Study of Asthma and Allergies in Childhood (ISAAC): rationale and methods. Eur Respir J. 1995;8:483–91.

Zhang Y, Li B, Huang C, Yang X, Qian H, Deng Q, et al. Ten cities cross-sectional questionnaire survey of children asthma and other allergies in China. Chin Sci Bull. 2013;58:4182–9.

Garcia-Marcos L, Robertson CF, Anderson HR, Ellwood P, Williams HC, Wong GW. Does migration affect asthma, rhinoconjunctivitis and eczema prevalence? Global findings from the international study of asthma and allergies in childhood. Int J Epidemiol. 2014;43:1846–54.

Eldeirawi K, McConnell R, Freels S, Persky VW. Associations of place of birth with asthma and wheezing in Mexican American children. J Allergy Clin Immunol. 2005;116:42–48.

Marcon A, Cazzoletti L, Rava M, Gisondi P, Pironi V, Ricci P, et al. Incidence of respiratory and allergic symptoms in Italian and immigrant children. Respir Med. 2011;105:204–10.

Hu Y, Liu W, Huang C, Zou Z, Zhao Z, Shen L, et al. Home dampness, childhood asthma, hay fever, and airway symptoms in Shanghai, China: associations, dose-response relationships, and lifestyle's influences. Indoor Air. 2014;24:450–63.

Wang L, Qu F, Zhang Y, Weschler LB, Sundell J. Home environment in relation to allergic rhinitis among preschool children in Beijing, China: a cross-sectional study. Build Environ. 2015;93: 54–63.

Wang J, Li B, Yu W, Yang Q, Wang H, Huang D, et al. Rhinitis symptoms and asthma among parents of preschool children in relation to the home environment in Chongqing, China. PLoS One. 2014;9:e94731.

Brooks C, Pearce N, Douwes J. The hygiene hypothesis in allergy and asthma: an update. Curr Opin Allergy Clin Immunol. 2013;13:70–77.

Okada H, Kuhn C, Feillet H, Bach JF. The 'hygiene hypothesis' for autoimmune and allergic diseases: an update. Clin Exp Immunol. 2010;160:1–9.

Penders J, Gerhold K, Thijs C, Zimmermann K, Wahn U, Lau S, et al. New insights into the hygiene hypothesis in allergic diseases: mediation of sibling and birth mode effects by the gut microbiota. Gut Microbes. 2014;5:239–44.

Lombardi C, Fiocchi A, Raffetti E, Donato F, Canonica GW, Passalacqua G. Cross-sectional comparison of the characteristics of respiratory allergy in immigrants and Italian children. Pediatr Allergy Immunol. 2014;25:473–80.

Gershon AS, Guan J, Wang C, To T. Trends in asthma prevalence and incidence in Ontario, Canada, 1996–2005: a population study. Am J Epidemiol. 2010;172:728–36.
Acknowledgements
This work was partially supported by the Health and Places Initiative, a joint project between the Harvard T.H. Chan School of Public Health and the Harvard University Graduate School of Design to explore linkages between health and the built environment, made possible by a gift from the Charoen Pokphand Group. Linyan Li was financially supported by the Jack and Elizabeth Meyer University Scholarship and the Melvin W. First Fellowship at Harvard University. We are grateful to the children and parents who participated and the cooperation of principals and teachers of the participating schools. We appreciate Dr. Zhongkui Zhu, Yu Zhou, Pengfei Lu, Chunnan Ma, and Yuwei Dai from Soochow University for their help with the field work. We also thank the China Children Home and Health project members for their inspiration to undertake this work.
Author contributions
LL designed the study, performed the field work, analyzed the data and wrote the manuscript; JDS designed the study and analytical strategies; S-jC conducted the field work, and edited the paper; GA designed the study, supervised the field activities, and designed data analytical strategies.
Funding
Funding
This work was partially supported by the Health and Places Initiative, a joint project between the Harvard T.H. Chan School of Public Health and the Harvard University Graduate School of Design to explore linkages between health and the built environment, made possible by a gift from the Charoen Pokphand Group. Linyan Li was financially supported by the Jack and Elizabeth Meyer University Scholarship and the Melvin W. First Fellowship at Harvard University.
Ethics declarations
Conflict of interest
The authors declare that they have no conflict of interest.
Additional information
Publisher's note: Springer Nature remains neutral with regard to jurisdictional claims in published maps and institutional affiliations.
Electronic supplementary material
About this article
Cite this article
Li, L., Spengler, J.D., Cao, SJ. et al. Prevalence of asthma and allergic symptoms in Suzhou, China: Trends by domestic migrant status. J Expo Sci Environ Epidemiol 29, 531–538 (2019). https://doi.org/10.1038/s41370-017-0007-8
Received:

Accepted:

Published:

Issue Date:

DOI: https://doi.org/10.1038/s41370-017-0007-8
Keywords
Epidemiology

Child exposure/health

Disease