Abstract
Background/Objectives
While the physiology of obesity has been so extensively investigated to date, only an extremely small number of studies (less than 50) have focused on the other extremity of the weight spectrum: constitutional thinness. Yet, this important state of underweight in the absence of any eating disorders provides a mirror model of obesity that might be particularly insightful in understanding obesity. Nevertheless, important methodological and recruitment-related issues appear when it comes to this complex constitutionally thin phenotype, as experienced by our research group with the realization of the ongoing NUTRILEAN clinical trial. To face this challenge, the present paper aims at identifying, analyzing, and discussing the quality of such recruitment processes in publications about constitutional thinness.
Methods
In this order, a group of experts collectively created a new grading system to assess the level of rigour and quality achieved by each study based on different criteria.
Results
The main results were that (i) metabolic-related biasing criteria were poorly observed despite being crucial, (ii) recruitment processes were not detailed enough and with sufficient explicitness, and (iii) recruiting among already identified patients would be associated with both higher sample sizes and better scores of quality.
Conclusions
The present work encourages investigators to adopt a high level of rigour despite the complexity and duration of recruitment processes for this specific population, and readers to pay close attention to the quality of recruitment when interpreting the data. To better understand obesity and its physiological adaptations, it seems essential not only to compare it to normal-weight conditions, but also to the other extremity of the weight status spectrum represented by constitutional thinness.
Access options
Subscribe to this journal
Receive 12 print issues and online access
$259.00 per year
only $21.58 per issue
Rent or buy this article
Prices vary by article type
from$1.95
to$39.95
Prices may be subject to local taxes which are calculated during checkout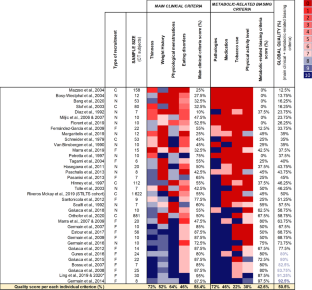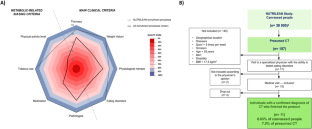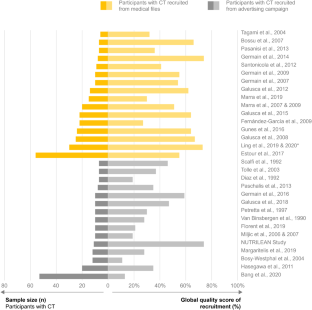 Data availability
Data generated or analyzed during this study are available from the corresponding author upon request.
References
Griffin HJ, O'Connor HT, Rooney KB, Steinbeck KS. Effectiveness of strategies for recruiting overweight and obese Generation Y women to a clinical weight management trial. Asia Pac J Clin Nutr. 2013;22:235–40.

Bergmann S, Keitel-Korndörfer A, Herfurth-Majstorovic K, Wendt V, Klein AM, von Klitzing K, et al. Recruitment strategies in a prospective longitudinal family study on parents with obesity and their toddlers. BMC Public Health. 2017;17:145.

Riveros-McKay F, Mistry V, Bounds R, Hendricks A, Keogh JM, Thomas H, et al. Genetic architecture of human thinness compared to severe obesity. PLoS Genet. 2019;15:e1007603.

Diaz EO, Prentice AM, Goldberg GR, Murgatroyd PR, Coward WA. Metabolic response to experimental overfeeding in lean and overweight healthy volunteers. Am J Clin Nutr. 1992;56:641–55.

Schneider L, Heard I, Bréart G, Henrion R. [Maternal thinness and pregnancy]. Arch Fr Pediatr. 1979;36:1068–74.

van Binsbergen CJ, Coelingh Bennink HJ, Odink J, Haspels AA, Koppeschaar HP. A comparative and longitudinal study on endocrine changes related to ovarian function in patients with anorexia nervosa. J Clin Endocrinol Metab. 1990;71:705–11.

Petretta M, Bonaduce D, Scalfi L, de Filippo E, Marciano F, Migaux ML, et al. Heart rate variability as a measure of autonomic nervous system function in anorexia nervosa. Clin Cardiol. 1997;20:219–24.

Hinney A, Barth N, Ziegler A, von Prittwitz S, Hamann A, Hennighausen K, et al. Serotonin transporter gene-linked polymorphic region: allele distributions in relationship to body weight and in anorexia nervosa. Life Sci. 1997;61:PL 295–303.

Scalfi L, Coltorti A, Borrelli R, Contaldo F. Postprandial thermogenesis in leanness and anorexia nervosa. Ann Nutr Metab. 1992;36:48–54.

Mazzeo SE, Slof RM, Tozzi F, Kendler KS, Bulik CM. Characteristics of men with persistent thinness. Obes Res. 2004;12:1367–9.

Bosy-Westphal A, Reinecke U, Schlörke T, Illner K, Kutzner D, Heller M, et al. Effect of organ and tissue masses on resting energy expenditure in underweight, normal weight and obese adults. Int J Obes Relat Metab Disord. 2004;28:72–79.

Slof R, Mazzeo S, Bulik CM. Characteristics of women with persistent thinness. Obes Res. 2003;11:971–7.

Miljic D, Pekic S, Djurovic M, Doknic M, Milic N, Casanueva FF, et al. Ghrelin has partial or no effect on appetite, growth hormone, prolactin, and cortisol release in patients with anorexia nervosa. J Clin Endocrinol Metab. 2006;91:1491–5.

Miljic D, Djurovic M, Pekic S, Doknic M, Stojanovic M, Milic N, et al. Glucose metabolism during ghrelin infusion in patients with anorexia nervosa. J Endocrinol Invest. 2007;30:771–5.

Fernández-García D, Rodríguez M, García Alemán J, García-Almeida JM, Picón MJ, Fernández-Aranda F, et al. Thin healthy women have a similar low bone mass to women with anorexia nervosa. Br J Nutr. 2009;102:709–14.

Tagami T, Satoh N, Usui T, Yamada K, Shimatsu A, Kuzuya H. Adiponectin in anorexia nervosa and bulimia nervosa. J Clin Endocrinol Metab. 2004;89:1833–7.

Tolle V, Kadem M, Bluet-Pajot M-T, Frere D, Foulon C, Bossu C, et al. Balance in ghrelin and leptin plasma levels in anorexia nervosa patients and constitutionally thin women. J Clin Endocrinol Metab. 2003;88:109–16.

Marra M, Pasanisi F, Montagnese C, De Filippo E, De Caprio C, de Magistris L, et al. BMR variability in women of different weight. Clin Nutr. 2007;26:567–72.

Marra M, Caldara A, Montagnese C, De Filippo E, Pasanisi F, Contaldo F, et al. Bioelectrical impedance phase angle in constitutionally lean females, ballet dancers and patients with anorexia nervosa. Eur J Clin Nutr. 2009;63:905–8.

Germain N, Galusca B, Le Roux CW, Bossu C, Ghatei MA, Lang F, et al. Constitutional thinness and lean anorexia nervosa display opposite concentrations of peptide YY, glucagon-like peptide 1, ghrelin, and leptin. Am J Clin Nutr. 2007;85:967–71.

Germain N, Galusca B, Grouselle D, Frere D, Tolle V, Zizzari P, et al. Ghrelin/obestatin ratio in two populations with low bodyweight: constitutional thinness and anorexia nervosa. Psychoneuroendocrinology. 2009;34:413–9.

Bossu C, Galusca B, Normand S, Germain N, Collet P, Frere D, et al. Energy expenditure adjusted for body composition differentiates constitutional thinness from both normal subjects and anorexia nervosa. Am J Physiol Endocrinol Metab. 2007;292:E132–137.

Galusca B, Zouch M, Germain N, Bossu C, Frere D, Lang F, et al. Constitutional thinness: unusual human phenotype of low bone quality. J Clin Endocrinol Metab. 2008;93:110–7.

Estour B, Marouani N, Sigaud T, Lang F, Fakra E, Ling Y, et al. Differentiating constitutional thinness from anorexia nervosa in DSM 5 era. Psychoneuroendocrinology. 2017;84:94–100.

Orthofer M, Valsesia A, Mägi R, Wang Q-P, Kaczanowska J, Kozieradzki I, et al. Identification of ALK in Thinness. Cell. 2020;181:1246–1262.e22.

Bang EB, Ko JK, Kwag KH, Lee GY, Kim Y-R. A comparison of patients with anorexia nervosa and women who are constitutionally thin. Eur Eat Disord Rev. 2020;28:633–42.

Florent V, Baroncini M, Jissendi-Tchofo P, Lopes R, Vanhoutte M, Rasika S, et al. Hypothalamic structural and functional imbalances in anorexia nervosa. Neuroendocrinology. 2019;110:552–62.

Margaritelis NV, Theodorou AA, Kyparos A, Nikolaidis MG, Paschalis V. Effect of body composition on redox homeostasis at rest and in response to exercise: the case of underfat women. J Sports Sci. 2019;37:1–8.

Marra M, Sammarco R, De Filippo E, De Caprio C, Speranza E, Contaldo F, et al. Resting energy expenditure, body composition and phase angle in anorectic, ballet dancers and constitutionally lean males. Nutrients. 2019;11:502.

Hasegawa A, Usui C, Kawano H, Sakamoto S, Higuchi M. Characteristics of body composition and resting energy expenditure in lean young women. J Nutr Sci Vitaminol. 2011;57:74–79.

Paschalis V, Nikolaidis MG, Theodorou AA, Deli CK, Raso V, Jamurtas AZ, et al. The effects of eccentric exercise on muscle function and proprioception of individuals being overweight and underweight. J Strength Cond Res. 2013;27:2542–51.

Pasanisi F, Pace L, Fonti R, Marra M, Sgambati D, De Caprio C, et al. Evidence of brown fat activity in constitutional leanness. J Clin Endocrinol Metabol. 2013;98:1214–8.

Santonicola A, Siniscalchi M, Capone P, Gallotta S, Ciacci C, Iovino P. Prevalence of functional dyspepsia and its subgroups in patients with eating disorders. World J Gastroenterol. 2012;18:4379–85.

Galusca B, Verney J, Meugnier E, Ling Y, Edouard P, Feasson L, et al. Reduced fibre size, capillary supply and mitochondrial activity in constitutional thinness' skeletal muscle. Acta Physiol. 2018;224:e13097.

Germain N, Viltart O, Loyens A, Bruchet C, Nadin K, Wolowczuk I, et al. Interleukin-7 plasma levels in human differentiate anorexia nervosa, constitutional thinness and healthy obesity. PLoS ONE. 2016;11:e0161890.

Galusca B, Jeandel L, Germain N, Alexandre D, Leprince J, Anouar Y, et al. Orexigenic neuropeptide 26RFa: new evidence for an adaptive profile of appetite regulation in anorexia nervosa. J Clin Endocrinol Metab. 2012;97:2012–8.

Gunes A, Yıldırım Bas F, Arslan B, Tok L, Tok Ö, Salman Z. Assessment of corneal parameters in patients with constitutional thinness using scheimpflug imaging. Semin Ophthalmol. 2016;33:175–8.

Galusca B, Prévost G, Germain N, Dubuc I, Ling Y, Anouar Y, et al. Neuropeptide Y and α-MSH circadian levels in two populations with low body weight: anorexia nervosa and constitutional thinness. PLoS ONE. 2015;10:e0122040.

Ling Y, Carayol J, Galusca B, Canto C, Montaurier C, Matone A, et al. Persistent low body weight in humans is associated with higher mitochondrial activity in white adipose tissue. Am J Clin Nutr. 2019;110:605–16.

Ling Y, Galusca B, Martin F-P, Bartova S, Carayol J, Moco S, et al. Resistance to lean mass gain in constitutional thinness in free-living conditions is not overpassed by overfeeding. J Cachexia Sarcopenia Muscle. 2020;11:1187–99.

Bailly M, Germain N, Féasson L, Costes F, Estour B, Hourdé C, et al. Skeletal muscle of females and males with constitutional thinness: a low intramuscular lipid content and oxidative profile. Appl Physiol Nutr Metab. 2020;45:1287–98.

Bailly M, Boscaro A, Thomas T, Féasson L, Costes F, Pereira B, et al. New insights on bone tissue and structural muscle-bone unit in constitutional thinness. Front Physiol. 2022;13:921351.

Gabriel T, Massoubre C, Hanachi M, Doré J, Lambert C, Germain N, et al. Association of gut-specific non-inflammatory T lymphocytes with chronic anorexia nervosa and constitutional thinness. Eur Eat Disord Rev. 2022. https://doi.org/10.1002/erv.2934.

Cominetti O, Núñez Galindo A, Corthésy J, Carayol J, Germain N, Galusca B, et al. Proteomics reveals unique plasma signatures in constitutional thinness. Proteomics Clin Appl. 2022;16:e2100114.

Germain N, Galusca B, Caron-Dorval D, Martin J-F, Pujos-Guillot E, Boirie Y, et al. Specific appetite, energetic and metabolomics responses to fat overfeeding in resistant-to-bodyweight-gain constitutional thinness. Nutr Diabetes. 2014;4:e126.

World Health Organization. Prevalence of underweight among adults. 2020. https://www.who.int/data/gho/data/indicators/indicator-details/GHO/prevalence-of-underweight-among-adults-bmi-18-(crude-estimate)-(-). Accessed 20 Mar 2020.

Estour B, Galusca B, Germain N. Constitutional thinness and anorexia nervosa: a possible misdiagnosis? Front Endocrinol. 2014;5:175.

Bailly M, Germain N, Galusca B, Courteix D, Thivel D, Verney J. Definition and diagnosis of constitutional thinness: a systematic review. Br J Nutr. 2020;124:531–47.

Bailly M, Boscaro A, Pereira B, Féasson L, Boirie Y, Germain N, et al. Is constitutional thinness really different from anorexia nervosa? A systematic review and meta-analysis. Rev Endocr Metab Disord. 2021. https://doi.org/10.1007/s11154-021-09650-4.

Bailly M, Boscaro A, Pereira B, Courteix D, Germain N, Galusca B, et al. Underweight but not underfat: is fat-free mass a key factor in constitutionally thin women? Eur J Clin Nutr. 2021;75:1764–70.

Estour B, Galusca B, Germain N. [Constitutional thinness]. Corresp Métab Horm Diabètes Nutr. 2012;XVI:109–14.

Estour B, Galusca B, Germain N. [Constitutional thinness]. Cah Nutr Diét. 2013;48:26–32.

Estour B, Galusca B, Germain N. Thinness, weight loss and constitutional thinness. Med Mal Metab. 2016;10:10–15.

Galusca B, Germain N, Estour B. Thinness, bone and fracture risk. Med Mal Metab. 2016;10:16–21.

Germain N, Galusca B, Estour B. Thinness and resistance to weight gain: a proof of concept. Med Mal Metab. 2016;10:28–33.

Galusca B, Germain N, Estour B. Maigreur et hormones de régulation de l'appétit. Méd Mal Métab. 2016;10:22–27.

Decker ST, Matias AA, Bannon ST, Madden JP, Alexandrou-Majaj N, Layec G. Effects of cigarette smoke on in situ mitochondrial substrate oxidation of slow- and fast-twitch skeletal muscles. Life Sci. 2023;315:121376.

Blauw LL, Boon MR, Rosendaal FR, de Mutsert R, Gast KB, Willems van Dijk K, et al. Smoking is associated with increased resting energy expenditure in the general population: the NEO study. Metabolism. 2015;64:1548–55.

Hellerstein MK, Benowitz NL, Neese RA, Schwartz JM, Hoh R, Jacob P, et al. Effects of cigarette smoking and its cessation on lipid metabolism and energy expenditure in heavy smokers. J Clin Invest. 1994;93:265–72.

Seoane-Collazo P, Romero-Picó A, Rial-Pensado E, Liñares-Pose L, Estévez-Salguero Á, Fernø J, et al. κ-Opioid signaling in the lateral hypothalamic area modulates nicotine-induced negative energy balance. Int J Mol Sci. 2021;22:1515.
Ethics declarations
Competing interests
The authors declare no competing interests.
Additional information
Publisher's note Springer Nature remains neutral with regard to jurisdictional claims in published maps and institutional affiliations.
Rights and permissions
Springer Nature or its licensor (e.g. a society or other partner) holds exclusive rights to this article under a publishing agreement with the author(s) or other rightsholder(s); author self-archiving of the accepted manuscript version of this article is solely governed by the terms of such publishing agreement and applicable law.
About this article
Cite this article
Boscaro, A., Verney, J., Tremblay, A. et al. Challenges of considering both extremities of the weight status spectrum to better understand obesity: insights from the NUTRILEAN project in constitutionally thin individuals. Int J Obes 47, 1171–1177 (2023). https://doi.org/10.1038/s41366-023-01360-y
Received:

Revised:

Accepted:

Published:

Issue Date:

DOI: https://doi.org/10.1038/s41366-023-01360-y