Abstract
Objective
To determine whether the metabolic benefits of hypoabsorptive surgeries are associated with changes in the gut endocannabinoidome (eCBome) and microbiome.
Methods
Biliopancreatic diversion with duodenal switch (BPD-DS) and single anastomosis duodeno-ileal bypass with sleeve gastrectomy (SADI-S) were performed in diet-induced obese (DIO) male Wistar rats. Control groups fed a high-fat diet (HF) included sham-operated (SHAM HF) and SHAM HF-pair-weighed to BPD-DS (SHAM HF-PW). Body weight, fat mass gain, fecal energy loss, HOMA-IR, and gut-secreted hormone levels were measured. The levels of eCBome lipid mediators and prostaglandins were quantified in different intestinal segments by LC-MS/MS, while expression levels of genes encoding eCBome metabolic enzymes and receptors were determined by RT-qPCR. Metataxonomic (16S rRNA) analysis was performed on residual distal jejunum, proximal jejunum, and ileum contents.
Results
BPD-DS and SADI-S reduced fat gain and HOMA-IR, while increasing glucagon-like peptide-1 (GLP-1) and peptide tyrosine tyrosine (PYY) levels in HF-fed rats. Both surgeries induced potent limb-dependent alterations in eCBome mediators and in gut microbial ecology. In response to BPD-DS and SADI-S, changes in gut microbiota were significantly correlated with those of eCBome mediators. Principal component analyses revealed connections between PYY, N-oleoylethanolamine (OEA), N-linoleoylethanolamine (LEA), Clostridium, and Enterobacteriaceae_g_2 in the proximal and distal jejunum and in the ileum.
Conclusions
BPD-DS and SADI-S caused limb-dependent changes in the gut eCBome and microbiome. The present results indicate that these variables could significantly influence the beneficial metabolic outcome of hypoabsorptive bariatric surgeries.
Access options
Subscribe to this journal
Receive 12 print issues and online access
$259.00 per year
only $21.58 per issue
Rent or buy this article
Get just this article for as long as you need it
$39.95
Prices may be subject to local taxes which are calculated during checkout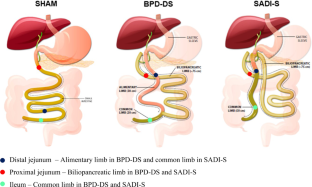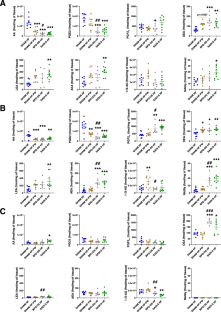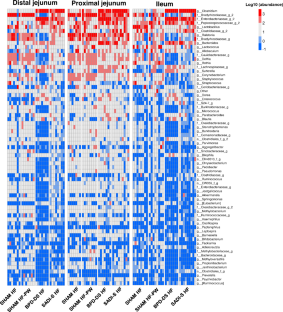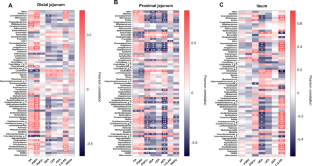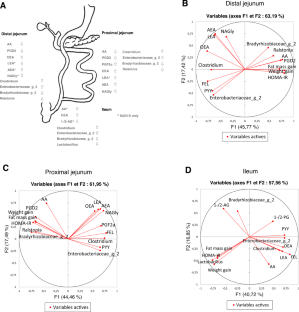 Data availability
The data highlighted in this article will be available upon reasonable request to the corresponding authors.
References
La Sala L, Pontiroli AE. Prevention of diabetes and cardiovascular disease in obesity. Int J Mol Sci. 2020;21:8178.

Mukorako P, Lemoine N, Biertho L, Lebel S, Roy MC, Plamondon J, et al. Consistent gut bacterial and short-chain fatty acid signatures in hypoabsorptive bariatric surgeries correlate with metabolic benefits in rats. Int J Obes. 2022;46:297–306.

Li JV, Ashrafian H, Sarafian M, Homola D, Rushton L, Barker G, et al. Roux-en-Y gastric bypass-induced bacterial perturbation contributes to altered host-bacterial co-metabolic phenotype. Microbiome. 2021;9:139.

West KA, Kanu C, Maric T, McDonald JAK, Nicholson JK, Li JV, et al. Longitudinal metabolic and gut bacterial profiling of pregnant women with previous bariatric surgery. Gut. 2020;69:1452–9.

Paganelli FL, Luyer M, Hazelbag CM, Uh HW, Rogers MRC, Adriaans D, et al. Roux-Y Gastric Bypass and Sleeve Gastrectomy directly change gut microbiota composition independent of surgery type. Sci Rep. 2019;9:10979.

Steinert RE, Rehman A, Souto Lima EJ, Agamennone V, Schuren FHJ, Gero D, et al. Roux-en-Y gastric bypass surgery changes fungal and bacterial microbiota in morbidly obese patients-A pilot study. PloS One. 2020;15:e0236936.

Huh YJ, Seo JY, Nam J, Yang J, McDowell A, Kim YK, et al. Bariatric/metabolic surgery induces noticeable changes of microbiota and their secreting extracellular vesicle composition in the gut. Obes Surg. 2019;29:2470–84.

Lu C, Li Y, Li L, Kong Y, Shi T, Xiao H, et al. Alterations of serum uric acid level and gut microbiota after Roux-en-Y gastric bypass and sleeve gastrectomy in a hyperuricemic rat model. Obes Surg. 2020;30:1799–807.

Dao MC, Belda E, Prifti E, Everard A, Kayser BD, Bouillot JL, et al. Akkermansia muciniphila abundance is lower in severe obesity, but its increased level after bariatric surgery is not associated with metabolic health improvement. Am J Physiol Endocrinol Metab. 2019;317:E446–e59.

Ye Y, Abu El Haija M, Morgan DA, Guo D, Song Y, Frank A, et al. Endocannabinoid Receptor-1 and sympathetic nervous system mediate the beneficial metabolic effects of gastric bypass. Cell Rep. 2020;33:108270.

Azar S, Sherf-Dagan S, Nemirovski A, Webb M, Raziel A, Keidar A, et al. Circulating endocannabinoids are reduced following bariatric surgery and associated with improved metabolic homeostasis in humans. Obes Surg. 2019;29:268–76.

Guijarro A, Osei-Hyiaman D, Harvey-White J, Kunos G, Suzuki S, Nadtochiy S, et al. Sustained weight loss after Roux-en-Y gastric bypass is characterized by down regulation of endocannabinoids and mitochondrial function. Ann Surg. 2008;247:779–90.

Lacroix S, Pechereau F, Leblanc N, Boubertakh B, Houde A, Martin C, et al. Rapid and concomitant gut microbiota and endocannabinoidome response to diet-induced obesity in mice. mSystems. 2019;4:407–19.

Manca C, Boubertakh B, Leblanc N, Deschênes T, Lacroix S, Martin C, et al. Germ-free mice exhibit profound gut microbiota-dependent alterations of intestinal endocannabinoidome signaling. J Lipid Res. 2020;61:70–85.

Hankir MK, Seyfried F, Hintschich CA, Diep TA, Kleberg K, Kranz M, et al. Gastric bypass surgery recruits a gut PPAR-α-Striatal D1R pathway to reduce fat appetite in obese rats. Cell Metab. 2017;25:335–44.

Hutch CR, Trakimas DR, Roelofs K, Pressler J, Sorrell J, Cota D, et al. Oea signaling pathways and the metabolic benefits of vertical sleeve gastrectomy. Ann Surg. 2020;271:509–18.

Baraboi ED, Li W, Labbé SM, Roy MC, Samson P, Hould FS, et al. Metabolic changes induced by the biliopancreatic diversion in diet-induced obesity in male rats: the contributions of sleeve gastrectomy and duodenal switch. Endocrinology. 2015;156:1316–29.

Mukorako P, Lopez C, Baraboi ED, Roy MC, Plamondon J, Lemoine N, et al. Alterations of gut microbiota after biliopancreatic diversion with duodenal switch in wistar rats. Obes Surg. 2019;29:2831–42.

Turcotte C, Dumais É, Archambault AS, Martin C, Blanchet MR, Bissonnette É, et al. Human leukocytes differentially express endocannabinoid-glycerol lipases and hydrolyze 2-arachidonoyl-glycerol and its metabolites from the 15-lipoxygenase and cyclooxygenase pathways. J Leukoc Biol. 2019;106:1337–47.

Parks DH, Tyson GW, Hugenholtz P, Beiko RG. STAMP: statistical analysis of taxonomic and functional profiles. Bioinformatics. 2014;30:3123–4.

Depommier C, Vitale RM, Iannotti FA, Silvestri C, Flamand N, Druart C, et al. Beneficial effects of Akkermansia muciniphila are not associated with major changes in the circulating Endocannabinoidome but linked to higher Mono-Palmitoyl-Glycerol levels as new PPARα agonists. Cells. 2021;10:185.

Borrelli F, Izzo AA. Role of acylethanolamides in the gastrointestinal tract with special reference to food intake and energy balance. Best Pract Res Clin Endocrinol Metab. 2009;23:33–49.

Gagner M. Hypoabsorption not malabsorption, hypoabsorptive surgery and not malabsorptive surgery. Obes Surg. 2016;26:2783–4.

Kapeluto JE, Tchernof A, Masckauchan D, Biron S, Marceau S, Hould FS, et al. Ten-year remission rates in insulin-treated type 2 diabetes after biliopancreatic diversion with duodenal switch. Surg Obes Relat Dis. 2020;16:1701–12.

Harris LA, Kayser BD, Cefalo C, Marini L, Watrous JD, Ding J, et al. Biliopancreatic diversion induces greater metabolic improvement than Roux-en-Y gastric bypass. Cell Metab. 2019;30:855–64.e3.

Mingrone G, Panunzi S, De Gaetano A, Guidone C, Iaconelli A, Leccesi L, et al. Bariatric surgery versus conventional medical therapy for type 2 diabetes. N Engl J Med. 2012;366:1577–85.

Chambers AP, Jessen L, Ryan KK, Sisley S, Wilson-Pérez HE, Stefater MA, et al. Weight-independent changes in blood glucose homeostasis after gastric bypass or vertical sleeve gastrectomy in rats. Gastroenterology. 2011;141:950–8.

Miras AD, le Roux CW. Mechanisms underlying weight loss after bariatric surgery. Nat Rev Gastroenterol Hepatol. 2013;10:575–84.

Sinclair P, Brennan DJ, le Roux CW. Gut adaptation after metabolic surgery and its influences on the brain, liver and cancer. Nat Rev Gastroenterol Hepatol. 2018;15:606–24.

Di Marzo V, Silvestri C. Lifestyle and metabolic syndrome: contribution of the endocannabinoidome. Nutrients. 2019;11:1956.

van de Wouw M, Schellekens H, Dinan TG, Cryan JF. Microbiota-Gut-Brain axis: modulator of host metabolism and appetite. J Nutr. 2017;147:727–45.

Fujimori K. Prostaglandins as PPARγ modulators in adipogenesis. PPAR Res. 2012;2012:527607.

Donvito G, Piscitelli F, Muldoon P, Jackson A, Vitale RM, D'Aniello E, et al. N-Oleoyl-glycine reduces nicotine reward and withdrawal in mice. Neuropharmacology. 2019;148:320–31.

Takenouchi R, Inoue K, Kambe Y, Miyata A. N-arachidonoyl glycine induces macrophage apoptosis via GPR18. Biochem Biophys Res Commun. 2012;418:366–71.

Kohno M, Hasegawa H, Inoue A, Muraoka M, Miyazaki T, Oka K, et al. Identification of N-arachidonylglycine as the endogenous ligand for orphan G-protein-coupled receptor GPR18. Biochem Biophys Res Commun. 2006;347:827–32.

McHugh D, Hu SS, Rimmerman N, Juknat A, Vogel Z, Walker JM, et al. N-arachidonoyl glycine, an abundant endogenous lipid, potently drives directed cellular migration through GPR18, the putative abnormal cannabidiol receptor. BMC Neurosci. 2010;11:44.

Kotańska M, Mika K, Szafarz M, Kubacka M, Müller CE, Sapa J, et al. Effects of GPR18 ligands on body weight and metabolic parameters in a female rat model of excessive eating. Pharmaceuticals (Basel). 2021;14:270.

Rajaraman G, Simcocks A, Hryciw DH, Hutchinson DS, McAinch AJ. G protein coupled receptor 18: A potential role for endocannabinoid signaling in metabolic dysfunction. Mol Nutr Food Res. 2016;60:92–102.

Foster JR, Ueno S, Chen MX, Harvey J, Dowell SJ, Irving AJ, et al. N-Palmitoylglycine and other N-acylamides activate the lipid receptor G2A/GPR132. Pharmacol Res Perspect. 2019;7:e00542.

Zeng Z, Mukherjee A, Varghese AP, Yang XL, Chen S, Zhang H. Roles of G protein-coupled receptors in inflammatory bowel disease. World J Gastroenterol. 2020;26:1242–61.

Lund ML, Egerod KL, Engelstoft MS, Dmytriyeva O, Theodorsson E, Patel BA, et al. Enterochromaffin 5-HT cells - A major target for GLP-1 and gut microbial metabolites. Mol Metab. 2018;11:70–83.

Amabebe E, Robert FO, Agbalalah T, Orubu ESF. Microbial dysbiosis-induced obesity: role of gut microbiota in homoeostasis of energy metabolism. Br J Nutr. 2020;123:1127–37.

Duan M, Wang Y, Zhang Q, Zou R, Guo M, Zheng H. Characteristics of gut microbiota in people with obesity. PloS One. 2021;16:e0255446.

Santacruz A, Marcos A, Wärnberg J, Martí A, Martin-Matillas M, Campoy C, et al. Interplay between weight loss and gut microbiota composition in overweight adolescents. Obesity. 2009;17:1906–15.

Rong ZH, Liang SC, Lu JQ, He Y, Luo YM, You C, et al. [Effect of intermittent fasting on physiology and gut microbiota in presenium rats]. Nan Fang Yi Ke Da Xue Xue Bao. 2016;37:423–30.

Udayappan SD, Kovatcheva-Datchary P, Bakker GJ, Havik SR, Herrema H, Cani PD, et al. Intestinal Ralstonia pickettii augments glucose intolerance in obesity. PloS One. 2017;12:e0181693.

Million M, Maraninchi M, Henry M, Armougom F, Richet H, Carrieri P, et al. Obesity-associated gut microbiota is enriched in Lactobacillus reuteri and depleted in Bifidobacterium animalis and Methanobrevibacter smithii. Int J Obes. 2012;36:817–25.

Crovesy L, Ostrowski M, Ferreira D, Rosado EL, Soares-Mota M. Effect of Lactobacillus on body weight and body fat in overweight subjects: a systematic review of randomized controlled clinical trials. Int J Obes. 2017;41:1607–14.

Dione N, Lacroix S, Taschler U, Deschênes T, Abolghasemi A, Leblanc N, et al. Mgll knockout mouse resistance to diet-induced dysmetabolism is associated with altered gut microbiota. Cells. 2020;9:2705.

González-Mariscal I, Krzysik-Walker SM, Kim W, Rouse M, Egan JM. Blockade of cannabinoid 1 receptor improves GLP-1R mediated insulin secretion in mice. Mol Cell Endocrinol. 2016;423:1–10.

Després JP, Ross R, Boka G, Alméras N, Lemieux I. Effect of rimonabant on the high-triglyceride/ low-HDL-cholesterol dyslipidemia, intraabdominal adiposity, and liver fat: the ADAGIO-Lipids trial. Arterioscler Thromb Vasc Biol. 2009;29:416–23.

Cox HM, Tough IR, Woolston AM, Zhang L, Nguyen AD, Sainsbury A, et al. Peptide YY is critical for acylethanolamine receptor Gpr119-induced activation of gastrointestinal mucosal responses. Cell Metab. 2010;11:532–42.

Tough IR, Forbes S, Herzog H, Jones RM, Schwartz TW, Cox HM. Bidirectional GPR119 agonism requires peptide YY and glucose for activity in mouse and human colon mucosa. Endocrinology. 2018;159:1704–17.

Izzo AA, Piscitelli F, Capasso R, Aviello G, Romano B, Borrelli F, et al. Peripheral endocannabinoid dysregulation in obesity: relation to intestinal motility and energy processing induced by food deprivation and re-feeding. Br J Pharmacol. 2009;158:451–61.

A C, N C, A I. Postoperative morbidity and weight loss after revisional bariatric surgery for primary failed restrictive procedure: A systematic review and network meta-analysis. Int J Surg. 2022;102:106677.

Gagner M. Hypoabsorptive surgery is the best revisional strategy for metabolic and diabetes outcomes. Surg Obes Relat Dis. 2020;16:1454–5.
Acknowledgements
This work was supported by grants from IRSC (TB2-138776), FRQS (32559) and the Sentinel North program 3.8 of Université Laval (Canada First Research Excellence Fund). VD is the holder of the Canada Excellence Research Chair on the Microbiome-Endocannabinoidome Axis in Metabolic Health (CERC-MEND), which is supported by the Canadian Federal Tri-Agency.
Ethics declarations
Competing interests
AT and LB receive research funding from Johnson & Johnson, Medtronic and GI Windows for studies on bariatric surgery. AT acted as a consultant for Bausch Health, Novo Nordisk, and Biotwin. AT and LB are codirectors of the Research Chair in Bariatric and Metabolic Surgery at Université Laval.
Additional information
Publisher's note Springer Nature remains neutral with regard to jurisdictional claims in published maps and institutional affiliations.
Supplementary information
Rights and permissions
Springer Nature or its licensor (e.g. a society or other partner) holds exclusive rights to this article under a publishing agreement with the author(s) or other rightsholder(s); author self-archiving of the accepted manuscript version of this article is solely governed by the terms of such publishing agreement and applicable law.
About this article
Cite this article
Mukorako, P., St-Pierre, D.H., Flamand, N. et al. Hypoabsorptive surgeries cause limb-dependent changes in the gut endocannabinoidome and microbiome in association with beneficial metabolic effects. Int J Obes (2023). https://doi.org/10.1038/s41366-023-01307-3
Received:

Revised:

Accepted:

Published:

DOI: https://doi.org/10.1038/s41366-023-01307-3