Abstract
Background
The timing of obesity onset and age have been shown to affect the risk of obesity-related comorbidities, although the impact of each of these factors on markers of adipose tissue function remains unclear.
Objective
The aim of this study was to determine whether differences in regional adipose tissue characteristics vary with age and age of obesity onset, and whether these differences are associated with the markers of cardiometabolic health.
Methods
Adipose tissue samples were obtained from 80 female bariatric surgery candidates who were classified by age of obesity onset and age into 4 groups: (1) younger adults (<40 y) with childhood-onset obesity (<18 y) (Child-Young); (2) younger adults with adulthood-onset obesity (>18 y) (Adult-Young); (3) older adults (>55 y) with childhood-onset obesity (Child-Old); and (4) older adults with adulthood-onset obesity (Adult-Old). Adipocyte diameter, adipose tissue fibrosis, and macrophage infiltration were determined in subcutaneous (SAT) and visceral adipose tissue (VAT). Clinical parameters were obtained from participants' medical records.
Results
Visceral adipocyte size in the Child-Young group was the smallest of all the groups. Age affected visceral infiltration of M1-like cells with greater percent of M1-like cells in the Adult-Old and Child-Old groups. Though not significant, a stepwise increase in M2-like macrophages in VAT was observed with Adult-Young having the smallest followed by Adult-Old, Child-Young, and Child-Old having the greatest percent of M2-like macrophages. Pericellular fibrosis accumulation in SAT and VAT varied with both age and onset, particularly in the Child-Old group, which had the lowest fibrosis levels. Markers of cardiometabolic health (fasting glucose, glycated hemoglobin, total, HDL- and LDL-cholesterol and triglyceride concentrations) were positively and well-associated with adipose tissue characteristics of the Child-Old group but not of the Adult-Young group.
Conclusion
Older adults with childhood-onset obesity, who had the greatest duration of obesity exposure, were particularly vulnerable to the cardiometabolic effects associated with perturbations in adipose tissue characteristics. These results suggest that age and age of obesity onset may have independent and cumulative effects on obesity pathology.
Access options
Subscribe to Journal
Get full journal access for 1 year
$119.00
only $9.92 per issue
All prices are NET prices.
VAT will be added later in the checkout.
Tax calculation will be finalised during checkout.
Buy article
Get time limited or full article access on ReadCube.
$32.00
All prices are NET prices.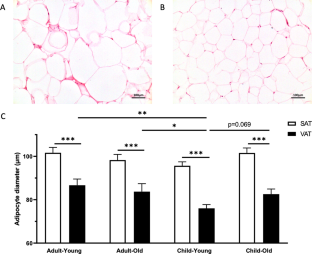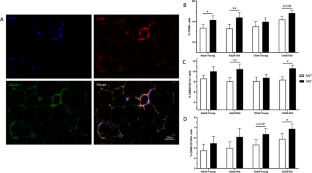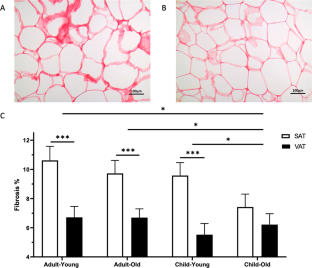 Data availability
The datasets generated and/or analysed during the current study are available from the corresponding author on reasonable request.
References
Reilly JJ, Kelly J. Long-term impact of overweight and obesity in childhood and adolescence on morbidity and premature mortality in adulthood: systematic review. Int J Obes. 2011;35:891–8.

Evensen E, Wilsgaard T, Furberg AS, Skeie G. Tracking of overweight and obesity from early childhood to adolescence in a population-based cohort—the Tromso Study, Fit Futures. BMC Pediatr. 2016;16:64.

Falkstedt D, Hemmingsson T, Rasmussen F, Lundberg I. Body mass index in late adolescence and its association with coronary heart disease and stroke in middle age among Swedish men. Int J Obes. 2007;31:777–83.

Franks PW, Hanson RL, Knowler WC, Sievers ML, Bennett PH, Looker HC. Childhood obesity, other cardiovascular risk factors, and premature death. N Engl J Med. 2010;362:485–93.

Park MH, Sovio U, Viner RM, Hardy RJ, Kinra S. Overweight in childhood, adolescence and adulthood and cardiovascular risk in later life: pooled analysis of three british birth cohorts. PLoS ONE. 2013;8:e70684.

Brook CG, Lloyd JK, Wolf OH. Relation between age of onset of obesity and size and number of adipose cells. Br Med J. 1972;2:25–7.

Salans LB, Cushman SW, Weismann RE. Studies of human adipose tissue. Adipose cell size and number in nonobese and obese patients. J Clin Investig. 1973;52:929–41.

Sjostrom L, Bjorntorp P. Body composition and adipose cellularity in human obesity. Acta Med Scand. 1974;195:201–11.

Tam BT, Murphy J, Khor N, Morais JA, Santosa S. Acetyl-CoA regulation, OXPHOS integrity and leptin levels are different in females with childhood vs adulthood onset of obesity. Endocrinology. 2020;161:1–15.

Houston DK, Nicklas BJ, Zizza CA. Weighty concerns: the growing prevalence of obesity among older adults. J Am Diet Assoc. 2009;109:1886–95.

Samper-Ternent R, Al Snih S. Obesity in older adults: epidemiology and implications for disability and disease. Rev Clin Gerontol. 2012;22:10–34.

Tam BT, Morais JA, Santosa S. Obesity and ageing: two sides of the same coin. Obes Rev. 2020;21:e12991.

Lee JJ, Pedley A, Hoffmann U, Massaro JM, Levy D, Long MT. Visceral and intrahepatic fat are associated with cardiometabolic risk factors above other ectopic fat depots: the Framingham Heart Study. Am J Med. 2018;131:684–92.e12.

Fox CS, Massaro JM, Hoffmann U, Pou KM, Maurovich-Horvat P, Liu CY, et al. Abdominal visceral and subcutaneous adipose tissue compartments: association with metabolic risk factors in the Framingham Heart Study. Circulation. 2007;116:39–48.

Hamdy O, Porramatikul S, Al-Ozairi E. Metabolic obesity: the paradox between visceral and subcutaneous fat. Curr Diabetes Rev. 2006;2:367–73.

Ibrahim MM. Subcutaneous and visceral adipose tissue: structural and functional differences. Obes Rev. 2010;11:11–8.

Sun K, Kusminski CM, Scherer PE. Adipose tissue remodeling and obesity. J Clin Investig. 2011;121:2094–101.

Laforest S, Labrecque J, Michaud A, Cianflone K, Tchernof A. Adipocyte size as a determinant of metabolic disease and adipose tissue dysfunction. Crit Rev Clin Lab Sci. 2015;52:301–13.

Sun K, Tordjman J, Clement K, Scherer PE. Fibrosis and adipose tissue dysfunction. Cell Metab. 2013;18:470–7.

Datta R, Podolsky MJ, Atabai K. Fat fibrosis: friend or foe?. JCI Insight. 2018;3:e122289.

Tchernof A, Despres JP. Pathophysiology of human visceral obesity: an update. Physiol Rev. 2013;93:359–404.

Laforest S, Pelletier M, Michaud A, Daris M, Descamps J, Soulet D, et al. Histomorphometric analyses of human adipose tissues using intact, flash-frozen samples. Histochem Cell Biol. 2018;149:209–18.

Michaud A, Laforest S, Pelletier M, Nadeau M, Simard S, Daris M, et al. Abdominal adipocyte populations in women with visceral obesity. Eur J Endocrinol. 2016;174:227–39.

Vijay J, Gauthier MF, Biswell RL, Louiselle DA, Johnston JJ, Cheung WA, et al. Single-cell analysis of human adipose tissue identifies depot and disease specific cell types. Nat Metab. 2020;2:97–109.

Michaud A, Tordjman J, Pelletier M, Liu Y, Laforest S, Noel S, et al. Relevance of omental pericellular adipose tissue collagen in the pathophysiology of human abdominal obesity and related cardiometabolic risk. Int J Obes. 2016;40:1823–31.

Henegar C, Tordjman J, Achard V, Lacasa D, Cremer I, Guerre-Millo M, et al. Adipose tissue transcriptomic signature highlights the pathological relevance of extracellular matrix in human obesity. Genome Biol. 2008;9:R14.

Norris T, Cole TJ, Bann D, Hamer M, Hardy R, Li L, et al. Duration of obesity exposure between ages 10 and 40 years and its relationship with cardiometabolic disease risk factors: a cohort study. PLoS Med. 2020;17:e1003387.

Luo J, Hodge A, Hendryx M, Byles JE. Age of obesity onset, cumulative obesity exposure over early adulthood and risk of type 2 diabetes. Diabetologia. 2020;63:519–27.

Bays HE. Adiposopathy is "sick fat" a cardiovascular disease? J Am Coll Cardiol. 2011;57:2461–73.

Bjorntorp P, Bengtsson C, Blohme G, Jonsson A, Sjostrom L, Tibblin E, et al. Adipose tissue fat cell size and number in relation to metabolism in randomly selected middle-aged men and women. Metabolism. 1971;20:927–35.

Bonzon-Kulichenko E, Molto E, Pintado C, Fernandez A, Arribas C, Schwudke D, et al. Changes in visceral adipose tissue plasma membrane lipid composition in old rats are associated with adipocyte hypertrophy with aging. J Gerontol A Biol Sci Med Sci. 2018;73:1139–46.

Hemmeryckx B, Loeckx D, Dresselaers T, Himmelreich U, Hoylaerts MF, Lijnen HR. Age-associated adaptations in murine adipose tissues. Endocr J. 2010;57:925–30.

Ktotkiewski M, Sjostrom L, Bjorntorp P, Smith U. Regional adipose tissue cellularity in relation to metabolism in young and middle-aged women. Metabolism. 1975;24:703–10.

Lumeng CN, Liu J, Geletka L, Delaney C, Delproposto J, Desai A, et al. Aging is associated with an increase in T cells and inflammatory macrophages in visceral adipose tissue. J Immunol. 2011;187:6208–16.

Ledoux S, Coupaye M, Essig M, Msika S, Roy C, Queguiner I, et al. Traditional anthropometric parameters still predict metabolic disorders in women with severe obesity. Obesity. 2010;18:1026–32.

O'Connell J, Lynch L, Cawood TJ, Kwasnik A, Nolan N, Geoghegan J, et al. The relationship of omental and subcutaneous adipocyte size to metabolic disease in severe obesity. PLoS ONE. 2010;5:e9997.

Veilleux A, Caron-Jobin M, Noel S, Laberge PY, Tchernof A. Visceral adipocyte hypertrophy is associated with dyslipidemia independent of body composition and fat distribution in women. Diabetes. 2011;60:1504–11.

Turner L, Santosa S. Putting ATM to BED: how adipose tissue macrophages are affected by bariatric surgery, exercise, and dietary fatty acids. Adv Nutr. 2021;12:1893–910.

Dam V, Sikder T, Santosa S. From neutrophils to macrophages: differences in regional adipose tissue depots. Obes Rev. 2016;17:1–17.

Aron-Wisnewsky J, Tordjman J, Poitou C, Darakhshan F, Hugol D, Basdevant A, et al. Human adipose tissue macrophages: m1 and m2 cell surface markers in subcutaneous and omental depots and after weight loss. J Clin Endocrinol Metab. 2009;94:4619–23.

Cancello R, Tordjman J, Poitou C, Guilhem G, Bouillot JL, Hugol D, et al. Increased infiltration of macrophages in omental adipose tissue is associated with marked hepatic lesions in morbid human obesity. Diabetes. 2006;55:1554–61.

Harman-Boehm I, Bluher M, Redel H, Sion-Vardy N, Ovadia S, Avinoach E, et al. Macrophage infiltration into omental versus subcutaneous fat across different populations: effect of regional adiposity and the comorbidities of obesity. J Clin Endocrinol Metab. 2007;92:2240–7.

Kralova Lesna I, Kralova A, Cejkova S, Fronek J, Petras M, Sekerkova A, et al. Characterisation and comparison of adipose tissue macrophages from human subcutaneous, visceral and perivascular adipose tissue. J Transl Med. 2016;14:208.

Nakajima S, Koh V, Kua LF, So J, Davide L, Lim KS, et al. Accumulation of CD11c+CD163+ adipose tissue macrophages through upregulation of intracellular 11beta-HSD1 in human obesity. J Immunol. 2016;197:3735–45.

Verboven K, Wouters K, Gaens K, Hansen D, Bijnen M, Wetzels S, et al. Abdominal subcutaneous and visceral adipocyte size, lipolysis and inflammation relate to insulin resistance in male obese humans. Sci Rep. 2018;8:4677.

Jerschow EA S, Barzilai N, Rosenstreich D. Macrophages accumulation in visceral and subcutaneous adipose tissue correlates with age. J Allergy Clin Immunol. 2007;119:S179.

Einstein FH, Huffman DM, Fishman S, Jerschow E, Heo HJ, Atzmon G, et al. Aging per se increases the susceptibility to free fatty acid-induced insulin resistance. J Gerontol A Biol Sci Med Sci. 2010;65:800–8.

Dankel SN, Svard J, Mattha S, Claussnitzer M, Kloting N, Glunk V, et al. COL6A3 expression in adipocytes associates with insulin resistance and depends on PPARgamma and adipocyte size. Obesity. 2014;22:1807–13.

Guglielmi V, Cardellini M, Cinti F, Corgosinho F, Cardolini I, D'Adamo M, et al. Omental adipose tissue fibrosis and insulin resistance in severe obesity. Nutr Diabetes. 2015;5:e175.

Spencer M, Unal R, Zhu B, Rasouli N, McGehee RE Jr., Peterson CA, et al. Adipose tissue extracellular matrix and vascular abnormalities in obesity and insulin resistance. J Clin Endocrinol Metab. 2011;96:E1990–8.

Spencer M, Yao-Borengasser A, Unal R, Rasouli N, Gurley CM, Zhu B, et al. Adipose tissue macrophages in insulin-resistant subjects are associated with collagen VI and fibrosis and demonstrate alternative activation. Am J Physiol Endocrinol Metab. 2010;299:E1016–27.

Divoux A, Tordjman J, Lacasa D, Veyrie N, Hugol D, Aissat A, et al. Fibrosis in human adipose tissue: composition, distribution, and link with lipid metabolism and fat mass loss. Diabetes. 2010;59:2817–25.

Muir LA, Neeley CK, Meyer KA, Baker NA, Brosius AM, Washabaugh AR, et al. Adipose tissue fibrosis, hypertrophy, and hyperplasia: correlations with diabetes in human obesity. Obesity. 2016;24:597–605.

McCulloch LJ, Rawling TJ, Sjoholm K, Franck N, Dankel SN, Price EJ, et al. COL6A3 is regulated by leptin in human adipose tissue and reduced in obesity. Endocrinology. 2015;156:134–46.

Vila IK, Badin PM, Marques MA, Monbrun L, Lefort C, Mir L, et al. Immune cell Toll-like receptor 4 mediates the development of obesity- and endotoxemia-associated adipose tissue fibrosis. Cell Rep. 2014;7:1116–29.

Michaud A, Drolet R, Noel S, Paris G, Tchernof A. Visceral fat accumulation is an indicator of adipose tissue macrophage infiltration in women. Metabolism. 2012;61:689–98.

Pasarica M, Gowronska-Kozak B, Burk D, Remedios I, Hymel D, Gimble J, et al. Adipose tissue collagen VI in obesity. J Clin Endocrinol Metab. 2009;94:5155–62.

Murphy J, Delaney KZ, Dam V, Tam BT, Khor N, Tsoukas MA, et al. Sex affects regional variations in subcutaneous adipose tissue T cells but not macrophages in adults with obesity. Obesity. 2020;28:2310–4.

Dahl AK, Reynolds CA. Accuracy of recalled body weight—a study with 20-years of follow-up. Obesity. 2013;21:1293–8.

Lin CJ, DeRoo LA, Jacobs SR, Sandler DP. Accuracy and reliability of self-reported weight and height in the Sister Study. Public Health Nutr. 2012;15:989–99.
Acknowledgements
Sylvia Santosa holds a Canada Research Chair-Tier 2 in Clinical Nutrition. Laurent Turner is supported by a PERFORM graduate student award. This research was made possible by in-kind equipment support from the PERFORM Center, and funding from a Natural Science and Engineering Research Council of Canada (NSERC) Discovery Grant. The authors thank Dr. Alisa Piekny for her help and guidance in the microscopy analyses, the participants who consented to be tissue donors, and acknowledge the invaluable collaboration of the surgery team, bariatric surgeons and biobank staff of the IUCPQ.
Ethics declarations
Competing interests
The authors have no competing interests to declare with regards to the content of this study. SS is a member of the Scientific Advisory Panel for Nutritional Fundamentals for Health Inc. AT receives research funding from Johnson & Johnson, Medtronic, and GI Windows for studies on bariatric surgery; and acted as a consultant for Bausch Health, Novo Nordisk, Eli Lilly, and Biotwin.
Additional information
Publisher's note Springer Nature remains neutral with regard to jurisdictional claims in published maps and institutional affiliations.
Rights and permissions
Springer Nature or its licensor holds exclusive rights to this article under a publishing agreement with the author(s) or other rightsholder(s); author self-archiving of the accepted manuscript version of this article is solely governed by the terms of such publishing agreement and applicable law.
About this article
Cite this article
Turner, L., Gauthier, MF., Lafortune, A. et al. Adipocyte size, adipose tissue fibrosis, macrophage infiltration and disease risk are different in younger and older individuals with childhood versus adulthood onset obesity. Int J Obes 46, 1859–1866 (2022). https://doi.org/10.1038/s41366-022-01192-2
Received:

Revised:

Accepted:

Published:

Issue Date:

DOI: https://doi.org/10.1038/s41366-022-01192-2