Abstract
Objectives
The "obesity paradox" – in which patients with obesity exhibit superior survival than normal-weight counterparts – has been reported for several diseases. However, obesity is a well-known risk factor for cardiovascular disease, and whether the obesity paradox is present in peripheral artery disease (PAD) is unknown.
Methods
A comprehensive search for studies that reported mortality in patients with PAD grouped by BMI identified 12 studies. We compared the survival of underweight patients with those who were not underweight, and patients with obesity against those without. Underweight was defined by a BMI value of <18.5 kg/m2 in most studies and obesity by BMI ≥ 30 kg/m2. Subgroup analyses were performed according to length of follow-up, presentation of PAD, and mode of revascularization. Meta-regression analyses were conducted, with covariates including age, sex, presence of coronary artery disease (CAD) and diabetes mellitus (DM).
Results
The mortality risk of underweight patients with PAD was significantly higher compared to those who are not underweight (HR 1.72, 95% CI 1.38–2.14; I2 = 84.2%). In contrast, the mortality risk of patients with obesity with PAD was significantly lower than those without (HR 0.78, 95% CI 0.62–0.97; I2 = 89.8%). These findings remained consistent regardless of the presentation of PAD, revascularization, age, sex, or presence of CAD. The risk of death in the short-term of underweight patients (HR 1.50, 95% CI 0.47–4.72) and patients with obesity (HR 0.86, 95% CI 0.66–1.13) were not significantly different from their counterparts. The meta-regression showed that of the association between obesity and better survival was more pronounced in studies with a greater proportion of patients with concomitant CAD (regression coefficient −0.029, 95% CI −0.054 to −0.004).
Conclusions
In patients with PAD, mortality is higher among underweight patients and lower among patients with obesity. The mechanisms underlying the obesity paradox in patients with PAD remain to be elucidated, and further evidence is required to guide optimal weight control strategies in these patients.
Access options
Subscribe to Journal
Get full journal access for 1 year
$119.00
only $9.92 per issue
All prices are NET prices.
VAT will be added later in the checkout.
Tax calculation will be finalised during checkout.
Buy article
Get time limited or full article access on ReadCube.
$32.00
All prices are NET prices.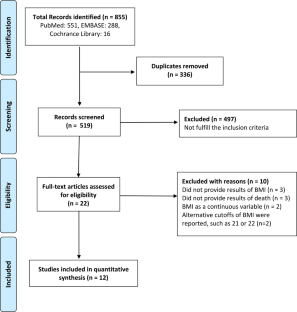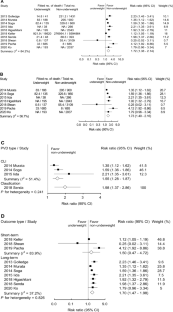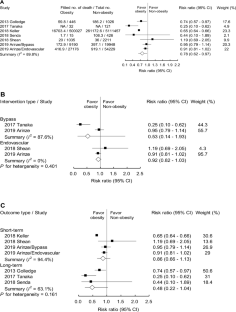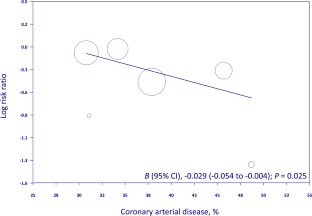 Data availability
The datasets generated during and/or analyzed during the current study are available from the corresponding author on reasonable request.
References
Song P, Rudan D, Zhu Y, Fowkes FJI, Rahimi K, Fowkes FGR, et al. Global, regional, and national prevalence and risk factors for peripheral artery disease in 2015: an updated systematic review and analysis. Lancet Glob Health. 2019;7:e1020–30.

Bauersachs R, Zeymer U, Brière J-B, Marre C, Bowrin K, Huelsebeck M. Burden of coronary artery disease and peripheral artery disease: A literature review. Cardiovasc Ther. 2019;2019:8295054.

Ankle Brachial Index Collaboration, Fowkes FGR, Murray GD, Butcher I, Heald CL, Lee RJ, et al. Ankle brachial index combined with Framingham Risk Score to predict cardiovascular events and mortality: a meta-analysis. JAMA. 2008;300:197–208.

Kumakura H, Kanai H, Aizaki M, Mitsui K, Araki Y, Kasama S, et al. The influence of the obesity paradox and chronic kidney disease on long-term survival in a Japanese cohort with peripheral arterial disease. J Vasc Surg. 2010;52:110–7.

Allemani C, Matsuda T, Di Carlo V, Harewood R, Matz M, Nikšić M, et al. Global surveillance of trends in cancer survival 2000-14 (CONCORD-3): analysis of individual records for 37 513 025 patients diagnosed with one of 18 cancers from 322 population-based registries in 71 countries. Lancet. 2018;391:1023–75.

Aboyans V, Ricco J-B, Bartelink M-LEL, Björck M, Brodmann M, Cohnert T, et al. 2017 ESC Guidelines on the Diagnosis and Treatment of Peripheral Arterial Diseases, in collaboration with the European Society for Vascular Surgery (ESVS): Document covering atherosclerotic disease of extracranial carotid and vertebral, mesenteric, renal, upper and lower extremity arteriesEndorsed by: the European Stroke Organization (ESO)The Task Force for the Diagnosis and Treatment of Peripheral Arterial Diseases of the European Society of Cardiology (ESC) and of the European Society for Vascular Surgery (ESVS). Eur Heart J. 2018;39:763–816.

Bhaskaran K, Dos-Santos-Silva I, Leon DA, Douglas IJ, Smeeth L. Association of BMI with overall and cause-specific mortality: a population-based cohort study of 3·6 million adults in the UK. Lancet Diabetes Endocrinol. 2018;6:944–53.

Berrington de Gonzalez A, Hartge P, Cerhan JR, Flint AJ, Hannan L, MacInnis RJ, et al. Body-mass index and mortality among 1.46 million white adults. N Engl J Med. 2010;363:2211–9.

Prospective Studies Collaboration, Whitlock G, Lewington S, Sherliker P, Clarke R, Emberson J, et al. Body-mass index and cause-specific mortality in 900 000 adults: collaborative analyses of 57 prospective studies. Lancet. 2009;373:1083–96.

Global BMI Mortality Collaboration, Di Angelantonio E, Bhupathiraju S, Wormser D, Gao P, et al. Body-mass index and all-cause mortality: individual-participant-data meta-analysis of 239 prospective studies in four continents. Lancet. 2016;388:776–86.

Aune D, Sen A, Prasad M, Norat T, Janszky I, Tonstad S, et al. BMI and all cause mortality: systematic review and non-linear dose-response meta-analysis of 230 cohort studies with 3.74 million deaths among 30.3 million participants. BMJ. 2016;353:i2156.

GBD 2015 Obesity Collaborators, Afshin A, Forouzanfar MH, Reitsma MB, Sur P, Estep K, et al. Health effects of overweight and obesity in 195 countries over 25 years. N Engl J Med. 2017;377:13–27.

Zafrir B, Jaffe R, Rubinshtein R, Karkabi B, Flugelman MY, Halon DA. Influence of Body mass index on long-term survival after cardiac catheterization. Am J Cardiol. 2018;121:113–9.

Zhang J, Begley A, Jackson R, Harrison M, Pellicori P, Clark AL, et al. Body mass index and all-cause mortality in heart failure patients with normal and reduced ventricular ejection fraction: a dose-response meta-analysis. Clin Res Cardiol. 2019;108:119–32.

DeLapp DA, Glick C, Furmanek S, Ramirez JA, Cavallazzi R. Patients with obesity have better long-term outcomes after hospitalization for COPD exacerbation. COPD. 2020;17:373–7.

Acharya P, Upadhyay L, Qavi A, Naaraayan A, Jesmajian S, Acharya S, et al. The paradox prevails: outcomes are better in critically ill obese patients regardless of the comorbidity burden. J Crit Care. 2019;53:25–31.

Che L, Xu L, Wang M-Y, Huang Y-G. Obesity paradox among elderly patients with coronary artery disease undergoing non-cardiac surgery. J Geriatr Cardiol. 2018;15:598–604.

Li S, Wang Z, Huang J, Fan J, Du H, Liu L, et al. Systematic review of prognostic roles of body mass index for patients undergoing lung cancer surgery: does the "obesity paradox" really exist? Eur J Cardiothorac Surg. 2017;51:817–28.

Lee S. The obesity paradox in colorectal cancer surgery: an analysis of korean healthcare big data, 2012-2013. Nutr Cancer. 2017;69:248–53.

Giorgi-Pierfranceschi M, López-Núñez JJ, Monreal M, Cattabiani C, Lodigiani C, Di Micco P, et al. Morbid obesity and mortality in patients with VTE: findings from real-life clinical practice. Chest. 2020;157:1617–25.

Moussa Pacha H, Al-Khadra Y, Darmoch F, Soud M, Kaki A, Mamas MA, et al. Association between underweight body mass index and in-hospital outcome in patients undergoing endovascular interventions for peripheral artery disease: a propensity score matching analysis. J Endovasc Ther. 2019;26:411–7.

Golledge J, Cronin O, Iyer V, Bradshaw B, Moxon JV, Cunningham MA. Body mass index is inversely associated with mortality in patients with peripheral vascular disease. Atherosclerosis. 2013;229:549–55.

Murata N, Soga Y, Iida O, Yamauchi Y, Hirano K, Kawasaki D, et al. Complex relationship of body mass index with mortality in patients with critical limb ischemia undergoing endovascular treatment. Eur J Vasc Endovasc Surg. 2015;49:297–305.

Iida O, Nakamura M, Yamauchi Y, Fukunaga M, Yokoi Y, Yokoi H, et al. 3-Year outcomes of the OLIVE Registry, a Prospective Multicenter Study of Patients With Critical Limb Ischemia: A Prospective, Multi-Center, Three-Year Follow-Up Study on Endovascular Treatment for Infra-Inguinal Vessel in Patients With Critical Limb Ischemia. JACC Cardiovasc Interv. 2015;8:1493–502.

Keller K, Hobohm L, Geyer M, Münzel T, Lavie CJ, Ostad MA, et al. Obesity paradox in peripheral artery disease. Clin Nutr. 2019;38:2269–76.

Senda K, Miura T, Minamisawa M, Ueki Y, Mochidome T, Nomi H, et al. Predictive value of underweight status for patients with peripheral artery disease with claudication. Angiology. 2018;69:513–22.

Shean KE, Zettervall SL, Deery SE, O'Donnell TFX, Soden PA, Johnson JM, et al. Fewer complications in the obese following lower extremity endovascular interventions. Ann Vasc Surg. 2018;49:17–23.

Soga Y, Iida O, Takahara M, Hirano K, Suzuki K, Kawasaki D, et al. Two-year life expectancy in patients with critical limb ischemia. JACC Cardiovasc Interv. 2014;7:1444–9.

Higashitani M, Uemura Y, Mizuno A, Utsunomiya M, Yamaguchi T, Matsui A, et al. Cardiovascular Outcome and Mortality in Patients Undergoing Endovascular Treatment for Symptomatic Peripheral Artery Disease - Short-Term Results of the Toma-Code Registry. Circ J. 2018;82:1917–25.

Ko T, Higashitani M, Uemura Y, Utsunomiya M, Yamaguchi T, Matsui A, et al. Clinical outcome and diverse risk factors for different therapeutic target locations of peripheral artery disease. J Atheroscler Thromb. 2020;27:769–79.

Greenland S, Longnecker MP. Methods for trend estimation from summarized dose-response data, with applications to meta-analysis. Am J Epidemiol. 1992;135:1301–9.

Arinze N, Farber A, Levin SR, Cheng TW, Jones DW, Patel VI, et al. Perioperative outcomes after lower extremity bypass and peripheral vascular interventions in patients with morbid obesity and superobesity. J Vasc Surg. 2020;71:567–74.

Tanaka A, Perlick A, Miller CC, Sandhu HK, Afaq S, Safi HJ, et al. Metabolic Syndrome but not Obesity Adversely Affects Outcomes after Open Aortoiliac Bypass Surgery. Ann Vasc Surg. 2018;46:155–61.

Lamelas P, Schwalm JD, Leong D, Jolly S, Mehta S, Bangdiwala S, et al. Varying effects of body mass index and mortality in different risk groups. Am J Cardiol. 2018;122:1155–60.

Burgos LM, Gil Ramírez A, Seoane L, Espinoza J, Furmento JF, Costabel JP, et al. Is the obesity paradox in cardiac surgery really a myth? effect of body mass index on early and late clinical outcomes. J Cardiothorac Vasc Anesth. 2021;35:492–8.

Ratwatte S, Hyun K, D'Souza M, Barraclough J, Chew DP, Shetty P, et al. Relation of body mass index to outcomes in acute coronary syndrome. Am J Cardiol. 2021;138:11–9.

Zhou D, Li Z, Shi G, Zhou J. Obesity paradox for critically ill patients may be modified by age: a retrospective observational study from one large database. Crit Care. 2020;24:425.

Persaud SR, Lieber AC, Donath E, Stingone JA, Dangayach NS, Zhang X, et al. Obesity paradox in intracerebral hemorrhage. Stroke. 2019;50:999–1002.

deFilippi CR, Seliger SL. Obesity and survival with heart failure: still a paradox. JACC Heart Fail. 2017;5:64–6.

Casas-Vara A, Santolaria F, Fernández-Bereciartúa A, González-Reimers E, García-Ochoa A, Martínez-Riera A. The obesity paradox in elderly patients with heart failure: analysis of nutritional status. Nutrition. 2012;28:616–22.

Bahat G, Tufan F, Saka B, Akin S, Ozkaya H, Yucel N, et al. Which body mass index (BMI) is better in the elderly for functional status? Arch Gerontol Geriatr. 2012;54:78–81.

Jagan N, Morrow LE, Walters RW, Plambeck RW, Wallen TJ, Patel TM, et al. Sepsis and the obesity paradox: size matters in more than one way. Crit Care Med. 2020;48:e776–82.

Decruyenaere A, Steen J, Colpaert K, Benoit DD, Decruyenaere J, Vansteelandt S. The obesity paradox in critically ill patients: a causal learning approach to a casual finding. Crit Care. 2020;24:485.

Pinho EMP, Lourenço P, Silva S, Laszczyńska O, Leite AB, Gomes F, et al. Higher BMI in heart failure patients is associated with longer survival only in the absence of diabetes. J Cardiovasc Med . 2015;16:576–82.

Harris K, Zhou J, Liu X, Hassan E, Badawi O. The obesity paradox is not observed in critically ill patients on early enteral nutrition. Crit Care Med. 2017;45:828–34.

Amri R, Dinaux AM, Kunitake H, Bordeianou LG, Berger DL. Risk stratification for surgical site infections in colon cancer. JAMA Surg. 2017;152:686–90.

Gurunathan U, Ramsay S, Mitrić G, Way M, Wockner L, Myles P. Association Between Obesity and Wound Infection Following Colorectal Surgery: Systematic Review and Meta-Analysis. J Gastrointest Surg. 2017;21:1700–12.

Wahl TS, Patel FC, Goss LE, Chu DI, Grams J, Morris MS. The obese colorectal surgery patient: surgical site infection and outcomes. Dis Colon Rectum. 2018;61:938–45.

Yuan K, Chen H-L. Obesity and surgical site infections risk in orthopedics: a meta-analysis. Int J Surg. 2013;11:383–8.

Jiang J, Teng Y, Fan Z, Khan S, Xia Y. Does obesity affect the surgical outcome and complication rates of spinal surgery? A meta-analysis. Clin Orthop Relat Res. 2014;472:968–75.

Lamagni T, Elgohari S, Harrington P. Trends in surgical site infections following orthopaedic surgery. Curr Opin Infect Dis. 2015;28:125–32.

Giles KA, Hamdan AD, Pomposelli FB, Wyers MC, Siracuse JJ, Schermerhorn ML. Body mass index: surgical site infections and mortality after lower extremity bypass from the National Surgical Quality Improvement Program 2005-2007. Ann Vasc Surg. 2010;24:48–56.

Waisbren E, Rosen H, Bader AM, Lipsitz SR, Rogers SO, Eriksson E. Percent body fat and prediction of surgical site infection. J Am Coll Surg. 2010;210:381–9.

Kaw R, Bhateja P, Paz Y, Mar H, Hernandez AV, Ramaswamy A, et al. Postoperative complications in patients with unrecognized obesity hypoventilation syndrome undergoing elective noncardiac surgery. Chest. 2016;149:84–91.

Kaw R, Wong J, Mokhlesi B. Obesity and obesity hypoventilation, sleep hypoventilation, and postoperative respiratory failure. Anesth Analg. 2021;132:1265–73.

Covarrubias J, Grigorian A, Schubl S, Gambhir S, Dolich M, Lekawa M, et al. Obesity associated with increased postoperative pulmonary complications and mortality after trauma laparotomy. Eur J Trauma Emerg Surg. 2021;47:1561–1568.

Raveendran R, Wong J, Singh M, Wong DT, Chung F. Obesity hypoventilation syndrome, sleep apnea, overlap syndrome: perioperative management to prevent complications. Curr Opin Anaesthesiol. 2017;30:146–55.

Lavie CJ, Alpert MA, Arena R, Mehra MR, Milani RV, Ventura HO. Impact of obesity and the obesity paradox on prevalence and prognosis in heart failure. JACC Heart Fail. 2013;1:93–102.

Litwin SE, Coles A, Hill CL, Alhanti B, Pagidipati N, Lee KL, et al. Discordances between predicted and actual risk in obese patients with suspected cardiac ischaemia. Heart. 2020;106:273–9.

Biswas S, Andrianopoulos N, Dinh D, Duffy SJ, Lefkovits J, Brennan A, et al. Association of Body Mass Index and Extreme Obesity With Long-Term Outcomes Following Percutaneous Coronary Intervention. J Am Heart Assoc. 2019;8:e012860.

Tan X-F, Shi J-X, Chen AM-H. Prolonged and intensive medication use are associated with the obesity paradox after percutaneous coronary intervention: a systematic review and meta-analysis of 12 studies. BMC Cardiovasc Disord. 2016;16:125.

Padwal R, Leslie WD, Lix LM, Majumdar SR. Relationship Among Body Fat Percentage, Body Mass Index, and All-Cause Mortality: A Cohort Study. Ann Intern Med. 2016;164:532–41.

Barry VW, Baruth M, Beets MW, Durstine JL, Liu J, Blair SN. Fitness vs. fatness on all-cause mortality: a meta-analysis. Prog Cardiovasc Dis. 2014;56:382–90.

Chandramouli C, Tay WT, Bamadhaj NS, Tromp J, Teng T-HK, Yap JJL, et al. Association of obesity with heart failure outcomes in 11 Asian regions: A cohort study. PLoS Med. 2019;16:e1002916.
Acknowledgements
We thank Alfred Hsing-Fen Lin and Zoe Ya-Zhu Syu for their assistance with the statistical analysis during the completion of this manuscript.
Funding
This research was supported by the Ministry of Science and Technology of Taiwan [MOST 108-2221-E-002-163-, MOST 109-2221-E-002 -083 -] and the National Taiwan University Hospital [107-EDN11, 108-N4406, 108EDN02, 109-O20, 109-S4579, 109-EDN11].
Ethics declarations
Competing interests
The authors declare no competing interests.
Additional information
Publisher's note Springer Nature remains neutral with regard to jurisdictional claims in published maps and institutional affiliations.
Supplementary information
About this article
Cite this article
Lin, D.SH., Lo, HY., Yu, AL. et al. Mortality risk in patients with underweight or obesity with peripheral artery disease: a meta-analysis including 5,735,578 individuals. Int J Obes 46, 1425–1434 (2022). https://doi.org/10.1038/s41366-022-01143-x
Received:

Revised:

Accepted:

Published:

Issue Date:

DOI: https://doi.org/10.1038/s41366-022-01143-x