Abstract
Background
Improving maternal lifestyle before conception may prevent the adverse effects of maternal obesity on their children's future cardiovascular disease (CVD) risk. In the current study, we examined whether a preconception lifestyle intervention in women with obesity could alter echocardiographic indices of cardiovascular health in their children.
Methods
Six years after a randomized controlled trial comparing the effects of a 6-month preconception lifestyle intervention in women with obesity and infertility prior to fertility care to prompt fertility care, 315 of the 341 children conceived within 24 months after randomization were eligible for this study. The intervention was aimed at weight loss (≥5% or until BMI < 29 kg/m2). Children underwent echocardiographic assessment of cardiac structure and function, conducted by a single pediatric cardiologist, blinded to group allocation. Results were adjusted for multiple variables including body surface area, age, and sex in linear regression analyses.
Results
Sixty children (32 girls, 53%) were included, mean age 6.5 years (SD 1.09). Twenty-four children (40%) were born to mothers in the intervention group. Children of mothers from the intervention group had a lower end-diastolic interventricular septum thickness (−0.88 Z-score, 95%CI −1.18 to −0.58), a lower left ventricle mass index (−8.56 g/m2, 95%CI −13.09 to −4.03), and higher peak systolic and early diastolic annular velocity of the left ventricle (1.43 cm/s 95%CI 0.65 to 2.20 and 2.39 cm/s 95%CI 0.68 to 4.11, respectively) compared to children of mothers from the control group.
Conclusions
Children of women with obesity, who underwent a preconception lifestyle intervention, had improved cardiac structure and function; a thinner interventricular septum, lower left ventricle mass, and improved systolic and diastolic tissue Doppler velocities. Despite its high attrition rates, our study provides the first experimental human evidence suggesting that preconception lifestyle interventions may present a method of reducing CVD risk in the next generation.
Clinical trial registration
LIFEstyle study: Netherlands Trial Register: NTR1530 (https://www.trialregister.nl/trial/1461). This follow-up study was approved by the medical ethics committee of the University Medical Centre Groningen (METC code: 2008/284).
This is a preview of subscription content
Access options
Subscribe to Journal
Get full journal access for 1 year
$119.00
only $9.92 per issue
All prices are NET prices.
VAT will be added later in the checkout.
Tax calculation will be finalised during checkout.
Buy article
Get time limited or full article access on ReadCube.
$32.00
All prices are NET prices.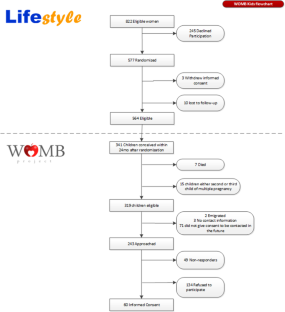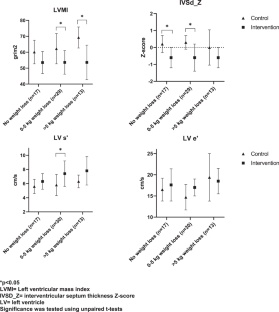 Data availability
The data that support the findings of this study are available from the corresponding author, TdH, upon reasonable request.
References
Di Cesare M, Bentham J, Stevens GA, Zhou B, Danaei G, Lu Y, et al. Trends in adult body-mass index in 200 countries from 1975 to 2014: a pooled analysis of 1698 population-based measurement studies with 19·2 million participants. Lancet. 2016;387:1377–96. https://doi.org/10.1016/s0140-6736(16)30054-x

El-Gilany AH, El-Wehady A. Prevalence of obesity in a Saudi obstetric population. Obes Facts. 2009;2:217–20. https://doi.org/10.1159/000226597. 2010/01/08

Forsen T, Eriksson JG, Tuomilehto J, Teramo K, Osmond C, Barker DJ. Mother's weight in pregnancy and coronary heart disease in a cohort of Finnish men: follow up study. BMJ. 1997;315:837–40. https://doi.org/10.1136/bmj.315.7112.837

Reynolds RM, Allan KM, Raja EA, Bhattacharya S, McNeill G, Hannaford PC, et al. Maternal obesity during pregnancy and premature mortality from cardiovascular event in adult offspring: follow-up of 1,323,275 person years. BMJ. 2013;347:f4539 https://doi.org/10.1136/bmj.f4539. 2013/08/15

Razaz N, Villamor E, Muraca GM, Bonamy AE, Cnattingius S. Maternal obesity and risk of cardiovascular diseases in offspring: a population-based cohort and sibling-controlled study. Lancet Diabetes Endocrinol. 2020;8:572–81. https://doi.org/10.1016/S2213-8587(20)30151-0. 2020/06/20

Loche E, Blackmore HL, Carpenter AA, Beeson JH, Pinnock A, Ashmore TJ, et al. Maternal diet-induced obesity programmes cardiac dysfunction in male mice independently of post-weaning diet. Cardiovasc Res. 2018;114:1372–84. https://doi.org/10.1093/cvr/cvy082. 2018/04/11

Huang Y, Yan X, Zhao JX, Zhu MJ, McCormick RJ, Ford SP, et al. Maternal obesity induces fibrosis in fetal myocardium of sheep. Am J Physiol Endocrinol Metab. 2010;299:E968–975. https://doi.org/10.1152/ajpendo.00434.2010

Blackmore HL, Niu Y, Fernandez-Twinn DS, Tarry-Adkins JL, Giussani DA, Ozanne SE. Maternal diet-induced obesity programs cardiovascular dysfunction in adult male mouse offspring independent of current body weight. Endocrinology. 2014;155:3970–80. https://doi.org/10.1210/en.2014-1383

Ece I, Uner A, Balli S, Kibar AE, Oflaz MB, Kurdoglu M. The effects of pre-pregnancy obesity on fetal cardiac functions. Pediatr Cardiol. 2014;35:838–43. https://doi.org/10.1007/s00246-014-0863-0

Ingul CB, Loras L, Tegnander E, Eik-Nes SH, Brantberg A. Maternal obesity affects fetal myocardial function as early as in the first trimester. Ultrasound Obstet Gynecol. 2016;47:433–42. https://doi.org/10.1002/uog.14841. 2015/03/12

Nyrnes SA, Garnaes KK, Salvesen O, Timilsina AS, Moholdt T, Ingul CB. Cardiac function in newborns of obese women and the effect of exercise during pregnancy. A randomized controlled trial. PLoS One. 2018;13:e0197334 https://doi.org/10.1371/journal.pone.0197334. 2018/06/02

Paauw ND, Stegeman R, de Vroede M, Termote JUM, Freund MW, Breur J. Neonatal cardiac hypertrophy: the role of hyperinsulinism-a review of literature. Eur J Pediatr. 2020;179:39–50. https://doi.org/10.1007/s00431-019-03521-6. 2019/12/17

Gordon EE, Reinking BE, Hu S, Yao J, Kua KL, Younes AK, et al. Maternal hyperglycemia directly and rapidly induces cardiac septal overgrowth in fetal rats. J Diabetes Res. 2015;2015:479565 https://doi.org/10.1155/2015/479565. 2015/06/13

Poston L, Caleyachetty R, Cnattingius S, Corvalan C, Uauy R, Herring S, et al. Preconceptional and maternal obesity: epidemiology and health consequences. Lancet Diabetes Endocrinol. 2016;4:1025–36. https://doi.org/10.1016/S2213-8587(16)30217-0. 2016/10/17

Beeson JH, Blackmore HL, Carr SK, Dearden L, Duque-Guimaraes DE, Kusinski LC, et al. Maternal exercise intervention in obese pregnancy improves the cardiovascular health of the adult male offspring. Mol Metab. 2018;16:35–44. https://doi.org/10.1016/j.molmet.2018.06.009. 2018/10/09

International Weight Management in Pregnancy Collaborative G. Effect of diet and physical activity based interventions in pregnancy on gestational weight gain and pregnancy outcomes: meta-analysis of individual participant data from randomised trials. BMJ. 2017;358:j3119 https://doi.org/10.1136/bmj.j3119. 2017/07/21

Stephenson J, Heslehurst N, Hall J, Schoenaker DAJM, Hutchinson J, Cade JE, et al. Before the beginning: nutrition and lifestyle in the preconception period and its importance for future health. 2018, p. 1830-41.

van de Beek C, Hoek A, Painter RC, Gemke R, van Poppel MNM, Geelen A, et al. Women, their Offspring and iMproving lifestyle for Better cardiovascular health of both (WOMB project): a protocol of the follow-up of a multicentre randomised controlled trial. BMJ Open. 2018;8:e016579 https://doi.org/10.1136/bmjopen-2017-016579. 2018/01/27

Mutsaerts MA, van Oers AM, Groen H, Burggraaff JM, Kuchenbecker WK, Perquin DA, et al. Randomized trial of a lifestyle program in obese infertile women. N Engl J Med. 2016;374:1942–53. https://doi.org/10.1056/NEJMoa1505297. 2016/05/19

Wekker V, Huvinen E, van Dammen L, Rono K, Painter RC, Zwinderman AH, et al. Long-term effects of a preconception lifestyle intervention on cardiometabolic health of overweight and obese women. Eur J Public Health. 2019;29:308–14. https://doi.org/10.1093/eurpub/cky222. 2018/11/01

Lai WW, Geva T, Shirali GS, Frommelt PC, Humes RA, Brook MM, et al. Guidelines and standards for performance of a pediatric echocardiogram: a report from the Task Force of the Pediatric Council of the American Society of Echocardiography. J Am Soc Echocardiogr. 2006;19:1413–30. https://doi.org/10.1016/j.echo.2006.09.001. 2006/12/02

Pettersen MD, Du W, Skeens ME, Humes RA. Regression equations for calculation of z scores of cardiac structures in a large cohort of healthy infants, children, and adolescents: an echocardiographic study. J Am Soc Echocardiogr. 2008;21:922–34. https://doi.org/10.1016/j.echo.2008.02.006. 2008/04/15

Sarkola T, Manlhiot C, Slorach C, Bradley TJ, Hui W, Mertens L, et al. Evolution of the arterial structure and function from infancy to adolescence is related to anthropometric and blood pressure changes. Arterioscler Thromb Vasc Biol. 2012;32:2516–24. https://doi.org/10.1161/ATVBAHA.112.252114. 2012/07/28

Mosteller RD. Simplified calculation of body-surface area. N Engl J Med. 1987;317:1098 https://doi.org/10.1056/NEJM198710223171717. 1987/10/22

Tranquilli AL, Dekker G, Magee L, Roberts J, Sibai BM, Steyn W, et al. The classification, diagnosis and management of the hypertensive disorders of pregnancy: A revised statement from the ISSHP. Preg Hypertens. 2014;4:97–104. https://doi.org/10.1016/j.preghy.2014.02.001. 2014/04/01

Lips JPV, GHA, Peeters, LLH, Hajenius, PJ, Pajkrt, E, Evers, IM. Diabetes mellitus en zwangerschap. NVOG-richtlijn, 2010., www.nvog.nl (2010).

van Elten TM, Karsten MDA, Geelen A, van Oers AM, van Poppel MNM, Groen H, et al. Effects of a preconception lifestyle intervention in obese infertile women on diet and physical activity; A secondary analysis of a randomized controlled trial. PLoS One. 2018;13:e0206888 https://doi.org/10.1371/journal.pone.0206888. 2018/11/08

Wendel-Vos GC, Schuit AJ, Saris WH, Kromhout D. Reproducibility and relative validity of the short questionnaire to assess health-enhancing physical activity. J Clin Epidemiol. 2003;56:1163–9. https://doi.org/10.1016/s0895-4356(03)00220-8. 2003/12/19

Scherrer U, Rexhaj E, Allemann Y, Sartori C, Rimoldi SF. Cardiovascular dysfunction in children conceived by assisted reproductive technologies. Eur Heart J. 2015;36:1583–9. https://doi.org/10.1093/eurheartj/ehv145. 2015/04/26

Koo TK, Li MY. A guideline of selecting and reporting intraclass correlation coefficients for reliability research. J Chiropr Med. 2016;15:155–63. https://doi.org/10.1016/j.jcm.2016.02.012. 2016/06/23

Hayes AF. PROCESS: a versatile computational tool for observed variable mediation, moderation, and conditional process modeling [White paper]. (2012).

Overbeek LI, Kapusta L, Peer PG, de Korte CL, Thijssen JM, Daniels O. New reference values for echocardiographic dimensions of healthy Dutch children. Eur J Echocardiogr. 2006;7:113–21. https://doi.org/10.1016/j.euje.2005.03.012. 2005/06/09

Perak AM, Lancki N, Kuang A, Labarthe DR, Allen NB, Shah SH, et al. Associations of maternal cardiovascular health in pregnancy with offspring cardiovascular health in early adolescence. JAMA. 2021;325:658–68. https://doi.org/10.1001/jama.2021.0247. 2021/02/17

Berenson GS. Childhood risk factors predict adult risk associated with subclinical cardiovascular disease. The Bogalusa Heart Study. Am J Cardiol. 2002;90:3L–7L. https://doi.org/10.1016/s0002-9149(02)02953-3. 2002/12/03

Toemen L, Gaillard R, van Osch-Gevers L, Helbing WA, Hofman A, Jaddoe VW. Tracking of structural and functional cardiac measures from infancy into school-age. Eur J Prev Cardiol. 2017;24:1408–15. https://doi.org/10.1177/2047487317715512. 2017/06/13

Schieken RM, Schwartz PF, Goble MM. Tracking of left ventricular mass in children: race and sex comparisons: the MCV Twin Study. Medical College of Virginia. Circulation. 1998;97:1901–6. https://doi.org/10.1161/01.cir.97.19.1901. 1998/06/03

Levy D, Garrison RJ, Savage DD, Kannel WB, Castelli WP. Prognostic implications of echocardiographically determined left ventricular mass in the Framingham Heart Study. N Engl J Med. 1990;322:1561–6. https://doi.org/10.1056/NEJM199005313222203. 1990/05/31

Park SK, Jung JY, Kang JG, Chung PW, Oh CM. Left ventricular geometry and risk of incident hypertension. Heart. 2019;105:1402–7. https://doi.org/10.1136/heartjnl-2018-314657. 2019/04/19

Garnaes KK, Morkved S, Salvesen O, Moholdt T. Exercise training and weight gain in obese pregnant women: a randomized controlled trial (ETIP Trial). PLoS Med. 2016;13:e1002079 https://doi.org/10.1371/journal.pmed.1002079. 2016/07/28

Rono K, Grotenfelt NE, Klemetti MM, Stach-Lempinen B, Huvinen E, Meinila J, et al. Effect of a lifestyle intervention during pregnancy-findings from the Finnish gestational diabetes prevention trial (RADIEL). J Perinatol. 2018;38:1157–64. https://doi.org/10.1038/s41372-018-0178-8. 2018/07/26

Litwin L, Sundholm JKM, Rono K, Koivusalo SB, Eriksson JG, Sarkola T. No effect of gestational diabetes or pre-gestational obesity on 6-year offspring left ventricular function-RADIEL study follow-up. Acta Diabetol. 2020;57:1463–72. https://doi.org/10.1007/s00592-020-01571-z

Tan CMJ, Lewandowski AJ. The transitional heart: from early embryonic and fetal development to neonatal life. Fetal Diagn Ther. 2020;47:373–86. https://doi.org/10.1159/000501906. 2019/09/19

van Elten TM, Karsten MDA, van Poppel MNM, Geelen A, Limpens J, Roseboom TJ, et al. Diet and physical activity in pregnancy and offspring's cardiovascular health: a systematic review. J Dev Orig Health Dis. 2019;10:286–98. https://doi.org/10.1017/S204017441800082X. 2018/11/14

Hrolfsdottir L, Halldorsson TI, Rytter D, Bech BH, Birgisdottir BE, Gunnarsdottir I, et al. Maternal macronutrient intake and offspring blood pressure 20 years later. J Am Heart Assoc. 2017;6:2017/04/26 https://doi.org/10.1161/JAHA.117.005808

Chatzi L, Rifas-Shiman SL, Georgiou V, Joung KE, Koinaki S, Chalkiadaki G, et al. Adherence to the Mediterranean diet during pregnancy and offspring adiposity and cardiometabolic traits in childhood. Pediatr Obes. 2017;12(Suppl 1):S47–S56. https://doi.org/10.1111/ijpo.12191. 2017/02/06

Leermakers ETM, Tielemans MJ, van den Broek M, Jaddoe VWV, Franco OH, Kiefte-de Jong JC. Maternal dietary patterns during pregnancy and offspring cardiometabolic health at age 6 years: the generation R study. Clin Nutr. 2017;36:477–84. https://doi.org/10.1016/j.clnu.2015.12.017. 2016/02/26

May LE, Scholtz SA, Suminski R, Gustafson KM. Aerobic exercise during pregnancy influences infant heart rate variability at one month of age. Early Hum Dev. 2014;90:33–38. https://doi.org/10.1016/j.earlhumdev.2013.11.001. 2013/11/30

Fernandez-Twinn DS, Blackmore HL, Siggens L, Giussani DA, Cross CM, Foo R, et al. The programming of cardiac hypertrophy in the offspring by maternal obesity is associated with hyperinsulinemia, AKT, ERK, and mTOR activation. Endocrinology. 2012;153:5961–71. https://doi.org/10.1210/en.2012-1508

Myatt L, Maloyan A. Obesity and placental function. Semin Reprod Med. 2016;34:42–49. https://doi.org/10.1055/s-0035-1570027. 2016/01/07

Patro Golab B, Santos S, Voerman E, Lawlor DA, Jaddoe VWV, Gaillard R, et al. Influence of maternal obesity on the association between common pregnancy complications and risk of childhood obesity: an individual participant data meta-analysis. Lancet Child Adolesc Health. 2018;2:812–21. https://doi.org/10.1016/S2352-4642(18)30273-6. 2018/09/12

Mourtakos SP, Tambalis KD, Panagiotakos DB, Antonogeorgos G, Arnaoutis G, Karteroliotis K, et al. Maternal lifestyle characteristics during pregnancy, and the risk of obesity in the offspring: a study of 5125 children. BMC Pregnancy Childbirth. 2015;15:66 https://doi.org/10.1186/s12884-015-0498-z. 2015/04/18

Hendriks T, Said MA, Janssen LMA, van der Ende MY, van Veldhuisen DJ, Verweij N, et al. Effect of systolic blood pressure on left ventricular structure and function: a mendelian randomization study. Hypertension. 2019;74:826–32. https://doi.org/10.1161/HYPERTENSIONAHA.119.12679. 2019/09/04

Zielinsky P, Piccoli AL Jr. Myocardial hypertrophy and dysfunction in maternal diabetes. Early Hum Dev. 2012;88:273–8. https://doi.org/10.1016/j.earlhumdev.2012.02.006. 2012/03/27

Aye CYL, Lewandowski AJ, Lamata P, Upton R, Davis E, Ohuma EO, et al. Prenatal and postnatal cardiac development in offspring of hypertensive pregnancies. J Am Heart Assoc. 2020;9:e014586 https://doi.org/10.1161/JAHA.119.014586. 2020/05/01

Telles F, McNamara N, Nanayakkara S, Doyle MP, Williams M, Yaeger L, et al. Changes in the preterm heart from birth to young adulthood: a meta-analysis. Pediatrics. 2020; 146 2020/07/09. https://doi.org/10.1542/peds.2020-0146.

Depla AL, De Wit L, Steenhuis TJ, Slieker MG, Voormolen DN, Scheffer PG, et al. Effect of maternal diabetes on fetal heart function on echocardiography: systematic review and meta-analysis. Ultrasound Obstet Gynecol. 2021;57:539–50. https://doi.org/10.1002/uog.22163. 2020/07/31

Papolos A, Narula J, Bavishi C, Chaudhry FA, Sengupta PP. U.S. hospital use of echocardiography: insights from the nationwide inpatient sample. J Am Coll Cardiol. 2016;67:502–11. https://doi.org/10.1016/j.jacc.2015.10.090. 2016/02/06
Acknowledgements
We would like to thank all children and parents who participated in the study. Also, this follow-up would not have been possible without the original LIFEstyle trial, so we would like to thank the whole LIFEstyle group, including all participating centers and researchers that have contributed to the original trial. Eryn Liem and Rolf Berger facilitated the echocardiograms in the UMC Groningen and we would also like to thank them for their help.
Funding
This work was supported by a grant of the Dutch Heart Foundation (2013T085) and a Postdoc Stipend of Amsterdam Reproduction & Development. The initial LIFEstyle trial was supported by a grant from ZonMW, the Dutch Organization for Health Research and Development (120620027).
Ethics declarations
Competing interests
Annemieke Hoek: received a modest fee from Ferring Pharmaceutical company for participation in an expert board, unrelated to the current study.
Additional information
Publisher's note Springer Nature remains neutral with regard to jurisdictional claims in published maps and institutional affiliations.
Supplementary information
About this article
Cite this article
den Harink, T., Blom, N.A., Gemke, R.J.B.J. et al. Preconception lifestyle intervention in women with obesity and echocardiographic indices of cardiovascular health in their children. Int J Obes 46, 1262–1270 (2022). https://doi.org/10.1038/s41366-022-01107-1
Received:

Revised:

Accepted:

Published:

Issue Date:

DOI: https://doi.org/10.1038/s41366-022-01107-1