Abstract
Background/objectives
Bile acids in plasma are elevated after bariatric surgery and may contribute to metabolic improvements, but underlying changes in bile flow are poorly understood. We assessed bilio-enteric flow of bile and plasma bile concentrations in individuals with Roux-en-Y gastric bypass (RYGB) or sleeve gastrectomy (SG) surgery compared with matched non-surgical controls (CON).
Subjects/methods
Fifteen RYGB, 10 SG and 15 CON underwent 99Tc-mebrofenin cholescintigraphy combined with intake of a high-fat 111In-DTPA-labelled meal and frequent blood sampling. A 75Se-HCAT test was used to assess bile acid retention.
Results
After RYGB, gallbladder filling was decreased (p = 0.045 versus CON), basal flow of bile into the small intestine increased (p = 0.005), bile acid retention augmented (p = 0.021) and basal bile acid plasma concentrations elevated (p = 0.009). During the meal, foods passed unimpeded through the gastric pouch resulting in almost instant postprandial mixing of bile and foods, but the postprandial rise in plasma bile acids was brief and associated with decreased overall release of fibroblast growth factor-19 (FGF-19) compared with CON (p = 0.033). After SG, bile flow and retention were largely unaltered (p > 0.05 versus CON), but gastric emptying was accelerated (p < 0.001) causing earlier mixture of bile and foods also in this group. Neither basal nor postprandial bile acid concentrations differed between SG and CON.
Conclusions
Bilio-enteric bile flow is markedly altered after RYGB resulting in changes in plasma concentrations of bile acids and FGF-19, whereas bile flow and plasma concentrations are largely unaltered after SG.
This is a preview of subscription content
Access options
Subscribe to Journal
Get full journal access for 1 year
$119.00
only $9.92 per issue
All prices are NET prices.
VAT will be added later in the checkout.
Tax calculation will be finalised during checkout.
Buy article
Get time limited or full article access on ReadCube.
$32.00
All prices are NET prices.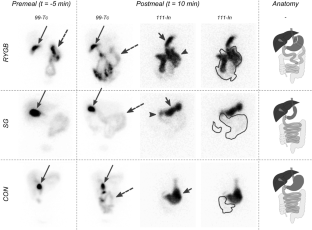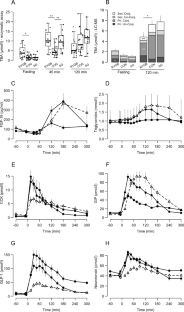 References
Gloy VL, Briel M, Bhatt DL, Kashyap SR, Schauer PR, Mingrone G, et al. Bariatric surgery versus non-surgical treatment for obesity: a systematic review and meta-analysis of randomised controlled trials. BMJ. 2013;347:f5934.

Madsbad S, Dirksen C, Holst JJ. Mechanisms of changes in glucose metabolism and bodyweight after bariatric surgery. Lancet Diabetes Endocrinol. 2014;2:152–64.

Patti M, Houten SM, Bianco AC, Bernier R, Larsen PR, Holst JJ, et al. Serum bile acids are higher in humans with prior gastric bypass: potential contribution to improved glucose and lipid metabolism. Obesity. 2009;17:1671–7.

Nakatani H, Kasama K, Oshiro T, Watanabe M, Hirose H, Itoh H. Serum bile acid along with plasma incretins and serum high-molecular weight adiponectin levels are increased after bariatric surgery. Metabolism. 2009;58:1400–7.

Angrisani L, Santonicola A, Iovino P, Vitiello A, Higa K, Himpens J, et al. IFSO worldwide survey 2016: primary, endoluminal, and revisional procedures. Obes Surg. 2018;28:3783–94.

Werling M, Vincent RP, Cross GF, Marschall H-U, Fändriks L, Lönroth H, et al. Enhanced fasting and post-prandial plasma bile acid responses after Roux-en-Y gastric bypass surgery. Scand J Gastroenterol. 2013;48:1257–64.

Jørgensen NB, Dirksen C, Bojsen-Møller KN, Kristiansen VB, Wulff BS, Rainteau D, et al. Improvements in glucose metabolism early after gastric bypass surgery are not explained by increases in total bile acids and fibroblast growth factor 19 concentrations. J Clin Endocrinol Metab. 2015;100:E396–406.

Steinert RE, Peterli R, Keller S, Meyer-Gerspach AC, Drewe J, Peters T, et al. Bile acids and gut peptide secretion after bariatric surgery: a 1-year prospective randomized pilot trial. Obesity (Silver Spring). 2013;21:E660–8.

Albaugh VL, Flynn CR, Cai S, Xiao Y, Tamboli RA, Abumrad NN. Early increases in bile acids post Roux-en-Y gastric bypass are driven by insulin-sensitizing, secondary bile acids. J Clin Endocrinol Metab. 2015;100:E1225–33.

Risstad H, Kristinsson JA, Fagerland MW, le Roux CW, Birkeland KI, Gulseth HL, et al. Bile acid profiles over 5 years after gastric bypass and duodenal switch: results from a randomized clinical trial. Surg Obes Relat Dis. 2017;13:1544–53.

Ahmad NN, Pfalzer A, Kaplan LM. Roux-en-Y gastric bypass normalizes the blunted postprandial bile acid excursion associated with obesity. Int J Obes. 2013;37:1553–9.

Dutia R, Embrey M, O'Brien CS, O'Brien S, Haeusler RA, Agénor KK, et al. Temporal changes in bile acid levels and 12α-hydroxylation after Roux-en-Y gastric bypass surgery in type 2 diabetes. Int J Obes. 2015;39:806–13.

Haluzíková D, Lacinová Z, Kaválková P, Drápalová J, Křížová J, Bártlová M, et al. Laparoscopic sleeve gastrectomy differentially affects serum concentrations of FGF-19 and FGF-21 in morbidly obese subjects. Obesity (Silver Spring). 2013;21:1335–42.

Escalona A, Muñoz R, Irribarra V, Solari S, Allende F, Francisco Miquel J. Bile acids synthesis decreases after laparoscopic sleeve gastrectomy. Surg Obes Relat Dis. 2016;12:763–9.

Bozadjieva N, Heppner KM, Seeley RJ. Targeting FXR and FGF19 to treat metabolic diseases-lessons learned from bariatric surgery. Diabetes. 2018;67:1720–8.

Jansen PLM, Van Werven J, Aarts E, Berends F, Janssen I, Stoker J, et al. Alterations of hormonally active fibroblast growth factors after Roux-en-Y gastric bypass surgery. Dig Dis. 2011;29:48–51.

Pournaras DJ, Glicksman C, Vincent RP, Kuganolipava S, Alaghband-Zadeh J, Mahon D, et al. The role of bile after Roux-en-Y gastric bypass in promoting weight loss and improving glycaemic control. Endocrinology. 2012;153:3613–9.

Sachdev S, Wang Q, Billington C, Connett J, Ahmed L, Inabnet W, et al. FGF 19 and bile acids increase following Roux-en-Y gastric bypass but not after medical management in patients with type 2 diabetes. Obes Surg. 2016;26:957–65.

Belgaumkar AP, Vincent RP, Carswell KA, Hughes RD, Alaghband-Zadeh J, Mitry RR, et al. Changes in bile acid profile after laparoscopic sleeve gastrectomy are associated with improvements in metabolic profile and fatty liver disease. Obes Surg. 2016;26:1195–202.

Kuhre RE, Wewer Albrechtsen NJ, Larsen O, Jepsen SL, Balk-Møller E, Andersen DB, et al. Bile acids are important direct and indirect regulators of the secretion of appetite- and metabolism-regulating hormones from the gut and pancreas. Mol Metab. 2018;11:84–95.

Svane MS, Bojsen-Møller KN, Martinussen C, Dirksen C, Madsen JL, Reitelseder S, et al. Postprandial nutrient handling and gastrointestinal hormone secretion after Roux-en-Y gastric bypass vs sleeve gastrectomy. Gastroenterology. 2019;156:1627–.e1.

Morville T, Sahl RE, Trammell SA, Svenningsen JS, Gillum MP, Helge JW, et al. Divergent effects of resistance and endurance exercise on plasma bile acids, FGF19, and FGF21 in humans. JCI insight. 2018;3:e122737.

Rehfeld JF. Accurate measurement of cholecystokinin in plasma. Clin Chem. 1998;44:991–1001.

Lindgren O, Carr RD, Deacon CF, Holst JJ, Pacini G, Mari A, et al. Incretin hormone and insulin responses to oral versus intravenous lipid administration in humans. J Clin Endocrinol Metab. 2011;96:2519–24.

Orskov C, Rabenhøj L, Wettergren A, Kofod H, Holst JJ. Tissue and plasma concentrations of amidated and glycine-extended glucagon-like peptide I in humans. Diabetes. 1994;43:535–9.

Kuhre RE, Bechmann LE, Wewer Albrechtsen NJ, Hartmann B, Holst JJ. Glucose stimulates neurotensin secretion from the rat small intestine by mechanisms involving SGLT1 and GLUT2, leading to cell depolarization and calcium influx. Am J Physiol Endocrinol Metab. 2015;308:E1123–30.

DiBaise JK, Richmond BK, Ziessman HA, Everson GT, Fanelli RD, Maurer AH, et al. Cholecystokinin-cholescintigraphy in adults: consensus recommendations of an interdisciplinary panel. Clin Nucl Med. 2012;37:63–70.

Madsen JL, Jensen M. Gastrointestinal transit of technetium-99m-labeled cellulose fiber and indium-111-labeled plastic particles. J Nucl Med. 1989;30:402–6.

Sciarretta G, Fagioli G, Furno A, Vicini G, Cecchetti L, Grigolo B, et al. 75Se HCAT test in the detection of bile acid malabsorption in functional diarrhoea and its correlation with small bowel transit. Gut. 1987;28:970–5.

Shah S, Shah P, Todkar J, Gagner M, Sonar S, Solav S. Prospective controlled study of effect of laparoscopic sleeve gastrectomy on small bowel transit time and gastric emptying half-time in morbidly obese patients with type 2 diabetes mellitus. Surg Obes Relat Dis. 2010;6:152–7.

Melissas J, Leventi A, Klinaki I, Perisinakis K, Koukouraki S, De Bree E, et al. Alterations of global gastrointestinal motility after sleeve gastrectomy: a prospective study. Ann Surg. 2013;258:976–82.

Dirksen C, Damgaard M, Bojsen-Møller KN, Jørgensen NB, Kielgast U, Jacobsen SH, et al. Fast pouch emptying, delayed small intestinal transit, and exaggerated gut hormone responses after Roux-en-Y gastric bypass. Neurogastroenterol Motil. 2013;25:346–e255.

Falkén Y, Hellström PM, Holst JJ, Näslund E. Changes in glucose homeostasis after Roux-en-Y gastric bypass surgery for obesity at day three, two months, and one year after surgery: role of gut peptides. J Clin Endocrinol Metab. 2011;96:2227–35.

Bradley D, Conte C, Mittendorfer B, Eagon JC, Varela JE, Fabbrini E, et al. Gastric bypass and banding equally improve insulin sensitivity and β cell function. J Clin Invest. 2012;122:4667–74.

Jacobsen SH, Bojsen-Møller KN, Dirksen C, Jørgensen NB, Clausen TR, Wulff BS, et al. Effects of gastric bypass surgery on glucose absorption and metabolism during a mixed meal in glucose-tolerant individuals. Diabetologia. 2013;56:2250–4.

Bastouly M, Arasaki CH, Ferreira JB, Zanoto A, FGHP Borges, Del Grande JC. Early changes in postprandial gallbladder emptying in morbidly obese patients undergoing Roux-en-Y gastric bypass: correlation with the occurrence of biliary sludge and gallstones. Obes Surg. 2009;19:22–28.

Jazrawi RP, Pazzi P, Petroni ML, Prandini N, Paul C, Adam JA, et al. Postprandial gallbladder motor function: refilling and turnover of bile in health and in cholelithiasis. Gastroenterology. 1995;109:582–91.

Nagem R, Lázaro-da-Silva A. Cholecystolithiasis after gastric bypass: a clinical, biochemical, and ultrasonographic 3-year follow-up study. Obes Surg. 2012;22:1594–9.

Angelin B, Einarsson K, Hellström K. Evidence for the absorption of bile acids in the proximal small intestine of normo- and hyperlipidaemic subjects. Gut. 1976;17:420–5.

Palleja A, Kashani A, Allin KH, Nielsen T, Zhang C, Li Y, et al. Roux-en-Y gastric bypass surgery of morbidly obese patients induces swift and persistent changes of the individual gut microbiota. Genome Med. 2016;8:67.

Sabate J-M, Coupaye M, Ledoux S, Castel B, Msika S, Coffin B, et al. Consequences of small intestinal bacterial overgrowth in obese patients before and after bariatric surgery. Obes Surg. 2017;27:599–605.

Angelin B, Björkhem I, Einarsson K, Ewerth S. Hepatic uptake of bile acids in man. Fasting and postprandial concentrations of individual bile acids in portal venous and systemic blood serum. J Clin Invest. 1982;70:724–31.

Kohli R, Setchell KD, Kirby M, Myronovych A, Ryan KK, Ibrahim SH, et al. A surgical model in male obese rats uncovers protective effects of bile acids post-bariatric surgery. Endocrinology. 2013;154:2341–51.

Albaugh VL, Banan B, Antoun J, Xiong Y, Guo Y, Ping J, et al. Role of bile acids and GLP-1 in mediating the metabolic improvements of bariatric surgery. Gastroenterology. 2019;156:1041–.e4.

Kohli R, Kirby M, Setchell KDR, Jha P, Klustaitis K, Woollett LA, et al. Intestinal adaptation after ileal interposition surgery increases bile acid recycling and protects against obesity-related comorbidities. Am J Physiol Gastrointest Liver Physiol. 2010;299:G652–60.

De Giorgi S, Campos V, Egli L, Toepel U, Carrel G, Cariou B, et al. Long-term effects of Roux-en-Y gastric bypass on postprandial plasma lipid and bile acids kinetics in female non diabetic subjects: a cross-sectional pilot study. Clin Nutr. 2015;34:911–7.

Lips MA, de Groot GH, Berends FJ, Wiezer R, van Wagensveld BA, Swank DJ, et al. Calorie restriction and Roux-en-Y gastric bypass have opposing effects on circulating FGF21 in morbidly obese subjects. Clin Endocrinol. 2014;81:862–70.

Jahansouz C, Xu H, Hertzel AV, Serrot FJ, Kvalheim N, Cole A, et al. Bile acids increase independently from hypocaloric restriction after bariatric surgery. Ann Surg. 2016;264:1022–8.

Kohli R, Bradley D, Setchell KD, Eagon JC, Abumrad N, Klein S. Weight loss induced by Roux-en-Y gastric bypass but not laparoscopic adjustable gastric banding increases circulating bile acids. J Clin Endocrinol Metab. 2013;98:708–12.

Fisher RS, Rock E, Malmud LS. Effects of meal composition on gallbladder and gastric emptying in man. Dig Dis Sci. 1987;32:1337–44.

Fotos JS, Tulchinsky M. Oral cholecystagogue cholescintigraphy: a systematic review of fatty meal options. Clin Nucl Med. 2015;40:796–8.

Guiastrennec B, Sonne DP, Bergstrand M, Vilsbøll T, Knop FK, Karlsson MO. Model-based prediction of plasma concentration and enterohepatic circulation of total bile acids in humans. CPT Pharmacometrics Syst Pharmacol. 2018;7:603–12.

Sonne DP, Hare KJ, Martens P, Rehfeld JF, Holst JJ, Vilsbøll T, et al. Postprandial gut hormone responses and glucose metabolism in cholecystectomized patients. Am J Physiol Gastrointest Liver Physiol. 2013;304:G413–9.

Thomsen SB, Rathcke CN, Jørgensen NB, Madsbad S, Vestergaard H. Effects of Roux-en-Y gastric bypass on fasting and postprandial levels of the inflammatory markers YKL-40 and MCP-1 in patients with type 2 diabetes and glucose tolerant subjects. J Obes. 2013;2013:361781.

Peterli R, Steinert RE, Woelnerhanssen B, Peters T, Christoffel-Courtin C, Gass M, et al. Metabolic and hormonal changes after laparoscopic Roux-en-Y gastric bypass and sleeve gastrectomy: a randomized, prospective trial. Obes Surg. 2012;22:740–8.

Dirksen C, Jørgensen NB, Bojsen-Møller KN, Kielgast U, Jacobsen SH, Clausen TR, et al. Gut hormones, early dumping and resting energy expenditure in patients with good and poor weight loss response after Roux-en-Y gastric bypass. Int J Obes. 2013;37:1452–9.
Acknowledgements
We thank Alis Andersen (Department of Endocrinology, Hvidovre Hospital, Denmark), Rie Pedersen, Heidi Sødahl-Borresø, Trine Huss and Katrine Marie Lyngby (Department of Clinical Physiology and Nuclear Medicine, Centre for Functional Imaging and Research, Hvidovre Hospital, Hvidovre, Denmark), Lene Brus Albæk (Department of Biomedical Sciences, University of Copenhagen, Copenhagen, Denmark) and Marianne Falk and Lene Vibeke Jespersen (Department of Clinical Biochemistry, Rigshospitalet, Copenhagen, Denmark) for technical assistance.
Ethics declarations
Conflict of interest
The study was supported by the Novo Nordisk Foundation (NNF16OC0022700) and the Hvidovre and Amager Hospital Research Foundation. None of the authors have any conflict of interest to declare.
Additional information
Publisher's note Springer Nature remains neutral with regard to jurisdictional claims in published maps and institutional affiliations.
Supplementary information
About this article
Cite this article
Eiken, A., Fuglsang, S., Eiken, M. et al. Bilio-enteric flow and plasma concentrations of bile acids after gastric bypass and sleeve gastrectomy. Int J Obes 44, 1872–1883 (2020). https://doi.org/10.1038/s41366-020-0578-7
Received:

Revised:

Accepted:

Published:

Issue Date:

DOI: https://doi.org/10.1038/s41366-020-0578-7
Further reading
Morten Hindsø
Kirstine Nyvold Bojsen-Møller
Sten Madsbad

International Journal of Obesity (2022)

Stefania Camastra
Maria Palumbo
Ferruccio Santini

Eating and Weight Disorders - Studies on Anorexia, Bulimia and Obesity (2022)

Natasha Mendonça Machado
Camila de Siqueira Cardinelli
Dan Linetzky Waitzberg

Scientific Reports (2020)