Abstract
Background
Although the benefits of physical activity (PA) at an early age are well established, there is no robust evidence of the role of PA as well as its intensities in attenuating the association between weight status and metabolic risk among adolescents. In this investigation, we analyzed the association between weight status, intensities of PA, and metabolic risk among adolescents.
Methods
Data from six cross-sectional studies in the International Children's Accelerometry Database were used (N = 5216 adolescents; boys 14.6 ± 2.1 years and girls 14.7 ± 2.0 years). Weight status was assessed and classified according to body mass index. Fasting glucose, triglycerides, inverse high-density lipoprotein cholesterol, and blood pressure composed the metabolic risk indicator (z-score). PA was measured by accelerometers. The estimated age of peak height velocity was used as a covariate for somatic maturation.
Results
We observed that increase in weight status showed a strong positive relationship with metabolic risk. However, adolescents with overweight or obesity in the highest tertile of PA (moderate-to-vigorous and vigorous intensity) showed a similar metabolic risk score as the normal weight groups. Moderate intensity PA seemed related to metabolic risk even within some categories of vigorous PA.
Conclusions
We conclude that PA attenuates the metabolic risk of adolescents with overweight or obesity. Although this attenuation is largely explained by vigorous PA, moderate intensity seems also important for better metabolic profile.
Access options
Subscribe to Journal
Get full journal access for 1 year
$773.00
only $64.42 per issue
All prices are NET prices.
VAT will be added later in the checkout.
Rent or Buy article
Get time limited or full article access on ReadCube.
from$8.99
All prices are NET prices.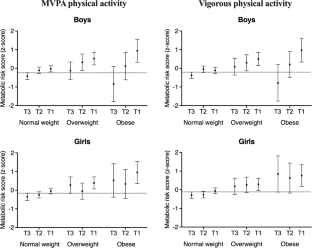 References
1.

Han JC, Lawlor DA, Kimm SY. Childhood obesity. The Lancet. 2010;375:1737–48.

2.

Kuzik N, Carson V, Andersen LB, Sardinha LB, Grøntved A, Hansen BH, et al. Physical activity and sedentary time associations with metabolic health across weight statuses in children and adolescents. Obesity. 2017;25:1762–9.

3.

Kuschnir MCC, Bloch KV, Szklo M, Klein CH, Barufaldi LA, De Azevedo Abreu G, et al. ERICA: prevalence of metabolic syndrome in Brazilian adolescents. Revista de Saude Publica. 2016;50:1s–3s.

4.

Moore JB, Beets MW, Brazendale K, Blair SN, Pate RR, Andersen LB, et al. Associations of vigorous-intensity physical activity with biomarkers in youth. Med Sci Sports Exerc. 2017;49:1366–74.

5.

Werneck AO, Oyeyemi AL, Gerage AM, Cyrino ES, Szwarcwald CL, Sardinha LB, et al. Does leisure-time physical activity attenuate or eliminate the positive association between obesity and high blood pressure? J Clin Hypertens. 2018;20:959–66.

6.

Loprinzi P, Smit E, Lee H, Crespo C, Andersen R, Blair SN. The "fit but fat" paradigm addressed using accelerometer-determined physical activity data. N Am J Med Sci. 2014;6:295–301.

7.

Rubin DA, Hackney AC. Inflammatory cytokines and metabolic risk factors during growth and maturation: influence of physical activity. Med Sport Sci. 2010;55:43–55.

8.

Werneck AO, Silva DR, Collings PJ, Fernandes RA, Ronque ERV, Barbosa DS, et al. Biological maturation, central adiposity, and metabolic risk in adolescents: a mediation analysis. Child Obesity. 2016;12:377–83.

9.

Cumming SP, Sherar LB, Pindus DM, Coelho-e-Silva MJ, Malina RM, Jardine PR. A biocultural model of maturity-associated variance in adolescent physical activity. School Health. 2012;5:37–41.

10.

Sherar LB, Griew P, Esliger DW, Cooper AR, Ekelund U, Judge K, et al. International children's accelerometry database (ICAD): design and methods. BMC Public Health. 2011;11:485.

11.

Ekelund U, Luan J, Sherar LB, Esliger DW, Griew P, Cooper A, et al. Moderate to vigorous physical activity and sedentary time and cardiometabolic risk factors in children and adolescents. JAMA. 2012;307:704–12.

12.

Eisenmann JC. On the use of a continuous metabolic syndrome score in pediatric research. Cardiovasc Diabetol. 2008;7:17.

13.

Andersen LB, Harro M, Sardinha LB, Froberg K, Ekelund U, Brage S, et al. Physical activity and clustered cardiovascular risk in children: a cross-sectional study (The European Youth Heart Study). Lancet. 2006;368:6.

14.

Cole TJ, Bellizzi MC, Flegal KM, Dietz WH. Establishing a standard definition for child overweight and obesity worldwide: international survey. BMJ (Clin Res Ed). 2000;320:1240–3.

15.

Evenson KR, Catellier DJ, Gill K, Ondrak KS, McMurray RG. Calibration of two objective measures of physical activity for children. J Sports Sci. 2008;26:1557–65.

16.

Moore SA, McKay HA, Macdonald H, Nettlefold L, Baxter-Jones ADG, Cameron N, et al. Enhancing a somatic maturity prediction model. Med. Sci. Sports Exerc. 2015;47:1755–64.

17.

Gardner MJ, Altman DG. Confidence intervals rather than P values: estimation rather than hypothesis testing. Br Med J (Clin Res Ed). 1986;292:746–50.

18.

Frohnert BI, Jacobs DR, Steinberger J, Moran A, Steffen LM, Sinaiko AR. Relation between serum free fatty acids and adiposity, insulin resistance, and cardiovascular risk factors from adolescence to adulthood. Diabetes. 2013;62:3163–9.

19.

Simpson J, Smith ADAC, Fraser A, Sattar N, Lindsay RS, Ring SM, et al. Programming of adiposity in childhood and adolescence: associations with birth weight and cord blood adipokines. J Clin Endocrinol Metabol. 2017;102:499–506.

20.

Weiss R, Dziura J, Burgert TS, Tamborlane WV, Taksali SE, Yeckel CW, et al. Obesity and the metabolic syndrome in children and adolescents. N Engl J Med. 2004;350:2362–74.

21.

Tarp J, Bugge A, Andersen LB, Sardinha LB, Ekelund U, Brage S, et al. Does adiposity mediate the relationship between physical activity and biological risk factors in youth? A cross-sectional study from the International Children's Accelerometry Database (ICAD). Int J Obesity. 2017. [Epub ahead of print]. https://doi.org/10.1038/ijo.2017.241.

22.

Werneck AO, Oyeyemi AL, Fernandes RA, Romanzini M, Ronque ERV, Cyrino ES, et al. Regional socioeconomic inequalities in physical activity and sedentary behavior among brazilian adolescents. J Phys Activity Health. 2018;15:338–44.

23.

Spees CK, Scott JM, Taylor CA. Differences in amounts and types of physical activity by obesity status in US adults. Am J Health Behav. 2012;36:56–65.

24.

Augustijn MJCM, D'Hondt E, Van Acker L, De Guchtenaere A, Lenoir M, Caeyenberghs K, et al. Role of motor competence and executive functioning in weight loss. J Dev Behav Pediatr. 2018;39:642–51.

25.

Howard B, Winkler EAH, Sethi P, Carson V, Ridgers ND, Salmon J, et al. Associations of low- and high-intensity light activity with cardiometabolic biomarkers. Med Sci Sports Exerc. 2015;47:2093–101.

26.

Ekblom-Bak E, Ekblom Ö, Bergström G, Börjesson M. Isotemporal substitution of sedentary time by physical activity of different intensities and bout lengths, and its associations with metabolic risk. Eur J Prev Cardiol. 2016;23:967–74.

27.

Martinez-Gomez D, Eisenmann JC, Gomez-Martinez S, Veses A, Romeo J, Veiga OL, et al. Associations of physical activity and fitness with adipocytokines in adolescents: the AFINOS Study. Nutr Metab Cardiovasc Dis. 2012;22:252–9.
Acknowledgements
The authors thank all participants and funders of the original studies that contributed data to the ICAD, all ICAD collaborators, and Prof. Chris Riddoch, Prof. Ken Judge, and Dr Pippa Griew. The ICAD collaborators include Prof. S. Anderssen, Norwegian School for Sport Science, Oslo, Norway (EYHS, Norway); Prof. G. Cardon, Department of Movement and Sports Sciences, Ghent University, Belgium (Belgium Preschool Study); Centers for Disease Control and Prevention, National Center for Health Statistics, Hyattsville, Maryland, USA (NHANES); Prof. A. Cooper, Centre for Exercise, Nutrition and Health Sciences, University of Bristol, Bristol, UK (Personal and Environmental Associations with Children's Health [PEACH]); Dr R. Davey, Centre for Research and Action in Public Health, University of Canberra, Canberra, Australia (Children's Health and Activity Monitoring for Schools [CHAMPS]); Prof. U. Ekelund, Norwegian School of Sport Sciences, Oslo, Norway, and MRC Epidemiology Unit, University of Cambridge, Cambridge, UK; Dr D.W. Esliger, School of Sports, Exercise, and Health Sciences, Loughborough University, Loughborough, UK; Dr K. Froberg, University of Southern Denmark, Odense, Denmark (EYHS, Denmark); Dr P. Hallal, Postgraduate Program in Epidemiology, Federal University of Pelotas, Pelotas, Brazil (1993 Pelotas Birth Cohort); Prof. K.F. Janz, Department of Health and Human Physiology, Department of Epidemiology, University of Iowa, Iowa City, Iowa, USA (Iowa Bone Development Study); Dr K. Kordas, School of Social and Community Medicine, University of Bristol, Bristol, UK (Avon Longitudinal Study of Parents and Children [ALSPAC]); Dr S. Kriemler, Institute of Social and Preventive Medicine, University of Z€urich, Z€urich, Switzerland (Kinder-Sportstudie [KISS]); Dr A. Page, Centre for Exercise, Nutrition and Health Sciences, University of Bristol, Bristol, UK; Prof. R. Pate, Department of Exercise Science, University of South Carolina, Columbia, South Carolina, USA (Physical Activity in Preschool Children [CHAMPS-US] and Project Trial of Activity for Adolescent Girls [Project TAAG]); Dr J.J. Puder, Service of Endocrinology, Diabetes and Metabolism, Lausanne University Hospital, University of Lausanne, Lausanne, Switzerland (Ballabeina Study); Prof. J. Reilly, Physical Activity for Health Group, School of Psychological Sciences and Health, University of Strathclyde, Glasgow, UK (Movement and Activity Glasgow Intervention in Children [MAGIC]); Prof. J. Salmon, School of Exercise and Nutrition Sciences, Deakin University, Melbourne, Australia (Children Living in Active Neigbourhoods [CLAN]); Dr L.B. Sherar, School of Sports, Exercise and Health Sciences, Loughborough University, Loughborough, UK; Dr A. Timperio, Centre for Physical Activity and Nutrition Research, Deakin University, Melbourne, Australia (Healthy Eating and Play Study [HEAPS]); Dr E.M.F. van Sluijs, MRC Epidemiology Unit, University of Cambridge, Cambridge, UK (Sport, Physical activity and Eating behavior: Environmental Determinants in Young people [SPEEDY]). The UK Medical Research Council and the Wellcome Trust (Grant ref: 102215/2/13/2) and the University of Bristol provide core support for ALSPAC. Moreover, we acknowledge São Paulo Research Foundation (FAPESP) for the master's degree scholarship of AOW (FAPESP process: 2017/27234–2).
Ethics declarations
Conflict of interest
The authors declare that they have no conflict of interest.
Additional information
Publisher's note Springer Nature remains neutral with regard to jurisdictional claims in published maps and institutional affiliations.
About this article
Cite this article
Werneck, A.O., Silva, D.R., Oyeyemi, A.L. et al. Physical activity attenuates metabolic risk of adolescents with overweight or obesity: the ICAD multi-country study. Int J Obes 44, 823–829 (2020). https://doi.org/10.1038/s41366-020-0521-y
Received:

Revised:

Accepted:

Published:

Issue Date:
Further reading
Eleanor M. Winpenny

,

Esther M. F. van Sluijs

&

Nita G. Forouhi

European Journal of Nutrition (2020)