Abstract
The energy-dissipating properties of brown adipose tissue (BAT) have been proposed as therapeutic targets for obesity and diabetes. Little is known about basal BAT activity. Capitalizing on the dense sympathetic innervation of BAT, we have previously shown that BAT can be detected in humans under resting room temperature (RT) conditions by using (S,S)-11C–O-methylreboxetine (MRB), a selective ligand for the norepinephrine transporter (NET). In this study, we determine whether MRB labeling of human BAT is altered by obesity. Fifteen healthy, nondiabetic Caucasian women (nine lean, age 25.6 ± 1.7, BMI 21.8 ± 1.3 kg/m2; six obese age 30.8 ± 8.8 BMI 37.9 ± 6.6 kg/m2) underwent PET-CT imaging of the neck/supraclavicular region using 11C-MRB under RT conditions. The distribution volume ratio (DVR) for 11C-MRB was estimated via multilinear reference tissue model 2 (MRTM2) referenced to the occipital cortex. Two women (one lean and one with obesity) had no detectable BAT. Of the women with detectable BAT, women with obesity had lower 11C-MRB DVR (0.80 ± 0.12 BAT DVR) compared to lean (1.15 ± 0.19 BAT DVR) (p = 0.004). Our findings are consistent with reports that NET is decreased in obesity and suggest that the sympathetic innervation of BAT is altered in obesity.
Access options
Subscribe to Journal
Get full journal access for 1 year
$773.00
only $64.42 per issue
All prices are NET prices.
VAT will be added later in the checkout.
Rent or Buy article
Get time limited or full article access on ReadCube.
from$8.99
All prices are NET prices.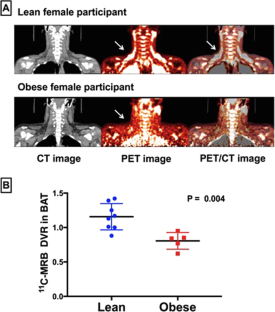 References
1.

Cypess AM, Lehman S, Williams G, Tal I, Rodman D, Goldfine AB, et al. Identification and importance of brown adipose tissue in adult humans. N Engl J Med. 2009;360:1509–17.

2.

Chondronikola M, Volpi E, Borsheim E, Porter C, Annamalai P, Enerback S, et al. Brown adipose tissue improves whole-body glucose homeostasis and insulin sensitivity in humans. Diabetes. 2014;63:4089–99.

3.

van Marken Lichtenbelt WD, Vanhommerig JW, Smulders NM, Drossaerts JM, Kemerink GJ, Bouvy ND, et al. Cold-activated brown adipose tissue in healthy men. N Engl J Med. 2009;360:1500–8.

4.

Saito M, Yoneshiro T, Matsushita M. Activation and recruitment of brown adipose tissue by cold exposure and food ingredients in humans. Best Pract Res Clin Endocrinol Metab. 2016;30:537–47.

5.

Vijgen GH, Sparks LM, Bouvy ND, Schaart G, Hoeks J, van Marken Lichtenbelt WD, et al. Increased oxygen consumption in human adipose tissue from the "brown adipose tissue" region. J Clin Endocrinol Metab. 2013;98:E1230–4.

6.

Hwang JJ, Yeckel CW, Gallezot JD, Aguiar RB, Ersahin D, Gao H, et al. Imaging human brown adipose tissue under room temperature conditions with (11)C-MRB, a selective norepinephrine transporter PET ligand. Metabolism. 2015;64:747–55.

7.

Lin KS, Ding YS. Synthesis, enantiomeric resolution, and selective C-11 methylation of a highly selective radioligand for imaging the norepinephrine transporter with positron emission tomography. Chirality. 2004;16:475–81.

8.

Nechad M, Nedergaard J, Cannon B. Noradrenergic stimulation of mitochondriogenesis in brown adipocytes differentiating in culture. Am J Physiol. 1987;253:C889–94.

9.

Festuccia WT, Blanchard PG, Richard D, Deshaies Y. Basal adrenergic tone is required for maximal stimulation of rat brown adipose tissue UCP1 expression by chronic PPAR-gamma activation. Am J Physiol Regul Integr Comp Physiol. 2010;299:R159–67.

10.

Straznicky NE, Guo L, Corcoran SJ, Esler MD, Phillips SE, Sari CI, et al. Norepinephrine transporter expression is inversely associated with glycaemic indices: a pilot study in metabolically diverse persons with overweight and obesity. Obes Sci Pract. 2016;2:13–23.

11.

Innis RB, Cunningham VJ, Delforge J, Fujita M, Gjedde A, Gunn RN, et al. Consensus nomenclature for in vivo imaging of reversibly binding radioligands. J Cereb Blood Flow Metab. 2007;27:1533–9.

12.

Hannestad J, Gallezot JD, Planeta-Wilson B, Lin SF, Williams WA, van Dyck CH, et al. Clinically relevant doses of methylphenidate significantly occupy norepinephrine transporters in humans in vivo. Biol Psychiatry. 2010;68:854–60.

13.

Ichise M, Liow JS, Lu JQ, Takano A, Model K, Toyama H, et al. Linearized reference tissue parametric imaging methods: application to [11C]DASB positron emission tomography studies of the serotonin transporter in human brain. J Cereb Blood Flow Metab. 2003;23:1096–112.

14.

Schou M, Halldin C, Pike VW, Mozley PD, Dobson D, Innis RB, et al. Post-mortem human brain autoradiography of the norepinephrine transporter using (S,S)-[18F]FMeNER-D2. Eur Neuropsychopharmacol. 2005;15:517–20.

15.

Persichetti A, Sciuto R, Rea S, Basciani S, Lubrano C, Mariani S, et al. Prevalence, mass, and glucose-uptake activity of (1)(8)F-FDG-detected brown adipose tissue in humans living in a temperate zone of Italy. PLoS ONE. 2013;8:e63391.

16.

Ouellet V, Routhier-Labadie A, Bellemare W, Lakhal-Chaieb L, Turcotte E, Carpentier AC, et al. Outdoor temperature, age, sex, body mass index, and diabetic status determine the prevalence, mass, and glucose-uptake activity of 18F-FDG-detected BAT in humans. J Clin Endocrinol Metab. 2011;96:192–9.

17.

Lee P, Swarbrick MM, Ho KK. Brown adipose tissue in adult humans: a metabolic renaissance. Endocr Rev. 2013;34:413–38.

18.

Muzik O, Mangner TJ, Leonard WR, Kumar A, Granneman JG. Sympathetic innervation of cold-activated brown and white fat in lean young adults. J Nucl Med. 2017;58:799–806.
Acknowledgements
The authors gratefully acknowledge the participants of the study as well as the nurses and staff at the Yale University PET Center. Funding for this study was supported by Regeneron, Pharmaceuticals, Inc. The funding agency had no role in the design and conduct of the study, collection, management, analysis, and interpretation of the data; or the preparation, review, or approval of the paper. This work was supported by NIH grant 1S10RR029245. This publication was made possible by CTSA Grant Number UL1 TR000142 from the National Center for Advancing Translational Science (NCATS), a component of the National Institutes of Health (NIH). Its contents are solely the responsibility of the authors and do not necessarily represent the official view of NIH.
Ethics declarations
Conflict of interest
The authors declare that they have no conflict of interest.
Additional information
Publisher's note Springer Nature remains neutral with regard to jurisdictional claims in published maps and institutional affiliations.
About this article
Cite this article
Sanchez-Rangel, E., Gallezot, J., Yeckel, C.W. et al. Norepinephrine transporter availability in brown fat is reduced in obesity: a human PET study with [11C] MRB. Int J Obes (2019) doi:10.1038/s41366-019-0471-4
Received

Revised

Accepted

Published