Abstract
Background
The use of oral contraceptives (OC) has been suggested to represent a potential risk factor for the development of obesity. However, the available literature assessing the relationship between OC use and the development of obesity is still scarce and characterised by controversial heterogeneity. We prospectively evaluated the association between the use of OC and the development of obesity in female participants of a middle-aged and free-living cohort.
Methods
The study population included 4920 female Spanish university graduates, initially nonobese women, with mean age (standard deviation) 28.2 (5.4) years. The study population was followed up for a mean of 8.6 (3.7) years. Self-reported use of OC and body mass index were assessed at baseline and biennially during follow-up. We used generalized estimating equation models to evaluate the association between exposure to OC and the development of obesity.
Results
After adjusting for potential confounders, baseline OC use was associated with higher odds of new-onset obesity during the full follow-up period (multivariable-adjusted odds ratio [OR] = 1.78; 95% Confidence Interval [CI]: 1.01–3.15). The continued use of OC for periods of time longer than 2 years was significantly associated with a higher risk of developing obesity (OR = 2.82, 95% CI: 1.17–6.82).
Conclusions
According to our prospective cohort study, OC use is significantly associated with higher odds of obesity development, especially when the use of OC is steady and extends over periods of more than 2 years.
Access options
Subscribe to Journal
Get full journal access for 1 year
$119.00
only $9.92 per issue
All prices are NET prices.
VAT will be added later in the checkout.
Tax calculation will be finalised during checkout.
Buy article
Get time limited or full article access on ReadCube.
$32.00
All prices are NET prices.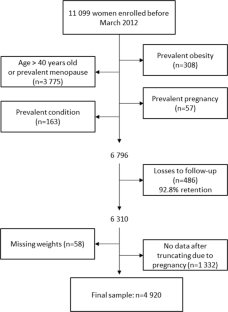 References
World Health Organization. Obesity and overweight fact sheet. Geneva: WHO; 2018.

Instituto Nacional de Estadística. Encuesta Europea de Salud en España, 2017. Madrid: Instituto Nacional de Estadística; 2017.

González-Muniesa P, Mártinez-González MA, Hu FB, Després JP, Matsuzawa Y, Loos RJF, et al. Obesity. Nat Rev Dis Primers. 2017;3:17034.

World Health Organization. Global status report on noncommunicable diseases. Geneva: WHO; 2014.

GBD 2015 Obesity Collaborators. Health effects of overweight and obesity in 195 countries over 25 years. N Engl J Med. 2017;377:13–27.

Nelson AL. Combined oral contraceptives. In: Hatcher RA, Trussell J, Nelson AL, Cates W, Stewart FH, Kowal D, editors. Contraceptive technology, 19th ed. New York: Ardent Media; 2008:193–270.

Rosenberg MJ, Waugh MS. Oral contraceptive discontinuation: a prospective evaluation of frequency and reasons. Am J Obstet Gynecol. 1998;179:577–82.

United Nations. World contraceptive patterns, 2015. New York: United Nations Publications; 2015.

Amado JA, Flórez J. Hormonas sexuales: estrógenos, gestágenos, andrógenos y anticonceptivos hormonales. In: Flórez J, Armijo JA, Mediavilla A, editors. Farmacología humana. 6th ed. Barcelona, Spain: Elsevier-Masson; 2013. p. 867–90.

Gallo MF, Lopez LM, Grimes DA, Carayon F, Schulz KF, Helmerhorst FM. Combination contraceptives: effects on weight. Cochrane Database Syst Rev. 2014;1:CD003987.

Lopez LM, Ramesh S, Chen M, Edelman A, Otterness C, Trussell J, et al. Progestin-only contraceptives: effects on weight. Cochrane Database Syst Rev. 2016;8:CD008815.

Carlos S, De La Fuente-Arrillaga C, Bes-Rastrollo M, Razquin C, Rico-Campà A, Martínez-González MA, et al. Mediterranean diet and health outcomes in the SUN cohort. Nutrients. 2018;10:349.

Bes-Rastrollo M, Pérez Valdivieso J, Sánchez-Villegas A, Alonso A, Martínez-González MA. Validación del peso e índice de masa corporal auto-declarados de los participantes de una cohorte de graduados universitarios. Rev Esp Obes. 2005;3:352–8.

Martín-Moreno JM, Boyle P, Gorgojo L, Maisonneuve P, Fernández-Rodríguez JC, Salvini S, et al. Development and validation of a food frequency questionnaire in Spain. Int J Epidemiol. 1993;22:512–9.

Fernández-Ballart JD, Piñol JL, Zazpe I, Corella D, Carrasco P, Toledo E, et al. Relative validity of a semi-quantitative food-frequency questionnaire in an elderly Mediterranean population of Spain. Br J Nutr. 2010 103:1808–16.

De la Fuente-Arrillaga C, Ruiz ZV, Bes-Rastrollo M, Sampson L, Martinez-González MA. Reproducibility of an FFQ validated in Spain. Public Health Nutr. 2010;13:1364–72.

Martinez-Gonzalez MA, Lopez-Fontana C, Varo JJ, Sanchez-Villegas A, Martinez JA. Validation of the Spanish version of the physical activity questionnaire used in the Nurses' Health Study and the Health Professionals' Follow-up Study. Public Health Nutr. 2005;8:920–7.

Ainsworth BE, Haskell WL, Herrmann SD, Meckes N, Bassett DR Jr, Tudor-Locke C, et al. 2011 Compendium of physical activities: a second update of codes and MET values. Med Sci Sports Exerc. 2011;43:1575–81.

Gold EB, Bromberger J, Crawford S, Samuels S, Greendale GA, Harlow SD, et al. Factors associated with age at natural menopause in a multiethnic sample of midlife women. Am J Epidemiol. 2001;153:865–74.

Lopez LM, Bernholc A, Chen M, Grey TW, Otterness C, Westhoff C, et al. Hormonal contraceptives for contraception in overweight or obese women. Cochrane Database Syst Rev. 2016;8:CD008452.

Simmons KB, Edelman AB. Hormonal contraception and obesity. Fertility and Sterility. 2016;106:1282–8.

Lindh I, Ellström AA, Milsom I. The long-term influence of combined oral contraceptives on body weight. Hum Reprod. 2011;26:1917–24.

Oelkers W. Drospirenone—a new progestogen with antimineralocorticoid activity, resembling natural progesterone. Eur J Contracept Reprod Health Care. 2000;5(Suppl 3):17–24.

Casals-Casas C, Desvergne B. Endocrine disruptors: from endocrine to metabolic disruption. Annu Rev Physiol. 2011;73:135–62.

Rothman KJ, Gallacher JE, Hatch EE. Why representativeness should be avoided. Int J Epidemiol. 2013;42:1012–4.
Acknowledgements
We thank other members of the SUN Group: Alonso A, Álvarez-Álvarez I, Balaguer A, Barbagallo M, Barrientos I, Barrio-López MT, Basterra-Gortari FJ, Battezzati A, Bazal P, Benito S, Bertoli S, Beulen Y, Beunza JJ, Buil-Cosiales P, Canales M, Carlos S, Carmona L, Cervantes S, Cristobo C, de Irala J, de la Fuente-Arrillaga C, de la O V, de la Rosa PA, Delgado-Rodríguez M, Díaz-Gutiérrez J, Díez Espino J, Domínguez L, Donat-Vargas C, Donazar M, Eguaras S, Fernández-Montero A, Fresán U, Galbete C, García-Arellano A, García López M, Gardeazábal I, Gutiérrez-Bedmar M, Gomes-Domingos AL, Gómez-Donoso C, Gómez-Gracia E, Goñi E, Goñi L, Guillén F, Henríquez P, Hernández A, Hershey MS, Hidalgo-Santamaría M, Hu E, Lahortiga F, Leone A, Llorca J, López del Burgo C, Marí A, Marques I, Martí A, Martín Calvo N, Martínez JA, Martínez-Lapiscina EH, Mendonça R, Menéndez C, Molendijk M, Molero P, Murphy K, Muñoz M, Núñez-Córdoba JM, Pajares R, Papadaki A, Parletta N, Pérez de Ciriza P, Pérez Cornago A, Pérez de Rojas J, Pimenta AM, Pons J, Ramallal R, Razquin C, Romanos A, Ruano C, Ruiz L, Ruiz-Canela M, Ruiz Zambrana A, Salgado E, San Julián B, Sánchez D, Sánchez-Bayona R, Sánchez-Tainta A, Sánchez-Villegas A, Santiago S, Sayón-Orea C, Schlatter J, Serrano-Martinez M, Toledo E, Toledo J, Tortosa A, Valencia F, Vázquez Z, Zarnowiecki D, Zazpe I. The SUN Project has received funding from the Spanish Government-Instituto de Salud Carlos III, and the European Regional Development Fund (FEDER) (RD 06/0045, CIBER-OBN, Grants PI10/02658, PI10/02293, PI13/00615, PI14/01668, PI14/01798, PI14/01764, PI17/01795, and G03/140), the Navarra Regional Government (27/2011, 45/2011, 122/2014), and the University of Navarra. We very specially thank all participants in the SUN cohort for their long-standing and enthusiastic collaboration and our advisors from Harvard TH Chan School of Public Health Walter Willett, Alberto Ascherio, Frank B. Hu and Meir J. Stampfer who helped us to design the SUN Project, the PREDIMED study and the PREDIMED-PLUS on-going trial.
Ethics declarations
Conflict of interest
The authors declare that they have no conflict of interest.
Additional information
Publisher's note: Springer Nature remains neutral with regard to jurisdictional claims in published maps and institutional affiliations.
Supplementary information
About this article
Cite this article
San-Juan-Rodriguez, A., Bes-Rastrollo, M., Martinez-Gonzalez, M.A. et al. Oral contraceptives use and development of obesity in a Mediterranean cohort: the SUN (Seguimiento Universidad de Navarra) Project. Int J Obes 44, 320–329 (2020). https://doi.org/10.1038/s41366-019-0442-9
Received:

Revised:

Accepted:

Published:

Issue Date:

DOI: https://doi.org/10.1038/s41366-019-0442-9