Abstract
Background/Objectives
Obesity has been associated with elevated leptinemia and vitamin D deficiency. To date, whether there is an association between vitamin D and leptin levels independent from adiposity remains uncertain. Our objective was to investigate the associations between changes in 25(OH) vitamin D levels, changes in adiposity variables, and changes in leptin levels produced by a 1-year lifestyle intervention program.
Subjects/Methods
Sedentary men (n = 113) with abdominal obesity, dyslipidemic, and non-vitamin D supplemented were involved in a 1-year lifestyle modification program. Subjects were individually counseled by a kinesiologist and a nutritionist once every 2 weeks during the first 4 months with subsequent monthly visits in order to elicit a 500 kcal daily energy deficit and to increase physical activity/exercise habits. Adiposity mapping by computed tomography and cardiometabolic biomarkers, as well as vitamin D measurements were performed at baseline and at the 1-year visit.
Results
The 1-year intervention resulted in a 26% decrease in visceral adipose tissue volume (from 1951 ± 481 to 1463 ± 566 cm3), a 27% decrease in leptin levels (from 12.0 ± 8.1 to 8.5 ± 7.8 ng/mL) and a 27% increase in plasma 25(OH) vitamin D concentrations (from 50 ± 18 to 60 ± 18 nmol/L, p < 0.0001). One-year increases in 25(OH) vitamin D levels were inversely correlated with 1-year changes in leptin levels (r = −0.41, p < 0.001). The association remained significant after adjustment for 1-year changes in various adiposity indices: visceral adipose tissue (r = −0.30, p = 0.0019), subcutaneous adipose tissue (r = −0.35, p = 0.0004), total abdominal adipose tissue (r = −0.31, p = 0.0015), and fat mass (r = −0.31, p = 0.001).
Conclusions
In response to a 1-year lifestyle intervention, changes in 25(OH) vitamin D levels were independently associated with changes in leptinemia after adjustment for adiposity changes. This finding supports a possible physiological link between leptinemia and 25(OH) vitamin D levels independent from adiposity and underscores the role of lifestyle modifications leading to lowered leptinemia in the clinical management of vitamin D deficiency.
Relevant articles
Open Access articles citing this article.
Pollyanna Patriota

,

Serge Rezzi

…

Pedro Marques-Vidal

Scientific Reports Open Access 14 September 2022
Access options
Subscribe to Journal
Get full journal access for 1 year
$119.00
only $9.92 per issue
All prices are NET prices.
VAT will be added later in the checkout.
Tax calculation will be finalised during checkout.
Buy article
Get time limited or full article access on ReadCube.
$32.00
All prices are NET prices.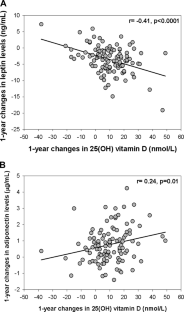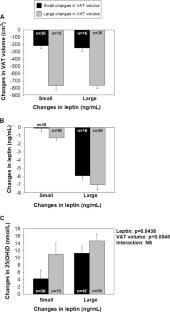 References
WHO. Obesity and overweight 2016. http://www.who.int/mediacentre/factsheets/fs311/en/. Accessed 20 Jan 2019.

Global BMI Mortality Collaboration, Di Angelantonio E, Bhupathiraju Sh N, Wormser D, Gao P, Kaptoge S, et al. Body-mass index and all-cause mortality: individual-participant-data meta-analysis of 239 prospective studies in four continents. Lancet. 2016;388:776–86.

Piche ME, Poirier P, Lemieux I, Despres JP. Overview of epidemiology and contribution of obesity and body fat distribution to cardiovascular disease: an update. Prog Cardiovasc Dis. 2018;61:103–13.

Bastien M, Poirier P, Lemieux I, Despres JP. Overview of epidemiology and contribution of obesity to cardiovascular disease. Prog Cardiovasc Dis. 2014;56:369–81.

Poirier P, Giles TD, Bray GA, Hong Y, Stern JS, Pi-Sunyer FX, et al. Obesity and cardiovascular disease: pathophysiology, evaluation, and effect of weight loss: an update of the 1997 American Heart Association Scientific Statement on Obesity and Heart Disease from the Obesity Committee of the Council on Nutrition, Physical Activity, and Metabolism. Circulation. 2006;113:898–918.

Abraham TM, Pedley A, Massaro JM, Hoffmann U, Fox CS. Association between visceral and subcutaneous adipose depots and incident cardiovascular disease risk factors. Circulation. 2015;132:1639–47.

Neeland IJ, Poirier P, Despres JP. Cardiovascular and metabolic heterogeneity of obesity: clinical challenges and implications for management. Circulation. 2018;137:1391–406.

Despres JP. Body fat distribution and risk of cardiovascular disease: an update. Circulation. 2012;126:1301–13.

Liu J, Fox CS, Hickson DA, May WD, Hairston KG, Carr JJ, et al. Impact of abdominal visceral and subcutaneous adipose tissue on cardiometabolic risk factors: the Jackson Heart Study. J Clin Endocrinol Metab. 2010;95:5419–26.

Maffei M, Halaas J, Ravussin E, Pratley RE, Lee GH, Zhang Y, et al. Leptin levels in human and rodent: measurement of plasma leptin and ob RNA in obese and weight-reduced subjects. Nat Med. 1995;1:1155–61.

Considine RV, Sinha MK, Heiman ML, Kriauciunas A, Stephens TW, Nyce MR, et al. Serum immunoreactive-leptin concentrations in normal-weight and obese humans. N Engl J Med. 1996;334:292–5.

Sainz N, Barrenetxe J, Moreno-Aliaga MJ, Martinez JA. Leptin resistance and diet-induced obesity: central and peripheral actions of leptin. Metabolism. 2015;64:35–46.

Forrest KY, Stuhldreher WL. Prevalence and correlates of vitamin D deficiency in US adults. Nutr Res. 2011;31:48–54.

Wortsman J, Matsuoka LY, Chen TC, Lu Z, Holick MF. Decreased bioavailability of vitamin D in obesity. Am J Clin Nutr. 2000;72:690–3.

Holick MF, Chen TC. Vitamin D deficiency: a worldwide problem with health consequences. Am J Clin Nutr. 2008;87:1080S–6S.

Drincic AT, Armas LA, Van Diest EE, Heaney RP. Volumetric dilution, rather than sequestration best explains the low vitamin D status of obesity. Obesity (Silver Spring). 2012;20:1444–8.

Young KA, Engelman CD, Langefeld CD, Hairston KG, Haffner SM, Bryer-Ash M, et al. Association of plasma vitamin D levels with adiposity in Hispanic and African Americans. J Clin Endocrinol Metab. 2009;94:3306–13.

Sulistyoningrum DC, Green TJ, Lear SA, Devlin AM. Ethnic-specific differences in vitamin d status is associated with adiposity. PLoS ONE. 2012;7:e43159.

Caron-Jobin M, Morisset AS, Tremblay A, Huot C, Legare D, Tchernof A. Elevated serum 25(OH)D concentrations, vitamin D, and calcium intakes are associated with reduced adipocyte size in women. Obesity (Silver Spring). 2011;19:1335–41.

Cheng S, Massaro JM, Fox CS, Larson MG, Keyes MJ, McCabe EL, et al. Adiposity, cardiometabolic risk, and vitamin D status: the Framingham Heart Study. Diabetes. 2010;59:242–8.

Rock CL, Emond JA, Flatt SW, Heath DD, Karanja N, Pakiz B, et al. Weight loss is associated with increased serum 25-hydroxyvitamin d in overweight or obese women. Obesity (Silver Spring). 2012;20:2296–301.

Gangloff A, Bergeron J, Lemieux I, Despres JP. Changes in circulating vitamin D levels with loss of adipose tissue. Curr Opin Clin Nutr Metab Care. 2016;19:464–70.

Gangloff A, Bergeron J, Pelletier-Beaumont E, Nazare JA, Smith J, Borel AL, et al. Effect of adipose tissue volume loss on circulating 25-hydroxyvitamin D levels: results from a 1-year lifestyle intervention in viscerally obese men. Int J Obes (Lond). 2015;39:1638–43.

Bell NH, Shaw S, Turner RT. Evidence that 1,25-dihydroxyvitamin D3 inhibits the hepatic production of 25-hydroxyvitamin D in man. J Clin Invest. 1984;74:1540–4.

Borel AL, Nazare JA, Smith J, Almeras N, Tremblay A, Bergeron J, et al. Visceral and not subcutaneous abdominal adiposity reduction drives the benefits of a 1-year lifestyle modification program. Obesity (Silver Spring). 2012;20:1223–33.

Borel AL, Nazare JA, Smith J, Almeras N, Tremblay A, Bergeron J, et al. Improvement in insulin sensitivity following a 1-year lifestyle intervention program in viscerally obese men: contribution of abdominal adiposity. Metabolism. 2012;61:262–72.

Nazare JA, Smith J, Borel AL, Almeras N, Tremblay A, Bergeron J, et al. Changes in both global diet quality and physical activity level synergistically reduce visceral adiposity in men with features of metabolic syndrome. J Nutr. 2013;143:1074–83.

Lohman TG, Roche AF, Martorell R. Anthropometric standardization reference manual. Champaign, IL: Human Kinetics Books; 1988.

van der Kooy K, Seidell JC. Techniques for the measurement of visceral fat: a practical guide. Int J Obes Relat Metab Disord. 1993;17:187–96.

Ferland M, Despres JP, Tremblay A, Pinault S, Nadeau A, Moorjani S, et al. Assessment of adipose tissue distribution by computed axial tomography in obese women: association with body density and anthropometric measurements. Br J Nutr. 1989;61:139–48.

Pare A, Dumont M, Lemieux I, Brochu M, Almeras N, Lemieux S, et al. Is the relationship between adipose tissue and waist girth altered by weight loss in obese men? Obes Res. 2001;9:526–34.

Agborsangaya C, Toriola AT, Grankvist K, Surcel HM, Holl K, Parkkila S, et al. The effects of storage time and sampling season on the stability of serum 25-hydroxy vitamin D and androstenedione. Nutr Cancer. 2010;62:51–7.

Zhang M, Gao Y, Tian L, Zheng L, Wang X, Liu W, et al. Association of serum 25-hydroxyvitamin D3 with adipokines and inflammatory marker in persons with prediabetes mellitus. Clin Chim Acta. 2017;468:152–8.

Karonova T, Belyaeva O, Jude EB, Tsiberkin A, Andreeva A, Grineva E, et al. Serum 25(OH)D and adipokines levels in people with abdominal obesity. J Steroid Biochem Mol Biol. 2018;175:170–6.

Manoy P, Anomasiri W, Yuktanandana P, Tanavalee A, Ngarmukos S, Tanpowpong T, et al. Elevated serum leptin levels are associated with low vitamin D, sarcopenic obesity, poor muscle strength, and physical performance in knee osteoarthritis. Biomarkers. 2017;22:723–30.

Vilarrasa N, Vendrell J, Maravall J, Elio I, Solano E, San Jose P, et al. Is plasma 25(OH) D related to adipokines, inflammatory cytokines and insulin resistance in both a healthy and morbidly obese population? Endocrine. 2010;38:235–42.

Wamberg L, Christiansen T, Paulsen SK, Fisker S, Rask P, Rejnmark L, et al. Expression of vitamin D-metabolizing enzymes in human adipose tissue – the effect of obesity and diet-induced weight loss. Int J Obes (Lond). 2013;37:651–7.

Menendez C, Lage M, Peino R, Baldelli R, Concheiro P, Dieguez C, et al. Retinoic acid and vitamin D(3) powerfully inhibit in vitro leptin secretion by human adipose tissue. J Endocrinol. 2001;170:425–31.

Dinca M, Serban MC, Sahebkar A, Mikhailidis DP, Toth PP, Martin SS, et al. Does vitamin D supplementation alter plasma adipokines concentrations? A systematic review and meta-analysis of randomized controlled trials. Pharmacol Res. 2016;107:360–71.

Conroy R, Girotra M, Shane E, McMahon DJ, Pavlovich KH, Leibel RL, et al. Leptin administration does not prevent the bone mineral metabolism changes induced by weight loss. Metabolism. 2011;60:1222–6.

Holick MF, Binkley NC, Bischoff-Ferrari HA, Gordon CM, Hanley DA, Heaney RP, et al. Evaluation, treatment, and prevention of vitamin D deficiency: an Endocrine Society clinical practice guideline. J Clin Endocrinol Metab. 2011;96:1911–30.

Holick MF, MacLaughlin JA, Clark MB, Holick SA, Potts JT Jr., et al. Photosynthesis of previtamin D3 in human skin and the physiologic consequences. Science. 1980;210:203–5.

Lavie CJ, Laddu D, Arena R, Ortega FB, Alpert MA, Kushner RF. Healthy weight and obesity prevention: JACC Health Promotion Series. J Am Coll Cardiol. 2018;72:1506–31.

Mars M, de Graaf C, de Groot CP, van Rossum CT, Kok FJ. Fasting leptin and appetite responses induced by a 4-day 65%-energy-restricted diet. Int J Obes (Lond). 2006;30:122–8.

Ruhl CE, Harris TB, Ding J, Goodpaster BH, Kanaya AM, Kritchevsky SB, et al. Body mass index and serum leptin concentration independently estimate percentage body fat in older adults. Am J Clin Nutr. 2007;85:1121–6.

Fletcher GF, Landolfo C, Niebauer J, Ozemek C, Arena R, Lavie CJ. Promoting physical activity and Eexercise: JACC Health Promotion Series. J Am Coll Cardiol. 2018;72:1622–39.
Acknowledgements
This study was supported by the Canadian Institutes of Health Research. Dr. Angelo Tremblay is partly funded by the Canada Research Chair in Environment and Energy Balance. Dr. Jean-Pierre Després is the Scientific Director of the International Chair on Cardiometabolic Risk, which is based at Université Laval.
Ethics declarations
Conflict of interest
The authors declare that they have no conflict of interest.
Additional information
Publisher's note: Springer Nature remains neutral with regard to jurisdictional claims in published maps and institutional affiliations.
About this article
Cite this article
Gangloff, A., Bergeron, J., Lemieux, I. et al. Relationships between circulating 25(OH) vitamin D, leptin levels and visceral adipose tissue volume: results from a 1-year lifestyle intervention program in men with visceral obesity. Int J Obes 44, 280–288 (2020). https://doi.org/10.1038/s41366-019-0347-7
Received:

Revised:

Accepted:

Published:

Issue Date:

DOI: https://doi.org/10.1038/s41366-019-0347-7