Abstract
Objective
We aimed to investigate the associations between weight change during adulthood and the amount of abdominal subcutaneous fat, visceral fat, and liver fat at middle age.
Methods
The Netherlands Epidemiology of Obesity (NEO) study is a population-based cohort of 6671 middle-aged men and women. We calculated the percentage of weight change during adulthood based on body weight at middle age and recalled body weight at age 20. Abdominal subcutaneous and visceral adipose tissue were assessed by magnetic resonance imaging (MRI), in addition to hepatic triglyceride content by 1H-MR spectroscopy in a random subgroup (maximum of n = 2580). With multivariable linear regression analysis, we examined the associations between categories of adult weight change, body mass index (BMI) at age 20 and measures of abdominal adiposity at middle age, adjusted for age, sex, ethnicity, lifestyle factors, menopausal status, parity, use of medication and total body fat at middle age.
Results
In 2399 participants (54% women), individuals who gained more than 50% of body weight during adulthood had 1.96 (95% CI: 1.64; 2.33) times more visceral adipose tissue at middle age and 2.39 (95% CI: 1.70, 3.36) times more hepatic triglyceride content than weight maintainers (weight change between −5% and 5%). Associations with abdominal subcutaneous adipose tissue were weaker: participants who gained more than 50% of their body weight had 1.54 (95% CI: 1.38, 1.72) times more abdominal subcutaneous adipose tissue compared with weight maintainers.
Conclusions
In this population-based study, adult weight gain was associated with relatively more visceral adipose tissue and hepatic triglyceride content at middle age than abdominal subcutaneous adipose tissue. Overall, our study suggests that weight maintenance during adulthood plays an important role in limiting excess visceral adipose tissue and hepatic triglyceride content at middle age.
Access options
Subscribe to Journal
Get full journal access for 1 year
$399.00
only $33.25 per issue
All prices are NET prices.
VAT will be added later in the checkout.
Tax calculation will be finalised during checkout.
Rent or Buy article
Get time limited or full article access on ReadCube.
from$8.99
All prices are NET prices.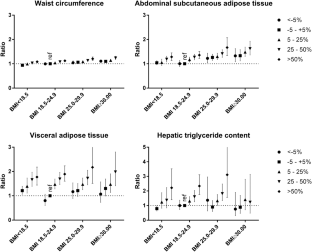 References
1.

Tirosh A, Shai I, Afek A, Dubnov-Raz G, Ayalon N, Gordon B, et al. Adolescent BMI trajectory and risk of diabetes versus coronary disease. N Engl J Med. 2011;364:1315–25.

2.

de Mutsert R, Sun Q, Willett WC, Hu FB, van Dam RM. Overweight in early adulthood, adult weight change, and risk of type 2 diabetes, cardiovascular diseases, and certain cancers in men: a cohort study. Am J Epidemiol. 2014;179:1353–65.

3.

Chan JM, Rimm EB, Colditz GA, Stampfer MJ, Willett WC. Obesity, fat distribution, and weight gain as risk factors for clinical diabetes in men. Diabetes Care. 1994;17:961–9.

4.

Colditz GA, Willett WC, Rotnitzky A, Manson JE. Weight gain as a risk factor for clinical diabetes mellitus in women. Ann Intern Med. 1995;122:481–6.

5.

Sun W, Shi L, Ye Z, Mu Y, Liu C, Zhao J, et al. Association between the change in body mass index from early adulthood to midlife and subsequent type 2 diabetes mellitus. Obesity (Silver Spring). 2016;24:703–9.

6.

Koh-Banerjee P, Wang Y, Hu FB, Spiegelman D, Willett WC, Rimm EB. Changes in body weight and body fat distribution as risk factors for clinical diabetes in US men. Am J Epidemiol. 2004;159:1150–9.

7.

Adams KF, Leitzmann MF, Ballard-Barbash R, Albanes D, Harris TB, Hollenbeck A, et al. Body mass and weight change in adults in relation to mortality risk. Am J Epidemiol. 2014;179:135–44.

8.

Enzi G, Gasparo M, Biondetti PR, Fiore D, Semisa M, Zurlo F. Subcutaneous and visceral fat distribution according to sex, age, and overweight, evaluated by computed tomography. Am J Clin Nutr. 1986;44:739–46.

9.

Kvist H, Chowdhury B, Grangard U, Tylen U, Sjostrom L. Total and visceral adipose-tissue volumes derived from measurements with computed tomography in adult men and women: predictive equations. Am J Clin Nutr. 1988;48:1351–61.

10.

Kotani K, Tokunaga K, Fujioka S, Kobatake T, Keno Y, Yoshida S, et al. Sexual dimorphism of age-related changes in whole-body fat distribution in the obese. Int J Obes Relat Metab Disord. 1994;18:207–2.

11.

Shimokata H, Tobin JD, Muller DC, Elahi D, Coon PJ, Andres R. Studies in the distribution of body fat: I. Effects of age, sex, and obesity. J Gerontol. 1989;44:M66–73.

12.

Krotkiewski M, Bjorntorp P, Sjostrom L, Smith U. Impact of obesity on metabolism in men and women. Importance of regional adipose tissue distribution. J Clin Invest. 1983;72:1150–62.

13.

Gustafson B. Adipose tissue, inflammation and atherosclerosis. J Atheroscler Thromb. 2010;17:332–41.

14.

Thamer C, Machann J, Haap M, Stefan N, Heller E, Schnodt B, et al. Intrahepatic lipids are predicted by visceral adipose tissue mass in healthy subjects. Diabetes Care. 2004;27:2726–9.

15.

Fabbrini E, Magkos F, Mohammed BS, Pietka T, Abumrad NA, Patterson BW, et al. Intrahepatic fat, not visceral fat, is linked with metabolic complications of obesity. Proc Natl Acad Sci USA. 2009;106:15430–5.

16.

Bergman RN, Kim SP, Catalano KJ, Hsu IR, Chiu JD, Kabir M, et al. Why visceral fat is bad: mechanisms of the metabolic syndrome. Obesity (Silver Spring). 2006;14:16S–9S.

17.

Jensen MD. Is visceral fat involved in the pathogenesis of the metabolic syndrome? Human model. Obesity (Silver Spring). 2006;14:20S–4S.

18.

Miranda PJ, DeFronzo RA, Califf RM, Guyton JR. Metabolic syndrome: definition, pathophysiology, and mechanisms. Am Heart J. 2005;149:33–45.

19.

Demerath EW, Reed D, Rogers N, Sun SS, Lee M, Choh AC, et al. Visceral adiposity and its anatomical distribution as predictors of the metabolic syndrome and cardiometabolic risk factor levels. Am J Clin Nutr. 2008;88:1263–71.

20.

Despres JP. Excess visceral adipose tissue/ectopic fat the missing link in the obesity paradox? J Am Coll Cardiol. 2011;57:1887–9.

21.

Preis SR, Massaro JM, Robins SJ, Hoffmann U, Vasan RS, Irlbeck T, et al. Abdominal subcutaneous and visceral adipose tissue and insulin resistance in the Framingham heart study. Obesity (Silver Spring). 2010;18:2191–8.

22.

Kelley DE, Thaete FL, Troost F, Huwe T, Goodpaster BH. Subdivisions of subcutaneous abdominal adipose tissue and insulin resistance. Am J Physiol Endocrinol Metab. 2000;278:E941–8.

23.

Fox CS, Massaro JM, Hoffmann U, Pou KM, Maurovich-Horvat P, Liu CY, et al. Abdominal visceral and subcutaneous adipose tissue compartments: association with metabolic risk factors in the Framingham Heart Study. Circulation. 2007;116:39–48.

24.

Fujioka S, Matsuzawa Y, Tokunaga K, Tarui S. Contribution of intra-accumulation to the impairment of glucose and lipid metabolism in human obesity. Metabolism. 1987;36:54–9.

25.

Tchernof A, Despres JP. Pathophysiology of human visceral obesity: an update. Physiol Rev. 2013;93:359–404.

26.

Despres JP, Lemieux I. Abdominal obesity and metabolic syndrome. Nature. 2006;444:881–7.

27.

Lara-Castro C, Weinsier RL, Hunter GR, Desmond R. Visceral adipose tissue in women: longitudinal study of the effects of fat gain, time, and race. Obes Res. 2002;10:868–74.

28.

Bouchard C, Tremblay A, Despres JP, Nadeau A, Lupien PJ, Theriault G, et al. The response to long-term overfeeding in identical twins. N Engl J Med. 1990;322:1477–82.

29.

Kimura T, Deshpande GA, Urayama KY, Masuda K, Fukui T, Matsuyama Y. Association of weight gain since age 20 with non-alcoholic fatty liver disease in normal weight individuals. J Gastroenterol Hepatol. 2015;30:909–17.

30.

Gast KB, Smit JW, den Heijer M, Middeldorp S, Rippe RC, le Cessie S, et al. Abdominal adiposity largely explains associations between insulin resistance, hyperglycemia and subclinical atherosclerosis: the NEO study. Atherosclerosis. 2013;229:423–9.

31.

Despres JP. Abdominal obesity as important component of insulin-resistance syndrome. Nutrition. 1993;9:452–9.

32.

Singh P, Somers VK, Romero-Corral A, Sert-Kuniyoshi FH, Pusalavidyasagar S, Davison DE, et al. Effects of weight gain and weight loss on regional fat distribution. Am J Clin Nutr. 2012;96:229–33.

33.

Szczepaniak LS, Nurenberg P, Leonard D, Browning JD, Reingold JS, Grundy S, et al. Magnetic resonance spectroscopy to measure hepatic triglyceride content: prevalence of hepatic steatosis in the general population. Am J Physiol Endocrinol Metab. 2005;288:E462–8.

34.

Korn EL, Graubard BI. Epidemiologic studies utilizing surveys: accounting for the sampling design. Am J Public Health. 1991;81:1166–73.

35.

Lumley T. Analysis of complex survey samples. J Statist Softw. 2004;9:1–19. https://doi.org/10.18637/jss.v009.i08.

36.

Ministerie van VWS. Hoveel mensen hebben overgewicht? Accessed at www.rivm.nl/Onderwerpen/N/Nederland_de_Maat_Genomen on January 16, 2018.

37.

World Health Organization (WHO). Obesity and overweight. Fact sheet No 311. Accessed at www.who.int/mediacentre/factsheets/fs311/en/ on January 16, 2018.

38.

Casey VA, Dwyer JT, Berkey CS, Coleman KA, Gardner J, Valadian I. Long-term memory of body weight and past weight satisfaction: a longitudinal follow-up study. Am J Clin Nutr. 1991;53:1493–8.

39.

Spalding KL, Arner E, Westermark PO, Bernard S, Buchholz BA, Bergmann O, et al. Dynamics of fat cell turnover in humans. Nature. 2008;453:783–7.

40.

Brochu M, Tchernof A, Dionne IJ, Sites CK, Eltabbakh GH, Sims EA, et al. What are the physical characteristics associated with a normal metabolic profile despite a high level of obesity in postmenopausal women? J Clin Endocrinol Metab. 2001;86:1020–5.

41.

Muscelli E, Camastra S, Gastaldelli A, Natali A, Masoni A, Pecori N, et al. Influence of duration of obesity on the insulin resistance of obese non-diabetic patients. Int J Obes Relat Metab Disord. 1998;22:262–7.

42.

Tamakoshi K, Yatsuya H, Kondo T, Hirano T, Hori Y, Yoshida T, et al. The accuracy of long-term recall of past body weight in Japanese adult men. Int J Obes Relat Metab Disord. 2003;27:247–52.

43.

de Mutsert R, den Heijer M, Rabelink TJ, Smit JW, Romijn JA, Jukema JW, et al. The Netherlands Epidemiology of Obesity (NEO) study: study design and data collection. Eur J Epidemiol. 2013;28:513–23.
Acknowledgements
We express our gratitude to all individuals who participate in the Netherlands Epidemiology of Obesity study. We are grateful to all participating general practitioners for inviting eligible participants. We furthermore thank P.R. van Beelen and all research nurses for collecting the data and P.J. Noordijk and her team for sample handling and storage and I. de Jonge, M.Sc. for data management of the NEO study.
Funding
The NEO study is supported by the participating Departments, the Division and the Board of Directors of the Leiden University Medical Centre, and by the Leiden University, Research Profile Area 'Vascular and Regenerative Medicine'. D.v.H. was supported by the European Commission funded project HUMAN (Health-2013-INNOVATION-1-602757).
Ethics declarations
Conflict of interest
The authors declare that they have no conflict of interest.
Electronic supplementary material
About this article
Cite this article
Verkouter, I., Noordam, R., de Roos, A. et al. Adult weight change in relation to visceral fat and liver fat at middle age: The Netherlands epidemiology of obesity study. Int J Obes 43, 790–799 (2019). https://doi.org/10.1038/s41366-018-0163-5
Received:

Revised:

Accepted:

Published:

Issue Date: