Abstract
Epigenetics play an essential role in colorectal neoplasia process. There is a need to determine the appropriateness of epigenetic biomarkers for early detection as well as expand our understanding of the carcinogenic process. Therefore, the aim of the study was to assess how DNA methylation pattern of GALR1 gene evolves in a sample set representing colorectal neoplastic progression. The study was designed into three phases. Firstly, Methylation status of GALR1 was assessed with genome-wide DNA methylation beadchip and pyrosequencing assays in colorectal lesions and paired normal tissues. Then, linear mixed-effects modeling analyses were applied to describe the trend of DNA methylation during the progression of colorectal neoplasia. In the third phase, quantitative RT-PCR was used to examine GALR1 expression in patients with precursor lesion and colorectal cancer. We found that significant hypermethylation of GALR1 promoter was a widely existent modification in CRCs (P < 0.001). When further examined methylation pattern of GALR1 during neoplastic progression of CRC, we found that DNA methylation level of GALR1 showed a significant stepwise increase from normal to hyperplastic polyps, to adenomas and to carcinoma samples (P < 0.001). Besides, loss of mRNA expression is a common accompaniment to adenomas and carcinomas. Public omics data analyses showed an inverse correlation between gene expression and DNA methylation (P < 0.001). Our findings indicate that epigenetic alteration of GALR1 promoter is gradually accumulated during the colorectal neoplastic progression. It can potentially be a promising biomarker used for screening and surveillance of colorectal cancer.
Your institute does not have access to this article
Access options
Subscribe to Journal
Get full journal access for 1 year
$119.00
only $9.92 per issue
All prices are NET prices.
VAT will be added later in the checkout.
Tax calculation will be finalised during checkout.
Buy article
Get time limited or full article access on ReadCube.
$32.00
All prices are NET prices.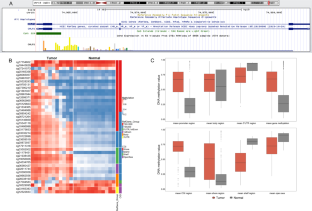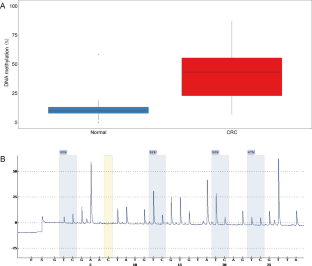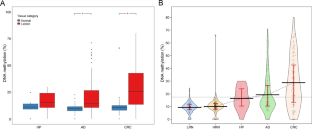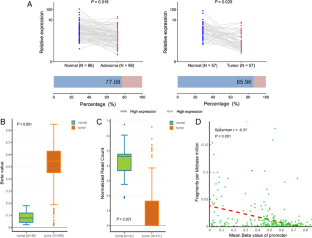 References
Bray F, Ferlay J, Soerjomataram I, Siegel RL, Torre LA, Jemal A. Global cancer statistics 2018: GLOBOCAN estimates of incidence and mortality worldwide for 36 cancers in 185 countries. CA Cancer J Clin. 2018;68:394–424.

Day DW, Morson BC. The adenoma-carcinoma sequence. Major Probl Pathol. 1978;10:58–71.

Vogelstein B, Fearon ER, Hamilton SR, Kern SE, Preisinger AC, Leppert M, et al. Genetic alterations during colorectal-tumor development. N Engl J Med. 1988;319:525–32.

Sharma S, Kelly TK, Jones PA. Epigenetics in cancer. Carcinogenesis. 2010;31:27–36.

Lakshminarasimhan R, Liang G. The role of DNA methylation in cancer. Adv Exp Med Biol. 2016;945:151–72.

Feinberg AP, Ohlsson R, Henikoff S. The epigenetic progenitor origin of human cancer. Nat Rev Genet. 2006;7:21–33.

Kulis M, Esteller M. DNA methylation and cancer. Adv Genet. 2010;70:27–56.

Sina AA, Carrascosa LG, Liang Z, Grewal YS, Wardiana A, Shiddiky M, et al. Epigenetically reprogrammed methylation landscape drives the DNA self-assembly and serves as a universal cancer biomarker. Nat Commun. 2018;9:4915.

Eden A, Gaudet F, Waghmare A, Jaenisch R. Chromosomal instability and tumors promoted by DNA hypomethylation. Science. 2003;300:455.

Pfeifer GP. Defining driver DNA methylation changes in human cancer. Int J Mol Sci. 2018;19:1166.

Ogino S, Nosho K, Kirkner GJ, Kawasaki T, Chan AT, Schernhammer ES, et al. A cohort study of tumoral LINE-1 hypomethylation and prognosis in colon cancer. J Natl Cancer Inst. 2008;100:1734–8.

Yoshiura K, Kanai Y, Ochiai A, Shimoyama Y, Sugimura T, Hirohashi S. Silencing of the E-cadherin invasion-suppressor gene by CpG methylation in human carcinomas. Proc Natl Acad Sci USA. 1995;92:7416–9.

Herman JG, Merlo A, Mao L, Lapidus RG, Issa JP, Davidson NE, et al. Inactivation of the CDKN2/p16/MTS1 gene is frequently associated with aberrant DNA methylation in all common human cancers. Cancer Res. 1995;55:4525–30.

Kane MF, Loda M, Gaida GM, Lipman J, Mishra R, Goldman H, et al. Methylation of the hMLH1 promoter correlates with lack of expression of hMLH1 in sporadic colon tumors and mismatch repair-defective human tumor cell lines. Cancer Res. 1997;57:808–11.

Bai AH, Tong JH, To KF, Chan MW, Man EP, Lo KW, et al. Promoter hypermethylation of tumor-related genes in the progression of colorectal neoplasia. Int J Cancer. 2004;112:846–53.

Luo Y, Wong CJ, Kaz AM, Dzieciatkowski S, Carter KT, Morris SM, et al. Differences in DNA methylation signatures reveal multiple pathways of progression from adenoma to colorectal cancer. Gastroenterology. 2014;147:418–29.

Habert-Ortoli E, Amiranoff B, Loquet I, Laburthe M, Mayaux JF. Molecular cloning of a functional human galanin receptor. Proc Natl Acad Sci USA. 1994;91:9780–3.

Webling KE, Runesson J, Bartfai T, Langel U. Galanin receptors and ligands. Front Endocrinol (Lausanne). 2012;3:146.

Stevenson L, Allen WL, Turkington R, Jithesh PV, Proutski I, Stewart G, et al. Identification of galanin and its receptor GAlR1 as novel determinants of resistance to chemotherapy and potential biomarkers in colorectal cancer. Clin Cancer Res. 2012;18:5412–26.

Rauch I, Kofler B. The galanin system in cancer. Exp Suppl. 2010;102:223–41.

Lappano R, Maggiolini M. G protein-coupled receptors: novel targets for drug discovery in cancer. Nat Rev Drug Disco. 2011;10:47–60.

Gu S, Lin S, Ye D, Qian S, Jiang D, Zhang X, et al. Genome-wide methylation profiling identified novel differentially hypermethylated biomarker MPPED2 in colorectal cancer. Clin Epigenetics. 2019;11:41.

Chen K, Jin M, Zhu Y, Jiang Q, Yu W, Ma X, et al. Genetic polymorphisms of the uridine diphosphate glucuronosyltransferase 1a7 and colorectal cancer risk in relation to cigarette smoking and alcohol drinking in a chinese population. J Gastroenterol Hepatol. 2006;21:1036–41.

Jin M, Gu S, Ye D, Li Y, Jing F, Li Q, et al. Association between genetic variants in the promoter region of a novel antisense long noncoding RNA RP11-392P7.6 and colorectal cancer risk. Environ Mol Mutagen. 2017;58:434–42.

Wang D, Yan L, Hu Q, Sucheston LE, Higgins MJ, Ambrosone CB, et al. IMA: an R package for high-throughput analysis of illumina's 450K infinium methylation data. Bioinformatics. 2012;28:729–30.

Curtius K, Wright NA, Graham TA. An evolutionary perspective on field cancerization. Nat Rev Cancer. 2018;18:19–32.

Ibrahim AE, Arends MJ, Silva AL, Wyllie AH, Greger L, Ito Y, et al. Sequential DNA methylation changes are associated with DNMT3B overexpression in colorectal neoplastic progression. Gut. 2011;60:499–508.

Ding W, Chen J, Feng G, Chen G, Wu J, Guo Y, et al. DNMIVD: DNA methylation interactive visualization database. Nucleic Acids Res. 2020;48:D856–62.

Misawa K, Ueda Y, Kanazawa T, Misawa Y, Jang I, Brenner JC, et al. Epigenetic inactivation of galanin receptor 1 in head and neck cancer. Clin Cancer Res. 2008;14:7604–13.

Knösel T, Petersen S, Schwabe H, Schlüns K, Stein U, Schlag PM, et al. Incidence of chromosomal imbalances in advanced colorectal carcinomas and their metastases. Virchows Arch. 2002;440:187–94.

Lang R, Gundlach AL, Kofler B. The galanin peptide family: receptor pharmacology, pleiotropic biological actions, and implications in health and disease. Pharm Ther. 2007;115:177–207.

Kanazawa T, Iwashita T, Kommareddi P, Nair T, Misawa K, Misawa Y, et al. Galanin and galanin receptor type 1 suppress proliferation in squamous carcinoma cells: activation of the extracellular signal regulated kinase pathway and induction of cyclin-dependent kinase inhibitors. Oncogene.2007;26:5762–71.

Henson BS, Neubig RR, Jang I, Ogawa T, Zhang Z, Carey TE, et al. Galanin receptor 1 has anti-proliferative effects in oral squamous cell carcinoma. J Biol Chem. 2005;280:22564–71.

Misawa K, Misawa Y, Kanazawa T, Mochizuki D, Imai A, Endo S, et al. Epigenetic inactivation of galanin and GALR1/2 is associated with early recurrence in head and neck cancer. Clin Exp Metastasis. 2016;33:187–95.

Guo S, Yan F, Xu J, Bao Y, Zhu J, Wang X, et al. Identification and validation of the methylation biomarkers of non-small cell lung cancer (NSCLC). Clin Epigenetics. 2015;7:3.

Kanazawa T, Misawa K, Fukushima H, Misawa Y, Sato Y, Maruta M, et al. Epigenetic inactivation of galanin receptors in salivary duct carcinoma of the parotid gland: potential utility as biomarkers for prognosis. Oncol Lett. 2018;15:9043–50.

Doufekas K, Hadwin R, Kandimalla R, Jones A, Mould T, Crowe S, et al. Galr1 methylation in vaginal swabs is highly accurate in identifying women with endometrial cancer. Int J Gynecol Cancer. 2013;23:1050–5.

Suzuki MM, Bird A. DNA methylation landscapes: provocative insights from epigenomics. Nat Rev Genet. 2008;9:465–76.

Zhu H, Wang G, Qian J. Transcription factors as readers and effectors of DNA methylation. Nat Rev Genet. 2016;17:551–65.

Bird AP, Wolffe AP. Methylation-induced repression-belts, braces, and chromatin. Cell. 1999;99:451–4.

Pachkov M, Balwierz PJ, Arnold P, Ozonov E, van Nimwegen E. Swissregulon, a database of genome-wide annotations of regulatory sites: recent updates. Nucleic Acids Res. 2013;41:D214–20.

Kim SH, Park YY, Cho SN, Margalit O, Wang D, DuBois RN. Krüppel-like factor 12 promotes colorectal cancer growth through early growth response protein 1. Plos ONE. 2016;11:e159899.

Shen A, Chen Y, Liu L, Huang Y, Chen H, Qi F, et al. EBF1-mediated upregulation of ribosome assembly factor PON1 contributes to cancer progression by negatively regulating the p53 signaling pathway. Cancer Res. 2019;79:2257–70.

Slaughter DP, Southwick HW, Smejkal W. Field cancerization in oral stratified squamous epithelium; Clinical implications of multicentric origin. Cancer. 1953;6:963–8.

Lochhead P, Chan AT, Nishihara R, Fuchs CS, Beck AH, Giovannucci E, et al. Etiologic field effect: reappraisal of the field effect concept in cancer predisposition and progression. Mod Pathol. 2015;28:14–29.

Ando T, Yoshida T, Enomoto S, Asada K, Tatematsu M, Ichinose M, et al. DNA methylation of microRNA genes in gastric mucosae of gastric cancer patients: its possible involvement in the formation of epigenetic field defect. Int J Cancer. 2009;124:2367–74.

Jin Z, Zhao Z, Cheng Y, Dong M, Zhang X, Wang L, et al. Endoglin promoter hypermethylation identifies a field defect in human primary esophageal cancer. Cancer. 2013;119:3604–9.

Koizumi K, Alonso S, Miyaki Y, Okada S, Ogura H, Shiiya N, et al. Array-based identification of common DNA methylation alterations in ulcerative colitis. Int J Oncol. 2012;40:983–94.

Oberg AL, Mahoney DW. Linear mixed effects models. Methods Mol Biol. 2007;404:213–34.

Wanichthanarak K, Jeamsripong S, Pornputtapong N, Khoomrung S. Accounting for biological variation with linear mixed-effects modelling improves the quality of clinical metabolomics data. Comput Struct Biotechnol J. 2019;17:611–8.

Grady WM. Epigenetic events in the colorectum and in colon cancer. Biochem Soc Trans. 2005;33:684–8.
Acknowledgements
We sincerely thank all participants in the study.
Funding
This study is supported by National Basic Research Program of China (973 Program No.2015CB554003), National Science Foundation of China (NSFC No.81673262) and Zhejiang Provincial Natural Science Foundation of China (Q22H260581).
Ethics declarations
Competing interests
The authors declare no competing interests.
Ethics approval and consent to participate
The study was conducted according to the guidelines of the Declaration of Helsinki, and approved by Ethics Committee of Zhejiang University School of Medicine. The patients/participants provided their written informed consent to participate in this study.
Additional information
Publisher's note Springer Nature remains neutral with regard to jurisdictional claims in published maps and institutional affiliations.
Supplementary information
About this article
Cite this article
Gu, S., Qian, S., Lin, S. et al. Promoter hypermethylation of GALR1 acts as an early epigenetic susceptibility event in colorectal carcinogenesis. J Hum Genet 67, 519–525 (2022). https://doi.org/10.1038/s10038-022-01038-9
Received:

Revised:

Accepted:

Published:

Issue Date:

DOI: https://doi.org/10.1038/s10038-022-01038-9