Abstract
As a promising diagnostic and prognostic biomarker for Alzheimer's Disease (AD), plasma p-tau181 is robustly differentiated AD dementia from non-AD neurodegenerative diseases. We aimed to discover single nucleotide polymorphisms (SNPs) associated with plasma phosphorylated tau at threonine 181 (p-tau181) levels that affect the risk of developing AD. We carried out a genome-wide association study for plasma p-tau181 levels using participants from the Alzheimer's Disease Neuroimaging Initiative (ADNI). The thresholds of P < 5 × 10−6 was used for suggestive associations, and thresholds of P < 5 × 10−8 was used for significant associations. Subsequently, we tested whether the associations remained significant in subgroup analysis and examined the impact of SNPs on the longitudinal changes in plasma p-tau181 levels. A total of 714 eligible non-Hispanic white participants with plasma p-tau181 data were included. The most significant SNP (rs769449, P = 6.26 × 10−8) in APOE gene was suggestively associated with plasma p-tau181, which is close to the genome-wide significance threshold. The minor allele (A) of rs769449 in the APOE was associated with higher plasma p-tau181 levels in a dose-dependent fashion. Besides, rs769449- A carriers were more likely to exhibit a greater longitudinal cognitive decline (P = 0.03). Our results suggest that the AD risk variant in the APOE gene participates in the regulation of plasma p-tau181. The plasma p-tau181 concentration could be a useful endophenotype for identifying risk for AD in elderly individuals.
Access options
Subscribe to Journal
Get full journal access for 1 year
$119.00
only $9.92 per issue
All prices are NET prices.
VAT will be added later in the checkout.
Tax calculation will be finalised during checkout.
Buy article
Get time limited or full article access on ReadCube.
$32.00
All prices are NET prices.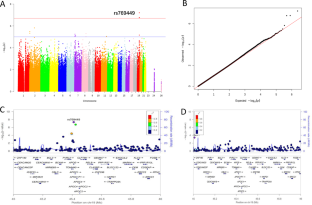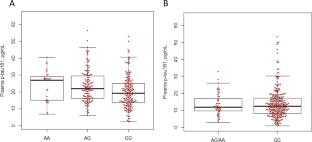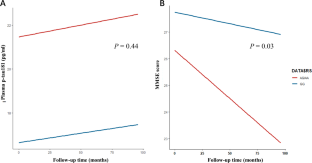 Funding
This study was supported by grants from the National Natural Science Foundation of China (82071201, 81971032), the National Key R&D Program of China (2018YFC1314700), the Research Start-up Fund of Huashan Hospital, Fudan University (2022QD002), Research Start-up Fund of Huashan Hospital (2022QD002), Excellence 2025 Talent Cultivation Program (3030277001), Shanghai Municipal Science and Technology Major Project (2018SHZDZX01) and ZHANGJIANG LAB, Tianqiao and Chrissy Chen Institute, and the State Key Laboratory of Neurobiology and Frontiers Center for Brain Science of Ministry of Education, Fudan University. Data collection and sharing for this project was funded by the ADNI (National Institutes of Health Grant U01 AG024904) and DOD ADNI (Department of Defense award number W81XWH-12-2-0012). ADNI is funded by the National Institute on Aging, the National Institute of Biomedical Imaging and Bioengineering, and through generous contributions from the following: AbbVie, Alzheimer's Association; Alzheimer's Drug Discovery Foundation; Araclon Biotech; BioClinica, Inc.; Biogen; Bristol-Myers Squibb Company; CereSpir, Inc.; Cogstate; Eisai Inc.; Elan Pharmaceuticals, Inc.; Eli Lilly and Company; EuroImmun; F. Hoffmann-La Roche Ltd and its affiliated company Genentech, Inc.; Fujirebio; GE Healthcare; IXICO Ltd.; Janssen Alzheimer Immunotherapy Research & Development, LLC.; Johnson & Johnson Pharmaceutical Research & Development LLC.; Lumosity; Lundbeck; Merck & Co., Inc.; Meso Scale Diagnostics, LLC.; NeuroRx Research; Neurotrack Technologies; Novartis Pharmaceuticals Corporation; Pfizer Inc.; Piramal Imaging; Servier; Takeda Pharmaceutical Company; and Transition Therapeutics. The Canadian Institutes of Health Research is providing funds to support ADNI clinical sites in Canada. Private sector contributions are facilitated by the Foundation for the National Institutes of Health (www.fnih.org). The grantee organization is the Northern California Institute for Research and Education, and the study is coordinated by the Alzheimer's Therapeutic Research Institute at the University of Southern California. ADNI data are disseminated by the Laboratory for Neuro Imaging at the University of Southern California.
Ethics declarations
Competing interests
The authors declare no competing interests.
Additional information
Publisher's note Springer Nature remains neutral with regard to jurisdictional claims in published maps and institutional affiliations.
Supplementary information
About this article
Cite this article
Huang, YY., Yang, YX., Wang, HF. et al. Genome-wide association study identifies APOE locus influencing plasma p-tau181 levels. J Hum Genet 67, 459–463 (2022). https://doi.org/10.1038/s10038-022-01026-z
Received:

Revised:

Accepted:

Published:

Issue Date:

DOI: https://doi.org/10.1038/s10038-022-01026-z