Abstract
Prevalence of obesity, type 2 diabetes (T2D), and being born with low birth weight are much higher in African American women compared to U.S. white women. Genetic factors may contribute to the excess risk of these conditions. We conducted admixture mapping of body mass index (BMI) at age 18, adult BMI, and adult waist circumference and waist-to-hip ratio adjusted for BMI using 2918 ancestral informative markers in 2596 participants of the Black Women's Health Study. We also searched for evidence of shared African genetic ancestry components among the four examined anthropometric traits and among birth weight and T2D. We found that global percent African ancestry was associated with higher adult BMI. We also found that African ancestry at 9q34 was associated with lower BMI at age 18. Our shared ancestry analysis identified ten genomic regions with local African ancestry associated with multiple traits. Seven out of these ten genomic loci were related to T2D risk. Of special interest is the 12q14-21 region where local African ancestry was associated with low birth weight, low BMI, high BMI-adjusted waist-to-hip ratio, and high T2D risk. Findings in the 12q14-21 genomic locus are consistent with the fetal insulin hypothesis that postulates that low birth weight and T2D have a common genetic basis, and they support the hypothesis of a shared African genetic ancestry component linking low birth weight and T2D in African Americans. Future studies should identify the actual genetic variants responsible for the clustering of these conditions in African Americans.
Access options
Subscribe to this journal
Receive 12 print issues and online access
$259.00 per year
only $21.58 per issue
Rent or buy this article
Get just this article for as long as you need it
$39.95
Prices may be subject to local taxes which are calculated during checkout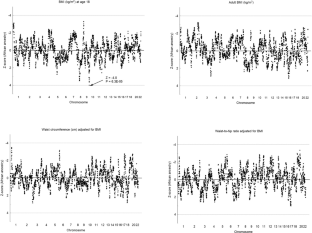 References
Menke A, Casagrande S, Geiss L, Cowie CC. Prevalence of and trends in diabetes among adults in the United States, 1988-2012. JAMA. 2015;314:1021–9.

Ogden CL, Carroll MD, Kit BK, Flegal KM. Prevalence of childhood and adult obesity in the United States, 2011-2012. JAMA. 2014;311:806–14.

Martin JA, Hamilton BE, Osterman MJK, Driscoll AK, Drake P. Births: final data for 2016. Natl Vital- Stat Rep. 2018;67:1–55.

Signorello LB, Schlundt DG, Cohen SS, Steinwandel MD, Buchowski MS, McLaughlin JK, et al. Comparing diabetes prevalence between African Americans and Whites of similar socioeconomic status. Am J Public Health. 2007;97:2260–7.

Bancks MP, Kershaw K, Carson AP, Gordon-Larsen P, Schreiner PJ, Carnethon MR. Association of modifiable risk factors in young adulthood with racial disparity in incident type 2 diabetes during middle adulthood. JAMA. 2017;318:2457–65.

Link CL, McKinlay JB. Disparities in the prevalence of diabetes: is it race/ethnicity or socioeconomic status? Results from the Boston Area Community Health (BACH) survey. Ethn Dis. 2009;19:288–92.

Keaton JM, Cooke Bailey JN, Palmer ND, Freedman BI, Langefeld CD, Ng MC, et al. A comparison of type 2 diabetes risk allele load between African Americans and European Americans. Hum Genet. 2014;133:1487–95.

Liu CT, Raghavan S, Maruthur N, Kabagambe EK, Hong J, Ng MC, et al. Trans-ethnic Meta-analysis and functional annotation illuminates the genetic architecture of fasting glucose and insulin. Am J Hum Genet. 2016;99:56–75.

Bryc K, Durand EY, Macpherson JM, Reich D, Mountain JL. The genetic ancestry of African Americans, Latinos, and European Americans across the United States. Am J Hum Genet. 2015;96:37–53.

Patterson N, Hattangadi N, Lane B, Lohmueller KE, Hafler DA, Oksenberg JR, et al. Methods for high-density admixture mapping of disease genes. Am J Hum Genet. 2004;74:979–1000.

Ni X, Yuan K, Yang X, Feng Q, Guo W, Ma Z, et al. Inference of multiple-wave admixtures by length distribution of ancestral tracks. Heredity. 2018;121:52–63.

Ochs-Balcom HM, Shaw H, Preus L, Palmer JR, Haddad SA, Rosenberg L, et al. Admixture mapping and fine-mapping of birth weight loci in the Black Women's Health Study. Hum Genet. 2018;137:535–42.

Uribe-Salazar JM, Palmer JR, Haddad SA, Rosenberg L, Ruiz-Narváez EA. Admixture mapping and fine-mapping of type 2 diabetes susceptibility loci in African American women. J Hum Genet. 2018;63:1109–17.

Rosenberg L, Adams-Campbell L, Palmer JR. The Black Women's Health Study: a follow-up study for causes and preventions of illness. J Am Med Women's Assoc. 1995;50:56–8.

Cozier YC, Palmer JR, Rosenberg L. Comparison of methods for collection of DNA samples by mail in the Black Women's Health Study. Ann Epidemiol. 2004;14:117–22.

Wise LA, Palmer JR, Spiegelman D, Harlow BL, Stewart EA, Adams-Campbell LL, et al. Influence of body size and body fat distribution on risk of uterine leiomyomata in U.S. black women. Epidemiology. 2005;16:346–54.

Monda KL, Chen GK, Taylor KC, Palmer C, Edwards TL, Lange LA, et al. A meta-analysis identifies new loci associated with body mass index in individuals of African ancestry. Nat Genet. 2013;45:690–6.

Hoggart CJ, Shriver MD, Kittles RA, Clayton DG, McKeigue PM. Design and analysis of admixture mapping studies. Am J Hum Genet. 2004;74:965–78.

Smith MW, O'Brien SJ. Mapping by admixture linkage disequilibrium: advances, limitations and guidelines. Nat Rev Genet. 2005;6:623–32.

Winkler CA, Nelson GW, Smith MW. Admixture mapping comes of age. Annu Rev Genomics Hum Genet. 2010;11:65–89.

Montana G, Pritchard JK. Statistical tests for admixture mapping with case-control and cases-only data. Am J Hum Genet. 2004;75:771–89.

Fernández JR, Shriver MD, Beasley TM, Rafla-Demetrious N, Parra E, Albu J, et al. Association of African genetic admixture with resting metabolic rate and obesity among women. Obes Res. 2003;11:904–11.

Nassir R, Qi L, Kosoy R, Garcia L, Allison M, Ochs-Balcom HM, et al. Relationship between adiposity and admixture in African-American and Hispanic-American women. Int J Obes. 2012;36:304–13.

Tang H, Jorgenson E, Gadde M, Kardia SL, Rao DC, Zhu X, et al. Racial admixture and its impact on BMI and blood pressure in African and Mexican Americans. Hum Genet. 2006;119:624–33.

Vishnu A, Belbin GM, Wojcik GL, Bottinger EP, Gignoux CR, Kenny EE, et al. The role of country of birth, and genetic and self-identified ancestry, in obesity susceptibility among African and Hispanic Americans. Am J Clin Nutr. 2019;110:16–23.

Molarius A, Seidell JC. Selection of anthropometric indicators for classification of abdominal fatness-a critical review. Int J Obes Relat Metab Disord. 1998;22:719–27.

Czernichow S, Kengne AP, Stamatakis E, Hamer M, Batty GD. Body mass index, waist circumference and waist-hip ratio: which is the better discriminator of cardiovascular disease mortality risk?: evidence from an individual-participant meta-analysis of 82 864 participants from nine cohort studies. Obes Rev. 2011;12:680–7.

Ross R, Neeland IJ, Yamashita S, Shai I, Seidell J, Magni P, et al. Waist circumference as a vital sign in clinical practice: a Consensus Statement from the IAS and ICCR Working Group on Visceral Obesity. Nat Rev Endocrinol. 2020;16:177–89.

Christakoudi S, Tsilidis KK, Muller DC, Freisling H, Weiderpass E, Overvad K, et al. A Body Shape Index (ABSI) achieves better mortality risk stratification than alternative indices of abdominal obesity: results from a large European cohort. Sci Rep. 2020;10:14541.

Soutourina J. Transcription regulation by the Mediator complex. Nat Rev Mol Cell Biol. 2018;19:262–74.

Kichaev G, Bhatia G, Loh PR, Gazal S, Burch K, Freund MK, et al. Leveraging polygenic functional enrichment to improve GWAS power. Am J Hum Genet. 2019;104:65–75.

Pulit SL, Stoneman C, Morris AP, Wood AR, Glastonbury CA, Tyrrell J, et al. Meta-analysis of genome-wide association studies for body fat distribution in 694 649 individuals of European ancestry. Hum Mol Genet. 2019;28:166–74.

Vujkovic M, Keaton JM, Lynch JA, Miller DR, Zhou J, Tcheandjieu C, et al. Discovery of 318 new risk loci for type 2 diabetes and related vascular outcomes among 1.4 million participants in a multi-ancestry meta-analysis. Nat Genet. 2020;52:680–91.

Comuzzie AG, Cole SA, Laston SL, Voruganti VS, Haack K, Gibbs RA, et al. Novel genetic loci identified for the pathophysiology of childhood obesity in the Hispanic population. PLoS ONE. 2012;7:e51954.

Xue A, Wu Y, Zhu Z, Zhang F, Kemper KE, Zheng Z, et al. Genome-wide association analyses identify 143 risk variants and putative regulatory mechanisms for type 2 diabetes. Nat Commun. 2018;9:2941.

Beauchemin H, Möröy T. Multifaceted actions of GFI1 and GFI1B in hematopoietic stem cell self-renewal and lineage commitment. Front Genet. 2020;11:591099.

Iotchkova V, Huang J, Morris JA, Jain D, Barbieri C, Walter K, et al. Discovery and refinement of genetic loci associated with cardiometabolic risk using dense imputation maps. Nat Genet. 2016;48:1303–12.

Chen MH, Raffield LM, Mousas A, Sakaue S, Huffman JE, Moscati A, et al. Trans-ethnic and ancestry-specific blood-cell genetics in 746,667 individuals from 5 global populations. Cell. 2020;182:1198–213.e14.

Cheng CY, Kao WH, Patterson N, Tandon A, Haiman CA, Harris TB, et al. Admixture mapping of 15,280 African Americans identifies obesity susceptibility loci on chromosomes 5 and X. PLoS Genet. 2009;5:e1000490.

Basu A, Tang H, Arnett D, Gu CC, Mosley T, Kardia S, et al. Admixture mapping of quantitative trait loci for BMI in African Americans: evidence for loci on chromosomes 3q, 5q, and 15q. Obesity. 2009;17:1226–31.

Cheng CY, Reich D, Coresh J, Boerwinkle E, Patterson N, Li M, et al. Admixture mapping of obesity-related traits in African Americans: the Atherosclerosis Risk in Communities (ARIC) Study. Obesity. 2010;18:563–72.

Fall CHD, Kumaran K. Metabolic programming in early life in humans. Philos Trans R Soc Lond B Biol Sci. 2019;374:20180123.

Hattersley AT, Tooke JE. The fetal insulin hypothesis: an alternative explanation of the association of low birthweight with diabetes and vascular disease. Lancet. 1999;353:1789–92.

Bulik-Sullivan B, Finucane HK, Anttila V, Gusev A, Day FR, Loh PR, et al. An atlas of genetic correlations across human diseases and traits. Nat Genet. 2015;47:1236–41.

Warrington NM, Beaumont RN, Horikoshi M, Day FR, Helgeland Ø, Laurin C, et al. Maternal and fetal genetic effects on birth weight and their relevance to cardio-metabolic risk factors. Nat Genet. 2019;51:804–14.

Wang T, Huang T, Li Y, Zheng Y, Manson JE, Hu FB, et al. Low birthweight and risk of type 2 diabetes: a Mendelian randomisation study. Diabetologia. 2016;59:1920–7.

Huang T, Wang T, Zheng Y, Ellervik C, Li X, Gao M, et al. Association of birth weight with type 2 diabetes and glycemic traits: a Mendelian randomization study. JAMA Netw Open. 2019;2:e1910915.

Zeng P, Zhou X. Causal association between birth weight and adult diseases: evidence from a Mendelian randomization analysis. Front Genet. 2019;10:618.

West-Eberhard MJ. Nutrition, the visceral immune system, and the evolutionary origins of pathogenic obesity. Proc Natl Acad Sci USA. 2019;116:723–31.

Vignali R, Marracci S. HMGA genes and proteins in development and evolution. Int J Mol Sci. 2020;21:654.

Horikoshi M, Yaghootkar H, Mook-Kanamori DO, Sovio U, Taal HR, Hennig BJ, et al. New loci associated with birth weight identify genetic links between intrauterine growth and adult height and metabolism. Nat Genet. 2013;45:76–82.

Horikoshi M, Beaumont RN, Day FR, Warrington NM, Kooijman MN, Fernandez-Tajes J, et al. Genome-wide associations for birth weight and correlations with adult disease. Nature. 2016;538:248–52.

van der Valk RJ, Kreiner-Møller E, Kooijman MN, Guxens M, Stergiakouli E, Sääf A, et al. A novel common variant in DCST2 is associated with length in early life and height in adulthood. Hum Mol Genet. 2015;24:1155–68.

Weedon MN, Lettre G, Freathy RM, Lindgren CM, Voight BF, Perry JR, et al. A common variant of HMGA2 is associated with adult and childhood height in the general population. Nat Genet. 2007;39:1245–50.

Justice AE, Winkler TW, Feitosa MF, Graff M, Fisher VA, Young K, et al. Genome-wide meta-analysis of 241,258 adults accounting for smoking behaviour identifies novel loci for obesity traits. Nat Commun. 2017;8:14977.

He M, Xu M, Zhang B, Liang J, Chen P, Lee JY, et al. Meta-analysis of genome-wide association studies of adult height in East Asians identifies 17 novel loci. Hum Mol Genet. 2015;24:1791–800.

Mahajan A, Go MJ, Zhang W, Below JE, Gaulton KJ, Ferreira T, et al. Genome-wide trans-ancestry meta-analysis provides insight into the genetic architecture of type 2 diabetes susceptibility. Nat Genet. 2014;46:234–44.

Ng MC, Shriner D, Chen BH, Li J, Chen WM, Guo X, et al. Meta-analysis of genome-wide association studies in African Americans provides insights into the genetic architecture of type 2 diabetes. PLoS Genet. 2014;10:e1004517.

Dupuis J, Langenberg C, Prokopenko I, Saxena R, Soranzo N, Jackson AU, et al. New genetic loci implicated in fasting glucose homeostasis and their impact on type 2 diabetes risk. Nat Genet. 2010;42:105–16.

Jin W, Xu S, Wang H, Yu Y, Shen Y, Wu B, et al. Genome-wide detection of natural selection in African Americans pre- and post-admixture. Genome Res. 2012;22:519–27.

Bhatia G, Tandon A, Patterson N, Aldrich MC, Ambrosone CB, Amos C, et al. Genome-wide scan of 29,141 African Americans finds no evidence of directional selection since admixture. Am J Hum Genet. 2014;95:437–44.

Murga-Moreno J, Coronado-Zamora M, Bodelón A, Barbadilla A, Casillas S. PopHumanScan: the online catalog of human genome adaptation. Nucleic Acids Res. 2019;47:D1080–D89.

Fay JC, Wu CI. Hitchhiking under positive Darwinian selection. Genetics. 2000;155:1405–13.

Fu YX, Li WH. Statistical tests of neutrality of mutations. Genetics. 1993;133:693–709.

Tajima F. Statistical method for testing the neutral mutation hypothesis by DNA polymorphism. Genetics. 1989;123:585–95.

Voight BF, Kudaravalli S, Wen X, Pritchard JK. A map of recent positive selection in the human genome. PLoS Biol. 2006;4:e72.

Ruiz-Narváez EA, Palmer JR, Gerlovin H, Wise LA, Vimalananda VG, Rosenzweig JL, et al. Birth weight and risk of type 2 diabetes in the black women's health study: does adult BMI play a mediating role? Diabetes Care. 2014;37:2572–8.

Carter-Nolan PL, Adams-Campbell LL, Makambi K, Lewis S, Palmer JR, Rosenberg L. Validation of physical activity instruments: Black Women's Health Study. Ethn Dis. 2006;16:943–7.
Acknowledgements
We thank the BWHS participants for their continuing participation in this research effort. This work was supported by grants R01MD007015 from the National Institute on Minority Health and Health Disparities, R01CA058420 and U01CA164974 from the National Cancer Institute. The content is solely the responsibility of the authors and does not necessarily represent the official views of the National Institute on Minority Health and Health Disparities, the National Cancer Institute, or the National Institute of Health.
Ethics declarations
Ethics Approval
The BWHS was approved by the institutional review board of Boston University. All study subjects provided written informed consent for use of their saliva samples.
Competing interests
The authors declare no competing interests.
Additional information
Publisher's note Springer Nature remains neutral with regard to jurisdictional claims in published maps and institutional affiliations.
Supplementary information
About this article
Cite this article
Wu, Y., Palmer, J.R., Rosenberg, L. et al. Admixture mapping of anthropometric traits in the Black Women's Health Study: evidence of a shared African ancestry component with birth weight and type 2 diabetes. J Hum Genet 67, 331–338 (2022). https://doi.org/10.1038/s10038-022-01010-7
Received:

Revised:

Accepted:

Published:

Issue Date:

DOI: https://doi.org/10.1038/s10038-022-01010-7