Abstract
Certain large genome cohort studies attempt to return the individual genomic results to the participants; however, the implementation process and psychosocial impacts remain largely unknown. The Tohoku Medical Megabank Project has conducted large genome cohort studies of general residents. To implement the disclosure of individual genomic results, we extracted the potential challenges and obstacles. Major challenges include the determination of genes/disorders based on the current medical system in Japan, the storage of results, prevention of misunderstanding, and collaboration of medical professionals. To overcome these challenges, we plan to conduct multilayer pilot studies, which deal with different disorders/genes. We finally chose familial hypercholesterolemia (FH) as a target disease for the first pilot study. Of the 665 eligible candidates, 33.5% were interested in the pilot study and provided consent after an educational "genetics workshop" on the basic genetics and medical facts of FH. The genetics professionals disclosed the results to the participants. All positive participants were referred to medical care, and a serial questionnaire revealed no significant psychosocial distress after the disclosure. Return of genomic results to research participants was implemented using a well-prepared protocol. To further elucidate the impact of different disorders, we will perform multilayer pilot studies with different disorders, including actionable pharmacogenomics and hereditary tumor syndromes.
Your institute does not have access to this article
Access options
Subscribe to Journal
Get full journal access for 1 year
$119.00
only $9.92 per issue
All prices are NET prices.
VAT will be added later in the checkout.
Tax calculation will be finalised during checkout.
Buy article
Get time limited or full article access on ReadCube.
$32.00
All prices are NET prices.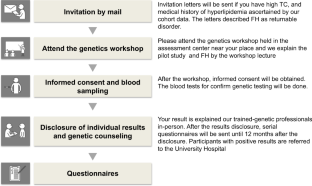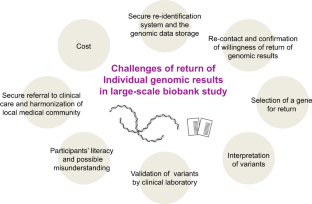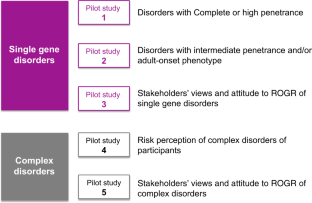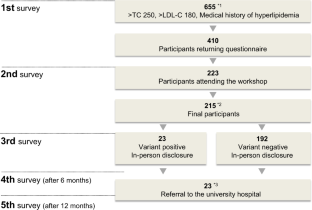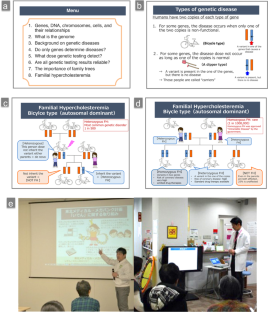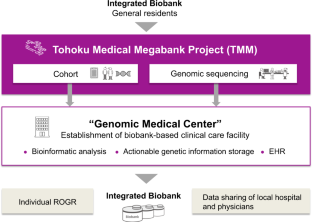 References
Gregory Feero W, Guttmacher AE, Collins FS. Genomic medicine—an updated primer. N Engl J Med. 2010;362:2001–11.

Brunham LR, Hayden MR. Whole-genome sequencing: the new standard of care? Science. 2012;336:1112–13.

Biesecker LG, Green RC. Diagnostic clinical genome and exome sequencing. N Engl J Med. 2014;370:2418–25.

Need AC, Shashi V, Hitomi Y, Schoch K, Shianna KV, McDonald MT, et al. Clinical application of exome sequencing in undiagnosed genetic conditions. J Med Genet. 2012;49:353–61.

Green RC, Berg JS, Grody WW, Kalia SS, Korf BR, Martin CL, et al. ACMG recommendations for reporting of incidental findings in clinical exome and genome sequencing. Genet Med. 2013;15:565–74.

Kalia SS, Adelman K, Bale SJ, Chung WK, Eng C, Evans JP, et al. Recommendations for reporting of secondary findings in clinical exome and genome sequencing, 2016 update (ACMG SF v2.0): a policy statement of the American College of Medical Genetics and Genomics. Genet Med. 2017;19:249–55.

Wolf SM, Crock BN, Van Ness B, Lawrenz F, Kahn JP, Beskow LM, et al. Managing incidental findings and research results in genomic research involving biobanks and archived data sets. Genet Med. 2012;14:361–84.

Wolf SM. Return of individual research results and incidental findings: facing the challenges of translational science. Annu Rev Genomics Hum Genet. 2013;14:557–77.

Jarvik GP, Amendola LM, Berg JS, Brothers K, Clayton EW, Chung W, et al. Return of genomic results to research participants: the floor, the ceiling, and the choices in between. Am J Hum Genet. 2014;94:818–26.

Knoppers BM, Zawati MH, Senecal K. Return of genetic testing results in the era of whole-genome sequencing. Nat Rev Genet. 2015;16:553–9.

Johnson G, Lawrenz F, Thao M. An empirical examination of the management of return of individual research results and incidental findings in genomic biobanks. Genet Med. 2012;14:444–50.

Clayton EW, McGuire AL. The legal risks of returning results of genomics research. Genet Med. 2012;14:473–7.

Budin-Ljosne I, Mascalzoni D, Soini S, Machado H, Kaye J, Bentzen HB, et al. Feedback of individual genetic results to research participants: is it feasible in Europe? Biopreserv Biobank. 2016;14:241–8.

Haukkala A, Kujala E, Alha P, Salomaa V, Koskinen S, Swan H, et al. The return of unexpected research results in a biobank study and referral to health care for heritable long QT syndrome. Public Health Genomics. 2013;16:241–50.

Biesecker LG, Mullikin JC, Facio FM, Turner C, Cherukuri PF, Blakesley RW, et al. The ClinSeq Project: piloting large-scale genome sequencing for research in genomic medicine. Genome Res. 2009;19:1665–74.

Carey DJ, Fetterolf SN, Davis FD, Faucett WA, Kirchner HL, Mirshahi U, et al. The Geisinger MyCode community health initiative: an electronic health record-linked biobank for precision medicine research. Genet Med. 2016;18:906–13.

Maurer F, Pradervand S, Guilleret I, Nanchen D, Maghraoui A, Chapatte L, et al. Identification and molecular characterisation of Lausanne Institutional Biobank participants with familial hypercholesterolaemia—a proof-of-concept study. Swiss Med Wkly. 2016;146:w14326.

Ministry of Education, Culture, Sports, Science and Technology, Ministry of Health, Labour and Welfare, Ministry of Economy, Trade and Industry. Ethical guidelines for human genome/gene analysis research 2001 (Latest revision: 2017). https://www.mhlw.go.jp/file/06-Seisakujouhou-10600000-Daijinkanboukouseikagakuka/0000153405.pdf.

Tsuchiya M, Yamada T, Akaishi R, Hamanoue H, Hirasawa A, Hyodo M, et al. Attitudes toward and current status of disclosure of secondary findings from next-generation sequencing: a nation-wide survey of clinical genetics professionals in Japan. J Hum Genet. 2020;65:1045–53.

Horiuchi Y, Matsubayashi H, Kiyozumi Y, Nishimura S, Higashigawa S, Kado N, et al. Disclosure of secondary findings in exome sequencing of 2480 Japanese cancer patients. Hum Genet. 2021;140:321–31.

Aizawa Y, Nagami F, Ohashi N, Kato K. A proposal on the first Japanese practical guidance for the return of individual genomic results in research settings. J Hum Genet. 2020;65:251–61.

Fuse N. Establishment of integrated biobank for precision medicine and personalized healthcare: The Tohoku Medical Megabank Project. JMA J. 2019;2:113–22.

Kuriyama S, Metoki H, Kikuya M, Obara T, Ishikuro M, Yamanaka C, et al. Cohort profile: Tohoku Medical Megabank Project Birth and Three-Generation Cohort Study (TMM BirThree Cohort Study): rationale, progress and perspective. Int J Epidemiol. 2020;49:18–19m.

Hozawa A, Tanno K, Nakaya N, Nakamura T, Tsuchiya N, Hirata T, et al. Study profile of The Tohoku Medical Megabank Community-Based Cohort Study. J Epidemiol. 2021;31:65–76.

Minegishi N, Nishijima I, Nobukuni T, Kudo H, Ishida N, Terakawa T, et al. Biobank establishment and sample management in the Tohoku Medical Megabank Project. Tohoku J Exp Med. 2019;248:45–55.

Koshiba S, Motoike I, Saigusa D, Inoue J, Shirota M, Katoh Y, et al. Omics research project on prospective cohort studies from the Tohoku Medical Megabank Project. Genes Cells. 2018;23:406–17.

Tadaka S, Saigusa D, Motoike IN, Inoue J, Aoki Y, Shirota M, et al. jMorp: Japanese Multi Omics Reference Panel. Nucleic Acids Res. 2018;46:D551–7.

Sakurai-Yageta M, Kawame H, Kuriyama S, Hozawa A, Nakaya N, Nagami F, et al. A training and education program for genome medical research coordinators in the genome cohort study of the Tohoku Medical Megabank Organization. BMC Med Educ. 2019;19:297.

Yasuda J, Kinoshita K, Katsuoka F, Danjoh I, Sakurai-Yageta M, Motoike IN, et al. Genome analyses for the Tohoku Medical Megabank Project towards establishment of personalized healthcare. J Biochem. 2019;165:139–58.

Nagasaki M, Yasuda J, Katsuoka F, Nariai N, Kojima K, Kawai Y, et al. Rare variant discovery by deep whole-genome sequencing of 1,070 Japanese individuals. Nat Commun. 2015;6:8018.

Tadaka S, Hishinuma E, Komaki S, Motoike IN, Kawashima J, Saigusa D, et al. jMorp updates in 2020: large enhancement of multi-omics data resources on the general Japanese population. Nucleic Acids Res. 2021;49:D536–44.

Middleton A, Morley KI, Bragin E, Firth HV, Hurles ME, Wright CF, et al. Attitudes of nearly 7000 health professionals, genomic researchers and publics toward the return of incidental results from sequencing research. Eur J Hum Genet. 2016;24:21–9.

Yamamoto K, Hachiya T, Fukushima A, Nakaya N, Okayama A, Tanno K, et al. Population-based biobank participants' preferences for receiving genetic test results. J Hum Genet. 2017;62:1037–48.

Hart MR, Biesecker BB, Blout CL, Christensen KD, Amendola LM, Bergstrom KL, et al. Secondary findings from clinical genomic sequencing: prevalence, patient perspectives, family history assessment, and health-care costs from a multisite study. Genet Med. 2019;21:1100–10.

Yamamoto K, Shimizu A, Aizawa F, Kawame H, Tokutomi T, Fukushima A. A comparison of genome cohort participants' genetic knowledge and preferences to receive genetic results before and after a genetics workshop. J Hum Genet. 2018;63:1139–47.

Takai-Igarashi T, Kinoshita K, Nagasaki M, Ogishima S, Nakamura N, Nagase S, et al. Security controls in an integrated Biobank to protect privacy in data sharing: rationale and study design. BMC Med Inf Decis Mak. 2017;17:100.

Tadaka S, Katsuoka F, Ueki M, Kojima K, Makino S, Saito S, et al. 3.5KJPNv2: an allele frequency panel of 3552 Japanese individuals including the X chromosome. Hum Genome Var. 2019;6:28.

Stenson PD, Mort M, Ball EV, Chapman M, Evans K, Azevedo L, et al. The Human Gene Mutation Database (HGMD((R))): optimizing its use in a clinical diagnostic or research setting. Hum Genet. 2020;139:1197–207.

Landrum MJ, Lee JM, Benson M, Brown G, Chao C, Chitipiralla S, et al. ClinVar: public archive of interpretations of clinically relevant variants. Nucleic Acids Res. 2016;44:D862–8.

Fokkema IF, Taschner PE, Schaafsma GC, Celli J, Laros JF, den Dunnen JT. LOVD v.2.0: the next generation in gene variant databases. Hum Mutat. 2011;32:557–63.

Centers for Disease Control and Prevention. Tier 1 Genomic Applications Toolkit for Public Health Departments. 2014.

Harada-Shiba M, Arai H, Ishigaki Y, Ishibashi S, Okamura T, Ogura M, et al. Guidelines for diagnosis and treatment of familial hypercholesterolemia 2017. J Atheroscler Thromb. 2018;25:751–70.

Kuriyama S, Yaegashi N, Nagami F, Arai T, Kawaguchi Y, Osumi N, et al. The Tohoku Medical Megabank Project: design and mission. J Epidemiol. 2016;26:493–511.

Anderson RL, Murray K, Chong JX, Ouwenga R, Antillon M, Chen P, et al. Disclosure of genetic research results to members of a founder population. J Genet Couns. 2014;23:984–91.

Matsui K, Lie RK, Kita Y, Ueshima H. Ethics of future disclosure of individual risk information in a genetic cohort study: a survey of donor preferences. J Epidemiol. 2008;18:217–24.

Yamaguchi-Kabata Y, Yasuda J, Tanabe O, Suzuki Y, Kawame H, Fuse N, et al. Evaluation of reported pathogenic variants and their frequencies in a Japanese population based on a whole-genome reference panel of 2049 individuals. J Hum Genet. 2018;63:213–30.

Jones LK, Kulchak Rahm A, Manickam K, Butry L, Lazzeri A, Corcoran T, et al. Healthcare utilization and patients' perspectives after receiving a positive genetic test for familial hypercholesterolemia. Circ Genom Precis Med. 2018;11:e002146.

Zoltick ES, Linderman MD, McGinniss MA, Ramos E, Ball MP, Church GM, et al. Predispositional genome sequencing in healthy adults: design, participant characteristics, and early outcomes of the PeopleSeq Consortium. Genome Med. 2019;11:10.

Sanderson SC, Linderman MD, Suckiel SA, Diaz GA, Zinberg RE, Ferryman K, et al. Motivations, concerns and preferences of personal genome sequencing research participants: baseline findings from the HealthSeq project. Eur J Hum Genet. 2016;24:14–20.
Acknowledgements
The authors are grateful to all participants and municipality and medical institution staff members who helped in this project. We also thank the members of ToMMo and IMM, including GMRCs, office and administrative personnel for their assistance, and Ms Miho Kuriki for her artwork in the article . The complete list of members is available at https://www.megabank.tohoku.ac.jp/english/a201201/ for ToMMo and at http://iwate-megabank.org/en/about/departments/ for IMM. The help extended by the members of Return of Genomic Results Review Committee with their devoted and enthusiastic discussion is acknowledged. This work is supported by the Tohoku Medical Megabank Project of Ministry of Education, Culture, Sports, Science and Technology (MEXT) and AMED (JP 19km0105001, JP 19km0105002, JP 19km0105003, and JP 19km0105004).
Ethics declarations
Competing interests
The authors declare no competing interests.
Additional information
Publisher's note Springer Nature remains neutral with regard to jurisdictional claims in published maps and institutional affiliations.
About this article
Cite this article
Kawame, H., Fukushima, A., Fuse, N. et al. The return of individual genomic results to research participants: design and pilot study of Tohoku Medical Megabank Project. J Hum Genet 67, 9–17 (2022). https://doi.org/10.1038/s10038-021-00952-8
Received:

Revised:

Accepted:

Published:

Issue Date:

DOI: https://doi.org/10.1038/s10038-021-00952-8