Abstract
Distal hereditary motor neuronopathies (dHMN) are a genetically heterogeneous group of neuromuscular disorders caused by anterior horn cell degeneration and progressive distal muscle weakness. A heterozygous missense variant in FBXO38 has been previously described in two families affected by autosomal-dominant dHMN. In this paper, we describe a homozygous missense variant in FBXO38 (c.1577G>A; p.(Arg526Gln)) in a young Turkish female, offspring of consanguineous parents, with a congenital mild neuronopathy with idiopathic toe walking, normal sensory examination, and hearing loss. This work is the first to describe a novel homozygous variant and a suggested loss of function mechanism in FBXO38, expanding the dHMN type IID phenotype.
Access options
Access options
Subscribe to Journal
Get full journal access for 1 year
$450.00
only $37.50 per issue
All prices are NET prices.
VAT will be added later in the checkout.
Rent or Buy article
Get time limited or full article access on ReadCube.
from$8.99
All prices are NET prices.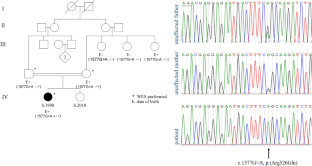 References
1.

Sumner CJ, d'Ydewalle C, Wooley J, et al. A dominant mutation in FBXO38 causes distal spinal muscular atrophy with calf predominance. Am J Hum Genet. 2013;93:976–83.

2.

Rossor AM, Kalmar B, Greensmith L, Reilly MM. The distal hereditary motor neuropathies. J Neurol Neurosurg Psychiatry. 2012;83:6–14.

3.

Li H, Durbin R. Fast and accurate short read alignment with Burrows-Wheeler transform. Bioinformatics. 2009;25:1754–60.

4.

McKenna A, Hanna M, Banks E, et al. The genome analysis toolkit: a MapReduce framework for analyzing next-generation DNA sequencing data. Genome Res. 2010;20:1297–303.

5.

DePristo MA, Banks E, Poplin R, et al. A framework for variation discovery and genotyping using next-generation DNA sequencing data. Nat Genet. 2011;43:491–8.

6.

Wang K, Li M, Hakonarson H. ANNOVAR: functional annotation of genetic variants from high-throughput sequencing data. Nucleic Acids Res. 2010;38:e164.

7.

Davydov EV, Goode DL, Sirota M, Cooper GM, Sidow A, Batzoglou S. Identifying a high fraction of the human genome to be under selective constraint using GERP++. PLoS Comput Biol. 2010;6:e1001025.

8.

Chang CC, Chow CC, Tellier LC, Vattikuti S, Purcell SM, Lee JJ. Second-generation PLINK: rising to the challenge of larger and richer datasets. Gigascience. 2015;4:7.

9.

Blackmore MG, Wang Z, Lerch JK, et al. Kruppel-like Factor 7 engineered for transcriptional activation promotes axon regeneration in the adult corticospinal tract. Proc Natl Acad Sci USA. 2012;109:7517–22.

10.

Kajimura D, Dragomir C, Ramirez F, Laub F. Identification of genes regulated by transcription factor KLF7 in differentiating olfactory sensory neurons. Gene. 2007;388:34–42.

11.

Petralia RS, Wenthold RJ. Neurotransmitters in the auditory system. In: Binder MD, Hirokawa N, Windhorst U, editors. Encyclopedia of neuroscience. Berlin Heidelberg: Springer; 2009. p. 2847–53.
Acknowledgements
We thank all family members for their participation in the study. Suna and Inan Kıraç Foundation is whole-heartedly acknowledged for the generous funding of the study and Koç University Translational Research Center for their support and the inspiring academic environment supplied. We thank Aslı Gündoğdu and Irmak Şahbaz for excellent technical assistance.
Ethics declarations
Ethical approval
This work was approved by The Ethics Committee of Boğaziçi University, where the study was started.
Conflict of interest
The authors declare that they have no conflict of interest.
Additional information
Publisher's note: Springer Nature remains neutral with regard to jurisdictional claims in published maps and institutional affiliations.