Abstract
Noninvasive prenatal testing (NIPT), which involves analysis of circulating cell-free fetal DNA (cffDNA) from maternal plasma, is highly effective for detecting feto-placental chromosome aneuploidy. However, recent studies suggested that coverage-based shallow-depth NIPT cannot accurately detect smaller single or multi-loci genetic variants. To assess the fetal genotype of any locus using maternal plasma, we developed a novel genotyping algorithm named pseudo tetraploid genotyping (PTG). We performed paired-end captured sequencing of the plasma cell-free DNA (cfDNA), in which case a phenotypically healthy woman is suspected to be carrying a fetus with genetic defect. After a series of independent filtering of 111,407 SNPs, we found one variant in COL1A1 graded with high pathogenic potential which might cause osteogenesis imperfecta (OI). Then, we verified this mutation by Sanger sequencing of fetal and parental blood cells. In addition, we evaluated the accuracy and detection rate of the PTG algorithm through direct sequencing of the genomic DNA from maternal and fetal blood cells. Collectively, our study developed an intuitive and cost-effective method for the noninvasive detection of pathogenic mutations, and successfully identified a de novo variant in COL1A1 (c.2596 G > A, p.Gly866Ser) in the fetus implicated in OI.
This is a preview of subscription content
Access options
Subscribe to Journal
Get full journal access for 1 year
$119.00
only $9.92 per issue
All prices are NET prices.
VAT will be added later in the checkout.
Tax calculation will be finalised during checkout.
Rent or Buy article
Get time limited or full article access on ReadCube.
from$8.99
All prices are NET prices.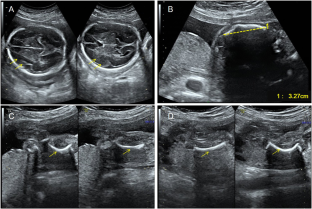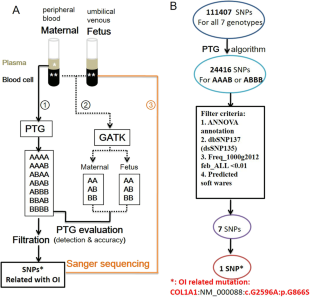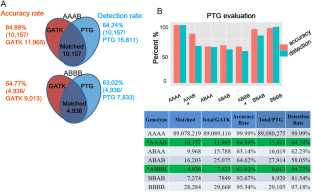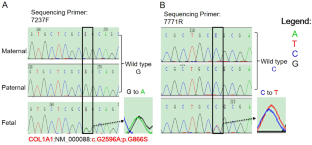 References
1.

Dondorp W, de Wert G, Bombard Y, Bianchi DW, Bergmann C, Borry P, et al. Non-invasive prenatal testing for aneuploidy and beyond: challenges of responsible innovation in prenatal screening. Eur J Hum Genet. 2015;23:1592.

2.

Hayden EC. Prenatal-screening companies expand scope of DNA tests. Nature. 2014;507:19.

3.

Agarwal A, Sayres LC, Cho MK, Cook-Deegan R, Chandrasekharan S. Commercial landscape of noninvasive prenatal testing in the United States. Prenat Diagn. 2013;33:521–31.

4.

Lo YM, Corbetta N, Chamberlain PF, Rai V, Sargent IL, Redman CW, et al. Presence of fetal DNA in maternal plasma and serum. Lancet. 1997;350:485–7.

5.

Lo YM, Zhang J, Leung TN, Lau TK, Chang AM, Hjelm NM. Rapid clearance of fetal DNA from maternal plasma. Am J Hum Genet. 1999;64:218–24.

6.

Angert RM, LeShane ES, Lo YM, Chan LY, Delli-Bovi LC, Bianchi DW. Fetal cell-free plasma DNA concentrations in maternal blood are stable 24 h after collection: analysis of first- and third-trimester samples. Clin Chem. 2003;49:195–8.

7.

Chan KC, Zhang J, Hui AB, Wong N, Lau TK, Leung TN, et al. Size distributions of maternal and fetal DNA in maternal plasma. Clin Chem. 2004;50:88–92.

8.

Li Y, Zimmermann B, Rusterholz C, Kang A, Holzgreve W, Hahn S. Size separation of circulatory DNA in maternal plasma permits ready detection of fetal DNA polymorphisms. Clin Chem. 2004;50:1002–11.

9.

Tong YK, Ding C, Chiu RW, Gerovassili A, Chim SS, Leung TY, et al. Noninvasive prenatal detection of fetal trisomy 18 by epigenetic allelic ratio analysis in maternal plasma. Theor Empir Consid Clin Chem. 2006;52:2194–202.

10.

Lo YM, Tsui NB, Chiu RW, Lau TK, Leung TN, Heung MM, et al. Plasma placental RNA allelic ratio permits noninvasive prenatal chromosomal aneuploidy detection. Nat Med. 2007;13:218–23.

11.

Finning KM, Martin PG, Soothill PW, Avent ND. Prediction of fetal D status from maternal plasma: introduction of a new noninvasive fetal RHD genotyping service. Transfusion. 2002;42:1079–85.

12.

Phylipsen M, Yamsri S, Treffers EE, Jansen DT, Kanhai WA, Boon EM, et al. Non-invasive prenatal diagnosis of beta-thalassemia and sickle-cell disease using pyrophosphorolysis-activated polymerization and melting curve analysis. Prenat Diagn. 2012;32:578–87.

13.

Lam KW, Jiang P, Liao GJ, Chan KC, Leung TY, Chiu RW, et al. Noninvasive prenatal diagnosis of monogenic diseases by targeted massively parallel sequencing of maternal plasma: application to beta-thalassemia. Clin Chem. 2012;58:1467–75.

14.

Bustamante-Aragones A, Rodriguez de Alba M, Perlado S, Trujillo-Tiebas MJ, Arranz JP, Diaz-Recasens J, et al. Non-invasive prenatal diagnosis of single-gene disorders from maternal blood. Gene. 2012;504:144–9.

15.

Lench N, Barrett A, Fielding S, McKay F, Hill M, Jenkins L, et al. The clinical implementation of non-invasive prenatal diagnosis for single-gene disorders: challenges and progress made. Prenat Diagn. 2013;33:555–62.

16.

Papasavva T, van Ijcken WF, Kockx CE, van den Hout MC, Kountouris P, Kythreotis L, et al. Next generation sequencing of SNPs for non-invasive prenatal diagnosis: challenges and feasibility as illustrated by an application to beta-thalassaemia. Eur J Hum Genet. 2013;21:1403–10.

17.

Ge H, Huang X, Li X, Chen S, Zheng J, Jiang H, et al. Noninvasive prenatal detection for pathogenic CNVs: the application in alpha-thalassemia. PLOS ONE. 2013;8:e67464.

18.

Lo YM, Chan KC, Sun H, Chen EZ, Jiang P, Lun FM, et al. Maternal plasma DNA sequencing reveals the genome-wide genetic and mutational profile of the fetus. Sci Transl Med. 2010;2:61ra91.

19.

Fan HC, Gu W, Wang J, Blumenfeld YJ, El-Sayed YY, Quake SR, et al. Non-invasive prenatal measurement of the fetal genome. Nature. 2012;487:320–4.

20.

Chen S, Ge H, Wang X, Pan X, Yao X, Li X, et al. Haplotype-assisted accurate non-invasive fetal whole genome recovery through maternal plasma sequencing. Genome Med. 2013;5:18.

21.

Kitzman JO, Snyder MW, Ventura M, Lewis AP, Qiu R, Simmons LE, et al. Noninvasive whole-genome sequencing of a human fetus. Sci Transl Med. 2012;4:137ra176.

22.

Liao GJ, Lun FM, Zheng YW, Chan KC, Leung TY, Lau TK, et al. Targeted massively parallel sequencing of maternal plasma DNA permits efficient and unbiased detection of fetal alleles. Clin Chem. 2011;57:92–101.

23.

Chan KC, Ding C, Gerovassili A, Yeung SW, Chiu RW, Leung TN, et al. Hypermethylated RASSF1A in maternal plasma: A universal fetal DNA marker that improves the reliability of noninvasive prenatal diagnosis. Clin Chem. 2006;52:2211–8.

24.

Liu L, Li Y, Li S, Hu N, He Y, Pong R, et al. Comparison of next-generation sequencing systems. J Biomed Biotechnol. 2012;2012:251364.

25.

Li H, Durbin R. Fast and accurate short read alignment with Burrows-Wheeler transform. Bioinformatics. 2009;25:1754–60.

26.

Li H, Handsaker B, Wysoker A, Fennell T, Ruan J, Homer N, et al. Genome project data processing S: the sequence alignment/map format and SAMtools. Bioinformatics. 2009;25:2078–9.

27.

Wang K, Li M, Hakonarson H. ANNOVAR: functional annotation of genetic variants from high-throughput sequencing data. Nucleic Acids Res. 2010;38:e164.

28.

Sherry ST, Ward MH, Kholodov M, Baker J, Phan L, Smigielski EM, et al. dbSNP: the NCBI database of genetic variation. Nucleic Acids Res. 2001;29:308–11.

29.

Maasalu K, Nikopensius T, Koks S, Noukas M, Kals M, Prans E, et al. Whole-exome sequencing identifies de novo mutation in the COL1A1 gene to underlie the severe osteogenesis imperfecta. Hum Genom. 2015;9:6.

30.

Cho SY, Lee JH, Ki CS, Chang MS, Jin DK, Han HS. Osteogenesis imperfecta Type I caused by a novel mutation in the start codon of the COL1A1 gene in a Korean family. Ann Clin Lab Sci. 2015;45:100–5.

31.

McKenna A, Hanna M, Banks E, Sivachenko A, Cibulskis K, Kernytsky A, et al. The Genome Analysis Toolkit: a MapReduce framework for analyzing next-generation DNA sequencing data. Genome Res. 2010;20:1297–303.

32.

Seo SB, King JL, Warshauer DH, Davis CP, Ge J, Budowle B. Single nucleotide polymorphism typing with massively parallel sequencing for human identification. Int J Leg Med. 2013;127:1079–86.

33.

Beal MA, Glenn TC, Somers CM. Whole genome sequencing for quantifying germline mutation frequency in humans and model species: cautious optimism. Mutat Res. 2012;750:96–106.

34.

Zong C, Lu S, Chapman AR, Xie XS. Genome-wide detection of single-nucleotide and copy-number variations of a single human cell. Science. 2012;338:1622–6.

35.

Chen L, Liu P, Evans TC Jr, Ettwiller LM. DNA damage is a pervasive cause of sequencing errors, directly confounding variant identification. Science . 2017;355:752–6.

36.

Newman AM, Lovejoy AF, Klass DM, Kurtz DM, Chabon JJ, Scherer F, et al. Integrated digital error suppression for improved detection of circulating tumor DNA. Nat Biotechnol. 2016;34:547–55.

37.

Van Dijk FS. Sillence DO.Osteogenesis imperfecta: clinical diagnosis, nomenclature and severity assessment. Am J Med Genet A. 2014;164A:1470–81.

38.

Forlino A, Cabral WA, Barnes AM, Marini JC. New perspectives on osteogenesis imperfecta. Nat Rev Endocrinol. 2011;7:540–57.

39.

Zhytnik L, Maasalu K, Reimann E, Prans E, Koks S, Martson A. Mutational analysis of COL1A1 and COL1A2 genes among Estonian osteogenesis imperfecta patients. Hum Genom. 2017;11:19.

40.

Rolvien T, Kornak U, Sturznickel J, Schinke T, Amling M, Mundlos S, et al. A novel COL1A2 C-propeptide cleavage site mutation causing high bone mass osteogenesis imperfecta with a regional distribution pattern. Osteoporos Int. 2018;29:243–6.

41.

Andersson K, Dahllof G, Lindahl K, Kindmark A, Grigelioniene G, Astrom E, et al. Mutations in COL1A1 and COL1A2 and dental aberrations in children and adolescents with osteogenesis imperfecta - a retrospective cohort study. PLOS ONE. 2017;12:e0176466.

42.

Kantaputra PN, Sirirungruangsarn Y, Intachai W, Ngamphiw C, Tongsima S, Dejkhamron P. Osteogenesis imperfecta with ectopic mineralizations in dentin and cementum and a COL1A2 mutation. J Hum Genet. 2018;63:811–820.

43.

Monti E, Mottes M, Fraschini P, Brunelli P, Forlino A, Venturi G, et al. Current and emerging treatments for the management of osteogenesis imperfecta. Ther Clin Risk Manag. 2010;6:367–81.

44.

Marini JC, Forlino A, Cabral WA, Barnes AM, San Antonio JD, Milgrom S, et al. Consortium for osteogenesis imperfecta mutations in the helical domain of type I collagen: regions rich in lethal mutations align with collagen binding sites for integrins and proteoglycans. Hum Mutat. 2007;28:209–21.

45.

Ma D, Ge H, Li X, Jiang T, Chen F, Zhang Y, et al. Haplotype-based approach for noninvasive prenatal diagnosis of congenital adrenal hyperplasia by maternal plasma DNA sequencing. Gene. 2014;544:252–8.

46.

Meng M, Li X, Ge H, Chen F, Han M, Zhang Y, et al. Noninvasive prenatal testing for autosomal recessive conditions by maternal plasma sequencing in a case of congenital deafness. Genet Med. 2014;16:972–6.

47.

New MI, Tong YK, Yuen T, Jiang P, Pina C, Chan KC, et al. Noninvasive prenatal diagnosis of congenital adrenal hyperplasia using cell-free fetal DNA in maternal plasma. J Clin Endocrinol Metab. 2014;99:E1022–1030.

48.

Xu Y, Li X, Ge HJ, Xiao B, Zhang YY, Ying XM, et al. Haplotype-based approach for noninvasive prenatal tests of Duchenne muscular dystrophy using cell-free fetal DNA in maternal plasma. Genet Med. 2015;17:889–96.

49.

Yoo SK, Lim BC, Byeun J, Hwang H, Kim KJ, Hwang YS, et al. Noninvasive prenatal diagnosis of duchenne muscular dystrophy: comprehensive genetic diagnosis in carrier, proband, and fetus. Clin Chem. 2015;61:829–37.

50.

Xiong L, Barrett AN, Hua R, Tan TZ, Ho SS, Chan JK, et al. Non-invasive prenatal diagnostic testing for beta-thalassaemia using cell-free fetal DNA and next generation sequencing. Prenat Diagn. 2015;35:258–65.

51.

Xiong L, Barrett AN, Hua R, Ho S, Jun L, Chan K, et al. Non-invasive prenatal testing for fetal inheritance of maternal beta-thalassaemia mutations using targetted sequencing and relative mutation dosage: a feasibility study. BJOG. 2018;125:461–8.

52.

Tanner L, Vainio P, Sandell M, Laine J. Novel COL1A1 mutation c.3290G>T associated with severe form of osteogenesis imperfecta in a fetus. Pediatr Dev Pathol. 2017;20:455–9.
Acknowledgements
We thank the patients and their families for their participation in this study.
Ethics declarations
Conflict of interest
The authors declare that they have no conflict of interest.
Electronic supplementary material
About this article
Cite this article
Yin, X., Du, Y., Zhang, H. et al. Identification of a de novo fetal variant in osteogenesis imperfecta by targeted sequencing-based noninvasive prenatal testing. J Hum Genet 63, 1129–1137 (2018). https://doi.org/10.1038/s10038-018-0489-9
Received:

Revised:

Accepted:

Published:

Issue Date:
Further reading
Jianjiang Zhu
Feng Hui
Yang Du

Human Genomics (2021)

Lidiia Zhytnik
Kadri Simm
Katre Maasalu

Orphanet Journal of Rare Diseases (2020)

Biophysical Reviews (2019)