Abstract
Argininosuccinic aciduria (ASA), which is considered to be the second most common urea cycle disorder (UCD), is caused by an argininosuccinate lyase deficiency and is biochemically characterized by elevation of argininosuccinic acid and arginine deficiency. In addition to hyperammonemia, other characteristic features of ASA include hepatic fibrosis, hypertension, neurocognitive deficiencies, and trichorrhexis nodosa. Herein, we retrospectively reviewed the clinical findings, biochemical profiles, and genotypic characteristics of five Korean patients with ASA, who showed typical phenotypes and biochemical findings of the disease. Molecular analysis of these patients revealed six novel ASL mutations. Next, we investigated the prevalence of all types of UCDs in Korea. Of note, over a two decade periods, ASA was only detected in 6.3% of patients with a UCD, which made it the fourth most common UCD in Korea. In comparison with Caucasians, in whom ASA is the second most common UCD, ASA is comparatively rare in East Asian populations, including Japanese and Koreans. These findings suggest the possibility of geographic variation in UCDs among ethnic groups.
This is a preview of subscription content
Access options
Subscribe to Journal
Get full journal access for 1 year
$119.00
only $9.92 per issue
All prices are NET prices.
VAT will be added later in the checkout.
Tax calculation will be finalised during checkout.
Rent or Buy article
Get time limited or full article access on ReadCube.
from$8.99
All prices are NET prices.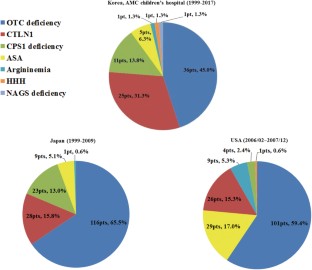 References
1.

Erez A. Argininosuccinic aciduria: from a monogenic to a complex disorder. Genet Med. 2013;15:251–7.

2.

Cho SE, Park EJ, Seo DH, Lee IB, Lee HJ, Cho D-Y, et al. Neonatal screening tests for inherited metabolic disorders using tandem mass spectrometry: experience of a clinical laboratory in Korea. Lab Med Online. 2015;5:196–203.

3.

Nagamani SC, Erez A, Lee B. Argininosuccinate lyase deficiency. Genet Med. 2012;14:501–7.

4.

Wilcken B, Wiley V, Hammond J, Carpenter K. Screening newborns for inborn errors of metabolism by tandem mass spectrometry. N Engl J Med. 2003;348:2304–12.

5.

Choi JH, Lee BH, Kim JH, Kim GH, Kim YM, Cho J, et al. Clinical outcomes and the mutation spectrum of the OTC gene in patients with ornithine transcarbamylase deficiency. J Hum Genet. 2015;60:501–7.

6.

Kim JH, Kim YM, Lee BH, Cho JH, Kim GH, Choi JH, et al. Short-term efficacy of N-carbamylglutamate in a patient with N-acetylglutamate synthase deficiency. J Hum Genet. 2015;60:395–7.

7.

Lee BH, Kim YM, Heo SH, Kim GH, Choi IH, Lee BS, et al. High prevalence of neonatal presentation in Korean patients with citrullinemia type 1, and their shared mutations. Mol Genet Metab. 2013;108:18–24.

8.

Lee BH, Jin HY, Kim GH, Choi JH, Yoo HW. Argininemia presenting with progressive spastic diplegia. Pediatr Neurol. 2011;44:218–20.

9.

Trevisson E, Salviati L, Baldoin MC, Toldo I, Casarin A, Sacconi S, et al. Argininosuccinate lyase deficiency: mutational spectrum in Italian patients and identification of a novel ASL pseudogene. Hum Mutat. 2007;28:694–702.

10.

Linnebank M, Tschiedel E, Haberle J, Linnebank A, Willenbring H, Kleijer WJ, et al. Argininosuccinate lyase (ASL) deficiency: mutation analysis in 27 patients and a completed structure of the human ASL gene. Hum Genet. 2002;111:350–9.

11.

Kim J-H, Yum M-S, Jeong S-J, Ko T-S. Assessment of children with developmental delay: Korean infant and child development test (KICDT) and Korean Bayley scale of infant development-II (K-BSID-II). Korean J Pediatr. 2009;52:772–7.

12.

Fichtel JC, Richards JA, Davis LS. Trichorrhexis nodosa secondary to argininosuccinicaciduria. Pediatr Dermatol. 2007;24:25–7.

13.

Widhalm K, Koch S, Scheibenreiter S, Knoll E, Colombo JP, Bachmann C, et al. Long-term follow-up of 12 patients with the late-onset variant of argininosuccinic acid lyase deficiency: no impairment of intellectual and psychomotor development during therapy. Pediatrics. 1992;89:1182–4.

14.

Mercimek-Mahmutoglu S, Moeslinger D, Haberle J, Engel K, Herle M, Strobl MW, et al. Long-term outcome of patients with argininosuccinate lyase deficiency diagnosed by newborn screening in Austria. Mol Genet Metab. 2010;100:24–28.

15.

Mori T, Nagai K, Mori M, Nagao M, Imamura M, Iijima M, et al. Progressive liver fibrosis in late-onset argininosuccinate lyase deficiency. Pediatr Dev Pathol. 2002;5:597–601.

16.

Nagamani SC, Campeau PM, Shchelochkov OA, Premkumar MH, Guse K, Brunetti-Pierri N, et al. Nitric-oxide supplementation for treatment of long-term complications in argininosuccinic aciduria. Am J Hum Genet. 2012;90:836–46.

17.

Ficicioglu C, Mandell R, Shih VE. Argininosuccinate lyase deficiency: longterm outcome of 13 patients detected by newborn screening. Mol Genet Metab. 2009;98:273–7.

18.

Baruteau J, Jameson E, Morris AA, Chakrapani A, Santra S, Vijay S, et al. Expanding the phenotype in argininosuccinic aciduria: need for new therapies. J Inherit Metab Dis. 2017;40:357–68.

19.

Brunetti-Pierri N, Erez A, Shchelochkov O, Craigen W, Lee B. Systemic hypertension in two patients with ASL deficiency: a result of nitric oxide deficiency? Mol Genet Metab. 2009;98:195–7.

20.

Nagamani SC, Shchelochkov OA, Mullins MA, Carter S, Lanpher BC, Sun Q, et al. A randomized controlled trial to evaluate the effects of high-dose versus low-dose of arginine therapy on hepatic function tests in argininosuccinic aciduria. Mol Genet Metab. 2012;107:315–21.

21.

Nagamani SC, Lee B, Erez A. Optimizing therapy for argininosuccinic aciduria. Mol Genet Metab. 2012;107:10–4.

22.

Keskinen P, Siitonen A, Salo M. Hereditary urea cycle diseases in Finland. Acta Paediatr. 2008;97:1412–9.

23.

Balmer C, Pandey AV, Rufenacht V, Nuoffer JM, Fang P, Wong LJ, et al. Mutations and polymorphisms in the human argininosuccinate lyase (ASL) gene. Hum Mutat. 2014;35:27–35.

24.

Tuchman M, Lee B, Lichter-Konecki U, Summar ML, Yudkoff M, Cederbaum SD, et al. Cross-sectional multicenter study of patients with urea cycle disorders in the United States. Mol Genet Metab. 2008;94:397–402.

25.

Summar ML, Koelker S, Freedenberg D, Le Mons C, Haberle J, Lee HS, et al. The incidence of urea cycle disorders. Mol Genet Metab. 2013;110:179–80.

26.

Uchino T, Endo F, Matsuda I. Neurodevelopmental outcome of long-term therapy of urea cycle disorders in Japan. J Inherit Metab Dis. 1998;21:151–9. Suppl 1

27.

Nakamura K, Kido J, Mitsubuchi H, Endo F. Diagnosis and treatment of urea cycle disorder in Japan. Pediatr Int. 2014;56:506–9.

28.

Han LS, Ye J, Qiu WJ, Gao XL, Wang Y, Gu XF. Selective screening for inborn errors of metabolism on clinical patients using tandem mass spectrometry in China: a four-year report. J Inherit Metab Dis. 2007;30:507–14.

29.

Niu DM, Chien YH, Chiang CC, Ho HC, Hwu WL, Kao SM, et al. Nationwide survey of extended newborn screening by tandem mass spectrometry in Taiwan. J Inherit Metab Dis. 2010;33:S295–S305.

30.

Chen BC, Ngu LH, Zabedah MY. Argininosuccinic aciduria: clinical and biochemical phenotype findings in Malaysian children. Malays J Pathol. 2010;32:87–95.

31.

Thong MK, Yunus ZM. Spectrum of inherited metabolic disorders in Malaysia. Ann Acad Med Singapore. 2008;37:66–65.
Acknowledgements
This study was supported in part by a grant from the National Research Foundation of Korea, funded by the Ministry of Education, Science, and Technology (NRF-2016M3A9B4915706).
Ethics declarations
Conflict of interest
The authors declare that they have no conflict of interest.
About this article
Cite this article
Kim, D., Ko, J.M., Kim, Ym. et al. Low prevalence of argininosuccinate lyase deficiency among inherited urea cycle disorders in Korea. J Hum Genet 63, 911–917 (2018). https://doi.org/10.1038/s10038-018-0467-2
Received:

Revised:

Accepted:

Published:

Issue Date: