Abstract
Germline CHEK2 mutations confer increased cancer risk, for breast and other types, which is variable depending on the specific mutation. Of these, Large Genomic Rearrangements (LGRs) have been rarely reported; to date only eight LGRs have been published with just the Czech founder mutation, the deletion of exons 9 and 10, being molecularly characterized and studied extensively. The present study aimed to molecularly define and determine the contribution of two rare, apparently novel CHEK2 LGRs, among Greek breast cancer patients. These specifically involve a ~6 kb in-frame deletion of exons 2 & 3 that removes CHEK2's FHA domain and a ~7.5 kb in-frame deletion of exon 6, which removes an α-helix of CHEK2's kinase domain. The latter was identified in 5 out of 2355 (0.22%) patients tested, while haplotype analysis revealed a common disease-associated haplotype, suggesting a single common ancestor and a Greek founder. Although in-frame, this LGR is predicted to be damaging by a yeast-based functional assay and structure–function predictions. The present study highlights the existence of rare, population-specific, genomic events in a known breast cancer predisposing gene, which can explain a proportion of hereditary breast cancer. Identification of such mutation carriers is rather important since appropriate clinical actionability will be inferred.
This is a preview of subscription content
Access options
Subscribe to Journal
Get full journal access for 1 year
$119.00
only $9.92 per issue
All prices are NET prices.
VAT will be added later in the checkout.
Tax calculation will be finalised during checkout.
Rent or Buy article
Get time limited or full article access on ReadCube.
from$8.99
All prices are NET prices.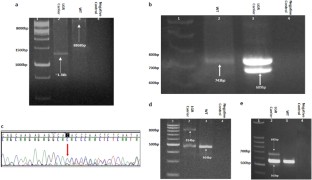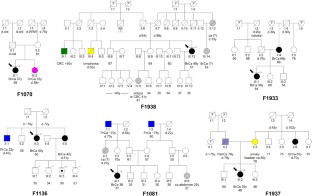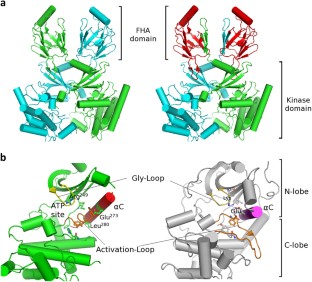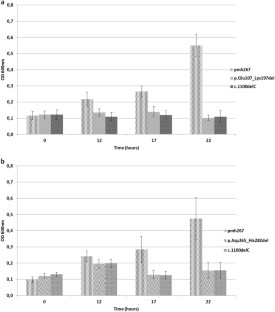 References
1.

Miki Y, Swensen J, Shattuck-Eidens D, Futreal PA, Harshman K, Tavtigian S, et al. A strong candidate for the breast and ovarian cancer susceptibility gene BRCA1. Science. 1994;266:66–71.

2.

Hall JM, Lee MK, Newman B, Morrow JE, Anderson LA, Huey B, et al. Linkage of early-onset familial breast cancer to chromosome 17q21. Science. 1990;250:1684–9.

3.

Wooster R, Bignell G, Lancaster J, Swift S, Seal S, Mangion J, et al. Identification of the breast cancer susceptibility gene BRCA2. Nature. 1995;378:789–92.

4.

Couch FJ, Shimelis H, Hu C, Hart SN, Polley EC, Na J, et al. Associations between cancer predisposition testing panel genes and breast cancer. JAMA Oncol. 2017;3:1190–6.

5.

Walsh T, Lee MK, Casadei S, Thornton AM, Stray SM, Pennil C, et al. Detection of inherited mutations for breast and ovarian cancer using genomic capture and massively parallel sequencing. Proc Natl Acad Sci USA. 2010;107:12629–33.

6.

Kurian AW, Hare EE, Mills MA, Kingham KE, McPherson L, Whittemore AS, et al. Clinical evaluation of a multiple-gene sequencing panel for hereditary cancer risk assessment. J Clin Oncol. 2014;32:2001–9.

7.

Tedaldi G, Tebaldi M, Zampiga V, Danesi R, Arcangeli V, Ravegnani M, et al. Multiple-gene panel analysis in a case series of 255 women with hereditary breast and ovarian cancer. Oncotarget. 2017;8:47064–75.

8.

Kraus C, Hoyer J, Vasileiou G, Wunderle M, Lux MP, Fasching PA, et al. Gene panel sequencing in familial breast/ovarian cancer patients identifies multiple novel mutations also in genes others than BRCA1/2. Int J Cancer. 2017;140:95–102.

9.

Cybulski C, Wokolorczyk D, Jakubowska A, Huzarski T, Byrski T, Gronwald J, et al. Risk of breast cancer in women with a CHEK2 mutation with and without a family history of breast cancer. J Clin Oncol. 2011;29:3747–52.

10.

Bartek J, Lukas JChk1. and Chk2 kinases in checkpoint control and cancer. Cancer Cell. 2003;3:421–9.

11.

Consortium CBCC-C. CHEK2*1100delC and susceptibility to breast cancer: a collaborative analysis involving 10,860 breast cancer cases and 9,065 controls from 10 studies. Am J Hum Genet. 2004;74:1175–82..

12.

Weischer M, Nordestgaard BG, Pharoah P, Bolla MK, Nevanlinna H, Van't Veer LJ, et al. CHEK2*1100delC heterozygosity in women with breast cancer associated with early death, breast cancer-specific death, and increased risk of a second breast cancer. J Clin Oncol. 2012;30:4308–16.

13.

Shaag A, Walsh T, Renbaum P, Kirchhoff T, Nafa K, Shiovitz S, et al. Functional and genomic approaches reveal an ancient CHEK2 allele associated with breast cancer in the Ashkenazi Jewish population. Hum Mol Genet. 2005;14:555–63.

14.

Kilpivaara O, Bartkova J, Eerola H, Syrjakoski K, Vahteristo P, Lukas J, et al. Correlation of CHEK2 protein expression and c.1100delC mutation status with tumor characteristics among unselected breast cancer patients. Int J Cancer. 2005;113:575–80.

15.

Schmidt MK, Tollenaar RA, de Kemp SR, Broeks A, Cornelisse CJ, Smit VT, et al. Breast cancer survival and tumor characteristics in premenopausal women carrying the CHEK2*1100delC germline mutation. J Clin Oncol. 2007;25:64–9.

16.

Cybulski C, Huzarski T, Byrski T, Gronwald J, Debniak T, Jakubowska A, et al. Estrogen receptor status in CHEK2-positive breast cancers: implications for chemoprevention. Clin Genet. 2009;75:72–8.

17.

Walsh T, Casadei S, Coats KH, Swisher E, Stray SM, Higgins J, et al. Spectrum of mutations in BRCA1, BRCA2, CHEK2, and TP53 in families at high risk of breast cancer. JAMA. 2006;295:1379–88.

18.

Teodorczyk U, Cybulski C, Wokolorczyk D, Jakubowska A, Starzynska T, Lawniczak M, et al. The risk of gastric cancer in carriers of CHEK2 mutations. Fam Cancer. 2013;12:473–8.

19.

Zlowocka E, Cybulski C, Gorski B, Debniak T, Slojewski M, Wokolorczyk D, et al. Germline mutations in the CHEK2 kinase gene are associated with an increased risk of bladder cancer. Int J Cancer. 2008;122:583–6.

20.

Cybulski C, Gorski B, Huzarski T, Masojc B, Mierzejewski M, Debniak T, et al. CHEK2 is a multiorgan cancer susceptibility gene. Am J Hum Genet. 2004;75:1131–5.

21.

Tedaldi G, Danesi R, Zampiga V, Tebaldi M, Bedei L, Zoli W, et al. First evidence of a large CHEK2 duplication involved in cancer predisposition in an Italian family with hereditary breast cancer. BMC Cancer. 2014;14:478.

22.

Slavin TP, Maxwell KN, Lilyquist J, Vijai J, Neuhausen SL, Hart SN, et al. The contribution of pathogenic variants in breast cancer susceptibility genes to familial breast cancer risk. NPJ Breast Cancer. 2017;3:22.

23.

Leedom TP, LaDuca H, McFarland R, Li S, Dolinsky JS, Chao EC. Breast cancer risk is similar for CHEK2 founder and non-founder mutation carriers. Cancer Genet. 2016;209:403–07.

24.

Cybulski C, Wokolorczyk D, Huzarski T, Byrski T, Gronwald J, Gorski B, et al. A deletion in CHEK2 of 5,395 bp predisposes to breast cancer in Poland. Breast Cancer Res Treat. 2007;102:119–22.

25.

Miller SA, Dykes DD, Polesky HF. A simple salting out procedure for extracting DNA from human nucleated cells. Nucleic Acids Res. 1988;16:1215.

26.

Rannala B, Bertorelle G. Using linked markers to infer the age of a mutation. Hum Mutat. 2001;18:87–100.

27.

Tischkowitz MD, Yilmaz A, Chen LQ, Karyadi DM, Novak D, Kirchhoff T, et al. Identification and characterization of novel SNPs in CHEK2 in Ashkenazi Jewish men with prostate cancer. Cancer Lett. 2008;270:173–80.

28.

Roeb W, Higgins J, King MC. Response to DNA damage of CHEK2 missense mutations in familial breast cancer. Hum Mol Genet. 2012;21:2738–44.

29.

Matsuoka S, Huang M, Elledge SJ. Linkage of ATM to cell cycle regulation by the Chk2 protein kinase. Science. 1998;282:1893–7.

30.

Zhao X, Georgieva B, Chabes A, Domkin V, Ippel JH, Schleucher J, et al. Mutational and structural analyses of the ribonucleotide reductase inhibitor Sml1 define its Rnr1 interaction domain whose inactivation allows suppression of mec1 and rad53 lethality. Mol Cell Biol. 2000;20:9076–83.

31.

den Dunnen JT, Dalgleish R, Maglott DR, Hart RK, Greenblatt MS, McGowan-Jordan J, et al. HGVS recommendations for the description of sequence variants: 2016 update. Hum Mutat. 2016;37:564–9.

32.

Cai Z, Chehab NH, Pavletich NP. Structure and activation mechanism of the CHK2 DNA damage checkpoint kinase. Mol Cell. 2009;35:818–29.

33.

Palmieri L, Rastelli G. alphaC helix displacement as a general approach for allosteric modulation of protein kinases. Drug Discov Today. 2013;18:407–14.

34.

Taylor SS, Shaw AS, Kannan N, Kornev AP. Integration of signaling in the kinome: architecture and regulation of the alphaC Helix. Biochim Biophys Acta. 2015;1854:1567–74.

35.

Kornev AP, Haste NM, Taylor SS, Eyck LF. Surface comparison of active and inactive protein kinases identifies a conserved activation mechanism. Proc Natl Acad Sci USA. 2006;103:17783–8.

36.

Taylor SS, Kornev AP. Protein kinases: evolution of dynamic regulatory proteins. Trends Biochem Sci. 2011;36:65–77.

37.

Meharena HS, Chang P, Keshwani MM, Oruganty K, Nene AK, Kannan N, et al. Deciphering the structural basis of eukaryotic protein kinase regulation. PLoS Biol. 2013;11:e1001680.

38.

Hu J, Ahuja LG, Meharena HS, Kannan N, Kornev AP, Taylor SS, et al. Kinase regulation by hydrophobic spine assembly in cancer. Mol Cell Biol. 2015;35:264–76.

39.

Schwarz JM, Cooper DN, Schuelke M, Seelow D. MutationTaster2: mutation prediction for the deep-sequencing age. Nat Methods. 2014;11:361–2.

40.

Choi Y, Sims GE, Murphy S, Miller JR, Chan AP. Predicting the functional effect of amino acid substitutions and indels. PLoS ONE. 2012;7:e46688.

41.

Apostolou P, Fostira F, Papamentzelopoulou M, Michelli M, Panopoulos C, Fountzilas G, et al. CHEK2 c.1100delC allele is rarely identified in Greek breast cancer cases. Cancer Genet. 2015;208:129–34.

42.

Krivokuca A, Dobricic J, Brankovic-Magic M. CHEK2 1100delC and Del5395bp mutations in BRCA-negative individuals from Serbian hereditary breast and ovarian cancer families. J BUON. 2013;18:594–600.

43.

Zheng J, Trafny EA, Knighton DR, Xuong NH, Taylor SS, Ten Eyck LF, et al. 2.2 a refined crystal structure of the catalytic subunit of cAMP-dependent protein kinase complexed with MnATP and a peptide inhibitor. Acta Crystallogr D Biol Crystallogr. 1993;49:362–5.
Acknowledgements
We thank the patients and their families for their participation in this study. P.A. acknowledges support from the research program ARISTEIA. This research was co-financed by the European Union (European Social Fund, ESF) and Greek national funds through the Operational Program 'Education and Lifelong Learning' of the National Strategic Reference Framework (NSRF)_Research Funding Program of the General Secretariat for Research & Technology (ARISTEIA 39, P. BROCA), which invests in knowledge society through the ESF.
Ethics declarations
Conflict of interest
The authors declare that they have no conflict of interest.
Electronic supplementary material
About this article
Cite this article
Apostolou, P., Fostira, F., Mollaki, V. et al. Characterization and prevalence of two novel CHEK2 large deletions in Greek breast cancer patients. J Hum Genet 63, 877–886 (2018). https://doi.org/10.1038/s10038-018-0466-3
Received:

Revised:

Accepted:

Published:

Issue Date:
Further reading
Carolina Pires
Inês Jorge Marques
Branca Maria Cavaco

Endocrine (2021)