Abstract
The predominant symptoms of trisomy 14 mosaicism are prenatal and postnatal growth failure, ear abnormalities, congenital heart disease, developmental delay, and genitourinary abnormalities. Maternal uniparental disomy of chromosome 14 (upd(14)mat) presents discernible clinical features such as prenatal and postnatal growth failure, hypotonia, precocious puberty, and obesity. Given the small number of previously reported patients with a combination of trisomy 14 mosaicism and upd(14)mat, the detailed clinical features of these patients remain to be elucidated. Here we report a severely short-statured girl with feeding difficulties and failure to thrive, ear abnormalities, deafness, small hands, and developmental delay. Karyotyping, FISH analysis, methylation analysis, and microsatellite marker analysis using her leukocytes and buccal cells showed that she had a combination of trisomy 14 mosaicism and upd(14)mat. Furthermore, a comparison of the clinical features of this patient with those of previously reported patients with genetic anomalies including the combination of trisomy 14 mosaicism and upd(14)mat or upd(14)mat suggested that the severe short stature observed in patients with a combination of trisomy 14 mosaicism and upd(14)mat stemmed from the synergic effect of these two events. In severely short-statured patients with trisomy 14 mosaicism, we should be aware of the possible coexistence of upd(14)mat.
This is a preview of subscription content
Access options
Subscribe to Journal
Get full journal access for 1 year
$119.00
only $9.92 per issue
All prices are NET prices.
VAT will be added later in the checkout.
Tax calculation will be finalised during checkout.
Rent or Buy article
Get time limited or full article access on ReadCube.
from$8.99
All prices are NET prices.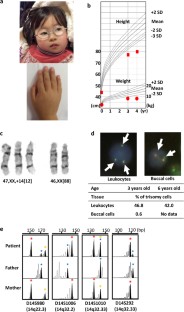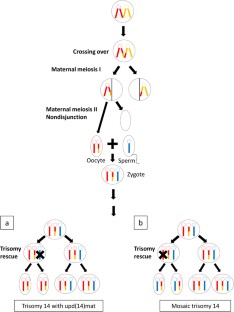 References
1.

da Rocha ST, Edwards CA, Ito M, Ogata T, Ferguson-Smith AC. Genomic imprinting at the mammalian Dlk1-Dio3 domain. Trends Genet 2008;24:306–16.

2.

Kagami M, Sekita Y, Nishimura G, Irie M, Kato F, Okada M, et al. Deletions and epimutations affecting the human 14q32.2 imprinted region in individuals with paternal and maternal upd(14)-like phenotypes. Nat Genet 2008;40:237–42.

3.

Kagami M, O'Sullivan MJ, Green AJ, Watabe Y, Arisaka O, Masawa N, et al. The IG-DMR and the MEG3-DMR at human chromosome 14q32.2: hierarchical interaction and distinct functional properties as imprinting control centers. PLoS Genet 2010;6:e1000992.

4.

Fujimoto A, Allanson J, Crowe CA, Lipson MH, Johnson VP. Natural history of mosaic trisomy 14 syndrome. Am J Med Genet 1992;44:189–96.

5.

Hur YJ, Hwang T. Complete trisomy 14 mosaicism: first live-born case in Korea. Korean J Pediatr 2012;55:393–6.

6.

Salas-Labadia C, Lieberman E, Cruz-Alcivar R, Navarrete-Meneses P, Gomez S, Cantu-Reyna C, et al. Partial and complete trisomy 14 mosaicism: clinical follow-up, cytogenetic and molecular analysis. Mol Cytogenet 2014;7:65.

7.

Temple IK, Cockwell A, Hassold T, Pettay D, Jacobs P. Maternal uniparental disomy for chromosome 14. J Med Genet 1991;28:511–4.

8.

Hoffmann K, Heller R. Uniparental disomies 7 and 14. Best Pract Res Clin Endocrinol Metab 2011;25:77–100.

9.

Ioannides Y, Lokulo-Sodipe K, Mackay DJ, Davies JH, Temple IK. Temple syndrome: improving the recognition of an underdiagnosed chromosome 14 imprinting disorder: an analysis of 51 published cases. J Med Genet 2014;51:495–501.

10.

Antonarakis SE, Blouin JL, Maher J, Avramopoulos D, Thomas G, Talbot CC Jr. Maternal uniparental disomy for human chromosome 14, due to loss of a chromosome 14 from somatic cells with t(13;14) trisomy 14. Am. J. Hum. Genet. 1993;52:1145–52.

11.

Kayashima T, Katahira M, Harada N, Miwa N, Ohta T, Yoshiura K, et al. Maternal isodisomy for 14q21-q24 in a man with diabetes mellitus. Am J Med Genet 2002;111:38–42.

12.

Balbeur S, Grisart B, Parmentier B, Sartenaer D, Leonard PE, Ullmann U, et al. Trisomy rescue mechanism: the case of concomitant mosaic trisomy 14 and maternal uniparental disomy 14 in a 15-year-old girl. Clin. Case. Rep. 2016;4:265–71.

13.

Zhang S, Qin H, Wang J, OuYang L, Luo S, Fu C, et al. Maternal uniparental disomy 14 and mosaic trisomy 14 in a Chinese boy with moderate to severe intellectual disability. Mol Cytogenet 2016;9:66.

14.

Kagami M, Mizuno S, Matsubara K, Nakabayashi K, Sano S, Fuke T, et al. Epimutations of the IG-DMR and the MEG3-DMR at the 14q32.2 imprinted region in two patients with Silver-Russell Syndrome-compatible phenotype. Eur J Hum Genet 2015;23:1062–7.

15.

Serra A, Arpaia E, Bova R. Kinetics of 21-Trisomic Lymphocytes. I. In vitro Response of 21-Trisomic Lymphocytes to PHA. Hum Genet 1978;41:157–67.

16.

Kagami M, Nagasaki K, Kosaki R, Horikawa R, Naiki Y, Saitoh S, et al. Temple syndrome: comprehensive molecular and clinical findings in 32 Japanese patients. Genet Med 2017; 10.1038/gim.2017.53.
Acknowledgements
We are grateful to the patient and her parents for their cooperation. This work was supported by Grants from the Japan Society for the Promotion of Science (JSPS) (15K15096), the National Center for Child Health and Development (28-6), the Japan Agency for Medical Research and Development (AMED) (16ek0109030h0003, 16ek0109141h0002), The Takeda Science Foundation, and The Japanese Society for Pediatric Endocrinology Future Development Grant.
Ethics declarations
Conflict of interest
The authors declare that they have no competing interests.
Electronic supplementary material
About this article
Cite this article
Ushijima, K., Yatsuga, S., Matsumoto, T. et al. A severely short-statured girl with 47,XX, + 14/46,XX,upd(14)mat, mosaicism. J Hum Genet 63, 377–381 (2018). https://doi.org/10.1038/s10038-017-0381-z
Received:

Revised:

Accepted:

Published:

Issue Date:
Further reading
V. I. Romero
J. C. Pozo
A. Tajima

Human Genome Variation (2020)