Abstract
BACKGROUND:
Tanshinone IIA (Tan-IIA) is one of the major lipophilic components isolated from the root of Salviae Miltiorrhizae Radix. We explored the mechanisms of cell death induced by Tan-IIA treatment in prostate cancer cells in vitro and in vivo.
METHODS:
Cells were treated with Tan-IIA and growth inhibition was assessed. Cell cycle profiles after Tan-IIA treatment were determined by flow cytometry. Expression levels of cell cycle regulatory proteins and apoptosis-related proteins were determined after Tan-IIA treatment. Expression levels of endoplasmic reticulum (ER) stress-regulated genes were determined to investigate their role in Tan-IIA-induced cell death. GADD153 expression was knocked down by small interfering RNA (siRNA) transfection. Rate of cell death and proliferation was obtained by 3-(4,5-dimethyl thizol-2-yl)-2,5-diphenyl tetrazolium bromide assay. Antitumor activity of Tan-IIA was performed in LNCaP xenograft model.
RESULTS:
Our results showed that Tan-IIA caused prostate cancer cell death in a dose-dependent manner, and cell cycle arrest at G0/G1 phase was noted, in LNCaP cells. The G0/G1 phase arrest correlated with increase levels of CDK inhibitors (p16, p21 and p27) and decrease of the checkpoint proteins. Tan-IIA also induced ER stress in prostate cancer cells: activation and nuclear translocation of GADD153/CCAAT/enhancer-binding protein-homologous protein (CHOP) were identified, and increased expression of the downstream molecules GRP78/BiP, inositol-requiring protein-1α and GADD153/CHOP were evidenced. Blockage of GADD153/CHOP expression by siRNA reduced Tan-IIA-induced cell death in LNCaP cells. Tan-IIA also suppressed LNCaP xenograft tumor growth, causing 86.4% reduction in tumor volume after 13 days of treatment.
CONCLUSIONS:
Our findings suggest that Tan-IIA causes G0/G1 cell cycle arrest in LNCaP cells and its cytotoxicity is mediated at least partly by ER stress induction. These data provide evidence supporting Tan-IIA as a potential anticancer agent by inducing ER stress in prostate cancer.
This is a preview of subscription content
Access options
Subscribe to Journal
Get full journal access for 1 year
$99.00
only $24.75 per issue
All prices are NET prices.
VAT will be added later in the checkout.
Tax calculation will be finalised during checkout.
Buy article
Get time limited or full article access on ReadCube.
$32.00
All prices are NET prices.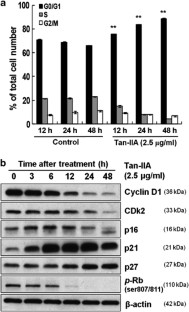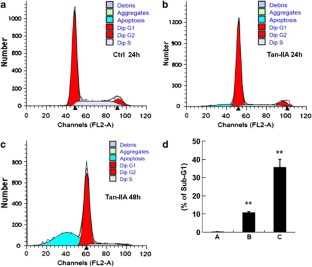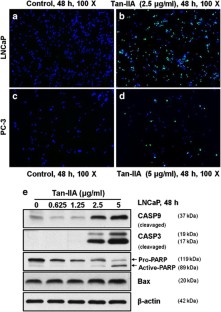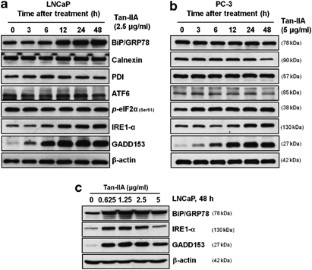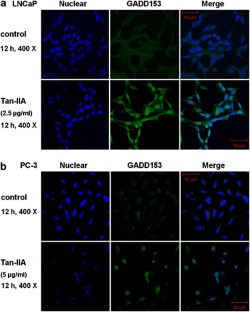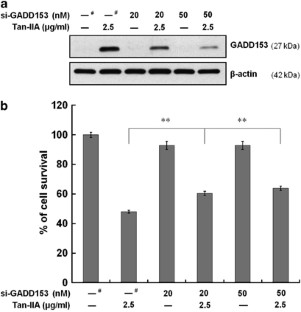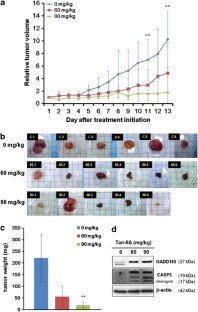 References
Hayat MJ, Howlader N, Reichman ME, Edwards BK . Cancer statistics, trends, and multiple primary cancer analyses from the Surveillance, Epidemiology, and End Results (SEER) Program. Oncologist 2007; 12: 20–37.

Xiao H, Verdier-Pinard P, Fernandez-Fuentes N, Burd B, Angeletti R, Fiser A et al. Insights into the mechanism of microtubule stabilization by Taxol. Proc Natl Acad Sci USA 2006; 103: 10166–10173.

Schiff PB, Fant J, Horwitz SB . Promotion of microtubule assembly in vitro by taxol. Nature 1979; 277: 665–667.

Jang SI, Kim HJ, Kim YJ, Jeong SI, You YO . Tanshinone IIA inhibits LPS-induced NF-kappaB activation in RAW 264.7 cells: possible involvement of the NIK-IKK, ERK1/2, p38 and JNK pathways. Eur J Pharmacol 2006; 542: 1–7.

Li W, Li J, Ashok M, Wu R, Chen D, Yang L et al. A cardiovascular drug rescues mice from lethal sepsis by selectively attenuating a late-acting proinflammatory mediator, high mobility group box 1. J Immunol 2007; 178: 3856–3864.

Lin R, Wang WR, Liu JT, Yang GD, Han CJ . Protective effect of tanshinone IIA on human umbilical vein endothelial cell injured by hydrogen peroxide and its mechanism. J Ethnopharmacol 2006; 108: 217–222.

Wang AM, Sha SH, Lesniak W, Schacht J . Tanshinone (Salviae miltiorrhizae extract) preparations attenuate aminoglycoside-induced free radical formation in vitro and ototoxicity in vivo. Antimicrob Agents Chemother 2003; 47: 1836–1841.

Jin UH, Suh SJ, Chang HW, Son JK, Lee SH, Son KH et al. Tanshinone IIA from Salvia miltiorrhiza BUNGE inhibits human aortic smooth muscle cell migration and MMP−9 activity through AKT signaling pathway. J Cell Biochem 2008; 104: 15–26.

Liu JJ, Lin DJ, Liu PQ, Huang M, Li XD, Huang RW . Induction of apoptosis and inhibition of cell adhesive and invasive effects by tanshinone IIA in acute promyelocytic leukemia cells in vitro. J Biomed Sci 2006; 13: 813–823.

Sung HJ, Choi SM, Yoon Y, An KS . Tanshinone IIA, an ingredient of Salvia miltiorrhiza BUNGE, induces apoptosis in human leukemia cell lines through the activation of caspase-3. Exp Mol Med 1999; 31: 174–178.

Su CC, Lin YH . Tanshinone IIA inhibits human breast cancer cells through increased Bax to Bcl-xL ratios. Int J Mol Med 2008; 22: 357–361.

Su CC, Chen GW, Kang JC, Chan MH . Growth inhibition and apoptosis induction by tanshinone IIA in human colon adenocarcinoma cells. Planta Medica 2008; 74: 1357–1362.

Li Q, Wang Y, Feng N, Fan Z, Sun J, Nan Y . Novel polymeric nanoparticles containing tanshinone IIA for the treatment of hepatoma. J Drug Target 2008; 16: 725–732.

Yuan SL, Wei YQ, Wang XJ, Xiao F, Li SF, Zhang J . Growth inhibition and apoptosis induction of tanshinone II-A on human hepatocellular carcinoma cells. World J Gastroenterol 2004; 10: 2024–2028.

Won SH, Lee HJ, Jeong SJ, Lu J, Kim SH . Activation of p53 signaling and inhibition of androgen receptor mediate tanshinone IIA induced G1 arrest in LNCaP prostate cancer cells. Phytother Res 2012; 26: 669–674.

Won SH, Lee HJ, Jeong SJ, Lee EO, Jung DB, Shin JM et al. Tanshinone IIA induces mitochondria dependent apoptosis in prostate cancer cells in association with an inhibition of phosphoinositide 3-kinase/AKT pathway. Biol Pharm Bull 2010; 33: 1828–1834.

Ron D . Translational control in the endoplasmic reticulum stress response. J Clin Invest 2002; 110: 1383–1388.

Di Sano F, Ferraro E, Tufi R, Achsel T, Piacentini M, Cecconi F . Endoplasmic reticulum stress induces apoptosis by an apoptosome-dependent but caspase 12-independent mechanism. J Biol Chem 2006; 281: 2693–2700.

Rao RV, Ellerby HM, Bredesen DE . Coupling endoplasmic reticulum stress to the cell death program. Cell Death Differ 2004; 11: 372–380.

Kaufman RJ . Stress signaling from the lumen of the endoplasmic reticulum: coordination of gene transcriptional and translational controls. Genes Dev 1999; 13: 1211–1233.

Ma Y, Hendershot LM . The role of the unfolded protein response in tumour development: friend or foe? Nat Rev Cancer 2004; 4: 966–977.

Oyadomari S, Mori M . Roles of CHOP/GADD153 in endoplasmic reticulum stress. Cell Death Differ 2004; 11: 381–389.

Ma Y, Brewer JW, Diehl JA, Hendershot LM . Two distinct stress signaling pathways converge upon the CHOP promoter during the mammalian unfolded protein response. J Mol Biol 2002; 318: 1351–1365.

Martin SJ, Green DR . Protease activation during apoptosis: death by a thousand cuts? Cell 1995; 82: 349–352.

Marciniak SJ, Yun CY, Oyadomari S, Novoa I, Zhang Y, Jungreis R et al. CHOP induces death by promoting protein synthesis and oxidation in the stressed endoplasmic reticulum. Genes Dev 2004; 18: 3066–33077.

Yan MY, Chien SY, Kuo SJ, Chen DR, Su CC . Tanshinone IIA inhibits BT-20 human breast cancer cell proliferation through increasing caspase 12, GADD153 and phospho-p38 protein expression. Int J Mol Med 2012; 29: 855–863.

Cheng CY, Su CC . Tanshinone IIA inhibits Hep-J5 cells by increasing calreticulin, caspase 12 and GADD153 protein expression. Int J Mol Med 2010; 26: 379–385.

Aggarwal BB, Shishodia S . Molecular targets of dietary agents for prevention and therapy of cancer. Biochem Pharmacol 2006; 71: 1397–1421.

Chan SE, Lai HW, Su CC, Kuo SJ, Chien SY, Lin HY et al. Effect of supplementation of tanshinone IIA and sodium tanshinone IIA sulfonate on the anticancer effect of epirubicin: an in vitro study. Evid Based Complement Alternat Med 2011; 2011: 841564.

Cheng CY, Su CC . Tanshinone IIA may inhibit the growth of small cell lung cancer H146 cells by up-regulating the Bax/Bcl-2 ratio and decreasing mitochondrial membrane potential. Mol Med Rep 2010; 3: 645–650.

Chien SY, Kuo SJ, Chen YL, Chen DR, Cheng CY, Su CC . Tanshinone IIA inhibits human hepatocellular carcinoma J5 cell growth by increasing Bax and caspase 3 and decreasing CD31 expression in vivo. Mol Med Rep 2012; 5: 282–286.

Chiu TL, Su CC . Tanshinone IIA induces apoptosis in human lung cancer A549 cells through the induction of reactive oxygen species and decreasing the mitochondrial membrane potential. Int J Mol Med 2010; 25: 231–236.

Su CC, Chien SY, Kuo SJ, Chen YL, Cheng CY, Chen DR . Tanshinone IIA inhibits human breast cancer MDA-MB-231 cells by decreasing LC3-II, Erb-B2 and NF-kappaBp65. Mol Med Rep 2012; 5: 1019–1022.

Reed SI, Bailly E, Dulic V, Hengst L, Resnitzky D, Slingerland J . G1 control in mammalian cells. J Cell Sci Suppl 1994; 18: 69–73.

Dobashi Y, Takehana T, Ooi A . Perspectives on cancer therapy: cell cycle blockers and perturbators. Curr Med Chem 2003; 10: 2549–2558.

Su CC, Chen GW, Lin JG . Growth inhibition and apoptosis induction by tanshinone I in human colon cancer Colo 205 cells. Int J Mol Med 2008; 22: 613–618.

Fu HY, Okada K, Liao Y, Tsukamoto O, Isomura T, Asai M et al. Ablation of C/EBP homologous protein attenuates endoplasmic reticulum-mediated apoptosis and cardiac dysfunction induced by pressure overload. Circulation 2010; 122: 361–369.

Chiu SC, Chen SP, Huang SY, Wang MJ, Lin SZ, Harn HJ et al. Induction of apoptosis coupled to endoplasmic reticulum stress in human prostate cancer cells by n-butylidenephthalide. PloS One 2012; 7: e33742.

Balk SP, Knudsen KE . AR, the cell cycle, and prostate cancer. Nucl Recept Signal 2008; 6: e001.

Overcash RF, Chappell VA, Green T, Geyer CB, Asch AS, Ruiz-Echevarria MJ . Androgen signaling promotes translation of TMEFF2 in prostate cancer cells via phosphorylation of the alpha subunit of the translation initiation factor 2. PloS One 2013; 8: e55257.

Chen X, Overcash R, Green T, Hoffman D, Asch AS, Ruiz-Echevarria MJ . The tumor suppressor activity of the transmembrane protein with epidermal growth factor and two follistatin motifs 2 (TMEFF2) correlates with its ability to modulate sarcosine levels. J Biol Chem 2011; 286: 16091–16100.
Acknowledgements
We thank Hsin-Rong Wu and Wei-Ping Huang for their assistance in animal studies. This work was supported by grants from the Hualien Tzu Chi Hospital, Buddhist Tzu Chi Medical Foundation, Hualien, Taiwan (TCSP-01-02, TCRD-I9801-03). The funders had no role in study design, data collection and analysis, decision to publish or preparation of the manuscript.
Ethics declarations
Competing interests
The authors declare no conflict of interest.
About this article
Cite this article
Chiu, S., Huang, S., Chen, S. et al. Tanshinone IIA inhibits human prostate cancer cells growth by induction of endoplasmic reticulum stress in vitro and in vivo. Prostate Cancer Prostatic Dis 16, 315–322 (2013). https://doi.org/10.1038/pcan.2013.38
Received:

Revised:

Accepted:

Published:

Issue Date:

DOI: https://doi.org/10.1038/pcan.2013.38
Keywords
tanshinone IIA

LNCaP cells

ER stress

apoptosis

GADD153/CHOP