Abstract
BACKGROUND:
5,10-Methylenetetrahydrofolate reductase (MTHFR) polymorphisms implicated in the cancer development, but the published studies had yielded inconsistent results.
METHODS:
Pubmed was searched for all published case–control studies about MTHFR polymorphisms and prostate cancer risk.
RESULTS:
In all, 13 studies including 5872 cases and 6255 controls described C677T genotypes, among which 9 articles, containing 2847 cases and 3657 controls described A1298C genotypes, were involved in our meta-analysis. Odds ratios (ORs) with 95% confidence intervals (CIs) were estimated to assess the association between MTHFR polymorphisms and prostate cancer risk, heterogeneity, publication bias and sensitivity were also calculated. Overall, meta-analysis indicated that the 677T allele was more likely to exert protective effect on prostate cancer risk (random-effects pooled OR, 0.78 (0.64–0.96); P=0.016 (P=0.033 for heterogeneity studies)) in a recessive genetic model, no associations were found in other genetic models or in comparing a/a versus A/A homozygous. Neither did we find any difference in effects on high or low aggressive prostate cancer. No evidence of an association of MTHFR A1298C polymorphism with prostate cancer was found.
CONCLUSIONS:
C677T of the MTHFR gene may provide protective effects on susceptibility to prostate cancer risk.
Relevant articles
Open Access articles citing this article.
Tauheed Hasan

,

Reetika Arora

…

Laishram Rajendrakumar Singh

Experimental & Molecular Medicine Open Access 21 February 2019

P Razavi

,

K A Rand

…

S Ailawadhi

Blood Cancer Journal Open Access 28 June 2013
Access options
Subscribe to this journal
Receive 4 print issues and online access
$259.00 per year
only $64.75 per issue
Rent or buy this article
Prices vary by article type
from$1.95
to$39.95
Prices may be subject to local taxes which are calculated during checkout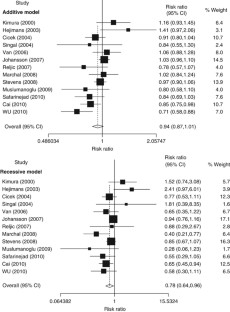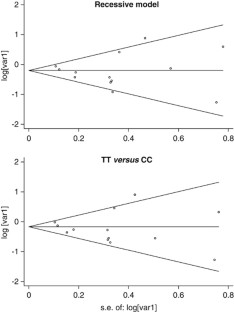 References
Hsing AW, Chokkalingam AP . Prostate cancer epidemiology. Front Biosci 2006; 11: 1388–1413.

Dobosy JR, Roberts JL, Fu VX, Jarrard DF . The expanding role of epigenetics in the development, diagnosis and treatment of prostate cancer and benign prostatic hyperplasia. J Urol 2007; 177: 822–831.

Murphy TM, Perry AS, Lawler M . The emergence of DNA methylation as a key modulator of aberrant cell death in prostate cancer. Endocr Relat Cancer 2008; 15: 11–25.

Frosst P, Blom HJ, Milos R, Goyette P, Sheppard CA, Matthews RG et al. A candidate genetic risk factor for vascular disease: a common mutation in methylenetetrahydrofolate reductase. Nat Genet 1995; 10: 111–113.

Weisberg IS, Jacques PF, Selhub J, Bostom AG, Chen Z, Curtis Ellison R et al. The 1298A–C polymorphism in methylenetetrahydrofolate reductase (MTHFR): in vitro expression and association with homocysteine. Atherosclerosis 2001; 156: 409–415.

Nelson WG, De Marzo AM, Isaacs WB . Prostate cancer. New Engl J Med 2003; 49: 366–381.

Lee WH, Isaacs WB, Bova GS, Nelso WG . CG island methylation changes near the GSTP1 gene in prostatic carcinoma cells detected using the polymerase chain reaction: a new prostate cancer biomarker. Cancer Epidemiol Biomarkers Prev 1997; 6: 443–450.

Fenech M . The role of folic acid and Vitamin B12 in genomic stability of human cells. Mutat Res 2001; 475: 57–67.

Choi SW, Friso S . Interaction between folate and methylene-tetrahydrofolate reductase gene in cancer. In: Choi SW, Friso S, (eds). Nutrient-Gene Interactions in Cancer. CRC Press, Florida, USA, 2006; p: 57–74.

Dong LM, Potter JD, White E, Ulrich CM, Cardon LR, Peters U . Genetic susceptibility to cancer: the role of polymorphisms in candidate genes. JAMA 2008; 299: 2423–2436.

Ulrich CM . Genetic variability in folate-mediated one-carbon metabolism and cancer risk. In: Choi SW, Friso S, (eds). Nutrient-Gene Interactions in Cancer. CRC Press, Florida, USA, 2006, pp 75–91.

Bai JL, Zheng MH, Xia X, Ter-Minassian M, Chen YP, Chen F . MTHFR C677T polymorphism contributes to prostate cancer risk among Caucasians: A meta-analysis of 3511 cases and 2762 controls. Eur J cancer 2009; 45: 1443–1449.

Collin SM, Metcalfe C, Zuccolo L, Lewis SJ, Chen L, Cox A et al. Association of folate-pathway gene polymorphisms with the risk of prostate cancer: a population-based nested case-control study, systematic review, and meta-analysis. Cance Epidemiol Biomarkers Prev 2009; 18: 2528–2539.

DerSimonian R, Laird N . Meta-analysis in clinical trials. Control Clin Trials 1986; 7: 177–188.

Aurelio T . Assessing the influence of a single study in the meta-analysis estimate. Stata Tech Bull 1999; 8: 15–17.

Egger M, Davey Smith G, Schneider M, Minder C . Bias in meta-analysis detected by a simple, graphical test. BMJ 1997; 315: 629–634.

Kimura F, Franke KH, Steinhoff C, Golka K, Roemer HC, Anastasiadis AG et al. Methyl group metabolism gene polymorphisms and susceptibility to prostatic carcinoma. Prostate 2000; 45: 225–231.

Heijmans BT, Boer JM, Suchiman HE, Cornelisse CJ, Westendorp RG, Kromhout D et al. A common variant of the methylenetetrahydrofolate reductase gene (1p36) is associated with an increased risk of cancer. Cancer Res 2003; 63: 1249–1253.

Cicek MS, Nock NL, Li L, Conti DV, Casey G, Witte JS . Relationship between methylenetetrahydrofolate reductase C677T and A1298C genotypes and haplotypes and prostate cancer risk and aggressiveness. Cancer Epidemiol Biomarkers Prev 2004; 13: 1331–1336.

Singal R, Ferdinand L, Das PM, Reis IM, Schlesselman JJ . Polymorphisms in the methylenetetrahydrofolate reductase gene and prostate cancer risk. Int J Oncol 2004; 25: 1465–1471.

Van Guelpen BR, Wirén SM, Bergh AR, Hallmans G, Stattin PE, Hultdin J . Polymorphisms of methylenetetrahydrofolate reductase and the risk of prostate cancer: a nested case-control study. Eur J Cancer Prev 2006; 15: 46–50.

Johansson M, Van Guelpen B, Hultdin J, Wiklund F, Adami HO, Bälter K et al. The MTHFR 677C–T polymorphism and risk of prostate cancer: results from the CAPS study. Cancer Causes Control 2007; 18: 1169–1174.

Reljic A, Simundic AM, Topic E, Nikolac N, Justinic D, Stefanovic M . The methylenetetrahydrofolate reductase (MTHFR) C677T polymorphism and cancer risk: the Croatian case-control study. Clin Biochem 2007; 40: 981–985.

Marchal C, Redondo M, Reyes-Engel A, Perea-Milla E, Gaitan MJ, Machuca J et al. Association between polymorphisms of folate-metabolizing enzymes and risk of prostate cancer. Eur J Surg Oncol 2008; 34: 805–810.

Stevens VL, Rodriguez C, Sun J, Talbot JT, Thun MJ, Calle EE . No association of single nucleotide polymorphisms in one-carbon metabolism genes with prostate cancer risk. Cancer Epidemiol Biomarkers Prev 2008; 17: 3612–3614.

Muslumanoglu MH, Tepeli E, Demir S, Uludag A, Uzun D, Atli E et al. The analysis of the relationship between A1298C and C677T polymorphisms of the MTHFR gene with prostate cancer in Eskisehir population. Genet Test Mol Biomarkers 2009; 13: 641–645.

Safarinejad MR, Shafiei N, Safarinejad S . Relationship between three polymorphisms of methylenetetrahydrofolate reductase (MTHFR C677T, A1298C, and G1793A) gene and risk of prostate cancer: a case-control study. Prostate 2010; 70: 1645–1657.

Cai D, Ning L, Pan C, Liu X, Bu R, Chen X et al. Association of polymorphisms in folate metabolic genes and prostate cancer risk: a case-control study in a Chinese population. J Genet 2010; 89: 263–267.

Wu HC, Chang CH, Tsai RY, Lin CH, Wang RF, Tsai CW et al. Significant association of methylenetetrahydrofolate reductase single nucleotide polymorphisms with prostate cancer susceptibility in taiwan. Anticancer Res 2010; 30: 3573–3577.

Matsuo K, Suzuki R, Hamajima N, Ogura M, Kagami Y, Taji H et al. Association between polymorphisms of folate- and methionine-metabolizing enzymes and susceptibility to malignant lymphoma. Blood 2001; 97: 3205–3209.

Chen J, Giovannucci E, Hankinson SE, Ma J, Willett WC, Spiegelman D et al. A prospective study of methylenetetrahydrofolate reductase and methionine synthase gene polymorphisms, and risk of colorectal adenoma. Carcinogenesis 1998; 19: 2129–2132.

Pavillard V, Drbal AA, Swaine DJ, Phillips RM, Double JA, Nicolaou A . Analysis of cell-cycle kinetics and sulfur amino acid metabolism in methioninedependent tumor cell lines; the effect of homocysteine supplementation. Biochem Pharmacol 2004; 67: 1587–1599.
Acknowledgements
This work was supported by grants from the National Natural Science Foundation of China (no._81001185), Universities Natural Science Foundation of Jiangsu Province (no._10KJB310011) and the Social Development Foundation of Suzhou (no_YJS0905).
Ethics declarations
Competing interests
The authors declare no conflict of interest.
About this article
Cite this article
Li, XL., Xu, JH. MTHFR polymorphism and the risk of prostate cancer: a meta-analysis of case–control studies. Prostate Cancer Prostatic Dis 15, 244–249 (2012). https://doi.org/10.1038/pcan.2012.5
Received:

Revised:

Accepted:

Published:

Issue Date:

DOI: https://doi.org/10.1038/pcan.2012.5
Keywords
This article is cited by
Tauheed Hasan
Reetika Arora
Laishram Rajendrakumar Singh

Experimental & Molecular Medicine (2019)

Jason Gandhi
Adil Afridi
Sardar Ali Khan

Prostate Cancer and Prostatic Diseases (2018)

P Razavi
K A Rand
S Ailawadhi

Blood Cancer Journal (2013)