Abstract
We assessed self-reported health-related quality of life (HRQoL) and longitudinal changes in sex hormones among 86 prostate cancer (PCa) patients without distant metastases 5 years after radiotherapy (RT) combined with ongoing antiandrogen (AA) treatment. HRQoL outcomes were compared with scores from age-matched controls without a cancer diagnosis (NORM). Compared with NORM, patients scored statistically (P<0.05) and clinically (effect size ⩾0.4) lower on sexual domains, and statistically (P<0.05) lower on physical function and vitality. Estimated free testosterone and measured serum estradiol had increased from baseline in most patients, but did not correlate with HRQoL outcomes 5 years after the start of treatment.
Access options
Subscribe to this journal
Receive 4 print issues and online access
$259.00 per year
only $64.75 per issue
Rent or buy this article
Get just this article for as long as you need it
$39.95
Prices may be subject to local taxes which are calculated during checkout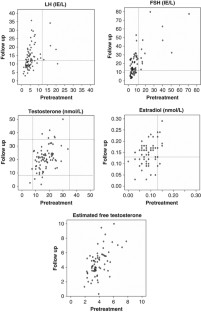 References
Bestmann B, Loetters C, Diemer T, Weidner W, Kuchler T, Rohde V . Prostate-specific symptoms of prostate cancer in a German general population. Prostate Cancer Prostatic Dis 2006; 10: 52–59.

Fossa SD, Dahl AA, Loge JH . Fatigue, Anxiety, and Depression in Long-Term Survivors of Testicular Cancer. J Clin Oncol 2003; 21: 1249–1254.

See WA, Tyrrell CJ . The addition of bicalutamide 150 mg to radiotherapy significantly improves overall survival in men with locally advanced prostate cancer. J Cancer Res Clin Oncol 2006; 132 (Suppl 1): S7–S16.

Widmark A, Klepp O, Solberg A, Damber JE, Angelsen A, Fransson P et al. Endocrine treatment, with or without radiotherapy, in locally advanced prostate cancer (SPCG-7/SFUO-3): an open randomised phase III trial. Lancet 2008; 373: 301–308 e-pub ahead of print).

Alibhai SM, Gogov S, Allibhai Z . Long-term side effects of androgen deprivation therapy in men with non-metastatic prostate cancer: a systematic literature review. Crit Rev Oncol Hematol 2006; 60: 201–215.

Novak A, Brod M, Elbers J . Andropause and quality of life: findings from patient focus groups and clinical experts. Maturitas 2002; 43: 231–237.

Schroder FH, Collette L, de Reijke TM, Whelan P . Prostate cancer treated by anti-androgens: is sexual function preserved? EORTC Genitourinary Group. European Organization for Research and Treatment of Cancer. Br J Cancer 2000; 82: 283–290.

Iversen P, Tyrrell CJ, Kaisary AV, Anderson JB, Baert L, Tammela T et al. Casodex (bicalutamide) 150-mg monotherapy compared with castration in patients with previously untreated nonmetastatic prostate cancer: results from two multicenter randomized trials at a median follow-up of 4 years. Urology 1998; 51: 389–396.

Iversen P . Quality of life issues relating to endocrine treatment options. Eur Urol 1999; 36 (Suppl 2): 20–26.

Mostofi FK, Davis Jr CJ, Sesterhenn IA . Pathology of carcinoma of the prostate. Cancer 1992; 70 (1 Suppl): 235–253.

Murphy GP, Busch C, Abrahamsson PA, Epstein JI, McNeal JE, Miller GJ et al. Histopathology of localized prostate cancer. Consensus Conference on Diagnosis and Prognostic Parameters in Localized Prostate Cancer. Stockholm, Sweden, May 12–13, 1993. Scand J Urol Nephrol Suppl 1994; 162: 7–42.

Epstein JI, Allsbrook Jr WC, Amin MB, Egevad LL . The 2005 International Society of Urological Pathology (ISUP) Consensus Conference on Gleason Grading of Prostatic Carcinoma. Am J Surg Pathol 2005; 29: 1228–1242.

Paus E, Nilsson O, Bormer OP, Fossa SD, Otnes B, Skovlund E . Stability of free and total prostate specific antigen in serum from patients with prostate carcinoma and benign hyperplasia. J Urol 1998; 159: 1599–1605.

Stewart AL, Hays RD, Ware Jr JE . The MOS short-form general health survey. Reliability and validity in a patient population. Med Care 1988; 26: 724–735.

Ware Jr JE, Snow KK, Kosinski M . SF-36 Health Survey: Manual and Interpretation Guide. QualityMetric Incorporated: Lincoln, RI, 2000.

Ware Jr JE, Gandek B, Kosinski M, Aaronson NK, Apolone G, Brazier J et al. The equivalence of SF-36 summary health scores estimated using standard and country-specific algorithms in 10 countries: results from the IQOLA Project. International Quality of Life Assessment. J Clin Epidemiol 1998; 51: 1167–1170.

Zigmond AS, Snaith RP . The hospital anxiety and depression scale. Acta Psychiatr Scand 1983; 67: 361–370.

Chalder T, Berelowitz G, Pawlikowska T, Watts L, Wessely S, Wright D et al. Development of a fatigue scale. J Psychosom Res 1993; 37: 147–153.

Pawlikowska T, Chalder T, Hirsch SR, Wallace P, Wright DJ, Wessely SC . Population based study of fatigue and psychological distress. BMJ 1994; 308: 763–766.

O'Leary MP, Fowler FJ, Lenderking WR, Barber B, Sagnier PP, Guess HA et al. A brief male sexual function inventory for urology. Urology 1995; 46: 697–706.

Mykletun A, Dahl AA, O'Leary MP, Fossa SD . Assessment of male sexual function by the Brief Sexual Function Inventory. BJU Int 2006; 97: 316–323.

Cohen J . Statistical power analysis fo the behavioural sciences, (2nd ed) Lawrence Earlbaum Associates: Hillsdale, NJ, 1998.

Lipsey MW, Wilson DB . Practical meta-analysis. Thousand Oaks, CA: SAGE publications, inc, 2001.

Thornton AA, Perez MA . Posttraumatic growth in prostate cancer survivors and their partners. Psychooncology 2006; 15: 285–296.

Korfage IJ, Essink-Bot ML, Borsboom GJ, Madalinska JB, Kirkels WJ, Habbema JD et al. Five-year follow-up of health-related quality of life after primary treatment of localized prostate cancer. Int J Cancer 2005; 116: 291–296.

Burnett AL, Aus G, Canby-Hagino ED, Cookson MS, D'Amico AV, Dmochowski RR et al. Erectile Function Outcome Reporting After Clinically Localized Prostate Cancer Treatment. J Urol 2007; 178: 597–601.

Tyrrell CJ, Payne H, See WA, McLeod DG, Wirth MP, Iversen P et al. Bicalutamide (′Casodex′) 150 mg as adjuvant to radiotherapy in patients with localised or locally advanced prostate cancer: results from the randomised Early Prostate Cancer Programme. Radiother Oncol 2005; 76: 4–10.

Iversen P . The third analysis of the bicalutamide Early Prostate Cancer programme. BJU Int 2006; 97: 438–439.

Boccon-Gibod L, Fournier G, Bottet P, Marechal JM, Guiter J, Rischman P et al. Flutamide versus orchidectomy in the treatment of metastatic prostate carcinoma. Eur Urol 1997; 32: 391–395.

Eri LM, Haug E, Tveter KJ . Effects on the endocrine system of long-term treatment with the non-steroidal anti-androgen Casodex in patients with benign prostatic hyperplasia. Br J Urol 1995; 75: 335–340.

Byar DP . Proceedings: The Veterans Administration Cooperative Urological Research Group's studies of cancer of the prostate. Cancer 1973; 32: 1126–1130.

McLeod DG, Iversen P, See WA, Morris T, Armstrong J, Wirth MP . Bicalutamide 150 mg plus standard care vs standard care alone for early prostate cancer. BJU Int 2006; 97: 247–254.

D'Amico AV, Chen MH, Renshaw AA, Loffredo M, Kantoff PW . Androgen suppression and radiation vs radiation alone for prostate cancer: a randomized trial. JAMA 2008; 299: 289–295.

Singh SM, Gauthier S, Labrie F . Androgen receptor antagonists (antiandrogens): structure-activity relationships. Curr Med Chem 2000; 7: 211–247.

Kolvenbag GJ, Furr BJ, Blackledge GR . Receptor affinity and potency of non-steroidal antiandrogens: translation of preclinical findings into clinical activity. Prostate Cancer Prostatic Dis 1998; 1: 307–314.
Acknowledgements
The authors acknowledge Aasmund Berner, MD, PhD for Gleason grading and professor Elisabeth Paus, PhD for her efforts related to PSA measurements.
About this article
Cite this article
Berg, A., Dahl, A., Bruland, Ø. et al. Definitive radiotherapy with adjuvant long-term antiandrogen treatment for locally advanced prostate cancer: health-related quality of life and hormonal changes. Prostate Cancer Prostatic Dis 12, 269–276 (2009). https://doi.org/10.1038/pcan.2009.8
Received:

Revised:

Accepted:

Published:

Issue Date:

DOI: https://doi.org/10.1038/pcan.2009.8
Keywords
antiandrogens

health-related quality of life

radiotherapy
This article is cited by
Takashi Mizowaki
Yoshiki Norihisa
Masahiro Hiraoka

International Journal of Clinical Oncology (2016)