Abstract
The transmission of cellular information requires fine and subtle regulation of proteins that need to interact in a coordinated and specific way to form efficient signaling networks. The spatial and temporal coordination relies on scaffold proteins. Thanks to protein interaction domains such as PDZ domains, scaffold proteins organize multiprotein complexes enabling the proper transmission of cellular information through intracellular networks. NHERF1/EBP50 is a PDZ-scaffold protein that was initially identified as an organizer and regulator of transporters and channels at the apical side of epithelia through actin-binding ezrin-moesin-radixin proteins. Since, NHERF1/EBP50 has emerged as a major regulator of cancer signaling network by assembling cancer-related proteins. The PDZ-scaffold EBP50 carries either anti-tumor or pro-tumor functions, two antinomic functions dictated by EBP50 expression or subcellular localization. The dual function of NHERF1/EBP50 encompasses the regulation of several major signaling pathways engaged in cancer, including the receptor tyrosine kinases PDGFR and EGFR, PI3K/PTEN/AKT and Wnt-β-catenin pathways.
Relevant articles
Open Access articles citing this article.
Ako Yokoi

,

Marina Minami

…

Makoto Saegusa

Cell Communication and Signaling Open Access 21 November 2022

Yu-Chen Chang

,

Chien-Ju Lin

…

Hsin-Yin Hsu

Lipids in Health and Disease Open Access 10 October 2021

Qiqi Wang

,

Qiong Qin

…

Junqi He

Cell Death & Disease Open Access 04 June 2018
Access options
Subscribe to Journal
Get full journal access for 1 year
$119.00
only $2.38 per issue
All prices are NET prices.
VAT will be added later in the checkout.
Tax calculation will be finalised during checkout.
Buy article
Get time limited or full article access on ReadCube.
$32.00
All prices are NET prices.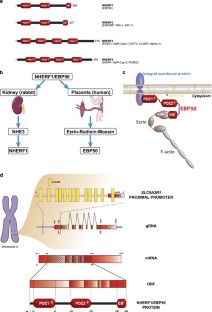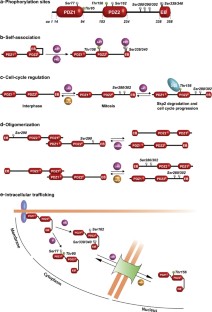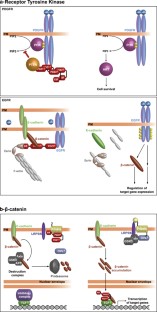 References
Good MC, Zalatan JG, Lim WA . Scaffold proteins: hubs for controlling the flow of cellular information. Science 2011; 332: 680–686.

Langeberg LK, Scott JD . Signalling scaffolds and local organization of cellular behaviour. Nat Rev Mol Cell Biol 2015; 16: 232–244.

Vondriska TM, Pass JM, Ping P . Scaffold proteins and assembly of multiprotein signaling complexes. J Mol Cell Cardiol 2004; 37: 391–397.

Dard N, Peter M . Scaffold proteins in MAP kinase signaling: more than simple passive activating platforms. Bioessays 2006; 28: 146–156.

Claperon A, Therrien M . KSR and CNK: two scaffolds regulating RAS-mediated RAF activation. Oncogene 2007; 26: 3143–3158.

Cortese MS, Uversky VN, Dunker AK . Intrinsic disorder in scaffold proteins: getting more from less. Prog Biophys Mol Biol 2008; 98: 85–106.

Hung AY, Sheng M . PDZ domains: structural modules for protein complex assembly. J Biol Chem 2002; 277: 5699–5702.

Nourry C, Grant SG, Borg JP . PDZ domain proteins: plug and play!. Sci STKE 2003; 2003: RE7.

Weinman EJ, Steplock D, Wang Y, Shenolikar S . Characterization of a protein cofactor that mediates protein kinase A regulation of the renal brush border membrane Na(+)-H+ exchanger. J Clin Invest 1995; 95: 2143–2149.

Reczek D, Berryman M, Bretscher A . Identification of EBP50: A PDZ-containing phosphoprotein that associates with members of the ezrin-radixin-moesin family. J Cell Biol 1997; 139: 169–179.

Yun CH, Lamprecht G, Forster DV, Sidor A . NHE3 kinase A regulatory protein E3KARP binds the epithelial brush border Na+/H+ exchanger NHE3 and the cytoskeletal protein ezrin. J Biol Chem 1998; 273: 25856–25863.

Yun CH, Oh S, Zizak M, Steplock D, Tsao S, Tse CM et al. cAMP-mediated inhibition of the epithelial brush border Na+/H+ exchanger, NHE3, requires an associated regulatory protein. Proc Natl Acad Sci USA 1997; 94: 3010–3015.

Custer M, Spindler B, Verrey F, Murer H, Biber J . Identificationof a new gene product (diphor-1) regulated by dietary phosphate. Am J Physiol 1997; 273: F801–F806.

Kocher O, Comella N, Gilchrist A, Pal R, Tognazzi K, Brown LF et al. PDZK1, a novel PDZ domain-containing protein up-regulated in carcinomas and mapped to chromosome 1q21, interacts with cMOAT (MRP2), the multidrug resistance-associated protein. Lab Invest 1999; 79: 1161–1170.

Wang S, Yue H, Derin RB, Guggino WB, Li M . Accessory protein facilitated CFTR-CFTR interaction. a molecular mecanism to potentiate the chloride channel activity. Cell 2000; 103: 169–179.

Gisler SM, Stagljar I, Traebert M, Bacic D, Biber J, Murer H . Interaction of the type IIa Na/Pi cotransporter with PDZ proteins. J Biol Chem 2001; 276: 9206–9213.

Scott RO, Thelin WR, Milgram SL . A novel PDZ protein regulates the activity of guanylyl cyclase C, the heat-stable enterotoxin receptor. J Biol Chem 2002; 277: 22934–22941.

Weinman EJ, Steplock D, Shenolikar S . cAMP-mediated inhibition of the renal brush border membrane Na+-H+ exchanger requires a dissociable phosphoprotein cofactor. J Clin Invest 1993; 92: 1781–1786.

Ediger TR, Kraus WL, Weinman EJ, Katzenellenbogen BS . Estrogen receptor regulation of the Na+/H+ exchange regulatory factor. Endocrinology 1999; 140: 2976–2982.

Fouassier L, Duan CY, Feranchak AP, Yun CH, Sutherland E, Simon F et al. Ezrin-radixin-moesin-binding phosphoprotein 50 is expressed at the apical membrane of rat liver epithelia. Hepatology 2001; 33: 166–176.

Ingraffea J, Reczek D, Bretscher A . Distinct cell type-specific expression of scaffolding proteins EBP50 and E3KARP: EBP50 is generally expressed with ezrin in specific epithelia, whereas E3KARP is not. Eur J Cell Biol 2002; 81: 61–68.

Georgescu MM, Cote G, Agarwal NK, White CL 3rd . NHERF1/EBP50 controls morphogenesis of 3D colonic glands by stabilizing PTEN and ezrin-radixin-moesin proteins at the apical membrane. Neoplasia 2014; 16: e361–e362.

Sheng R, Chen Y, Yung Gee H, Stec E, Melowic HR, Blatner NR et al. Cholesterol modulates cell signaling and protein networking by specifically interacting with PDZ domain-containing scaffold proteins. Nat Commun 2012; 3: 1249.

Hanono A, Garbett D, Reczek D, Chambers DN, Bretscher A . EPI64 regulates microvillar subdomains and structure. J Cell Biol 2006; 175: 803–813.

Chiba H, Sakai N, Murata M, Osanai M, Ninomiya T, Kojima T et al. The nuclear receptor hepatocyte nuclear factor 4alpha acts as a morphogen to induce the formation of microvilli. J Cell Biol 2006; 175: 971–980.

Garbett D, LaLonde DP, Bretscher A . The scaffolding protein EBP50 regulates microvillar assembly in a phosphorylation-dependent manner. J Cell Biol 2010; 191: 397–413.

Saotome I, Curto M, McClatchey AI . Ezrin is essential for epithelial organization and villus morphogenesis in the developing intestine. Dev Cell 2004; 6: 855–864.

Voltz JW, Brush M, Sikes S, Steplock D, Weinman EJ, Shenolikar S . Phosphorylation of PDZI domain attenuates NHERF-1 binding to cellular targets. J Biol Chem 2007; 282: 33879–33887.

Morales FC, Takahashi Y, Kreimann EL, Georgescu MM . Ezrin-radixin-moesin (ERM)-binding phosphoprotein 50 organizes ERM proteins at the apical membrane of polarized epithelia. Proc Natl Acad Sci USA 2004; 101: 17705–17710.

Broere N, Chen M, Cinar A, Singh AK, Hillesheim J, Riederer B et al. Defective jejunal and colonic salt absorption and alteredNa(+)/H (+) exchanger 3 (NHE3) activity in NHE regulatory factor 1 (NHERF1) adaptor protein-deficient mice. Pflugers Arch 2009; 457: 1079–1091.

Georgescu MM, Gagea M, Cote G . NHERF1/EBP50 suppresses wnt-beta-catenin pathway-driven intestinal neoplasia. Neoplasia 2016; 18: 512–523.

Hayashi Y, Molina JR, Hamilton SR, Georgescu MM . NHERF1/EBP50 is a new marker in colorectal cancer. Neoplasia 2010; 12: 1013–1022.

Boratko A, Gergely P, Csortos C . Cell cycle dependent association of EBP50 with protein phosphatase 2A in endothelial cells. PLoS One 2012; 7: e35595.

Song GJ, Barrick S, Leslie KL, Bauer PM, Alonso V, Friedman PA et al. The scaffolding protein EBP50 promotes vascular smooth muscle cell proliferation and neointima formation by regulating Skp2 and p21(cip1). Arterioscler Thromb Vasc Biol 2012; 32: 33–41.

Song GJ, Leslie KL, Barrick S, Bougoin S, Taboas JM, Bisello A . EBP50 promotes focal adhesion turnover and vascular smooth muscle cells migration. J Mol Cell Cardiol 2012; 53: 809–819.

Baeyens N, de Meester C, Yerna X, Morel N . EBP50 is involved in the regulation of vascular smooth muscle cell migration and cytokinesis. J Cell Biochem 2011; 112: 2574–2584.

Georgescu MM, Yell P, Mobley BC, Shang P, Georgescu T, Wang SH et al. NHERF1/EBP50 is an organizer of polarity structures and a diagnostic marker in ependymoma. Acta Neuropathol Commun 2015; 3: 11.

Vitureira N, Andres R, Perez-Martinez E, Martinez A, Bribian A, Blasi J et al. Podocalyxin is a novel polysialylated neural adhesion protein with multiple roles in neural development and synapse formation. PLoS One 2010; 5: e12003.

Rangwala R, Banine F, Borg JP, Sherman LS . Erbin regulates mitogen-activated protein (MAP) kinase activation and MAP kinase-dependent interactions between Merlin and adherens junction protein complexes in Schwann cells. J Biol Chem 2005; 280: 11790–11797.

Schroeder TM, Nair AK, Staggs R, Lamblin AF, Westendorf JJ . Gene profile analysis of osteoblast genes differentially regulated by histone deacetylase inhibitors. BMC Genomics 2007; 8: 362.

Liu L, Alonso V, Guo L, Tourkova I, Henderson SE, Almarza AJ et al. Na+/H+-exchange regulatory factor-1 (NHERF1) directly regulates osteogenesis. J Biol Chem 2012; 287: 43312–43321.

Tan PC, Furness SG, Merkens H, Lin S, McCoy ML, Roskelley CD et al. Na+/H+ exchanger regulatory factor-1 is a hematopoietic ligand for a subset of the CD34 family of stem cell surface proteins. Stem Cells 2006; 24: 1150–1161.

Yin G, Li J, Wan Y, Hou R, Li X, Zhang J et al. Abnormality of RUNX1 signal transduction in psoriatic CD34+ bone marrow cells. Br J Dermatol 2011; 164: 1043–1051.

Stalker TJ, Wu J, Morgans A, Traxler EA, Wang L, Chatterjee MS et al. Endothelial cell specific adhesion molecule (ESAM) localizes to platelet-platelet contacts and regulates thrombus formation in vivo. J Thromb Haemost 2009; 7: 1886–1896.

Itoh K, Sakakibara M, Yamasaki S, Takeuchi A, Arase H, Miyazaki M et al. Cutting edge: negative regulation of immune synapse formation by anchoring lipid raft to cytoskeleton through Cbp-EBP50-ERM assembly. J Immunol 2002; 168: 541–544.

Garcia GG, Sadighi Akha AA, Miller RA . Age-related defects in moesin/ezrin cytoskeletal signals in mouse CD4 T cells. J Immunol 2007; 179: 6403–6409.

Stokka AJ, Mosenden R, Ruppelt A, Lygren B, Tasken K . The adaptor protein EBP50 is important for localization of the protein kinase A-Ezrin complex in T-cells and the immunomodulating effect of cAMP. Biochem J 2010; 425: 381–388.

Wu Y, Wang S, Farooq SM, Castelvetere MP, Hou Y, Gao JL et al. A chemokine receptor CXCR2 macromolecular complex regulates neutrophil functions in inflammatory diseases. J Biol Chem 2012; 287: 5744–5755.

Lacalle RA, Peregil RM, Albar JP, Merino E, Martinez AC, Merida I et al. Type I phosphatidylinositol 4-phosphate 5-kinase controls neutrophil polarity and directional movement. J Cell Biol 2007; 179: 1539–1553.

Leslie KL, Song GJ, Barrick S, Wehbi VL, Vilardaga JP, Bauer PM et al. Ezrin-radixin-moesin-binding phosphoprotein 50 (EBP50) and nuclear factor-kappaB (NF-kappaB): a feed-forward loop for systemic and vascular inflammation. J Biol Chem 2013; 288: 36426–36436.

Harrington WR, Sheng S, Barnett DH, Petz LN, Katzenellenbogen JA, Katzenellenbogen BS . Activities of estrogen receptor alpha- and beta-selective ligands at diverse estrogen responsive gene sites mediating transactivation or transrepression. Mol Cell Endocrinol 2003; 206: 13–22.

Ediger TR, Park SE, Katzenellenbogen BS . Estrogen receptor inducibility of the human Na+/H+ exchanger regulatory factor/ezrin-radixin-moesin binding protein 50 (NHE-RF/EBP50) gene involving multiple half-estrogen response elements. Mol Endocrinol 2002; 16: 1828–1839.

Fouassier L, Rosenberg P, Mergey M, Saubamea B, Claperon A, Kinnman N et al. Ezrin-radixin-moesin-binding phosphoprotein (EBP50), an estrogen-inducible scaffold protein, contributes to biliary epithelial cell proliferation. Am J Pathol 2009; 174: 869–880.

Smith PM, Cowan A, Milgram SL, White BA . Tissue-specific regulation by estrogen of ezrin and ezrin/radixin/moesin-binding protein 50. Endocrine 2003; 22: 119–126.

Katzenellenbogen BS, Choi I, Delage-Mourroux R, Ediger TR, Martini PG, Montano M et al. Molecular mechanisms of estrogen action: selective ligands and receptor pharmacology. J Steroid Biochem Mol Biol 2000; 74: 279–285.

Yang L, Wang Y, Chen P, Hu J, Xiong Y, Feng D et al. Na(+)/H(+) exchanger regulatory factor 1 (NHERF1) is required for the estradiol-dependent increase of phosphatase and tensin homolog (PTEN) protein expression. Endocrinology 2011; 152: 4537–4549.

Stemmer-Rachamimov AO, Wiederhold T, Nielsen GP, James M, Pinney-Michalowski D, Roy JE et al. NHE-RF, a merlin-interacting protein, is primarily expressed in luminal epithelia, proliferative endometrium, and estrogen receptor-positive breast carcinomas. Am J Pathol 2001; 158: 57–62.

Kremer KN, Dudakovic A, Hess AD, Smith BD, Karp JE, Kaufmann SH et al. Histone deacetylase inhibitors target the leukemic microenvironment by enhancing a nherf1-protein phosphatase 1alpha-taz signaling pathway in osteoblasts. J Biol Chem 2015; 290: 29478–29492.

Dudakovic A, Evans JM, Li Y, Middha S, McGee-Lawrence ME, van Wijnen AJ et al. Histone deacetylase inhibition promotes osteoblast maturation by altering the histone H4 epigenome and reduces Akt phosphorylation. J Biol Chem 2013; 288: 28783–28791.

Fouassier L, Nichols MT, Gidey E, McWilliams RR, Robin H, Finnigan C et al. Protein kinase C regulates the phosphorylation and oligomerization of ERM binding phosphoprotein 50. Exp Cell Res 2005; 306: 264–273.

Li J, Poulikakos PI, Dai Z, Testa JR, Callaway DJ, Bu Z . Protein kinase C phosphorylation disrupts Na+/H+ exchanger regulatory factor 1 autoinhibition and promotes cystic fibrosis transmembrane conductance regulator macromolecular assembly. J Biol Chem 2007; 282: 27086–27099.

Raghuram V, Hormuth H, Foskett JK . A kinase-regulated mechanism controls CFTR channel gating by disrupting bivalent PDZ domain interactions. Proc Natl Acad Sci USA 2003; 100: 9620–9625.

He J, Lau AG, Yaffe MB, Hall RA . Phosphorylation and cell cycle-dependent regulation of Na+/H+ exchanger regulatory factor-1 by Cdc2 kinase. J Biol Chem 2001; 276: 41559–41565.

Hall RA, Spurney RF, Premont RT, Rahman N, Blitzer JT, Pitcher JA et al. G protein-coupled receptor kinase 6A phosphorylates the Na(+)/H(+) exchanger regulatory factor via a PDZ domain-mediated interaction. J Biol Chem 1999; 274: 24328–24334.

Song GJ, Leslie KL, Barrick S, Mamonova T, Fitzpatrick JM, Drombosky KW et al. Phosphorylation of ezrin-radixin-moesin-binding phosphoprotein 50 (ebp50) by akt promotes stability and mitogenic function of s-phase kinase-associated protein-2 (Skp2). J Biol Chem 2015; 290: 2879–2887.

Lim H, Jou TS . Ras-activated RSK1 phosphorylates EBP50 to regulate its nuclear localization and promote cell proliferation. Oncotarget 2016; 7: 10283–10296.

Morales FC, Takahashi Y, Momin S, Adams H, Chen X, Georgescu MM . NHERF1/EBP50 head-to-tail intramolecular interaction masks association with PDZ domain ligands. Mol Cell Biol 2007; 27: 2527–2537.

Cheng H, Li J, Fazlieva R, Dai Z, Bu Z, Roder H . Autoinhibitory interactions between the PDZ2 and C-terminal domains in the scaffolding protein NHERF1. Structure 2009; 17: 660–669.

Sun C, Zheng J, Cheng S, Feng D, He J . EBP50 phosphorylation by Cdc2/Cyclin B kinase affects actin cytoskeleton reorganization and regulates functions of human breast cancer cell line MDA-MB-231. Mol Cells 2013; 36: 47–54.

Sun L, Zheng J, Wang Q, Song R, Liu H, Meng R et al. NHERF1 regulates actin cytoskeleton organization through modulation of alpha-actinin-4 stability. Faseb J 2016; 30: 578–589.

Fouassier L, Yun CC, Fitz JG, Doctor RB . Evidence for ezrin-radixin-moesin-binding phosphoprotein 50 (EBP50) self-association through PDZ-PDZ interactions. J Biol Chem 2000; 275: 25039–25045.

Shenolikar S, Minkoff CM, Steplock DA, Evangelista C, Liu M, Weinman EJ, N-terminal PDZ . Domain is required for NHERF dimerization. FEBS Lett 2001; 489: 233–236.

Lau AG, Hall RA . Oligomerization of NHERF-1 and NHERF-2 PDZ domains: differential regulation by association with receptor carboxyl-termini and by phosphorylation. Biochemistry 2001; 40: 8572–8580.

Maudsley S, Zamah AM, Rahman N, Blitzer JT, Luttrell LM, Lefkowitz RJ et al. Platelet-derived growth factor receptor association with Na(+)/H(+) exchanger regulatory factor potentiates receptor activity. Mol Cell Biol 2000; 20: 8352–8363.

Chen JY, Lin YY, Jou TS . Phosphorylation of EBP50 negatively regulates beta-PIX-dependent Rac1 activity in anoikis. Cell Death Differ 2012; 19: 1027–1037.

Bryant DM, Roignot J, Datta A, Overeem AW, Kim M, Yu W et al. A molecular switch for the orientation of epithelial cell polarization. Dev Cell 2014; 31: 171–187.

Weinman EJ, Steplock D, Zhang Y, Biswas R, Bloch RJ, Shenolikar S . Cooperativity between the phosphorylation of Thr95 and Ser77 of NHERF-1 in the hormonal regulation of renal phosphate transport. J Biol Chem 2010; 285: 25134–25138.

Weinman EJ, Biswas R, Steplock D, Douglass TS, Cunningham R, Shenolikar S . Sodium-hydrogen exchanger regulatory factor 1 (NHERF-1) transduces signals that mediate dopamine inhibition of sodium-phosphate co-transport in mouse kidney. J Biol Chem 2010; 285: 13454–13460.

Fang XY, Song R, Chen W, Yang YY, Gu YH, Shu YQ et al. PRL-3 promotes the malignant progression of melanoma via triggering dephosphorylation and cytoplasmic localization of NHERF1. J Invest Dermatol 2015; 135: 2273–2282.

Weinman EJ, Hall RA, Friedman PA, Liu-Chen LY, Shenolikar S . The association of NHERF adaptor proteins with g protein-coupled receptors and receptor tyrosine kinases. Annu Rev Physiol 2006; 68: 491–505.

Meng R, Qin Q, Xiong Y, Wang Y, Zheng J, Zhao Y et al. NHERF1, a novel GPER associated protein, increases stability and activation of GPER in ER-positive breast cancer. Oncotarget e-pub ahead of print 19 July 2016 doi:10.18632/oncotarget.10713.

Jiang Y, Wang S, Holcomb J, Trescott L, Guan X, Hou Y et al. Crystallographic analysis of NHERF1-PLCbeta3 interaction provides structural basis for CXCR2 signaling in pancreatic cancer. Biochem Biophys Res Commun 2014; 446: 638–643.

Wang S, Wu Y, Hou Y, Guan X, Castelvetere MP, Oblak JJ et al. CXCR2 macromolecular complex in pancreatic cancer: a potential therapeutic target in tumor growth. Transl Oncol 2013; 6: 216–225.

Lu G, Wu Y, Jiang Y, Wang S, Hou Y, Guan X et al. Structural insights into neutrophilic migration revealed by the crystal structure of the chemokine receptor CXCR2 in complex with the first PDZ domain of NHERF1. PLoS One 2013; 8: e76219.

Wheeler DS, Barrick SR, Grubisha MJ, Brufsky AM, Friedman PA, Romero G . Direct interaction between NHERF1 and Frizzled regulates beta-catenin signaling. Oncogene 2011; 30: 32–42.

Lazar CS, Cresson CM, Lauffenburger DA, Gill GN . The Na+/H+ exchanger regulatory factor stabilizes epidermal growth factor receptors at the cell surface. Mol Biol Cell 2004; 15: 5470–5480.

Takahashi Y, Morales FC, Kreimann EL, Georgescu MM . PTEN tumor suppressor associates with NHERF proteins to attenuate PDGF receptor signaling. EMBO J 2006; 25: 910–920.

Demoulin JB, Seo JK, Ekman S, Grapengiesser E, Hellman U, Ronnstrand L et al. Ligand-induced recruitment of Na+/H+-exchanger regulatory factor to the PDGF (platelet-derived growth factor) receptor regulates actin cytoskeleton reorganization by PDGF. Biochem J 2003; 376: 505–510.

Pan Y, Weinman EJ, Dai J . NHERF1 (Na+/H+ exchanger regulatory factor 1) inhibits platelet-derived growth factor signaling in breast cancer cells. Breast Cancer Res 2008; 10: R5.

Li H, Zhang B, Liu Y, Yin C . EBP50 inhibits the migration and invasion of human breast cancer cells via LIMK/cofilin and the PI3K/Akt/mTOR/MMP signaling pathway. Med Oncol 2014; 31: 162.

Bellizzi A, Greco MR, Rubino R, Paradiso A, Forciniti S, Zeeberg K et al. The scaffolding protein NHERF1 sensitizes EGFR-dependent tumor growth, motility and invadopodia function to gefitinib treatment in breast cancer cells. Int J Oncol 2015; 46: 1214–1224.

Peng Z, Wang Q, Zhang Y, He J, Zheng J . EBP50 interacts with EGFR and regulates EGFR signaling to affect the prognosis of cervical cancer patients. Int J Oncol 2016; 49: 1737–1745.

Yao W, Feng D, Bian W, Yang L, Li Y, Yang Z et al. EBP50 inhibits EGF-induced breast cancer cell proliferation by blocking EGFR phosphorylation. Amino Acids 2012; 43: 2027–2035.

Claperon A, Guedj N, Mergey M, Vignjevic D, Desbois-Mouthon C, Boissan M et al. Loss of EBP50 stimulates EGFR activity to induce EMT phenotypic features in biliary cancer cells. Oncogene 2012; 31: 1376–1388.

Georgescu MM . NHERF1: molecular brake on the PI3K pathway in breast cancer. Breast Cancer Res 2008; 10: 106.

Brognard J, Sierecki E, Gao T, Newton AC . PHLPP and a second isoform, PHLPP2, differentially attenuate the amplitude of Akt signaling by regulating distinct Akt isoforms. Mol Cell 2007; 25: 917–931.

Gao T, Furnari F, Newton AC . PHLPP: a phosphatase that directly dephosphorylates Akt, promotes apoptosis, and suppresses tumor growth. Mol Cell 2005; 18: 13–24.

Molina JR, Agarwal NK, Morales FC, Hayashi Y, Aldape KD, Cote G et al. PTEN, NHERF1 and PHLPP form a tumor suppressor network that is disabled in glioblastoma. Oncogene 2012; 31: 1264–1274.

Wang B, Yang Y, Friedman PA . Na/H Exchange regulatory factor 1, a novel akt-associating protein, regulates extracellular signal-regulated kinase signaling through a B-raf-mediated pathway. Mol Biol Cell 2008; 19: 1637–1645.

Nguyen Ho-Bouldoires TH, Claperon A, Mergey M, Wendum D, Desbois-Mouthon C, Tahraoui S et al. Mitogen-activated protein kinase-activated protein kinase 2 mediates resistance to hydrogen peroxide-induced oxidative stress in human hepatobiliary cancer cells. Free Radic Biol Med 2015; 89: 34–46.

Vazquez F, Ramaswamy S, Nakamura N, Sellers WR . Phosphorylation of the PTEN tail regulates protein stability and function. Mol Cell Biol 2000; 20: 5010–5018.

Georgescu MM, Kirsch KH, Akagi T, Shishido T, Hanafusa H . The tumor-suppressor activity of PTEN is regulated by its carboxyl-terminal region. Proc Natl Acad Sci USA 1999; 96: 10182–10187.

Molina JR, Morales FC, Hayashi Y, Aldape KD, Georgescu MM . Loss of PTEN binding adapter protein NHERF1 from plasma membrane in glioblastoma contributes to PTEN inactivation. Cancer Res 2010; 70: 6697–6703.

Cardone RA, Greco MR, Capulli M, Weinman EJ, Busco G, Bellizzi A et al. NHERF1 acts as a molecular switch to program metastatic behavior and organotropism via its PDZ domains. Mol Biol Cell 2012; 23: 2028–2040.

Kostenko S, Moens U . Heat shock protein 27 phosphorylation: kinases, phosphatases, functions and pathology. Cell Mol Life Sci 2009; 66: 3289–3307.

Rane MJ, Pan Y, Singh S, Powell DW, Wu R, Cummins T et al. Heat shock protein 27 controls apoptosis by regulating Akt activation. J Biol Chem 2003; 278: 27828–27835.

Weber HO, Ludwig RL, Morrison D, Kotlyarov A, Gaestel M, Vousden KH . HDM2 phosphorylation by MAPKAP kinase 2. Oncogene 2005; 24: 1965–1972.

Rane MJ, Coxon PY, Powell DW, Webster R, Klein JB, Pierce W et al. p38 Kinase-dependent MAPKAPK-2 activation functions as 3-phosphoinositide-dependent kinase-2 for Akt in human neutrophils. J Biol Chem 2001; 276: 3517–3523.

Shibata T, Chuma M, Kokubu A, Sakamoto M, Hirohashi S . EBP50, a beta-catenin-associating protein, enhances Wnt signaling and is over-expressed in hepatocellular carcinoma. Hepatology 2003; 38: 178–186.

Kreimann EL, Morales FC, de Orbeta-Cruz J, Takahashi Y, Adams H, Liu TJ et al. Cortical stabilization of beta-catenin contributes to NHERF1/EBP50 tumor suppressor function. Oncogene 2007; 26: 5290–5299.

Lin YY, Hsu YH, Huang HY, Shann YJ, Huang CY, Wei SC et al. Aberrant nuclear localization of EBP50 promotes colorectal carcinogenesis in xenotransplanted mice by modulating TCF-1 and beta-catenin interactions. J Clin Invest 2012; 122: 1881–1894.

Paradiso A, Scarpi E, Malfettone A, Addati T, Giotta F, Simone G et al. Nuclear NHERF1 expression as a prognostic marker in breast cancer. Cell Death Dis 2013; 4: e904.

Murthy A, Gonzalez-Agosti C, Cordero E, Pinney D, Candia C, Solomon F et al. NHE-RF, a regulatory cofactor for Na(+)-H+ exchange, is a common interactor for merlin and ERM (MERM) proteins. J Biol Chem 1998; 273: 1273–1276.

Gonzales-Agosti C, Wiederhold T, Herndon ME, Gusella J, Ramesh V . Interdomain interaction of merlin isoforms and tis influence on intermolecular binding to NHE-RF. J Biol Chem 1999; 274: 34438–34442.

Nguyen R, Reczek D, Bretscher A . Hierarchy of merlin and ezrin N- and C-terminal domain interactions in homo- and heterotypic associations and their relationship to binding of scaffolding proteins EBP50 and E3KARP. J Biol Chem 2001; 276: 7621–7629.

Curto M, Cole BK, Lallemand D, Liu CH, McClatchey AI . Contact-dependent inhibition of EGFR signaling by Nf2/Merlin. J Cell Biol 2007; 177: 893–903.

Abeysundara N, Leung AC, Primrose DA, Hughes SC . Regulation of cell proliferation and adhesion by means of a novel region of drosophila merlin interacting with Sip1. Dev Dyn 2014; 243: 1554–1570.

Hughes SC, Formstecher E, Fehon RG . Sip1, the Drosophila orthologue of EBP50/NHERF1, functions with the sterile 20 family kinase Slik to regulate Moesin activity. J Cell Sci 2010; 123: 1099–1107.

Cardone RA, Bellizzi A, Busco G, Weinman EJ, Dell'Aquila ME, Casavola V et al. The NHERF1 PDZ2 domain regulates PKA-RhoA-p38-mediated NHE1 activation and invasion in breast tumor cells. Mol Biol Cell 2007; 18: 1768–1780.

Garcia-Mata R, Burridge K . Catching a GEF by its tail. Trend Cell Biol 2007; 17: 36–43.

Hsu YH, Lin WL, Hou YT, Pu YS, Shun CT, Chen CL et al. Podocalyxin EBP50 ezrin molecular complex enhances the metastatic potential of renal cell carcinoma through recruiting Rac1 guanine nucleotide exchange factor ARHGEF7. Am J Pathol 2010; 176: 3050–3061.

Liu H, Ma Y, He HW, Wang JP, Jiang JD, Shao RG . SLC9A3R1 stimulates autophagy via BECN1 stabilization in breast cancer cells. Autophagy 2015; 11: 2323–2334.

Karn T, Ruckhaberle E, Hanker L, Muller V, Schmidt M, Solbach C et al. Gene expression profiling of luminal B breast cancers reveals NHERF1 as a new marker of endocrine resistance. Breast Cancer Res Treat 2011; 130: 409–420.

Song J, Bai J, Yang W, Gabrielson EW, Chan DW, Zhang Z . Expression and clinicopathological significance of oestrogen-responsive ezrin-radixin-moesin-binding phosphoprotein 50 in breast cancer. Histopathology 2007; 51: 40–53.

Malfettone A, Saponaro C, Paradiso A, Simone G, Mangia A . Peritumoral vascular invasion and NHERF1 expression define an immunophenotype of grade 2 invasive breast cancer associated with poor prognosis. BMC Cancer 2012; 12: 106.

Mangia A, Chiriatti A, Bellizzi A, Malfettone A, Stea B, Zito FA et al. Biological role of NHERF1 protein expression in breast cancer. Histopathology 2009; 55: 600–608.

Bellizzi A, Mangia A, Malfettone A, Cardone RA, Simone G, Reshkin SJ et al. Na+/H+ exchanger regulatory factor 1 expression levels in blood and tissue predict breast tumour clinical behaviour. Histopathology 2011; 58: 1086–1095.

Mangia A, Malfettone A, Saponaro C, Tommasi S, Simone G, Paradiso A . Human epidermal growth factor receptor 2, Na+/H+ exchanger regulatory factor 1, and breast cancer susceptibility gene-1 as new biomarkers for familial breast cancers. Hum Pathol 2011; 42: 1589–1595.

Cornez I, Tasken K . Spatiotemporal control of cyclic AMP immunomodulation through the PKA-Csk inhibitory pathway is achieved by anchoring to an Ezrin-EBP50-PAG scaffold in effector T cells. FEBS Lett 2010; 584: 2681–2688.

Dai JL, Wang L, Sahin AA, Broemeling LD, Schutte M, Pan Y . NHERF (Na+/H+ exchanger regulatory factor) gene mutations in human breast cancer. Oncogene 2004; 23: 8681–8687.

Du G, Hao C, Gu Y, Wang Z, Jiang WG, He J et al. A novel NHERF1 mutation in human breast cancer inactivates inhibition by NHERF1 protein in EGFR signaling. Anticancer Res 2016; 36: 1165–1173.

Cheng S, Li Y, Yang Y, Feng D, Yang L, Ma Q et al. Breast cancer-derived K172N, D301V mutations abolish Na+/H+ exchanger regulatory factor 1 inhibition of platelet-derived growth factor receptor signaling. FEBS Lett 2013; 587: 3289–3295.

Tabrizi AD, Kalloger SE, Kobel M, Cipollone J, Roskelley CD, Mehl E et al. Primary ovarian mucinous carcinoma of intestinal type: significance of pattern of invasion and immunohistochemical expression profile in a series of 31 cases. Int J Gynecol Pathol 2010; 29: 99–107.

Accardi R, Rubino R, Scalise M, Gheit T, Shahzad N, Thomas M et al. E6 and E7 from human papillomavirus type 16 cooperate to target the PDZ protein Na/H exchange regulatory factor 1. J Virol 2011; 85: 8208–8216.

Kreimann EL, Ratajska M, Kuzniacka A, Demacopulo B, Stukan M, Limon J . A novel splicing mutation in the SLC9A3R1 gene in tumors from ovarian cancer patients. Oncol Lett 2015; 10: 3722–3726.

Bartholow TL, Becich MJ, Chandran UR, Parwani AV . Immunohistochemical analysis of ezrin-radixin-moesin-binding phosphoprotein 50 in prostatic adenocarcinoma. BMC Urol 2011; 11: 12.

Wang L, Du YR, Ji MY, Wang W, Zhan N, Zhou QS et al. Reduced EBP50 expression or mis-localization of the EBP50 protein is associated with the malignant progression of esophageal squamous cell carcinoma. Eur Rev Med Pharmacol Sci 2014; 18: 3854–3863.

Mangia A, Caldarola L, Dell'Endice S, Scarpi E, Saragoni L, Monti M et al. The potential predictive role of nuclear NHERF1 expression in advanced gastric cancer patients treated with epirubicin/oxaliplatin/capecitabine first line chemotherapy. Cancer Biol Ther 2015; 16: 1140–1147.

Ji MY, Fan DK, Lv XG, Peng XL, Lei XF, Dong WG . The detection of EBP50 expression using quantum dot immunohistochemistry in pancreatic cancer tissue and down-regulated EBP50 effect on PC-2 cells. J Mol Histol 2012; 43: 517–526.

Malfettone A, Silvestris N, Paradiso A, Mattioli E, Simone G, Mangia A . Overexpression of nuclear NHERF1 in advanced colorectal cancer: association with hypoxic microenvironment and tumor invasive phenotype. Exp Mol Pathol 2012; 92: 296–303.

Mangia A, Saponaro C, Malfettone A, Bisceglie D, Bellizzi A, Asselti M et al. Involvement of nuclear NHERF1 in colorectal cancer progression. Oncol Rep 2012; 28: 889–894.

Schirosi L, Mazzotta A, Opinto G, Pinto R, Graziano G, Tommasi S et al. Beta-catenin interaction with NHERF1 and RASSF1A methylation in metastatic colorectal cancer patients. Oncotarget e-pub ahead of print 27 September 2016 doi:10.18632/oncotarget.12280.

Yonglitthipagon P, Pairojkul C, Chamgramol Y, Loukas A, Mulvenna J, Bethony J et al. Prognostic significance of peroxiredoxin 1 and ezrin-radixin-moesin-binding phosphoprotein 50 in cholangiocarcinoma. Hum Pathol 2012; 43: 1719–1730.

Kislin KL, McDonough WS, Eschbacher JM, Armstrong BA, Berens ME . NHERF-1: modulator of glioblastoma cell migration and invasion. Neoplasia 2009; 11: 377–387.

Mangia A, Partipilo G, Schirosi L, Saponaro C, Galetta D, Catino A et al. Fine needle aspiration cytology: a tool to study nherf1 expression as a potential marker of aggressiveness in lung cancer. Mol Biotechnol 2015; 57: 549–557.

Lee HH, Wang YN, Hung MC . Non-canonical signaling mode of the epidermal growth factor receptor family. Am J Cancer Res 2015; 5: 2944–2958.

Kishore R, Qin G, Luedemann C, Bord E, Hanley A, Silver M et al. The cytoskeletal protein ezrin regulates EC proliferation and angiogenesis via TNF-alpha-induced transcriptional repression of cyclin A. J Clin Invest 2005; 115: 1785–1796.

Beltrami S, Kim R, Gordon J . Neurofibromatosis type 2 protein, NF2: an uncoventional cell cycle regulator. Anticancer Res 2013; 33: 1–11.

Song MS, Salmena L, Pandolfi PP . The functions and regulation of the PTEN tumour suppressor. Nat Rev Mol Cell Biol 2012; 13: 283–296.

Meng W, Swenson LL, Fitzgibbon MJ, Hayakawa K, Ter Haar E, Behrens AE et al. Structure of mitogen-activated protein kinase-activated protein (MAPKAP) kinase 2 suggests a bifunctional switch that couples kinase activation with nuclear export. J Biol Chem 2002; 277: 37401–37405.

Hou Y, Wu Y, Farooq SM, Guan X, Wang S, Liu Y et al. A critical role of CXCR2 PDZ-mediated interactions in endothelial progenitor cell homing and angiogenesis. Stem Cell Res 2015; 14: 133–143.
Acknowledgements
THB was supported by the 'Ministère de l'Enseignement Supérieur et de la Recherche', Fondation de France No. 2011-00025574 and Fondation ARC No. DOC20130606463. LF is supported by grants from Fondation de France (No. 2014 00047502), La Ligue National contre le Cancer (No. RS14/75-112) and GEFLUC. JV is recipient of two following postdoctoral fellowships from the Spanish Association for the Study of the Liver (AEEH) and the Fondation ARC No. PDF2014601431. The authors thank Yves Chrétien for the graphic support.
Ethics declarations
Competing interests
The authors declare no conflict of interest.
About this article
Cite this article
Vaquero, J., Nguyen Ho-Bouldoires, T., Clapéron, A. et al. Role of the PDZ-scaffold protein NHERF1/EBP50 in cancer biology: from signaling regulation to clinical relevance. Oncogene 36, 3067–3079 (2017). https://doi.org/10.1038/onc.2016.462
Received:

Revised:

Accepted:

Published:

Issue Date:

DOI: https://doi.org/10.1038/onc.2016.462