Abstract
Pancreatic ductal adenocarcinoma (PDAC) is one of the most fatal types of cancer and the 5-year survival rate is only 5%. Several studies have suggested that cancer stem cells (CSCs) are thought to be involved in recurrence and metastasis and so it is essential to establish an approach targeting CSCs. Here we have demonstrated that cyclic guanosine monophosphate (cGMP) suppressed CD44 expression and the properties of CSCs in PDAC. Microarray analysis suggested that cGMP inhibited Forkhead box O3 (FOXO3), which is known as a tumor suppressor. Surprisingly, our data demonstrated that FOXO3 is essential for CD44 expression and the properties of CSCs. Our data also indicated that patients with high FOXO3 activation signatures had poor prognoses. This evidence suggested that cGMP induction and FOXO3 inhibition could be ideal candidates for pancreatic CSC.
Access options
Subscribe to Journal
Get full journal access for 1 year
$399.00
only $7.98 per issue
All prices are NET prices.
VAT will be added later in the checkout.
Tax calculation will be finalised during checkout.
Rent or Buy article
Get time limited or full article access on ReadCube.
from$8.99
All prices are NET prices.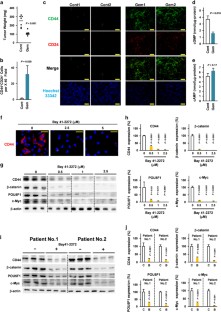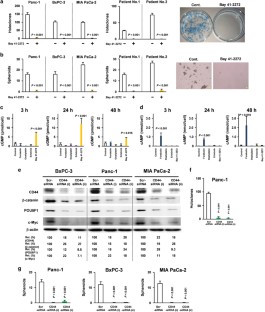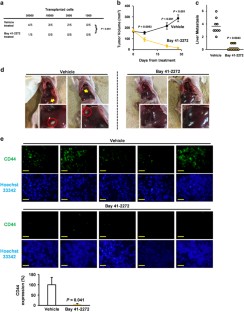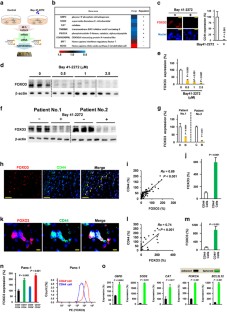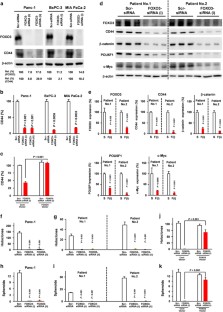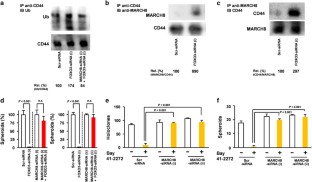 References
1

Conroy T, Desseigne F, Ychou M, Bouche O, Guimbaud R, Becouarn Y et al. FOLFIRINOX versus gemcitabine for metastatic pancreatic cancer. N Engl J Med 2011; 364: 1817–1825.

2

Vincent A, Herman J, Schulick R, Hruban RH, Goggins M . Pancreatic cancer. Lancet 2011; 378: 607–620.

3

Adikrisna R, Tanaka S, Muramatsu S, Aihara A, Ban D, Ochiai T et al. Identification of pancreatic cancer stem cells and selective toxicity of chemotherapeutic agents. Gastroenterology 2012; 143: 234–245 e237.

4

Penchev VR, Rasheed ZA, Maitra A, Matsui W . Heterogeneity and targeting of pancreatic cancer stem cells. Clin Cancer Res 2012; 18: 4277–4284.

5

Vaz AP, Ponnusamy MP, Seshacharyulu P, Batra SK . A concise review on the current understanding of pancreatic cancer stem cells. J Cancer Stem Cell Res 2014; 2: e1004.

6

Li C, Heidt DG, Dalerba P, Burant CF, Zhang L, Adsay V et al. Identification of pancreatic cancer stem cells. Cancer Res 2007; 67: 1030–1037.

7

Quint K, Tonigold M, Di Fazio P, Montalbano R, Lingelbach S, Ruckert F et al. Pancreatic cancer cells surviving gemcitabine treatment express markers of stem cell differentiation and epithelial-mesenchymal transition. Int J Oncol 2012; 41: 2093–2102.

8

Ohara Y, Oda T, Sugano M, Hashimoto S, Enomoto T, Yamada K et al. Histological and prognostic importance of CD44(+) /CD24(+) /EpCAM(+) expression in clinical pancreatic cancer. Cancer Sci 2013; 104: 1127–1134.

9

Molejon MI, Tellechea JI, Loncle C, Gayet O, Gilabert M, Duconseil P et al. Deciphering the cellular source of tumor relapse identifies CD44 as a major therapeutic target in pancreatic adenocarcinoma. Oncotarget 2015; 6: 7408–7423.

10

Hong SP, Wen J, Bang S, Park S, Song SY . CD44-positive cells are responsible for gemcitabine resistance in pancreatic cancer cells. Int J Cancer 2009; 125: 2323–2331.

11

Li L, Hao X, Qin J, Tang W, He F, Smith A et al. Antibody against CD44s inhibits pancreatic tumor initiation and postradiation recurrence in mice. Gastroenterology 2014; 146: 1108–1118.

12

Sergeant G, Vankelecom H, Gremeaux L, Topal B . Role of cancer stem cells in pancreatic ductal adenocarcinoma. Nat Rev Clin Oncol 2009; 6: 580–586.

13

Su YJ, Lai HM, Chang YW, Chen GY, Lee JL . Direct reprogramming of stem cell properties in colon cancer cells by CD44. EMBO J 2011; 30: 3186–3199.

14

Liu C, Kelnar K, Liu B, Chen X, Calhoun-Davis T, Li H et al. The microRNA miR-34a inhibits prostate cancer stem cells and metastasis by directly repressing CD44. Nat Med 2011; 17: 211–215.

15

Viale A, Pettazzoni P, Lyssiotis CA, Ying H, Sanchez N, Marchesini M et al. Oncogene ablation-resistant pancreatic cancer cells depend on mitochondrial function. Nature 2014; 514: 628–632.

16

Burnett AL . The role of nitric oxide in erectile dysfunction: implications for medical therapy. J Clin Hypertens 2006; 8: 53–62.

17

Roesch A, Vultur A, Bogeski I, Wang H, Zimmermann KM, Speicher D et al. Overcoming intrinsic multidrug resistance in melanoma by blocking the mitochondrial respiratory chain of slow-cycling JARID1B (high) cells. Cancer Cell 2013; 23: 811–825.

18

Kumazoe M, Sugihara K, Tsukamoto S, Huang Y, Tsurudome Y, Suzuki T et al. 67-kDa laminin receptor increases cGMP to induce cancer-selective apoptosis. J Clin Invest 2013; 123: 787–799.

19

Bourguignon LY, Peyrollier K, Xia W, Gilad E . Hyaluronan-CD44 interaction activates stem cell marker Nanog, Stat-3-mediated MDR1 gene expression, and ankyrin-regulated multidrug efflux in breast and ovarian tumor cells. J Biol Chem 2008; 283: 17635–17651.

20

Bischoff E, Stasch JP . Effects of the sGC stimulator BAY 41-2272 are not mediated by phosphodiesterase 5 inhibition. Circulation 2004; 110: e320–e321.

21

Miranda-Lorenzo I, Dorado J, Lonardo E, Alcala S, Serrano AG, Clausell-Tormos J et al. Intracellular autofluorescence: a biomarker for epithelial cancer stem cells. Nat Methods 2014; 11: 1161–1169.

22

Teixeira CE, Priviero FBM, Todd J, Webb RC . Vasorelaxing effect of BAY 41-2272 in rat basilar artery - Involvement of cGMP-dependent and independent mechanisms. Hypertension 2006; 47: 596–602.

23

Gao Y, Ruan B, Liu W, Wang J, Yang X, Zhang Z et al. Knockdown of CD44 inhibits the invasion and metastasis of hepatocellular carcinoma both in vitro and in vivo by reversing epithelial-mesenchymal transition. Oncotarget 2015; 6: 7828–7837.

24

Lee HY, Youn SW, Kim JY, Park KW, Hwang CI, Park WY et al. FOXO3a turns the tumor necrosis factor receptor signaling towards apoptosis through reciprocal regulation of c-Jun N-terminal kinase and NF-kappaB. Arterioscler Thromb Vasc Biol 2008; 28: 112–120.

25

Klotz LO, Sanchez-Ramos C, Prieto-Arroyo I, Urbanek P, Steinbrenner H, Monsalve M . Redox regulation of FoxO transcription factors. Redox Biol 2015; 6: 51–72.

26

Greer EL, Brunet A . FOXO transcription factors at the interface between longevity and tumor suppression. Oncogene 2005; 24: 7410–7425.

27

Sunters A, Fernandez de Mattos S, Stahl M, Brosens JJ, Zoumpoulidou G, Saunders CA et al. FoxO3a transcriptional regulation of Bim controls apoptosis in paclitaxel-treated breast cancer cell lines. J Biol Chem 2003; 278: 49795–49805.

28

Boreddy SR, Pramanik KC, Srivastava SK . Pancreatic tumor suppression by benzyl isothiocyanate is associated with inhibition of PI3K/AKT/FOXO pathway. Clin Cancer Res 2011; 17: 1784–1795.

29

Furuyama T, Kitayama K, Shimoda Y, Ogawa M, Sone K, Yoshida-Araki K et al. Abnormal angiogenesis in Foxo1 (Fkhr)-deficient mice. J Biol Chem 2004; 279: 34741–34749.

30

Castrillon DH, Miao L, Kollipara R, Horner JW, DePinho RA . Suppression of ovarian follicle activation in mice by the transcription factor Foxo3a. Science 2003; 301: 215–218.

31

Huang S, Holzel M, Knijnenburg T, Schlicker A, Roepman P, McDermott U et al. MED12 controls the response to multiple cancer drugs through regulation of TGF-beta receptor signaling. Cell 2012; 151: 937–950.

32

Stratford JK, Bentrem DJ, Anderson JM, Fan C, Volmar KA, Marron JS et al. A six-gene signature predicts survival of patients with localized pancreatic ductal adenocarcinoma. PLoS Med 2010; 7: e1000307.

33

Zhang G, He P, Tan H, Budhu A, Gaedcke J, Ghadimi BM et al. Integration of metabolomics and transcriptomics revealed a fatty acid network exerting growth inhibitory effects in human pancreatic cancer. Clin Cancer Res 2013; 19: 4983–4993.

34

Eyster CA, Cole NB, Petersen S, Viswanathan K, Fruh K, Donaldson JG . MARCH ubiquitin ligases alter the itinerary of clathrin-independent cargo from recycling to degradation. Mol Biol Cell 2011; 22: 3218–3230.

35

Siegel RL, Miller KD, Jemal A . Cancer statistics, 2015. CA Cancer J Clin 2015; 65: 5–29.

36

Wang Z, Li Y, Ahmad A, Banerjee S, Azmi AS et al. Pancreatic cancer: understanding and overcoming chemoresistance. Nat Rev Gastroenterol Hepatol 2011; 8: 27–33.

37

Bera A, VenkataSubbaRao K, Manoharan MS, Hill P, Freeman JW . A miRNA signature of chemoresistant mesenchymal phenotype identifies novel molecular targets associated with advanced pancreatic cancer. PLoS One 2014; 9: e106343.

38

Ilmer M, Horst D . Pancreatic CSCs and microenvironment. Genes Cancer 2015; 6: 365–366.

39

Nojiri T, Yamamoto K, Maeda H, Takeuchi Y, Funakoshi Y, Inoue M et al. Effect of low-dose human atrial natriuretic peptide on postoperative atrial fibrillation in patients undergoing pulmonary resection for lung cancer: a double-blind, placebo- controlled study. J Thorac Cardiovasc Surg 2012; 143: 488–494.

40

Smith SM, Cai L . Cell specific CD44 expression in breast cancer requires the interaction of AP-1 and NFkappaB with a novel cis-element. PLoS One 2012; 7: e50867.
Acknowledgements
This work was supported in part by JSPS KAKENHI grant 22228002 and 15H02448 to H Tachibana. This work was also supported in part by a Grant-in-Aid for JSPS Fellows to MK (PD) and JSPS KAKENHI grant 15K18821. The funders had no role in study design, data collection and analysis, decision to publish or preparation of the manuscript. We appreciate the technical support from the Research Support Center, Graduate School of Medical Sciences, Kyushu University, and the Center for Accelerator and Beam Applied Science, Kyushu University. We thank Takeshi Iwasaki (Kyushu University, Faculty of Medicine) for helpful advice on bioinformatics analysis. The authors would like to thank Enago (www.enago.jp) for the English language review.
Author contributions
MK and MT planned the studies. MK and MT contributed equally to this work. MK, MT, BJ, SH, YH, KT, YW, MY, SH, SY, SY, MM and ST performed the experiments. MK held the responsibility for all data integrity and data analysis. HT conducted the whole research. HT had primary responsibility for the final content. All authors have reviewed the manuscript.
Ethics declarations
Competing interests
The authors declare no conflict of interest.
Supplementary information
About this article
Cite this article
Kumazoe, M., Takai, M., Bae, J. et al. FOXO3 is essential for CD44 expression in pancreatic cancer cells. Oncogene 36, 2643–2654 (2017). https://doi.org/10.1038/onc.2016.426
Received:

Revised:

Accepted:

Published:

Issue Date: