Abstract
Musashi RNA-binding protein 2 (MSI2) has important roles in human cancer. However, the regulatory mechanisms by which MSI2 alters breast cancer pathophysiology have not been clearly identified. Here we demonstrate that MSI2 directly regulates estrogen receptor 1 (ESR1), which is a well-known therapeutic target and has been shown to reflect clinical outcomes in breast cancer. Based on gene expression data analysis, we found that MSI2 expression was highly enriched in estrogen receptor (ER)-positive breast cancer and that MSI2 expression was significantly correlated with ESR1 expression, including expression of ESR1 downstream target genes. In addition, MSI2 levels were associated with clinical outcomes. MSI2 influenced breast cancer cell growth by altering ESR1 function. MSI2 alters ESR1 by binding specific sites in ESR1 RNA and by increasing ESR1 protein stability. Taken together, our findings identified a novel regulatory mechanism of MSI2 as an upstream regulator of ESR1 and revealed the clinical relevance of the RNA-binding protein MSI2 in breast cancer.
Access options
Subscribe to Journal
Get full journal access for 1 year
$2,597.00
only $51.94 per issue
All prices are NET prices.
VAT will be added later in the checkout.
Rent or Buy article
Get time limited or full article access on ReadCube.
from$8.99
All prices are NET prices.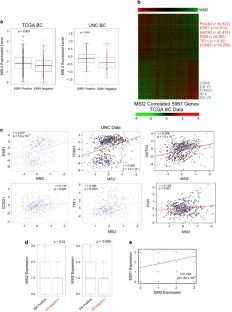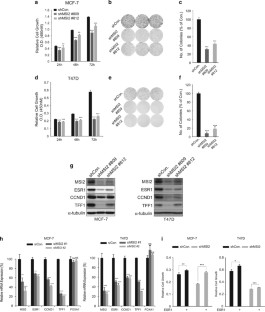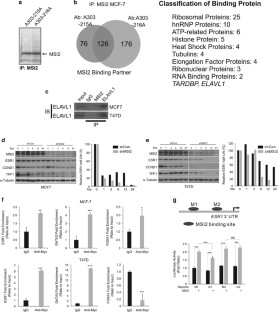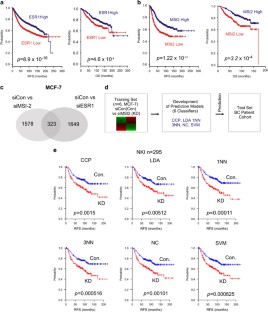 References
1

DeSantis CE, Lin CC, Mariotto AB, Siegel RL, Stein KD, Kramer JL et al. Cancer treatment and survivorship statistics, 2014. CA Cancer J Clin 2014; 64: 252–271.

2

Morrow PK, Hortobagyi GN . Management of breast cancer in the genome era. Annu Rev Med 2009; 60: 153–165.

3

Park YY, Kim K, Kim SB, Hennessy BT, Kim SM, Park ES et al. Reconstruction of nuclear receptor network reveals that NR2E3 is a novel upstream regulator of ESR1 in breast cancer. EMBO Mol Med 2012; 4: 52–67.

4

Eeckhoute J, Keeton EK, Lupien M, Krum SA, Carroll JS, Brown M . Positive cross-regulatory loop ties GATA-3 to estrogen receptor alpha expression in breast cancer. Cancer Res 2007; 67: 6477–6483.

5

Anji A, Kumari M . Guardian of genetic messenger-RNA-binding proteins. Biomolecules 2016; 6: 4.

6

Gerstberger S, Hafner M, Tuschl T . A census of human RNA-binding proteins. Nat Rev Genet 2014; 15: 829–845.

7

Wurth L, Gebauer F . RNA-binding proteins, multifaceted translational regulators in cancer. Biochim Biophys Acta 2015; 1849: 881–886.

8

Okano H, Imai T, Okabe M . Musashi: a translational regulator of cell fate. J Cell Sci 2002; 115: 1355–1359.

9

Wang MH, Qin SY, Zhang SG, Li GX, Yu ZH, Wang K et al. Musashi-2 promotes hepatitis Bvirus related hepatocellular carcinoma progression via the Wnt/beta-catenin pathway. Am J Cancer Res 2015; 5: 1089–1100.

10

Wang S, Li N, Yousefi M, Nakauka-Ddamba A, Li F, Parada K et al. Transformation of the intestinal epithelium by the MSI2 RNA-binding protein. Nat Commun 2015; 6: 6517.

11

Katz Y, Li F, Lambert NJ, Sokol ES, Tam WL, Cheng AW et al. Musashi proteins are post-transcriptional regulators of the epithelial-luminal cell state. eLife 2014; 3: e03915.

12

Ciriello G, Gatza ML, Beck AH, Wilkerson MD, Rhie SK, Pastore A et al. Comprehensive molecular portraits of invasive lobular breast cancer. Cell 2015; 163: 506–519.

13

Oh DS, Troester MA, Usary J, Hu Z, He X, Fan C et al. Estrogen-regulated genes predict survival in hormone receptor-positive breast cancers. J Clin Oncol 2006; 24: 1656–1664.

14

Calaluce R, Gubin MM, Davis JW, Magee JD, Chen J, Kuwano Y et al. The RNA binding protein HuR differentially regulates unique subsets of mRNAs in estrogen receptor negative and estrogen receptor positive breast cancer. BMC Cancer 2010; 10: 126.

15

Licata LA, Hostetter CL, Crismale J, Sheth A, Keen JC . The RNA-binding protein HuR regulates GATA3 mRNA stability in human breast cancer cell lines. Breast Cancer Res Treat 2010; 122: 55–63.

16

Woo HH, Zhou Y, Yi X, David CL, Zheng W, Gilmore-Hebert M et al. Regulation of non-AU-rich element containing c-fms proto-oncogene expression by HuR in breast cancer. Oncogene 2009; 28: 1176–1186.

17

Heinonen M, Fagerholm R, Aaltonen K, Kilpivaara O, Aittomaki K, Blomqvist C et al. Prognostic role of HuR in hereditary breast cancer. Clin Cancer Res 2007; 13: 6959–6963.

18

Bennett CG, Riemondy K, Chapnick DA, Bunker E, Liu X, Kuersten S et al. Genome-wide analysis of Musashi-2 targets reveals novel functions in governing epithelial cell migration. Nucleic Acids Res 2016; 44: 3788–3800.

19

Carroll JS, Brown M . Estrogen receptor target gene: an evolving concept. Mol Endocrinol 2006; 20: 1707–1714.

20

Hosey AM, Gorski JJ, Murray MM, Quinn JE, Chung WY, Stewart GE et al. Molecular basis for estrogen receptor alpha deficiency in BRCA1-linked breast cancer. J Natl Cancer Inst 2007; 99: 1683–1694.

21

Zhao Z, Wang L, James T, Jung Y, Kim I, Tan R et al. Reciprocal regulation of ERalpha and ERbeta stability and activity by diptoindonesin G. Chem Biol 2015; 22: 1608–1621.

22

Park YY, Jung SY, Jennings NB, Rodriguez-Aguayo C, Peng G, Lee SR et al. FOXM1 mediates Dox resistance in breast cancer by enhancing DNA repair. Carcinogenesis 2012; 33: 1843–1853.

23

Lee HJ, Seo AN, Park SY, Kim JY, Park JY, Yu JH et al. Low prognostic implication of fibroblast growth factor family activation in triple-negative breast cancer subsets. Ann Surg Oncol 2014; 21: 1561–1568.

24

Wolff AC, Hammond ME, Hicks DG, Dowsett M, McShane LM, Allison KH et al. Recommendations for human epidermal growth factor receptor 2 testing in breast cancer: American Society of Clinical Oncology/College of American Pathologists clinical practice guideline update. Arch Pathol Lab Med 2014; 138: 241–256.
Acknowledgements
This research was supported by the Ministry of Education (NRF-2014R1A1A2053529 to Y-YP; NRF-2013R1A1A2064367 to M-HK) and by a grant of the Korea Health Technology R&D Project through the Korea Health Industry Development Institute (KHIDI), funded by the Ministry of Health and Welfare, Republic of Korea (HI15C0972 to Y-YP).
Ethics declarations
Competing interests
The authors declare no conflict of interest.
Supplementary information
About this article
Cite this article
Kang, M., Jeong, K., Kim, W. et al. Musashi RNA-binding protein 2 regulates estrogen receptor 1 function in breast cancer. Oncogene 36, 1745–1752 (2017) doi:10.1038/onc.2016.327
Received

Revised

Accepted

Published

Issue Date