Abstract
Targeting cell motility, which is required for dissemination and metastasis, has therapeutic potential for ovarian cancer metastasis, and regulatory mechanisms of cell motility need to be uncovered for developing novel therapeutics. Invasive ovarian cancer cells spontaneously formed protrusions, such as lamellipodia, which are required for generating locomotive force in cell motility. Short interfering RNA screening identified class II phosphatidylinositol 3-kinase C2β (PI3KC2β) as the predominant isoform of PI3K involved in lamellipodia formation of ovarian cancer cells. The bioactive sphingolipid ceramide has emerged as an antitumorigenic lipid, and treatment with short-chain C6-ceramide decreased the number of ovarian cancer cells with PI3KC2β-driven lamellipodia. Pharmacological analysis demonstrated that long-chain ceramide regenerated from C6-ceramide through the salvage/recycling pathway, at least in part, mediated the action of C6-ceramide. Mechanistically, ceramide was revealed to interact with the PIK-catalytic domain of PI3KC2β and affect its compartmentalization, thereby suppressing PI3KC2β activation and its driven cell motility. Ceramide treatment also suppressed cell motility promoted by epithelial growth factor, which is a prometastatic factor. To examine the role of ceramide in ovarian cancer metastasis, ceramide liposomes were employed and confirmed to suppress cell motility in vitro. Ceramide liposomes had an inhibitory effect on peritoneal metastasis in a murine xenograft model of human ovarian cancer. Metastasis of PI3KC2β knocked-down cells was insensitive to treatment with ceramide liposomes, suggesting specific involvement of ceramide interaction with PI3KC2β in metastasis suppression. Our study identified ceramide as a bioactive lipid that limits PI3KC2β-governed cell motility, and ceramide is proposed to serve as a metastasis-suppressor lipid in ovarian cancer. These findings could be translated into developing ceramide-based therapy for metastatic diseases.
Relevant articles
Open Access articles citing this article.
Hongsheng Wang

,

Xinmeng Jin

…

Wei Sun

Cell & Bioscience Open Access 08 October 2022

Shahidul Islam

,

Kazuaki Yoshioka

…

Yoh Takuwa

The Journal of Physiological Sciences Open Access 19 March 2020

Ouma Cisse

,

Muzthahid Quraishi

…

Tania Maffucci

Journal of Experimental & Clinical Cancer Research Open Access 21 November 2019
Access options
Subscribe to this journal
Receive 50 print issues and online access
$259.00 per year
only $5.18 per issue
Rent or buy this article
Get just this article for as long as you need it
$39.95
Prices may be subject to local taxes which are calculated during checkout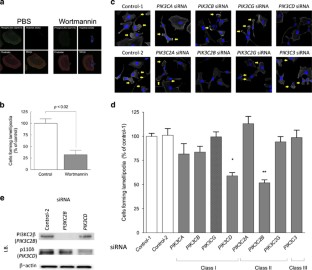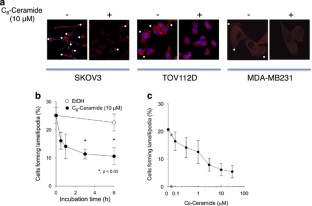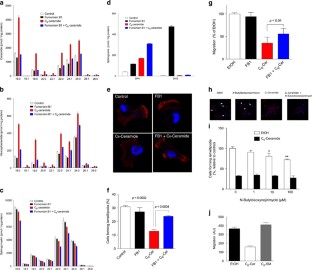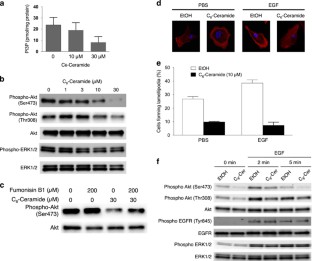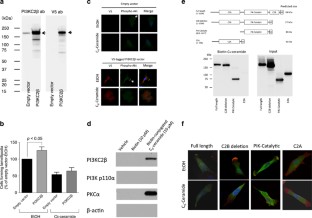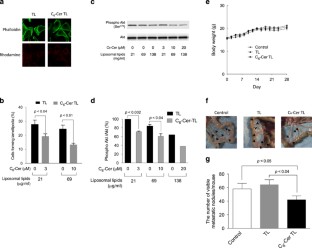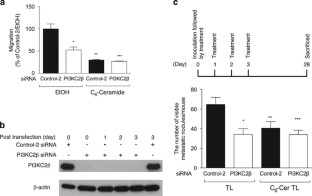 References
Lengyel E . Ovarian cancer development and metastasis. Am J Pathol 2010; 177: 1053–1064.

Banerjee S, Kaye SB . New strategies in the treatment of ovarian cancer: current clinical perspectives and future potential. Clin Cancer Res 2013; 19: 961–968.

Naora H, Montell DJ . Ovarian cancer metastasis: integrating insights from disparate model organisms. Nat Rev Cancer 2005; 5: 355–366.

Tan DS, Agarwal R, Kaye SB . Mechanisms of transcoelomic metastasis in ovarian cancer. Lancet Oncol 2006; 7: 925–934.

Yamazaki D, Kurisu S, Takenawa T . Regulation of cancer cell motility through actin reorganization. Cancer Sci 2005; 96: 379–386.

Wells A, Grahovac J, Wheeler S, Ma B, Lauffenburger D . Targeting tumor cell motility as a strategy against invasion and metastasis. Trends Pharmacol Sci 2013; 34: 283–289.

Lauffenburger DA, Horwitz AF . Cell migration: a physically integrated molecular process. Cell 1996; 84: 359–369.

Nurnberg A, Kitzing T, Grosse R . Nucleating actin for invasion. Nat Rev Cancer 2011; 11: 177–187.

Meyer AS, Hughes-Alford SK, Kay JE, Castillo A, Wells A, Gertler FB et al. 2D protrusion but not motility predicts growth factor-induced cancer cell migration in 3D collagen. J Cell Biol 2012; 197: 721–729.

Hannun YA . Functions of ceramide in coordinating cellular responses to stress. Science 1996; 274: 1855–1859.

Kitatani K, Idkowiak-Baldys J, Hannun YA . The sphingolipid salvage pathway in ceramide metabolism and signaling. Cell Signal 2008; 20: 1010–1018.

Kitatani K, Sheldon K, Anelli V, Jenkins RW, Sun Y, Grabowski GA et al. Acid beta-glucosidase 1 counteracts p38delta-dependent induction of interleukin-6: possible role for ceramide as an anti-inflammatory lipid. J Biol Chem 2009; 284: 12979–12988.

Clarke CJ, Truong TG, Hannun YA . Role for neutral sphingomyelinase-2 in tumor necrosis factor alpha-stimulated expression of vascular cell adhesion molecule-1 (VCAM) and intercellular adhesion molecule-1 (ICAM) in lung epithelial cells: p38 MAPK is an upstream regulator of nSMase2. J Biol Chem 2007; 282: 1384–1396.

Garzotto M, White-Jones M, Jiang Y, Ehleiter D, Liao WC, Haimovitz-Friedman A et al. 12-O-tetradecanoylphorbol-13-acetate-induced apoptosis in LNCaP cells is mediated through ceramide synthase. Cancer Res 1998; 58: 2260–2264.

Hannun YA, Obeid LM . Principles of bioactive lipid signalling: lessons from sphingolipids. Nat Rev Mol Cell Biol 2008; 9: 139–150.

Park JW, Park WJ, Futerman AH . Ceramide synthases as potential targets for therapeutic intervention in human diseases. Biochim Biophys Acta 2014; 1841: 671–681.

Ogretmen B, Pettus BJ, Rossi MJ, Wood R, Usta J, Szulc Z et al. Biochemical mechanisms of the generation of endogenous long chain ceramide in response to exogenous short chain ceramide in the A549 human lung adenocarcinoma cell line. Role for endogenous ceramide in mediating the action of exogenous ceramide. J Biol Chem 2002; 277: 12960–12969.

Takeda S, Mitsutake S, Tsuji K, Igarashi Y . Apoptosis occurs via the ceramide recycling pathway in human HaCaT keratinocytes. J Biochem 2006; 139: 255–262.

Kitatani K, Idkowiak-Baldys J, Bielawski J, Taha TA, Jenkins RW, Senkal CE et al. Protein kinase C-induced activation of a ceramide/protein phosphatase 1 pathway leading to dephosphorylation of p38 MAPK. J Biol Chem 2006; 281: 36793–36802.

Kitatani K, Idkowiak-Baldys J, Hannun YA . Mechanism of inhibition of sequestration of protein kinase C alpha/betaII by ceramide. Roles of ceramide-activated protein phosphatases and phosphorylation/dephosphorylation of protein kinase C alpha/betaII on threonine 638/641. J Biol Chem 2007; 282: 20647–20656.

Morad SA, Cabot MC . Ceramide-orchestrated signalling in cancer cells. Nat Rev Cancer 2013; 13: 51–65.

Stover TC, Sharma A, Robertson GP, Kester M . Systemic delivery of liposomal short-chain ceramide limits solid tumor growth in murine models of breast adenocarcinoma. Clin Cancer Res 2005; 11: 3465–3474.

Stover T, Kester M . Liposomal delivery enhances short-chain ceramide-induced apoptosis of breast cancer cells. J Pharmacol Exp Ther 2003; 307: 468–475.

van Vlerken LE, Duan Z, Seiden MV, Amiji MM . Modulation of intracellular ceramide using polymeric nanoparticles to overcome multidrug resistance in cancer. Cancer Res 2007; 67: 4843–4850.

Boddapati SV, D'Souza GG, Erdogan S, Torchilin VP, Weissig V . Organelle-targeted nanocarriers: specific delivery of liposomal ceramide to mitochondria enhances its cytotoxicity in vitro and in vivo. Nano Lett 2008; 8: 2559–2563.

Koshkaryev A, Piroyan A, Torchilin VP . Increased apoptosis in cancer cells in vitro and in vivo by ceramides in transferrin-modified liposomes. Cancer Biol Ther 2012; 13: 50–60.

Tran MA, Smith CD, Kester M, Robertson GP . Combining nanoliposomal ceramide with sorafenib synergistically inhibits melanoma and breast cancer cell survival to decrease tumor development. Clin Cancer Res 2008; 14: 3571–3581.

Edmond V, Dufour F, Poiroux G, Shoji K, Malleter M, Fouque A et al. Downregulation of ceramide synthase-6 during epithelial-to-mesenchymal transition reduces plasma membrane fluidity and cancer cell motility. Oncogene 2014; 34: 996–1005.

Xue G, Hemmings BA . PKB/Akt-dependent regulation of cell motility. J Natl Cancer Inst 2013; 105: 393–404.

Rodon J, Dienstmann R, Serra V, Tabernero J . Development of PI3K inhibitors: lessons learned from early clinical trials. Nat Rev Clin Oncol 2013; 10: 143–153.

Bast RC Jr, Hennessy B, Mills GB . The biology of ovarian cancer: new opportunities for translation. Nat Rev Cancer 2009; 9: 415–428.

Shayesteh L, Lu Y, Kuo WL, Baldocchi R, Godfrey T, Collins C et al. PIK3CA is implicated as an oncogene in ovarian cancer. Nat Genet 1999; 21: 99–102.

Stratford S, Hoehn KL, Liu F, Summers SA . Regulation of insulin action by ceramide: dual mechanisms linking ceramide accumulation to the inhibition of Akt/protein kinase B. J. Biol Chem 2004; 279: 36608–36615.

Olson MF, Sahai E . The actin cytoskeleton in cancer cell motility. Clin Exp Metastasis 2009; 26: 273–287.

Ip CK, Cheung AN, Ngan HY, Wong AS . p70 S6 kinase in the control of actin cytoskeleton dynamics and directed migration of ovarian cancer cells. Oncogene 2011; 30: 2420–2432.

Yoshizaki H, Mochizuki N, Gotoh Y, Matsuda M . Akt-PDK1 complex mediates epidermal growth factor-induced membrane protrusion through Ral activation. Mol Biol Cell 2007; 18: 119–128.

Fruman DA, Meyers RE, Cantley LC . Phosphoinositide kinases. Annu Rev Biochem 1998; 67: 481–507.

Nitta M, Katabuchi H, Ohtake H, Tashiro H, Yamaizumi M, Okamura H . Characterization and tumorigenicity of human ovarian surface epithelial cells immortalized by SV40 large T antigen. Gynecol Oncol 2001; 81: 10–17.

Wang E, Norred WP, Bacon CW, Riley RT, Merrill AH Jr . Inhibition of sphingolipid biosynthesis by fumonisins. Implications for diseases associated with Fusarium moniliforme. J Biol Chem 1991; 266: 14486–14490.

Wijesinghe DS, Massiello A, Subramanian P, Szulc Z, Bielawska A, Chalfant CE . Substrate specificity of human ceramide kinase. J Lipid Res 2005; 46: 2706–2716.

Niikura H, Sasano H, Sato S, Yajima A . Expression of epidermal growth factor-related proteins and epidermal growth factor receptor in common epithelial ovarian tumors. Int J Gynecol Pathol 1997; 16: 60–68.

Bartlett JM, Langdon SP, Simpson BJ, Stewart M, Katsaros D, Sismondi P et al. The prognostic value of epidermal growth factor receptor mRNA expression in primary ovarian cancer. Br J Cancer 1996; 73: 301–306.

Zhou HY, Pon YL, Wong AS . Synergistic effects of epidermal growth factor and hepatocyte growth factor on human ovarian cancer cell invasion and migration: role of extracellular signal-regulated kinase 1/2 and p38 mitogen-activated protein kinase. Endocrinology 2007; 148: 5195–5208.

Enomoto A, Murakami H, Asai N, Morone N, Watanabe T, Kawai K et al. Akt/PKB regulates actin organization and cell motility via Girdin/APE. Dev Cell 2005; 9: 389–402.

Zhou H, Summers SA, Birnbaum MJ, Pittman RN . Inhibition of Akt kinase by cell-permeable ceramide and its implications for ceramide-induced apoptosis. J Biol Chem 1998; 273: 16568–16575.

Dobrowsky RT, Hannun YA . Ceramide stimulates a cytosolic protein phosphatase. J Biol Chem 1992; 267: 5048–5051.

Ogretmen B, Hannun YA . Biologically active sphingolipids in cancer pathogenesis and treatment. Nat Rev Cancer 2004; 4: 604–616.

Bialojan C, Takai A . Inhibitory effect of a marine-sponge toxin, okadaic acid, on protein phosphatases. Specificity and kinetics. Biochem J 1988; 256: 283–290.

Ishihara H, Martin BL, Brautigan DL, Karaki H, Ozaki H, Kato Y et al. Calyculin A and okadaic acid: inhibitors of protein phosphatase activity. Biochem Biophys Res Commun 1989; 159: 871–877.

Salmena L, Carracedo A, Pandolfi PP . Tenets of PTEN tumor suppression. Cell 2008; 133: 403–414.

Aschrafi A, Franzen R, Shabahang S, Fabbro D, Pfeilschifter J, Huwiler A . Ceramide induces translocation of protein kinase C-alpha to the Golgi compartment of human embryonic kidney cells by interacting with the C2 domain. Biochim Biophys Acta 2003; 1634: 30–39.

Huwiler A, Fabbro D, Pfeilschifter J . Selective ceramide binding to protein kinase C-alpha and -delta isoenzymes in renal mesangial cells. Biochemistry 1998; 37: 14556–14562.

Huwiler A, Johansen B, Skarstad A, Pfeilschifter J . Ceramide binds to the CaLB domain of cytosolic phospholipase A2 and facilitates its membrane docking and arachidonic acid release. Faseb J 2001; 15: 7–9.

Arcaro A, Volinia S, Zvelebil MJ, Stein R, Watton SJ, Layton MJ et al. Downward J, Waterfield MD. Human phosphoinositide 3-kinase C2beta, the role of calcium and the C2 domain in enzyme activity. J Biol Chem 1998; 273: 33082–33090.

Bader AG, Kang S, Zhao L, Vogt PK . Oncogenic PI3K deregulates transcription and translation. Nat Rev Cancer 2005; 5: 921–929.

Torchilin VP . Recent advances with liposomes as pharmaceutical carriers. Nat Rev Drug Discov 2005; 4: 145–160.

Sun Y, Fox T, Adhikary G, Kester M, Pearlman E . Inhibition of corneal inflammation by liposomal delivery of short-chain, C-6 ceramide. J Leukoc Biol 2008; 83: 1512–1521.

Yilmaz M, Christofori G . EMT, the cytoskeleton, and cancer cell invasion. Cancer Metastasis Rev 2009; 28: 15–33.

Maffucci T, Cooke FT, Foster FM, Traer CJ, Fry MJ, Falasca M . Class II phosphoinositide 3-kinase defines a novel signaling pathway in cell migration. J Cell Biol 2005; 169: 789–799.

Pua TL, Wang FQ, Fishman DA . Roles of LPA in ovarian cancer development and progression. Future oncology 2009; 5: 1659–1673.

Boller D, Doepfner KT, De Laurentiis A, Guerreiro AS, Marinov M, Shalaby T et al. Targeting PI3KC2beta impairs proliferation and survival in acute leukemia, brain tumours and neuroendocrine tumours. Anticancer Res 2012; 32: 3015–3027.

Muller G, Ayoub M, Storz P, Rennecke J, Fabbro D, Pfizenmaier K . PKC zeta is a molecular switch in signal transduction of TNF-alpha, bifunctionally regulated by ceramide and arachidonic acid. EMBO J 1995; 14: 1961–1969.

Chalfant CE, Szulc Z, Roddy P, Bielawska A, Hannun YA . The structural requirements for ceramide activation of serine-threonine protein phosphatases. J Lipid Res 2004; 45: 496–506.

Mukhopadhyay A, Saddoughi SA, Song P, Sultan I, Ponnusamy S, Senkal CE et al. Direct interaction between the inhibitor 2 and ceramide via sphingolipid-protein binding is involved in the regulation of protein phosphatase 2 A activity and signaling. FASEB J 2009; 23: 751–763.

Huwiler A, Brunner J, Hummel R, Vervoordeldonk M, Stabel S, van den Bosch H et al. Ceramide-binding and activation defines protein kinase c-Raf as a ceramide-activated protein kinase. Proc Natl Acad Sci USA 1996; 93: 6959–6963.

Yin X, Zafrullah M, Lee H, Haimovitz-Friedman A, Fuks Z, Kolesnick R . A ceramide-binding C1 domain mediates kinase suppressor of ras membrane translocation. Cell Physiol Biochem 2009; 24: 219–230.

Calzolari A, Oliviero I, Deaglio S, Mariani G, Biffoni M, Sposi NM et al. Transferrin receptor 2 is frequently expressed in human cancer cell lines. Blood Cells Mol Dis 2007; 39: 82–91.

Karahatay S, Thomas K, Koybasi S, Senkal CE, Elojeimy S, Liu X et al. Clinical relevance of ceramide metabolism in the pathogenesis of human head and neck squamous cell carcinoma (HNSCC): attenuation of C(18)-ceramide in HNSCC tumors correlates with lymphovascular invasion and nodal metastasis. Cancer Lett 2007; 256: 101–111.

Ogiso H, Taniguchi M, Araya S, Aoki S, Wardhani LO, Yamashita Y et al. Comparative analysis of biological sphingolipids with glycerophospholipids and diacylglycerol by LC-MS/MS. Metabolites 2014; 4: 98–114.

Bligh EG, Dyer WJ . A rapid method of total lipid extraction and purification. Can J Biochem Physiol 1959; 37: 911–917.
Acknowledgements
This study was supported in part by JSPS KAKENHI Grants (40539235 to KK, 24390375 to NY and 23791801 to MT), a Health Labour Sciences Research Grant (201221019A to NY), and National Institutes of Health grants (U54 CA151881 to VPT and CA087584 to YAH). We also thank the laboratory members of the Departments of Microbiology and Immunology, and Obstetrics and Gynecology (Tohoku University, Sendai) for critical discussion.
Ethics declarations
Competing interests
The authors declare no conflict of interest.
About this article
Cite this article
Kitatani, K., Usui, T., Sriraman, S. et al. Ceramide limits phosphatidylinositol-3-kinase C2β-controlled cell motility in ovarian cancer: potential of ceramide as a metastasis-suppressor lipid. Oncogene 35, 2801–2812 (2016). https://doi.org/10.1038/onc.2015.330
Received:

Revised:

Accepted:

Published:

Issue Date:

DOI: https://doi.org/10.1038/onc.2015.330