Abstract
Germline BAP1 mutations predispose to several cancers, in particular malignant mesothelioma. Mesothelioma is an aggressive malignancy generally associated with professional exposure to asbestos. However, to date, we found that none of the mesothelioma patients carrying germline BAP1 mutations were professionally exposed to asbestos. We hypothesized that germline BAP1 mutations might influence the asbestos-induced inflammatory response that is linked to asbestos carcinogenesis, thereby increasing the risk of developing mesothelioma after minimal exposure. Using a BAP1+/− mouse model, we found that, compared with their wild-type littermates, BAP1+/− mice exposed to low-dose asbestos fibers showed significant alterations of the peritoneal inflammatory response, including significantly higher levels of pro-tumorigenic alternatively polarized M2 macrophages, and lower levels of several chemokines and cytokines. Consistent with these data, BAP1+/− mice had a significantly higher incidence of mesothelioma after exposure to very low doses of asbestos, doses that rarely induced mesothelioma in wild-type mice. Our findings suggest that minimal exposure to carcinogenic fibers may significantly increase the risk of malignant mesothelioma in genetically predisposed individuals carrying germline BAP1 mutations, possibly via alterations of the inflammatory response.
Your institute does not have access to this article
Relevant articles
Open Access articles citing this article.
Patrick M. Forde

,

Valsamo Anagnostou

…

Suresh S. Ramalingam

Nature Medicine Open Access 08 November 2021

Stefano Grosso

,

Alberto Marini

…

Anne E. Willis

Nature Communications Open Access 13 August 2021

Joanna Obacz

,

Henry Yung

…

Stefan J. Marciniak

British Journal of Cancer Open Access 05 July 2021
Access options
Subscribe to Journal
Get full journal access for 1 year
$119.00
only $2.38 per issue
All prices are NET prices.
VAT will be added later in the checkout.
Tax calculation will be finalised during checkout.
Buy article
Get time limited or full article access on ReadCube.
$32.00
All prices are NET prices.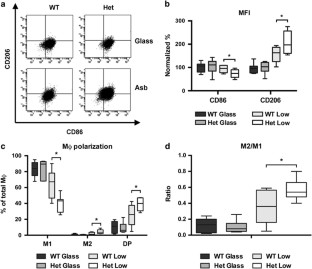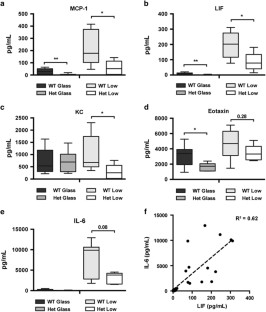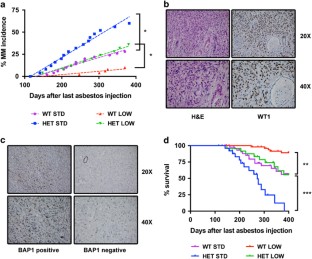 References
Carbone M, Ly BH, Dodson RF, Pagano I, Morris PT, Dogan UA et al. Malignant mesothelioma: facts, myths, and hypotheses. J Cell Physiol 2012; 227: 44–58.

Henley SJ, Larson TC, Wu M, Antao VC, Lewis M, Pinheiro GA et al. Mesothelioma incidence in 50 states and the District of Columbia, United States, 2003–2008. Int J Occup Environ Health 2013; 19: 1–10.

Networks UC Mesothelioma (C) European age standardised incidence rates, 2008–2010.

Carbone M, Yang H . Molecular pathways: targeting mechanisms of asbestos and erionite carcinogenesis in mesothelioma. Clin Cancer Res 2012; 18: 598–604.

Kim R, Emi M, Tanabe K . Cancer immunoediting from immune surveillance to immune escape. Immunology 2007; 121: 1–14.

Whiteside TL . The tumor microenvironment and its role in promoting tumor growth. Oncogene 2008; 27: 5904–5912.

Mantovani A, Biswas SK, Galdiero MR, Sica A, Locati M . Macrophage plasticity and polarization in tissue repair and remodelling. J Pathol 2013; 229: 176–185.

Noy R, Pollard JW . Tumor-associated macrophages: from mechanisms to therapy. Immunity 2014; 41: 49–61.

Pantano F, Berti P, Guida FM, Perrone G, Vincenzi B, Amato MM et al. The role of macrophages polarization in predicting prognosis of radically resected gastric cancer patients. J Cell Mol Med 2013; 17: 1415–1421.

Zhang M, He Y, Sun X, Li Q, Wang W, Zhao A et al. A high M1/M2 ratio of tumor-associated macrophages is associated with extended survival in ovarian cancer patients. J Ovarian Res 2014; 7: 19.

Cornelissen R, Lievense LA, Maat AP, Hendriks RW, Hoogsteden HC, Bogers AJ et al. Ratio of intratumoral macrophage phenotypes is a prognostic factor in epithelioid malignant pleural mesothelioma. PloS One 2014; 9: e106742.

Burt BM, Rodig SJ, Tilleman TR, Elbardissi AW, Bueno R, Sugarbaker DJ . Circulating and tumor-infiltrating myeloid cells predict survival in human pleural mesothelioma. Cancer 2011; 117: 5234–5244.

Testa JR, Cheung M, Pei J, Below JE, Tan Y, Sementino E et al. Germline BAP1 mutations predispose to malignant mesothelioma. Nat Genet 2011; 43: 1022–1025.

Carbone M, Ferris LK, Baumann F, Napolitano A, Lum CA, Flores EG et al. BAP1 cancer syndrome: malignant mesothelioma, uveal and cutaneous melanoma, and MBAITs. J Transl Med 2012; 10: 179.

Carbone M, Yang H, Pass HI, Krausz T, Testa JR, Gaudino G . BAP1 and cancer. Nat Rev Cancer 2013; 13: 153–159.

Baumann F, Flores E, Napolitano A, Kanodia S, Taioli E, Pass H et al. Mesothelioma patients with germline BAP1 mutations have 7-fold improved long-term survival. Carcinogenesis 2015; 36: 76–81.

Sebastien P, Bignon J, Martin M . Indoor airborne asbestos pollution: from the ceiling and the floor. Science 1982; 216: 1410–1412.

Baumann F, Buck BJ, Metcalf RV, McLaurin BT, Merkler D, Carbone M . The presence of asbestos in the natural environment is likely related to mesothelioma in young individuals and women from Southern Nevada. J Thorac Oncol 2015; 10: 731–737.

Dey A, Seshasayee D, Noubade R, French DM, Liu J, Chaurushiya MS et al. Loss of the tumor suppressor BAP1 causes myeloid transformation. Science 2012; 337: 1541–1546.

Marsella JM, Liu BL, Vaslet CA, Kane AB . Susceptibility of p53-deficient mice to induction of mesothelioma by crocidolite asbestos fibers. Environ Health Perspect 1997; 105: 1069–1072.

Davis MR, Manning LS, Whitaker D, Garlepp MJ, Robinson BW . Establishment of a murine model of malignant mesothelioma. Int J Cancer 1992; 52: 881–886.

Bott M, Brevet M, Taylor BS, Shimizu S, Ito T, Wang L et al. The nuclear deubiquitinase BAP1 is commonly inactivated by somatic mutations and 3p21.1 losses in malignant pleural mesothelioma. Nat Genet 2011; 43: 668–672.

Nasu M, Emi M, Pastorino S, Tanji M, Powers A, Luk H et al. High incidence of somatic BAP1 alterations in sporadic malignant mesothelioma. J Thorac Oncol 2015; 10: 565–576.

Yoshikawa Y, Sato A, Tsujimura T, Emi M, Morinaga T, Fukuoka K et al. Frequent inactivation of the BAP1 gene in epithelioid-type malignant mesothelioma. Cancer Sci 2012; 103: 868–874.

de Reynies A, Jaurand MC, Renier A, Couchy G, Hysi I, Elarouci N et al. Molecular classification of malignant pleural mesothelioma: identification of a poor prognosis subgroup linked to the epithelial-to-mesenchymal transition. Clin Cancer Res 2014; 20: 1323–1334.

Lo Iacono M, Monica V, Righi L, Grosso F, Libener R, Vatrano S et al. Targeted next-generation sequencing of cancer genes in advanced stage malignant pleural mesothelioma: a retrospective study. J Thorac Oncol 2015; 10: 492–499.

Guo G, Chmielecki J, Goparaju C, Heguy A, Dolgalev I, Carbone M et al. Whole-exome sequencing reveals frequent genetic alterations in BAP1, NF2, CDKN2A, and CUL1 in malignant pleural mesothelioma. Cancer Res 2015; 75: 264–269.

Zauderer MG, Bott M, McMillan R, Sima CS, Rusch V, Krug LM et al. Clinical characteristics of patients with malignant pleural mesothelioma harboring somatic BAP1 mutations. J Thorac Oncol 2013; 8: 1430–1433.

Xu J, Kadariya Y, Cheung M, Pei J, Talarchek J, Sementino E et al. Germline mutation of Bap1 accelerates development of asbestos-induced malignant mesothelioma. Cancer Res 2014; 74: 4388–4397.

Altomare DA, Menges CW, Xu J, Pei J, Zhang L, Tadevosyan A et al. Losses of both products of the Cdkn2a/Arf locus contribute to asbestos-induced mesothelioma development and cooperate to accelerate tumorigenesis. PloS One 2011; 6: e18828.

Scheuermann JC, de Ayala Alonso AG, Oktaba K, Ly-Hartig N, McGinty RK, Fraterman S et al. Histone H2A deubiquitinase activity of the Polycomb repressive complex PR-DUB. Nature 2010; 465: 243–247.

Jensen DE, Proctor M, Marquis ST, Gardner HP, Ha SI, Chodosh LA et al. BAP1: a novel ubiquitin hydrolase which binds to the BRCA1 RING finger and enhances BRCA1-mediated cell growth suppression. Oncogene 1998; 16: 1097–1112.

Yu H, Mashtalir N, Daou S, Hammond-Martel I, Ross J, Sui G et al. The ubiquitin carboxyl hydrolase BAP1 forms a ternary complex with YY1 and HCF-1 and is a critical regulator of gene expression. Mol Cell Biol 2010; 30: 5071–5085.

Misaghi S, Ottosen S, Izrael-Tomasevic A, Arnott D, Lamkanfi M, Lee J et al. Association of C-terminal ubiquitin hydrolase BRCA1-associated protein 1 with cell cycle regulator host cell factor 1. Mol Cell Biol 2009; 29: 2181–2192.

Lee HS, Lee SA, Hur SK, Seo JW, Kwon J . Stabilization and targeting of INO80 to replication forks by BAP1 during normal DNA synthesis. Nat Commun 2014; 5: 5128.

Zarrizi R, Menard JA, Belting M, Massoumi R . Deubiquitination of gamma-tubulin by BAP1 prevents chromosome instability in breast cancer cells. Cancer Res 2014; 74: 6499–6508.

Yu H, Pak H, Hammond-Martel I, Ghram M, Rodrigue A, Daou S et al. Tumor suppressor and deubiquitinase BAP1 promotes DNA double-strand break repair. Proc Natl Acad Sci USA 2014; 111: 285–290.

Ismail IH, Davidson R, Gagne JP, Xu ZZ, Poirier GG, Hendzel MJ . Germline mutations in BAP1 impair its function in DNA double-strand break repair. Cancer Res 2014; 74: 4282–4294.

Cybulski C, Nazarali S, Narod SA . Multiple primary cancers as a guide to heritability. Int J Cancer 2014; 135: 1756–1763.

Lujambio A, Akkari L, Simon J, Grace D, Tschaharganeh DF, Bolden JE et al. Non-cell-autonomous tumor suppression by p53. Cell 2013; 153: 449–460.

Tanaka S, Choe N, Iwagaki A, Hemenway DR, Kagan E . Asbestos exposure induces MCP-1 secretion by pleural mesothelial cells. Exp Lung Res 2000; 26: 241–255.

Simeonova PP, Toriumi W, Kommineni C, Erkan M, Munson AE, Rom WN et al. Molecular regulation of IL-6 activation by asbestos in lung epithelial cells: role of reactive oxygen species. J Immunol 1997; 159: 3921–3928.

Occupational Safety & Health Administration. OSHA FactSheet: Asbestos 2014. http://www.osha.gov/Publications/OSHA3507.pdf.

Kroczynska B, Cutrone R, Bocchetta M, Yang H, Elmishad AG, Vacek P et al. Crocidolite asbestos and SV40 are cocarcinogens in human mesothelial cells and in causing mesothelioma in hamsters. Proc Natl Acad Sci USA 2006; 103: 14128–14133.

Comertpay S, Pastorino S, Tanji M, Mezzapelle R, Strianese O, Napolitano A et al. Evaluation of clonal origin of malignant mesothelioma. J Transl Med 2014; 12: 301.

Qi F, Okimoto G, Jube S, Napolitano A, Pass HI, Laczko R et al. Continuous exposure to chrysotile asbestos can cause transformation of human mesothelial cells via HMGB1 and TNF-alpha signaling. Am J Pathol 2013; 183: 1654–1666.
Acknowledgements
This work was supported by National Institute of Health (grant numbers R01CA106567, P01CA114047, P30CA071789 to MC and R01CA160715-0A to HY); the DoD CDMRP PRMRP Career Development Award to HY, and the V Foundation to MC and HY, the P30 CA071789 (UHCC Pathology Shared Resource); the Mesothelioma Applied Research Foundation to HY, the United-4A Cure, the Hawaii Community Foundation to HY, and the University of Hawaii Foundation, which received donations to support mesothelioma research from Honeywell International Inc., to MC.
Ethics declarations
Competing interests
M Carbone has pending patent applications on BAP1 and provides consultation for mesothelioma expertise and diagnosis. The remaining authors declare no conflicts of interests.
Supplementary information
About this article
Cite this article
Napolitano, A., Pellegrini, L., Dey, A. et al. Minimal asbestos exposure in germline BAP1 heterozygous mice is associated with deregulated inflammatory response and increased risk of mesothelioma. Oncogene 35, 1996–2002 (2016). https://doi.org/10.1038/onc.2015.243
Received:

Revised:

Accepted:

Published:

Issue Date:

DOI: https://doi.org/10.1038/onc.2015.243