Abstract
E-cadherin is a central molecule in the process of gastric carcinogenesis and its posttranslational modifications by N-glycosylation have been described to induce a deleterious effect on cell adhesion associated with tumor cell invasion. However, the role that site-specific glycosylation of E-cadherin has in its defective function in gastric cancer cells needs to be determined. Using transgenic mice models and human clinical samples, we demonstrated that N-acetylglucosaminyltransferase V (GnT-V)-mediated glycosylation causes an abnormal pattern of E-cadherin expression in the gastric mucosa. In vitro models further indicated that, among the four potential N-glycosylation sites of E-cadherin, Asn-554 is the key site that is selectively modified with β1,6 GlcNAc-branched N-glycans catalyzed by GnT-V. This aberrant glycan modification on this specific asparagine site of E-cadherin was demonstrated to affect its critical functions in gastric cancer cells by affecting E-cadherin cellular localization, cis-dimer formation, molecular assembly and stability of the adherens junctions and cell–cell aggregation, which was further observed in human gastric carcinomas. Interestingly, manipulating this site-specific glycosylation, by preventing Asn-554 from receiving the deleterious branched structures, either by a mutation or by silencing GnT-V, resulted in a protective effect on E-cadherin, precluding its functional dysregulation and contributing to tumor suppression.
Your institute does not have access to this article
Relevant articles
Open Access articles citing this article.
Xiaoxia Dong

,

Chunli Chen

…

Li Shen

Cell & Bioscience Open Access 26 August 2021

Ludger Johannes

&

Anne Billet

Cancer and Metastasis Reviews Open Access 09 May 2020

Neha M. Akella

,

Lorela Ciraku

&

Mauricio J. Reginato

BMC Biology Open Access 04 July 2019
Access options
Subscribe to Journal
Get full journal access for 1 year
$119.00
only $2.38 per issue
All prices are NET prices.
VAT will be added later in the checkout.
Tax calculation will be finalised during checkout.
Buy article
Get time limited or full article access on ReadCube.
$32.00
All prices are NET prices.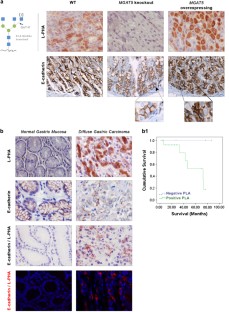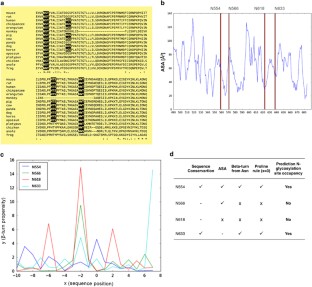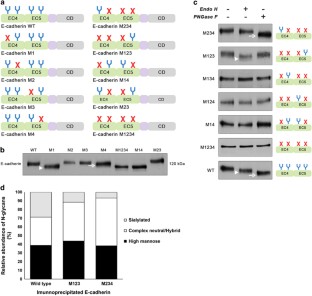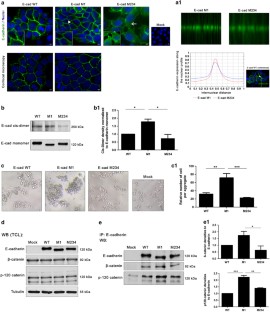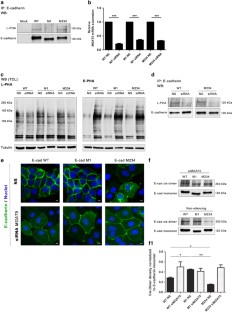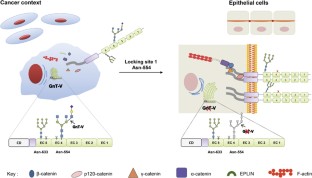 References
Takeichi M . Functional correlation between cell adhesive properties and some cell surface proteins. J Cell Biol 1977; 75: 464–474.

Lewis JE, Jensen PJ, Johnson KR, Wheelock MJ . E-cadherin mediates adherens junction organization through protein kinase C. J Cell Sci 1994; 107: 3615–3621.

Yap AS, Niessen CM, Gumbiner BM . The juxtamembrane region of the cadherin cytoplasmic tail supports lateral clustering, adhesive strengthening, and interaction with p120ctn. J Cell Biol 1998; 141: 779–789.

Guilford P . E-cadherin downregulation in cancer: fuel on the fire? Mol Med Today 1999; 5: 172–177.

van Roy F, Berx G . The cell-cell adhesion molecule E-cadherin. Cell Mol Life Sci 2008; 65: 3756–3788.

Pinho SS, Seruca R, Gartner F, Yamaguchi Y, Gu J, Taniguchi N et al. Modulation of E-cadherin function and dysfunction by N-glycosylation. Cell Mol Life Sci 2011; 68: 1011–1020.

Pinho SS, Carvalho S, Marcos-Pinto R, Magalhaes A, Oliveira C, Gu J et al. Gastric cancer: adding glycosylation to the equation. Trends Mol Med 2013; 19: 664–676.

Shapiro L, Fannon AM, Kwong PD, Thompson A, Lehmann MS, Grubel G et al. Structural basis of cell-cell adhesion by cadherins. Nature 1995; 374: 327–337.

Pertz O, Bozic D, Koch AW, Fauser C, Brancaccio A, Engel J . A new crystal structure, Ca2+ dependence and mutational analysis reveal molecular details of E-cadherin homoassociation. EMBO J 1999; 18: 1738–1747.

Nelson WJ . Regulation of cell-cell adhesion by the cadherin-catenin complex. Biochem Soc Trans 2008; 36: 149–155.

Paredes J, Figueiredo J, Albergaria A, Oliveira P, Carvalho J, Ribeiro AS et al. Epithelial E- and P-cadherins: role and clinical significance in cancer. Biochim Biophys Acta 2012; 1826: 297–311.

Davis MA, Ireton RC, Reynolds AB . A core function for p120-catenin in cadherin turnover. J Cell Biol 2003; 163: 525–534.

Hirohashi S, Kanai Y . Cell adhesion system and human cancer morphogenesis. Cancer Sci 2003; 94: 575–581.

Zhou F, Su J, Fu L, Yang Y, Zhang L, Wang L et al. Unglycosylation at Asn-633 made extracellular domain of E-cadherin folded incorrectly and arrested in endoplasmic reticulum, then sequentially degraded by ERAD. Glycoconj J 2008; 25: 727–740.

Pinho SS, Figueiredo J, Cabral J, Carvalho S, Dourado J, Magalhaes A et al. E-cadherin and adherens-junctions stability in gastric carcinoma: functional implications of glycosyltransferases involving N-glycan branching biosynthesis, N-acetylglucosaminyltransferases III and V. Biochim Biophys Acta 2013; 1830: 2690–2700.

Vester-Christensen MB, Halim A, Joshi HJ, Steentoft C, Bennett EP, Levery SB et al. Mining the O-mannose glycoproteome reveals cadherins as major O-mannosylated glycoproteins. Proc Natl Acad Sci USA 2013; 110: 21018–21023.

Lommel M, Winterhalter PR, Willer T, Dahlhoff M, Schneider MR, Bartels MF et al. Protein O-mannosylation is crucial for E-cadherin-mediated cell adhesion. Proc Natl Acad Sci USA 2013; 110: 21024–21029.

Pinho SS, Osorio H, Nita-Lazar M, Gomes J, Lopes C, Gartner F et al. Role of E-cadherin N-glycosylation profile in a mammary tumor model. Biochem Biophys Res Commun 2009; 379: 1091–1096.

Gu J, Sato Y, Kariya Y, Isaji T, Taniguchi N, Fukuda T . A Mutual regulation between cell−cell adhesion and N-glycosylation: implication of the bisecting GlcNAc for biological functions. J Proteome Res 2009; 8: 431–435.

Pinho SS, Reis CA, Paredes J, Magalhaes AM, Ferreira AC, Figueiredo J et al. The role of N-acetylglucosaminyltransferase III and V in the post-transcriptional modifications of E-cadherin. Hum Mol Genet 2009; 18: 2599–2608.

de-Freitas-Junior JC, Carvalho S, Dias AM, Oliveira P, Cabral J, Seruca R et al. Insulin/IGF-I signaling pathways enhances tumor cell invasion through bisecting GlcNAc N-glycans modulation. an interplay with E-cadherin. PLoS One 2013; 8: e81579.

Yoshimura M, Ihara Y, Matsuzawa Y, Taniguchi N . Aberrant glycosylation of E-cadherin enhances cell-cell binding to suppress metastasis. J Biol Chem 1996; 271: 13811–13815.

Kitada T, Miyoshi E, Noda K, Higashiyama S, Ihara H, Matsuura N et al. The addition of bisecting N-acetylglucosamine residues to E-cadherin down-regulates the tyrosine phosphorylation of beta-catenin. J Biol Chem 2001; 276: 475–480.

Langer MD, Guo H, Shashikanth N, Pierce JM, Leckband DE . N-glycosylation alters cadherin-mediated intercellular binding kinetics. J Cell Sci 2012; 125: 2478–2485.

Varelas X, Bouchie MP, Kukuruzinska MA . Protein N-glycosylation in oral cancer: dysregulated cellular networks among DPAGT1, E-cadherin adhesion and canonical Wnt signaling. Glycobiology 2014; 24: 579–591.

Nita-Lazar M, Noonan V, Rebustini I, Walker J, Menko AS, Kukuruzinska MA . Overexpression of DPAGT1 leads to aberrant N-glycosylation of E-cadherin and cellular discohesion in oral cancer. Cancer Res 2009; 69: 5673–5680.

Soderberg O, Gullberg M, Jarvius M, Ridderstrale K, Leuchowius KJ, Jarvius J et al. Direct observation of individual endogenous protein complexes in situ by proximity ligation. Nat Methods 2006; 3: 995–1000.

Przybylo M, Hoja-Lukowicz D, Litynska A, Laidler P . Different glycosylation of cadherins from human bladder non-malignant and cancer cell lines. Cancer Cell Int 2002; 2: 6.

Jones J, Krag SS, Betenbaugh MJ . Controlling N-linked glycan site occupancy. Biochim Biophys Acta 2005 1726. 121–137.

Gavel Y, von Heijne G . Sequence differences between glycosylated and non-glycosylated Asn-X-Thr/Ser acceptor sites: implications for protein engineering. Protein Eng 1990; 3: 433–442.

Bause E . Structural requirements of N-glycosylation of proteins. Studies with proline peptides as conformational probes. Biochem J 1983; 209: 331–336.

Oda T, Kanai Y, Oyama T, Yoshiura K, Shimoyama Y, Birchmeier W et al. E-cadherin gene mutations in human gastric carcinoma cell lines. Proc Natl Acad Sci USA 1994; 91: 1858–1862.

Jensen PH, Karlsson NG, Kolarich D, Packer NH . Structural analysis of N- and O-glycans released from glycoproteins. Nat Protoc 2012; 7: 1299–1310.

Deshpande N, Jensen PH, Packer NH, Kolarich D . GlycoSpectrumScan: fishing glycopeptides from MS spectra of protease digests of human colostrum sIgA. J Proteome Res 2010; 9: 1063–1075.

Thaysen-Andersen M, Packer NH . Site-specific glycoproteomics confirms that protein structure dictates formation of N-glycan type, core fucosylation and branching. Glycobiology 2012; 22: 1440–1452.

Liwosz A, Lei T, Kukuruzinska MA . N-glycosylation affects the molecular organization and stability of E-cadherin junctions. J Biol Chem 2006; 281: 23138–23149.

Gu J, Isaji T, Xu Q, Kariya Y, Gu W, Fukuda T et al. Potential roles of N-glycosylation in cell adhesion. Glycoconj J 2012; 29: 599–607.

Guo HB, Johnson H, Randolph M, Pierce M . Regulation of homotypic cell-cell adhesion by branched N-glycosylation of N-cadherin extracellular EC2 and EC3 domains. J Biol Chem 2009; 284: 34986–34997.

Sato Y, Isaji T, Tajiri M, Yoshida-Yamamoto S, Yoshinaka T, Somehara T et al. An N-glycosylation site on the beta-propeller domain of the integrin alpha5 subunit plays key roles in both its function and site-specific modification by beta1,4- N-acetylglucosaminyltransferase III. J Biol Chem 2009; 284: 11873–11881.

Pruitt KD, Tatusova T, Brown GR, Maglott DR . NCBI Reference Sequences (RefSeq): current status, new features and genome annotation policy. Nucleic Acids Res 2012; 40: D130–D135.

Altschul SF, Gish W, Miller W, Myers EW, Lipman DJ . Basic local alignment search tool. J Mol Biol 1990; 215: 403–410.

Larkin MA, Blackshields G, Brown NP, Chenna R, McGettigan PA, McWilliam H et al. Clustal W and Clustal X version 2.0. Bioinformatics 2007; 23: 2947–2948.

Sali A, Blundell TL . Comparative protein modelling by satisfaction of spatial restraints. J Mol Biol 1993; 234: 779–815.

Kabsch W, Sander C . Dictionary of protein secondary structure: pattern recognition of hydrogen-bonded and geometrical features. Biopolymers 1983; 22: 2577–2637.

Chou PY, Fasman GD . Prediction of beta-turns. Biophys J 1979; 26: 367–383.

Rose PW, Bi C, Bluhm WF, Christie CH, Dimitropoulos D, Dutta S et al. The RCSB Protein Data Bank: new resources for research and education. Nucleic Acids Res 2013; 41: D475–D482.

Cooper CA, Gasteiger E, Packer NH . GlycoMod—a software tool for determining glycosylation compositions from mass spectrometric data. Proteomics 2001; 1: 340–349.

Ceroni A, Maass K, Geyer H, Geyer R, Dell A, Haslam SM . GlycoWorkbench: a tool for the computer-assisted annotation of mass spectra of glycans. J Proteome Res 2008; 7: 1650–1659.

Kolarich D, Rapp E, Struwe WB, Haslam SM, Zaia J, McBride R et al. The minimum information required for a glycomics experiment (MIRAGE) project: improving the standards for reporting mass-spectrometry-based glycoanalytic data. Mol Cell Proteomics 2013; 12: 991–995.

York WS, Agravat S, Aoki-Kinoshita KF, McBride R, Campbell MP, Costello CE et al. MIRAGE: the minimum information required for a glycomics experiment. Glycobiology 2014; 24: 402–406.

Sanches JM, Figueiredo J, Fonseca M, Durães C, Melo S, Esménio S et al. Quantification of mutant E-cadherin using bioimaging analysis of in situ fluorescence microscopy. A new approach to CDH1 missense variants. Eur J Hum Genet 2014, e-pub ahead of print 12 November 2014; doi:10.1038/ejhg.2014.240.
Acknowledgements
IPATIMUP integrates the I3S Research Unit, which is partially supported by FCT, the Portuguese Foundation for Science and Technology. This work is funded by FEDER funds through the Operational Programme for Competitiveness Factors—COMPETE— and National Funds through the FCT—Foundation for Science and Technology, under the projects: PTDC/CVT/111358/2009; EXPL/BIM-MEC/0149/2012; and PTDC/BBB-EBI/0786/2012. SC (SFRH/BD/77386/2011), AMD (SFRH/BI/52380/2013) BiotechHealth Doctoral Programme, and SSP (SFRH/BPD/63094/2009) thank FCT and the Luso-American Foundation (FLAD) for funding. JMS acknowledges FCT (UID/EEA/50009/2013). DK acknowledges support by the Max Planck Society and European Union (Seventh Framework Programme 'Glycoproteomics', grant number PCIG09-GA-2011-293847. CAR and DK acknowledge GastricGlycoExplorer project, grant number 316929). We thank Ola Soderberg and Gaëlle Cane (Department of Genetics and Pathology, University of Uppsala, Uppsala, Sweden) for providing the Streptavidin PLA probe and to Márcia Pereira and Sara Campos for the support in PLA technique and statistical analyses.
Ethics declarations
Competing interests
The authors declare no conflict of interest.
Supplementary information
About this article
Cite this article
Carvalho, S., Catarino, T., Dias, A. et al. Preventing E-cadherin aberrant N-glycosylation at Asn-554 improves its critical function in gastric cancer. Oncogene 35, 1619–1631 (2016). https://doi.org/10.1038/onc.2015.225
Received:

Revised:

Accepted:

Published:

Issue Date:

DOI: https://doi.org/10.1038/onc.2015.225