Abstract
Waldenström macroglobulinemia (WM) is a proliferative disorder of IgM-secreting, lymphoplasmacytoid cells that inhabit the lymph nodes and bone marrow. The disease carries a high prevalence of activating mutations in MyD88 (91%) and CXCR4 (28%). Because signaling through these pathways leads to Bcl-xL induction, we examined Bcl-2 family expression in WM patients and cell lines. Unlike other B-lymphocyte-derived malignancies, which become dependent on expression of anti-apoptotic proteins to counter expression of pro-apoptotic proteins, WM samples expressed both pro- and anti-apoptotic Bcl-2 proteins at low levels similar to their normal B-cell and plasma cell counterparts. Three WM cell lines expressed pro-apoptotic Bcl-2 family members Bim or Bax and Bak at low levels, which determined their sensitivity to inducers of intrinsic apoptosis. In two cell lines, miR-155 upregulation, which is common in WM, was responsible for the inhibition of FOXO3a and Bim expression. Both antagonizing miR-155 to induce Bim and proteasome inhibition increased the sensitivity to ABT-737 in these lines indicating a lowering of the apoptotic threshold. In this manner, treatments that increase pro-apoptotic protein expression increase the efficacy of agents treated in combination in addition to direct killing.
Access options
Access options
Subscribe to Journal
Get full journal access for 1 year
$2,597.00
only $51.94 per issue
All prices are NET prices.
VAT will be added later in the checkout.
Rent or Buy article
Get time limited or full article access on ReadCube.
from$8.99
All prices are NET prices.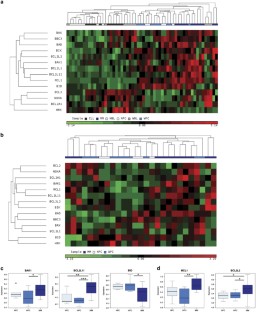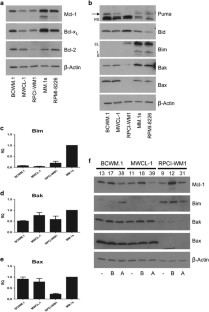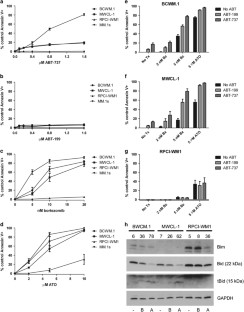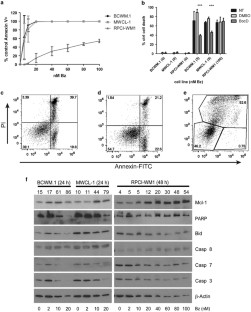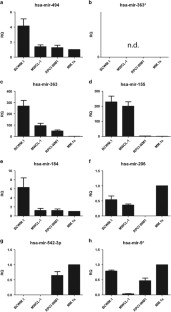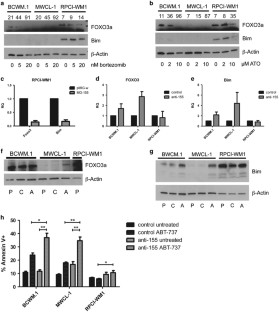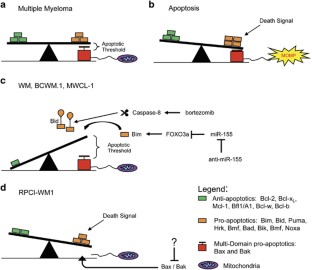 References
1

Chipuk JE, Moldoveanu T, Llambi F, Parsons MJ, Green DR . The BCL-2 family reunion. Mol Cell 2010; 37: 299–310.

2

Ren D, Tu HC, Kim H, Wang GX, Bean GR, Takeuchi O et al. BID, BIM, and PUMA are essential for activation of the BAX- and BAK-dependent cell death program. Science 2010; 330: 1390–1393.

3

Wei MC, Zong WX, Cheng EH, Lindsten T, Panoutsakopoulou V, Ross AJ et al. Proapoptotic BAX and BAK: a requisite gateway to mitochondrial dysfunction and death. Science 2001; 292: 727–730.

4

Danial NN, Korsmeyer SJ . Cell death: critical control points. Cell 2004; 116: 205–219.

5

Certo M, Del Gaizo Moore V, Nishino M, Wei G, Korsmeyer S, Armstrong SA et al. Mitochondria primed by death signals determine cellular addiction to antiapoptotic BCL-2 family members. Cancer Cell 2006; 9: 351–365.

6

Strasser A, Harris AW, Bath ML, Cory S . Novel primitive lymphoid tumours induced in transgenic mice by cooperation between myc and bcl-2. Nature 1990; 348: 331–333.

7

Beverly LJ, Varmus HE . MYC-induced myeloid leukemogenesis is accelerated by all six members of the antiapoptotic BCL family. Oncogene 2009; 28: 1274–1279.

8

Ni Chonghaile T, Sarosiek KA, Vo TT, Ryan JA, Tammareddi A, Moore Vdel G et al. Pretreatment mitochondrial priming correlates with clinical response to cytotoxic chemotherapy. Science 2011; 334: 1129–1133.

9

Herrinton LJ, Weiss NS . Incidence of Waldenstrom's macroglobulinemia. Blood 1993; 82: 3148–3150.

10

Ghobrial IM, Gertz MA, Fonseca R . Waldenstrom macroglobulinaemia. Lancet Oncol 2003; 4: 679–685.

11

Treon SP, Xu L, Yang G, Zhou Y, Liu X, Cao Y et al. MYD88 L265P somatic mutation in Waldenstrom's macroglobulinemia. N Engl J Med 2012; 367: 826–833.

12

Poulain S, Roumier C, Decambron A, Renneville A, Herbaux C, Bertrand E et al. MYD88 L265P mutation in Waldenstrom macroglobulinemia. Blood 2013; 121: 4504–4511.

13

Gaudette BT, Iwakoshi NN, Boise LH . Bcl-xL protein protects from C/EBP homologous protein (CHOP)-dependent apoptosis during plasma cell differentiation. J Biol Chem 2014; 289: 23629–23640.

14

Gutierrez NC, Ocio EM, de Las Rivas J, Maiso P, Delgado M, Ferminan E et al. Gene expression profiling of B lymphocytes and plasma cells from Waldenstrom's macroglobulinemia: comparison with expression patterns of the same cell counterparts from chronic lymphocytic leukemia, multiple myeloma and normal individuals. Leukemia 2007; 21: 541–549.

15

Ditzel Santos D, Ho AW, Tournilhac O, Hatjiharissi E, Leleu X, Xu L et al. Establishment of BCWM.1 cell line for Waldenstrom's macroglobulinemia with productive in vivo engraftment in SCID-hu mice. Exp Hematol 2007; 35: 1366–1375.

16

Hodge LS, Novak AJ, Grote DM, Braggio E, Ketterling RP, Manske MK et al. Establishment and characterization of a novel Waldenstrom macroglobulinemia cell line, MWCL-1. Blood 2011; 117: e190–e197.

17

Chitta KS, Paulus A, Ailawadhi S, Foster BA, Moser MT, Starostik P et al. Development and characterization of a novel human Waldenstrom macroglobulinemia cell line: RPCI-WM1, Roswell Park Cancer Institute—Waldenstrom Macroglobulinemia 1. Leuk Lymphoma 2013; 54: 387–396.

18

Morales AA, Gutman D, Lee KP, Boise LH . BH3-only proteins Noxa, Bmf, and Bim are necessary for arsenic trioxide-induced cell death in myeloma. Blood 2008; 111: 5152–5162.

19

Oltersdorf T, Elmore SW, Shoemaker AR, Armstrong RC, Augeri DJ, Belli BA et al. An inhibitor of Bcl-2 family proteins induces regression of solid tumours. Nature 2005; 435: 677–681.

20

Roccaro AM, Sacco A, Chen C, Runnels J, Leleu X, Azab F et al. microRNA expression in the biology, prognosis, and therapy of Waldenstrom macroglobulinemia. Blood 2009; 113: 4391–4402.

21

Lewis BP, Burge CB, Bartel DP . Conserved seed pairing, often flanked by adenosines, indicates that thousands of human genes are microRNA targets. Cell 2005; 120: 15–20.

22

Kong W, He L, Coppola M, Guo J, Esposito NN, Coppola D et al. MicroRNA-155 regulates cell survival, growth, and chemosensitivity by targeting FOXO3a in breast cancer. J Biol Chem 2010; 285: 17869–17879.

23

Yamanaka Y, Tagawa H, Takahashi N, Watanabe A, Guo YM, Iwamoto K et al. Aberrant overexpression of microRNAs activate AKT signaling via down-regulation of tumor suppressors in natural killer-cell lymphoma/leukemia. Blood 2009; 114: 3265–3275.

24

Zhang Y, Roccaro AM, Rombaoa C, Flores L, Obad S, Fernandes SM et al. LNA-mediated anti-miR-155 silencing in low-grade B-cell lymphomas. Blood 2012; 120: 1678–1686.

25

Premkumar DR, Jane EP, DiDomenico JD, Vukmer NA, Agostino NR, Pollack IF . ABT-737 synergizes with bortezomib to induce apoptosis, mediated by Bid cleavage, Bax activation, and mitochondrial dysfunction in an Akt-dependent context in malignant human glioma cell lines. J Pharmacol Exp Ther 2012; 341: 859–872.

26

Gertz MA . Waldenstrom macroglobulinemia: 2013 update on diagnosis, risk stratification, and management. Am J Hematol 2013; 88: 703–711.

27

Treon SP, Tripsas CK, Meid K, Kanan S, Sheehy P, Chuma S et al. Carfilzomib, rituximab and dexamethasone (CaRD) is active and offers a neuropathy-sparing approach for proteasome-inhibitor based therapy in Waldenstrom's macroglobulinemia. Blood 2014; 124: 503–510.

28

Roccaro AM, Sacco A, Aujay M, Ngo HT, Azab AK, Azab F et al. Selective inhibition of chymotrypsin-like activity of the immunoproteasome and constitutive proteasome in Waldenstrom macroglobulinemia. Blood 2010; 115: 4051–4060.

29

Boise LH . Aiming at WM with both barrels blocked. Blood 2010; 115: 4007–4008.

30

Morales AA, Kurtoglu M, Matulis SM, Liu J, Siefker D, Gutman DM et al. Distribution of Bim determines Mcl-1 dependence or codependence with Bcl-xL/Bcl-2 in Mcl-1-expressing myeloma cells. Blood 2011; 118: 1329–1339.

31

Boise LH, Minn AJ, Noel PJ, June CH, Accavitti MA, Lindsten T et al. CD28 costimulation can promote T cell survival by enhancing the expression of Bcl-xL. Immunity 1995; 3: 87–98.
Acknowledgements
We thank Stephen Ansell and Kelvin Lee for cell lines and reagents. This work was supported by: R01 CA127910 and R01 CA129968 as well as funding from the TJ Martell Foundation (LHB), the Leukemia & Lymphoma Society (AAC), the International Waldenstrom Macroglobulinemia (AAC), and the Comité du Septentrion de la Ligue contre le Cancer (XL). LHB is a GRA Distinguished Cancer Scientist. ABT-737 and ABT-199 were a generous gift of Abbvie, (North Chicago, IL, USA).
Ethics declarations
Competing interests
The authors declare no conflict of interest.
Supplementary information