Abstract
Glioblastomas (GBMs) are resistant to current therapy protocols and identification of molecules that target these tumors is crucial. Interaction of secreted heat-shock protein 70 (Hsp70)–Hsp90-organizing protein (HOP) with cellular prion protein (PrPC) triggers a large number of trophic effects in the nervous system. We found that both PrPC and HOP are highly expressed in human GBM samples relative to non-tumoral tissue or astrocytoma grades I–III. High levels of PrPC and HOP were associated with greater GBM proliferation and lower patient survival. HOP–PrPC binding increased GBM proliferation in vitro via phosphatidylinositide 3-kinase and extracellular-signal-regulated kinase pathways, and a HOP peptide mimicking the PrPC binding site (HOP230–245) abrogates this effect. PrPC knockdown impaired tumor growth and increased survival of mice with tumors. In mice, intratumor delivery of HOP230–245 peptide impaired proliferation and promoted apoptosis of GBM cells. In addition, treatment with HOP230–245 peptide inhibited tumor growth, maintained cognitive performance and improved survival. Thus, together, the present results indicate that interfering with PrPC–HOP engagement is a promising approach for GBM therapy.
Relevant articles
Open Access articles citing this article.
Adriana Limone

,

Valentina Maggisano

…

Stefania Bulotta

Cellular and Molecular Life Sciences Open Access 15 July 2023

Alireza Mafi

,

Malihe Rezaee

…

Zatollah Asemi

Cell Communication and Signaling Open Access 09 February 2023

Behnam Mohammadi

,

Feizhi Song

…

Hermann Clemens Altmeppen

Cell and Tissue Research Open Access 27 January 2022
Access options
Subscribe to this journal
Receive 50 print issues and online access
$259.00 per year
only $5.18 per issue
Rent or buy this article
Prices vary by article type
from$1.95
to$39.95
Prices may be subject to local taxes which are calculated during checkout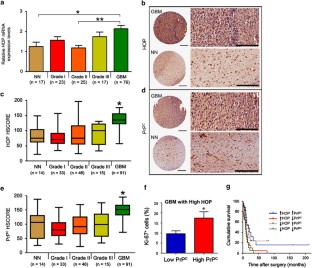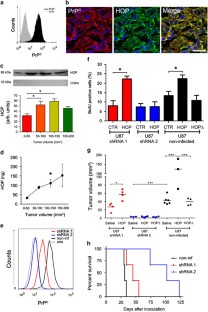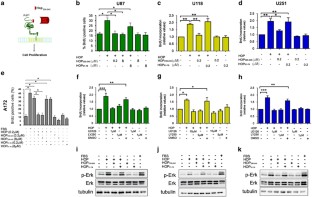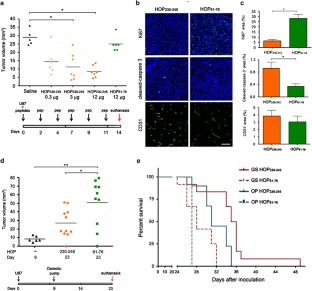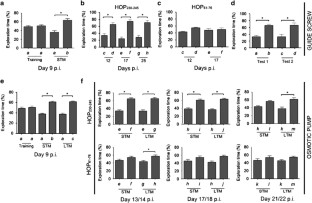 References
Furnari FB, Fenton T, Bachoo RM, Mukasa A, Stommel JM, Stegh A et al. Malignant astrocytic glioma: genetics, biology, and paths to treatment. Genes Dev 2007; 21: 2683–2710.

Ohgaki H, Kleihues P . The definition of primary and secondary glioblastoma. Clin Cancer Res 2013; 19: 764–772.

Westphal M, Lamszus K . The neurobiology of gliomas: from cell biology to the development of therapeutic approaches. Nat Rev Neurosci 2011; 12: 495–508.

Jones TS, Holland EC . Standard of care therapy for malignant glioma and its effect on tumor and stromal cells. Oncogene 2012; 31: 1995–2006.

Linden R, Martins VR, Prado MAM, Cammarota M, Izquierdo I, Brentani RR . Physiology of the prion protein. Physiol Rev 2008; 88: 673–728.

Martins VR, Beraldo FH, Hajj GN, Lopes MH, Lee KS, Prado MAM et al. Prion protein: orchestrating neurotrophic activities. Curr Issues Mol Biol 2010; 12: 63–86.

Erlich RB, Kahn SA, Lima FRS, Muras AG, Martins RAP, Linden R, et al. STI1 promotes glioma proliferation through MAPK and PI3K pathways. Glia 2007; 55: 1690–1698.

Maciejewski A, Prado MA, Choy W-Y . (1)H, (15)N and (13)C backbone resonance assignments of the TPR1 and TPR2A domains of mouse STI1. Biomol NMR Assign 2013; 7: 305–310.

Lee C-T, Graf C, Mayer FJ, Richter SM, Mayer MP . Dynamics of the regulation of Hsp90 by the co-chaperone Sti1. EMBO J 2012; 31: 1518–1528.

Muller P, Ruckova E, Halada P, Coates PJ, Hrstka R, Lane DP et al. C-terminal phosphorylation of Hsp70 and Hsp90 regulates alternate binding to co-chaperones CHIP and HOP to determine cellular protein folding/degradation balances. Oncogene 2013; 32: 3101–3110.

Hajj GNM, Arantes CP, Dias MVS, Roffé M, Costa-Silva B, Lopes MH et al. The unconventional secretion of stress-inducible protein 1 by a heterogeneous population of extracellular vesicles. Cell Mol Life Sci 2013; 70: 3211–3227.

Zanata SM, Lopes MH, Mercadante AF, Hajj GNM, Chiarini LB, Nomizo R et al. Stress-inducible protein 1 is a cell surface ligand for cellular prion that triggers neuroprotection. EMBO J 2002; 21: 3307–3316.

Lopes MH, Hajj GNM, Muras AG, Mancini GL, Castro RMPS, Ribeiro KCB et al. Interaction of cellular prion and stress-inducible protein 1 promotes neuritogenesis and neuroprotection by distinct signaling pathways. J Neurosci 2005; 25: 11330–11339.

Li C, Yu S, Nakamura F, Yin S, Xu J, Petrolla AA et al. Binding of pro-prion to filamin A disrupts cytoskeleton and correlates with poor prognosis in pancreatic cancer. J Clin Invest 2009; 119: 2725–2736.

Li C, Yu S, Nakamura F, Pentikainen OT, Singh N, Yin S et al. Pro-prion binds filamin A, facilitating its interaction with integrin 1, and contributes to melanomagenesis. J Biol Chem 2010; 285: 30328–30339.

Li Q-Q, Sun Y-P, Ruan C-P, Xu X-Y, Ge J-H, He J et al. Cellular prion protein promotes glucose uptake through the Fyn-HIF-2α-Glut1 pathway to support colorectal cancer cell survival. Cancer Sci 2011; 102: 400–406.

Pan Y . Cellular prion protein promotes invasion and metastasis of gastric cancer. FASEB J 2006; 20: 1886–1888.

Kubota H, Yamamoto S, Itoh E, Abe Y, Nakamura A, Izumi Y et al. Increased expression of co-chaperone HOP with HSP90 and HSC70 and complex formation in human colonic carcinoma. Cell Stress Chaperones 2010; 15: 1003–1011.

Ruckova E, Muller P, Nenutil R, Vojtesek B . Alterations of the Hsp70/Hsp90 chaperone and the HOP/CHIP co-chaperone system in cancer. Cell Mol Biol Lett 2012; 17: 446–458.

Walsh N, O'Donovan N, Kennedy S, Henry M, Meleady P, Clynes M et al. Identification of pancreatic cancer invasion-related proteins by proteomic analysis. Proteome Sci 2009; 7: 3.

Sun W, Xing B, Sun Y, Du X, Lu M, Hao C et al. Proteome analysis of hepatocellular carcinoma by two-dimensional difference gel electrophoresis: novel protein markers in hepatocellular carcinoma tissues. Mol Cell Proteom 2007; 6: 1798–1808.

Wang T-H, Chao AA-S, Tsai C-L, Chang C-L, Chen S-H, Lee Y-S et al. Stress-induced phosphoprotein 1 as a secreted biomarker for human ovarian cancer promotes cancer cell proliferation. Mol Cell Proteom 2010; 9: 1873–1884.

Sims JD, McCready J, Jay DG . Extracellular heat shock protein (Hsp)70 and Hsp90α assist in matrix metalloproteinase-2 activation and breast cancer cell migration and invasion. PLoS One 2011; 6: e18848.

Walsh N, Larkin A, Swan N, Conlon K, Dowling P, McDermott R et al. RNAi knockdown of Hop (Hsp70/Hsp90 organising protein) decreases invasion via MMP-2 down regulation. Cancer Lett 2011; 306: 180–189.

Eustace BK, Jay DG . Extracellular roles for the molecular chaperone, hsp90. Cell Cycle. 2004; 3: 1098–1100.

Tsai C-L, Tsai C-N, Lin C-Y, Chen H-W, Lee Y-S, Chao A et al. Secreted stress-induced phosphoprotein 1 activates the ALK2-SMAD signaling pathways and promotes cell proliferation of ovarian cancer cells. Cell Rep 2012; 2: 283–293.

Wasilewska-Sampaio AP, Santos TG, Lopes MH, Cammarota M, Martins VR . The growth of glioblastoma orthotopic xenografts in nude mice is directly correlated with impaired object recognition memory. Physiol Behav 2013; 123C: 55–61.

Caine C, Mehta MP, Laack NN, Gondi V . Cognitive function testing in adult brain tumor trials: lessons from a comprehensive review. Expert Rev Anticancer Ther 2012; 12: 655–667.

Sy M-S, Altekruse SF, Li C, Lynch CF, Goodman MT, Hernandez BY et al. Association of prion protein expression with pancreatic adenocarcinoma survival in the SEER residual tissue repository. Cancer Biomark 2012; 10: 251–258.

Antonacopoulou AG, Palli M, Marousi S, Dimitrakopoulos F-I, Kyriakopoulou U, Tsamandas AC et al. Prion protein expression and the M129V polymorphism of the PRNP gene in patients with colorectal cancer. Mol Carcinogen 2010; 49: 693–699.

Antonacopoulou AG, Grivas PD, Skarlas L, Kalofonos M, Scopa CD, Kalofonos HP . POLR2F, ATP6V0A1 and PRNP expression in colorectal cancer: new molecules with prognostic significance? Anticancer Res 2008; 28: 1221–1227.

Pimienta G, Herbert KM, Regan L . A compound that inhibits the HOP–Hsp90 complex formation and has unique killing effects in breast cancer cell lines. Mol Pharm 2011; 8: 2252–2261.

Horibe T, Kohno M, Haramoto M, Ohara K, Kawakami K . Designed hybrid TPR peptide targeting Hsp90 as a novel anticancer agent. J Transl Med 2011; 9: 8.

Horibe T, Torisawa A, Kohno M, Kawakami K . Molecular mechanism of cytotoxicity induced by Hsp90-targeted Antp-TPR hybrid peptide in glioblastoma cells. Mol Cancer 2012; 11: 59.

Lima FRS, Arantes CP, Muras AG, Nomizo R, Brentani RR, Martins VR . Cellular prion protein expression in astrocytes modulates neuronal survival and differentiation. J Neurochem 2007; 103: 2164–2176.

Barbieri G, Palumbo S, Gabrusiewicz K, Azzalin A, Marchesi N, Spedito A et al. Silencing of cellular prion protein (PrPC) expression by DNA-antisense oligonucleotides induces autophagy-dependent cell death in glioma cells. Autophagy 2011; 7: 840–853.

Yu G, Jiang L, Xu Y, Guo H, Liu H, Zhang Y et al. Silencing prion protein in MDA-MB-435 breast cancer cells leads to pleiotropic cellular responses to cytotoxic stimuli. PLoS One 2012; 7: e48146.

Meslin F, Conforti R, Mazouni C, Morel N, Tomasic G, Drusch F et al. Efficacy of adjuvant chemotherapy according to prion protein expression in patients with estrogen receptor-negative breast cancer. Ann Oncol 2007; 18: 1793–1798.

Willmer T, Contu L, Blatch GL, Edkins AL . Knockdown of Hop downregulates RhoC expression, and decreases pseudopodia formation and migration in cancer cell lines. Cancer Lett 2013; 328: 252–260.

Allhenn D, Boushehri MAS, Lamprecht A . Drug delivery strategies for the treatment of malignant gliomas. Int J Pharm 2012; 436: 299–310.

Quant EC, Wen PY . Novel medical therapeutics in glioblastomas, including targeted molecular therapies, current and future clinical trials. Neuroimaging Clin N Am 2010; 20: 425–448.

Joo KM, Kim J, Jin J, Kim M, Seol HJ, Muradov J et al. Patient-specific orthotopic glioblastoma xenograft models recapitulate the histopathology and biology of human glioblastomas in situ. Cell Rep 2013; 3: 260–273.

Santos TG, Silva IR, Costa-Silva B, Lepique AP, Martins VR, Lopes MH . Enhanced neural progenitor/stem cells self-renewal via the interaction of stress-inducible protein 1 with the prion protein. Stem Cells 2011; 29: 1126–1136.

Zhuang D, Liu Y, Mao Y, Gao L, Zhang H, Luan S et al. TMZ-induced PrPc/par-4 interaction promotes the survival of human glioma cells. Int J Cancer 2012; 130: 309–318.

Chen J, Li Y, Yu T-S, McKay RM, Burns DK, Kernie SG et al. A restricted cell population propagates glioblastoma growth after chemotherapy. Nature 2012; 488: 522–526.

Butowski N, Chang SM . Endpoints for clinical trials and revised assessment in neuro-oncology. Curr Opin Neurol 2012; 25: 780–785.

Coitinho AS, Lopes MH, Hajj GN, Rossato JI, Freitas AR, Castro CC et al. Short-term memory formation and long-term memory consolidation are enhanced by cellular prion association to stress-inducible protein 1. Neurobiol Dis 2007; 26: 282–290.

Gehring K, Sitskoorn MM, Aaronson NK, Taphoorn MJB . Interventions for cognitive deficits in adults with brain tumours. Lancet Neurol 2008; 7: 548–560.

Brown KR, Otasek D, Ali M, McGuffin MJ, Xie W, Devani B et al. NAViGaTOR: Network Analysis, Visualization and Graphing Toronto. Bioinformatics 2009; 25: 3327–3329.

Kononen J, Bubendorf L, Kallioniemi A, Bärlund M, Schraml P, Leighton S et al. Tissue microarrays for high-throughput molecular profiling of tumor specimens. Nat Med 1998; 4: 844–847.

Alvarenga AW, Coutinho-Camillo CM, Rodrigues BR, Rocha RM, Torres LFB, Martins VR et al. A comparison between manual and automated evaluations of tissue microarray patterns of protein expression. J Histochem Cytochem 2013; 61: 272–282.

Lal S, Lacroix M, Tofilon P, Fuller GN, Sawaya R, Lang FF . An implantable guide-screw system for brain tumor studies in small animals. J Neurosurg 2000; 92: 326–333.

Weissert R, Wallström E, Storch MK, Stefferl A, Lorentzen J, Lassmann H et al. MHC haplotype-dependent regulation of MOG-induced EAE in rats. J Clin Invest 1998; 102: 1265–1273.
Acknowledgements
This work was supported by Fundação de Amparo à Pesquisa do Estado de São Paulo (FAPESP 09/14027-2, 07/08410-2 and 04/12133-6) and Conselho Nacional de Desenvolvimento Científico e Tecnológico (CNPq). Fellowships from FAPESP (to TGS) (2009/51653-9), NGQ (2009/51751-0), BC-S (2008/55381-0), BRR (2010-13654-0, 2012/19019-0), APW-S (2010/20796-6), and from Coordenação de Aperfeiçoamento de Pessoal de Nível Superior (CAPES) (to APW-S) are gratefully acknowledged. We are thankful for Maria Del Mar Inda and Severino da Silva Ferreira for technical assistance. Drs Maria Dirlei Begnami, Victor Piana de Andrade and Martín Roffe contributed with helpful discussions. We thank the AC Camargo Biobank for providing the astrocytoma samples used in this study.
Ethics declarations
Competing interests
The authors declare no conflict of interest.
About this article
Cite this article
Lopes, M., Santos, T., Rodrigues, B. et al. Disruption of prion protein–HOP engagement impairs glioblastoma growth and cognitive decline and improves overall survival. Oncogene 34, 3305–3314 (2015). https://doi.org/10.1038/onc.2014.261
Received:

Revised:

Accepted:

Published:

Issue Date:

DOI: https://doi.org/10.1038/onc.2014.261