Abstract
Aberrant de novo methylation of DNA is considered an important mediator of tumorigenesis. To investigate the role of de novo DNA methyltransferase 3a (Dnmt3a) in intestinal tumor development, we analyzed the expression of Dnmt3a in murine colon crypts, murine colon adenomas and human colorectal cancer using RNA fluorescence in situ hybridization (FISH), quantitative PCR and immunostaining. Following conditional deletion of Dnmt3a in the colon of APC(Min/+) mice, we analyzed tumor numbers, genotype of macroadenomas and laser dissected microadenomas, global and regional DNA methylation and gene expression. Our results showed increased Dnmt3a expression in colon adenomas of APC(Min/+) mice and human colorectal cancer samples when compared with control tissue. Interestingly, in tumor tissue, RNA FISH analysis showed highest Dnmt3a expression in Lgr5-positive stem/progenitor cells. Deletion of Dnmt3a in APC(Min/+) mice reduced colon tumor numbers by ~40%. Remaining adenomas and microadenomas almost exclusively contained the non-recombined Dnmt3a allele; no tumors composed of the inactivated Dnmt3a allele were detected. DNA methylation was reduced at the Oct4, Nanog, Tff2 and Cdkn1c promoters and expression of the tumor-suppressor genes Tff2 and Cdkn1c was increased. In conclusion, our results show that Dnmt3a is predominantly expressed in the stem/progenitor cell compartment of tumors and that deletion of Dnmt3a inhibits the earliest stages of intestinal tumor development.
Relevant articles
Open Access articles citing this article.
Hao Zhou

,

Juan Felipe Beltrán

&

Ilana Lauren Brito

Genome Biology Open Access 04 March 2022

Jiangning Zhao

,

Huanrong Lin

&

Kunsong Huang

Molecular Neurobiology Open Access 08 October 2021

Xiaoxuan Xia

,

William Ka Kei Wu

…

Jun Yu

Microbiome Open Access 16 July 2020
Access options
Subscribe to Journal
Get full journal access for 1 year
$119.00
only $2.38 per issue
All prices are NET prices.
VAT will be added later in the checkout.
Tax calculation will be finalised during checkout.
Buy article
Get time limited or full article access on ReadCube.
$32.00
All prices are NET prices.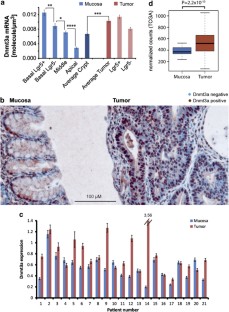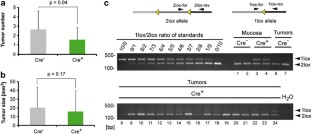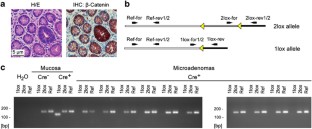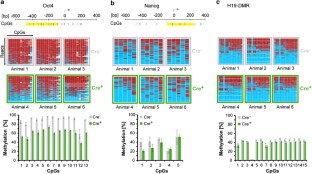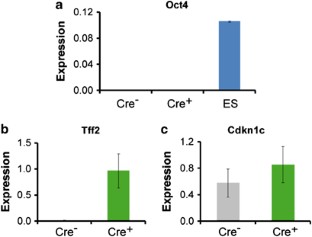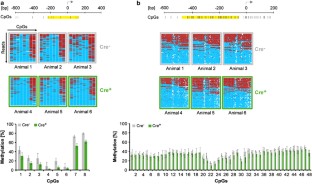 Accession codes
Accessions
Gene Expression Omnibus
References
Jones PA, Baylin SB . The fundamental role of epigenetic events in cancer. Nat Rev Genet 2002; 3: 415–428.

Okano M, Bell DW, Haber DA, Li E . DNA methyltransferases Dnmt3a and Dnmt3b are essential for de novo methylation and mammalian development. Cell 1999; 99: 247–257.

Hsieh C-L . In vivo activity of murine de novo methyltransferases, Dnmt3a and Dnmt3b. Mol Cell Biol., 1999; 19: 8211–8218.

Samuel MS, Suzuki H, Buchert M, Putoczki TL, Tebbutt NC, Lundgren-May T et al. Elevated Dnmt3a activity promotes polyposis in Apc(Min) mice by relaxing extracellular restraints on Wnt signaling. Gastroenterology 2009; 137: 902–913.

Linhart HG, Lin H, Yamada Y, Moran E, Steine EJ, Gokhale S et al. Dnmt3b promotes tumorigenesis in vivo by gene-specific de novo methylation and transcriptional silencing. Genes Dev 2007; 21: 3110–3122.

Ley TJ, Ding L, Walter MJ, McLellan MD, Lamprecht T, Larson DE et al. DNMT3A mutations in acute myeloid leukemia. New Engl J Med 2010; 363: 2424–2433.

Gao Q, Steine EJ, Barrasa MI, Hockemeyer D, Pawlak M, Fu D et al. Deletion of the de novo DNA methyltransferase Dnmt3a promotes lung tumor progression. Proc Natl Acad Sci USA 2011; 108: 18061–18066.

Nguyen S, Meletis K, Fu D, Jhaveri S, Jaenisch R . Ablation of de novo DNA methyltransferase Dnmt3a in the nervous system leads to neuromuscular defects and shortened lifespan. Dev Dyn 2007; 236: 1663–1676.

Saam JR, Gordon JI . Inducible gene knockouts in the small intestinal and colonic epithelium. J Biol Chem 1999; 274: 38071–38082.

Lin H, Yamada Y, Nguyen S, Linhart H, Jackson-Grusby L, Meissner A et al. Suppression of Intestinal Neoplasia by Deletion of Dnmt3b. Mol Cell Biol 2006; 26: 2976–2983.

Weis B, Schmidt J, Lyko F, Linhart H . Analysis of conditional gene deletion using probe based Real-Time PCR. BMC Biotechnol 2010; 10: 75.

Yamada Y, Mori H . Multistep carcinogenesis of the colon in ApcMin/+ mouse. Cancer Sci 2007; 98: 6–10.

Yang AS, Estecio MR, Doshi K, Kondo Y, Tajara EH, Issa JP . A simple method for estimating global DNA methylation using bisulfite PCR of repetitive DNA elements. Nucleic Acids Res 2004; 32: e38.

Li JY, Pu MT, Hirasawa R, Li BZ, Huang YN, Zeng R et al. Synergistic function of DNA methyltransferases Dnmt3a and Dnmt3b in the methylation of Oct4 and Nanog. Mol Cell Biol 2007; 27: 8748–8759.

Kaneda M, Okano M, Hata K, Sado T, Tsujimoto N, Li E et al. Essential role for de novo DNA methyltransferase Dnmt3a in paternal and maternal imprinting. Nature 2004; 429: 900–903.

Peterson AJ, Menheniott TR, O'Connor L, Walduck AK, Fox JG, Kawakami K et al. Helicobacter pylori infection promotes methylation and silencing of Trefoil Factor 2, leading to gastric tumor development in mice and humans. Gastroenterology 2010; 139: 2005–2017.

Katoh M . Trefoil factors and human gastric cancer (review). Int J Mol Med 2003; 12: 3–9.

Kavanagh E, Joseph B . The hallmarks of CDKN1C (p57, KIP2) in cancer. Biochimica et Biophysica Acta 2011; 1816: 50–56.

Matsuoka S, Edwards MC, Bai C, Parker S, Zhang P, Baldini A . et al. p57KIP2, a structurally distinct member of the p21CIP1 Cdk inhibitor family, is a candidate tumor suppressor gene. Genes Dev 1995; 9: 650–662.

Figliola R, Busanello A, Vaccarello G, Maione R . Regulation of p57KIP2 during muscle differentiation: role of Egr1, Sp1 and DNA hypomethylation. J Mol Biol 2008; 380: 265–277.

Jeong M, Sun D, Luo M, Huang Y, Challen GA, Rodriguez B et al. Large conserved domains of low DNA methylation maintained by Dnmt3a. Nat Genet 2014; 46: 17–23.

Hon GC, Rajagopal N, Shen Y, McCleary DF, Yue F, Dang MD et al. Epigenetic memory at embryonic enhancers identified in DNA methylation maps from adult mouse tissues. Nat Genet 2013; 45: 1198–1206.

Jones PA, Baylin SB . The epigenomics of cancer. Cell 2007; 128: 683–692.

Tang YA, Lin RK, Tsai YT, Hsu HS, Yang YC, Chen CY et al. MDM2 overexpression deregulates the transcriptional control of RB/E2F leading to DNA methyltransferase 3A overexpression in lung cancer. Clin Cancer Res 2012; 18: 4325–4333.

He S, Wang F, Yang L, Guo C, Wan R, Ke A et al. Expression of DNMT1 and DNMT3a are regulated by GLI1 in human pancreatic cancer. PLoS ONE 2011; 6: e27684.

Bai X, Song Z, Fu Y, Yu Z, Zhao L, Zhao H et al. Clinicopathological significance and prognostic value of DNA methyltransferase 1, 3a, and 3b expressions in sporadic epithelial ovarian cancer. PLoS ONE 2012; 7: e40024.

Luczak MW, Roszak A, Pawlik P, Kedzia H, Kedzia W, Malkowska-Walczak B et al. Transcriptional analysis of CXCR4, DNMT3A, DNMT3B and DNMT1 gene expression in primary advanced uterine cervical carcinoma. Int J Oncol 2012; 40: 860–866.

Rahman MM, Qian ZR, Wang EL, Yoshimoto K, Nakasono M, Sultana R et al. DNA methyltransferases 1, 3a, and 3b overexpression and clinical significance in gastroenteropancreatic neuroendocrine tumors. Hum Pathol 2010; 41: 1069–1078.

Qu Y, Mu G, Wu Y, Dai X, Zhou F, Xu X et al. Overexpression of DNA methyltransferases 1, 3a, and 3b significantly correlates with retinoblastoma tumorigenesis. Am J Clin Pathol 2010; 134: 826–834.

Hlady RA, Novakova S, Opavska J, Klinkebiel D, Peters SL, Bies J et al. Loss of Dnmt3b function upregulates the tumor modifier Ment and accelerates mouse lymphomagenesis. J Clin Invest 2012; 122: 163–177.

Raddatz G, Gao Q, Bender S, Jaenisch R, Lyko F . Dnmt3a protects active chromosome domains against cancer-associated hypomethylation. PLoS Genet 2012; 8: e1003146.

Fujimoto K, Beauchamp RD, Whitehead RH . Identification and isolation of candidate human colonic clonogenic cells based on cell surface integrin expression. Gastroenterology 2002; 123: 1941–1948.

Yamada Y, Jackson-Grusby L, Linhart H, Meissner A, Eden A, Lin H et al. Opposing effects of DNA hypomethylation on intestinal and liver carcinogenesis. Proc Natl Acad Sci USA 2005; 102: 13580–13585.

Steine EJ, Ehrich M, Bell GW, Raj A, Reddy S, van Oudenaarden A et al. Genes methylated by DNA methyltransferase 3b are similar in mouse intestine and human colon cancer. J Clin Invest 2011; 121: 1748–1752.

Raj A, van den Bogaard P, Rifkin SA, van Oudenaarden A, Tyagi S . Imaging individual mRNA molecules using multiple singly labeled probes. Nat Methods 2008; 5: 877–879.

Kinney SM, Chin HG, Vaisvila R, Bitinaite J, Zheng Y, Esteve PO et al. Tissue-specific distribution and dynamic changes of 5-hydroxymethylcytosine in mammalian genomes. J Biol Chem 2011; 286: 24685–24693.

Morey Kinney SR, Smiraglia DJ, James SR, Moser MT, Foster BA, Karpf AR . Stage-specific alterations of DNA methyltransferase expression, DNA hypermethylation, and DNA hypomethylation during prostate cancer progression in the transgenic adenocarcinoma of mouse prostate model. Mol Cancer Res 2008; 6: 1365–1374.

Karimi M, Johansson S, Stach D, Corcoran M, Grandér D, Schalling M et al. LUMA (LUminometric Methylation Assay)-A high throughput method to the analysis of genomic DNA methylation. Exp Cell Res 2006; 312: 1989–1995.
Acknowledgements
Support by the DKFZ Light Microscopy Facility is gratefully acknowledged. We also thank E Herpel and the tissue bank of the NCT Heidelberg for providing human tissue samples and for technical support in histology and immunohistochemistry. We also thank J Gutekunst for bioinformatical support and R Jaenisch for critical discussions. This study was supported by a graduate scholarship from the Helmholtz International Graduate School for Cancer Research (B Weis), a Burroughs-Wellcome Fund Career Award at the Scientific Interface (A Raj, H Maamar), a NIH Director's New Innovator award (1DP2OD008514–01 to A Raj) and the Lautenschläger foundation (HK Seitz).
Ethics declarations
Competing interests
The authors declare no conflict of interest.
About this article
Cite this article
Weis, B., Schmidt, J., Maamar, H. et al. Inhibition of intestinal tumor formation by deletion of the DNA methyltransferase 3a. Oncogene 34, 1822–1830 (2015). https://doi.org/10.1038/onc.2014.114
Received:

Revised:

Accepted:

Published:

Issue Date:

DOI: https://doi.org/10.1038/onc.2014.114