Abstract
Epithelial ovarian cancer (OvCa) is associated with high mortality and, as the majority (>75%) of women with OvCa have metastatic disease at the time of diagnosis, rates of survival have not changed appreciably over 30 years. A mechanistic understanding of OvCa initiation and progression is hindered by the complexity of genetic and/or environmental initiating events and lack of clarity regarding the cell(s) or tissue(s) of origin. Metastasis of OvCa involves direct extension or exfoliation of cells and cellular aggregates into the peritoneal cavity, survival of matrix-detached cells in a complex ascites fluid phase and subsequent adhesion to the mesothelium lining covering abdominal organs to establish secondary lesions containing host stromal and inflammatory components. Development of experimental models to recapitulate this unique mechanism of metastasis presents a remarkable scientific challenge, and many approaches used to study other solid tumors (for example, lung, colon and breast) are not transferable to OvCa research given the distinct metastasis pattern and unique tumor microenvironment (TME). This review will discuss recent progress in the development and refinement of experimental models to study OvCa. Novel cellular, three-dimensional organotypic, and ex vivo models are considered and the current in vivo models summarized. The review critically evaluates currently available genetic mouse models of OvCa, the emergence of xenopatients and the utility of the hen model to study OvCa prevention, tumorigenesis, metastasis and chemoresistance. As these new approaches more accurately recapitulate the complex TME, it is predicted that new opportunities for enhanced understanding of disease progression, metastasis and therapeutic response will emerge.
Relevant articles
Open Access articles citing this article.
Xi Zhang

,

Liqiong Wang

…

Vijay Pandey

Communications Medicine Open Access 02 July 2022

Fangfang Li

,

Chen Zhao

…

Yingwei Li

Cell Death & Disease Open Access 17 June 2022

Trevor G. Shepherd

&

Frederick A. Dick

Cell Division Open Access 23 March 2022
Access options
Subscribe to Journal
Get full journal access for 1 year
$119.00
only $2.38 per issue
All prices are NET prices.
VAT will be added later in the checkout.
Tax calculation will be finalised during checkout.
Buy article
Get time limited or full article access on ReadCube.
$32.00
All prices are NET prices.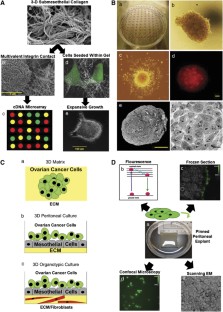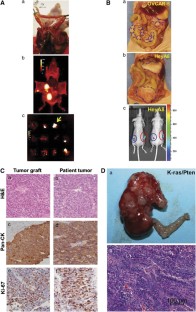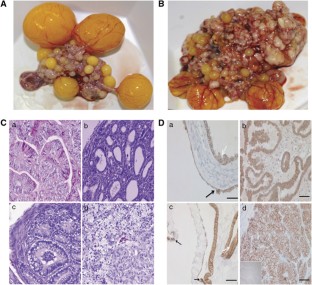 Abbreviations
ECM:

extracellular matrix

GEMM:

genetically engineered mouse model

IOSE:

immortalized ovarian surface epithelium

i.p.:

intraperitoneal

LSL:

Lox-STOP-Lox

MISRII:

Müllerian inhibiting substance II receptor

MOSE:

mouse ovarian surface epithelium

OvCa:

ovarian cancer

RB:

retinoblastoma

s.c.:

subcutaneous

TME:

tumor microenvironment
References
Landen CN, Birrer MJ, Sood AK . Early events in the pathogenesis of epithelial ovarian cancer. J Clin Oncol 2008; 26: 995–1005.

Barbolina MV, Moss NM, Westfall SD, Liu Y, Burkhalter RJ, Marga F et al. Microenvironmental regulation of ovarian cancer metastasis. Cancer Treat Res 2009; 149: 319–334.

Vaughn S, Coward JI, Bast RC, Berchuck A, Berek JS, Brenton JD et al. Rethinking ovarian cancer: Recommendations for improving outcomes. Nature Rev 2011; 11: 719–725.

The Cancer Genome Atlas Network, Integrated genomic analyses of ovarian carcinoma. Nature 2011; 474: 609–615.

Kuo KT, Mao TL, Jones S, Veras E, Ayhan A, Wang TL et al. Frequent activating mutations of PIK3CA in ovarian clear cell carcinoma. Am J Pathol 2009; 174: 1597–1601.

Wiegand KC, Shah S, Al-Agha OM, Zhao Y, Tse K, Zeng T et al. ARID1A mutations in endometriosis associated ovarian carcinomas. N Engl J Med 2010; 363: 1532–1543.

Auersperg N, Wong AST, Choi K, Kang S, Leung PCK . Ovarian surface epithelium: biology, endocrinology and pathology. Endocr Rev 2001; 22: 255–288.

Karst AM, Levanon K, Drapkin R . Modeling high-grade serous ovarian carcinogenesis from the fallopian tube. Proc Natl Acad Sci USA 2011; 108: 7547–7552.

Lengyel E . Ovarian cancer development and metastasis. Am J Pathol 2010; 177: 1053–1064.

Symowicz J, Adley BP, Gleason KJ, Johnson JJ, Ghosh S, Fishman DA et al. Engagement of collagen-binding integrins promotes matrix metalloproteinase-9-dependent E-cadherin ectodomain shedding in ovarian carcinoma cells. Cancer Res 2007; 67: 2030–2039.

Hudson LG, Zeineldin R, Stack MS . Phenotypic plasticity of neoplastic ovarian epithelium: Unique cadherin profiles in tumor progression. Clin Exp Metastasis 2008; 25: 643–655.

Sawada K, Mitra AK, Radjabi AR, Bhaskar V, Kistner E, Tretiakova MS et al. Loss of E-cadherin promotes ovarian cancer metastasis via alpha 5-integrin, which is a therapeutic target. Cancer Res 2008; 68: 2329–2339.

Burleson KM, Hansen LK, Skubitz AP . Ovarian carcinoma spheroids disaggregate on type I collagen and invade live human mesothelial cell monolayers. Clin Exp Metastasis 2004; 21: 685–697.

Burleson KM, Casey RC, Skubitz KM, Pambuccian SE, Oegema TR, Skubitz AP . Ovarian carcinoma ascites spheroids adhere to extracellular matrix components and mesothelial cell monolayers. Gynecol Oncol 2004; 93: 170–181.

Kenny HA, Nieman KM, Mitra AK, Lengyel E . The first line of intra-abdominal metastatic attack: Breaching the mesothelial cell layer. Cancer Discov 2011; 1: 100–102.

Mullen P, Ritchie A, Langsdon SP, Miller WR . Effect of matrigel on the tumorigenicity of human breast and ovarian carcinoma cell lines. Int J Cancer 1996; 67: 816–820.

Adams AT, Auersperg N . A cell line, ROSE 199, derived from normal rat ovarian surface epithelium. Exp Cell Biol 1985; 53: 181–188.

Barbolina MV, Adley BP, Ariztia EV, Liu Y, Stack MS . Microenvironmental regulation of membrane type 1 matrix metalloproteinase activity in ovarian carcinoma cells via collagen-induced EGR1 expression. J Biol Chem 2007; 282: 4924–4931.

Moss NM, Barbolina MV, Liu Y, Sun L, Munshi HG, Stack MS . Ovarian cancer cell detachment and multicellular aggregate formation are regulated by membrane type 1 matrix metalloproteinase: a potential role in i.p. metastatic dissemination. Cancer Res 2009; 69: 7121–7129.

Hotary KB, Allen EB, Brooks PC, Datta NS, Long MW, Weiss SJ . Membrane Type I Matrix Metalloproteinase usurps tumor growth control imposed by the three-dimensional extracellular matrix. Cell 2003; 114: 33–45.

Evans CL, Abu-Yousif AO, Park YJ, Klein OJ, Celli JP, Rizvi I et al. Killing hypoxic cell populations in a 3D tumor model with EtNBS-PDT. PLoS One 2011; 6: e23434.

Klein OJ, Bhayana B, Park YJ, Evans CL . In vitro optimization of EtNBS-PDT against hypoxic tumor environments with a tiered, high-content, 3D model optical screening platform. Mol Pharm 2012; 9: 3172–3182.

Allen HJ, Porter C, Gamarra M, Piver MS, Johnson EA . Isolation and morphologic characterization of human ovarian carcinoma cell clusters present in effusions. Exp Cell Biol 1987; 55: 194–208.

Lin RZ, Chang HY . Recent advances in three-dimensional multicellular spheroid culture for biomedical research. Biotechnol J 2008; 9-10: 1172–1184.

Gilead A, Neeman M . Dynamic remodeling of the vascular bed precedes tumor growth: MLS ovarian carcinoma spheroids implanted in nude mice. Neoplasia 1999; 1: 226–230.

Zietarska M, Maugard C, Filali-Mouhim A, Alam-Fahmy M, Tonin PN, Provencher D et al. Molecular description of a 3D in vitro model for the study of epithelial ovarian cancer (EOC). Mol Carcinog 2007; 46: 872–885.

Niedbala MJ, Crickard K, Bernacki R . Interactions of human ovarian tumor cells with human mesothelial cells grown on extracellular matrix. Exp Cell Res 1985; 160: 499–513.

Lessan K, Aguiar D, Oegema TR, Siebenson L, Skubitz AP . CD44 and β1 integrin mediate ovarian carcinoma cell adhesion to peritoneal mesothelial cells. Am J Pathol 1999; 154: 1525–1537.

Suzuki N, Aoki D, Tamada Y, Susumu N, Orikawa K, Tsukazaki K et al. HMOCC-1, a human monoclonal antibody that inhibits adhesion of ovarian cancer cells to human mesothelial cells. Gynecol Oncol 2004; 95: 290–298.

Kishikawa T, Sakamoto M, Ino Y, Kubushiro K, Nozawa S, Hirohashi S . Two distinct pattern of peritoneal involvement shown by in vitro and in vivo ovarian cancer dissemination models. Invasion Metastasis 1995; 15: 11–21.

Casey RC, Koch KA, Oegema TR, Skubitz KM, Pambuccian SE, Grindle SM et al. Establishment of an in vitro assay to measure the invasion of ovarian carcinoma cells through mesothelial cell monolayers. Clin Exp Metastasis 2003; 20: 343–356.

Rieppi M, Vergani V, Gatto C, Zanetta G, Allavena P, Taraboletti G et al. Mesothelial cells induce the motility of human ovarian carcinoma cells. Int J Cancer 1999; 80: 303–307.

Iwanicki M, Davidowitz RA, Ng MR, Besser A, Muranen T, Merritt M et al. Ovarian cancer spheroids use myosin-generated force to clear the mesothelium. Cancer Discov 2011; 2: OF1–OF7.

Jones LM, Gardner MJ, Catterall JB, Turner GA . Hyaluronic acid secreted by mesothelial cells: A natural barrier to ovarian cancer cell adhesion. Clin Exp Metastasis 1995; 13: 373–380.

Niedbala MJ, Crickard K, Bernacki R . In vitro degradation of extracellular matrix by human ovarian carcinoma cells. Clin Exp Metastasis 1987; 5: 181–197.

Sawada M, Shii J, Akedo H, Tanizawa O . An experimental model for ovarian tumor invasion of cultured mesothelial cell monolayer. Lab Invest 1994; 70: 333–338.

Kenny HA, Krausz T, Yamada SD, Lengyel E . Use of a novel 3D culture model to elucidate the role of mesothelial cells, fibroblasts and extra-cellular matrices on adhesion and invasion of ovarian cancer cells. Int J Cancer 2007; 121: 1463–1472.

Sawada K, Radjabi AR, Shinomiya N, Kistner E, Kenny HA, Salgia R et al. C-Met overexpression is a prognostic factor in ovarian cancer and an effective target for inhibition of peritoneal dissemination and invasion. Cancer Res 2007; 67: 1670–1680.

Kenny HA, Kaur S, Coussens LM, Lengyel E . The initial steps of ovarian cancer cell metastasis are mediated by MMP-2 cleavage of vitronectin and fibronectin. J Clin Invest 2008; 118: 1367–1379.

Ko SY, Barengo N, Ladanyi A, Lee JS, Lengyel E, Naora H . HOXA9 promotes ovarian cancer growth by stimulating cancer-associated fibroblasts. J Clin Invest 2012; 122: 3603–3617.

Kaur S, Kenny HA, Jagadeeswaran S, Zillhardt M, Montag AG, Kistner E et al. β3-integrin expression on tumor cells inhibits tumor progression, reduces metastasis, and is associated with a favorable prognosis in patients with ovarian cancer. Am J Pathol 2009; 175: 2184–2196.

Nieman KM, Kenny HA, Penicka CV, Ladanyi A, Buell-Gutbrod R, Zillhardt M et al. Adipocytes promote ovarian cancer metastasis and provide energy for rapid tumor growth. Nat Med 2011; 17: 1498–1503.

Khan SM, Funk HM, Thiolloy S, Lotan TL, Hickson JA, Prins G et al. In vitro metastatic colonization of human ovarian cancer cells to the omentum. Clin Exp Metastasis 2012; 27: 185–196.

King SM, Quartuccio S, Hillard TS, Inoue K, Burdette JE . Alginate hydrogels for three-dimensional organ culture of ovaries and oviducts. J Vis Exp 2011; 52: 1–6.

Jackson KS, Inoue K, Davis DA, Hillard TS, Burdette JE . Three-dimensional ovarian organ culture as a tool to study normal ovarian surface epithelial wound repair. Endocrinology 2009; 150: 3921–3926.

King SM, Hilliard TS, Wu LY, Jaffe RC, Fazleabas AT, Burdette JE . The impact of ovulation on fallopian tube epithelial cells: evaluating three hypotheses connecting ovulation and serous ovarian cancer. Endocr Relat Cancer 2011; 18: 627–642.

Hozel F, Simon WE, Albrecht M, Hansel M, Dietel M . Cell lines derived from human ovarian carcinomas: Growth stimulation by gonadotropic and steroid hormones. J Natl Cancer Inst 1983; 70: 839–845.

Buick RN, Pullano R, Trent JM . Comparative properties of five human ovarian adenocarcinoma cell lines. Cancer Res 1985; 45: 3668–3676.

Selby PJ, Thomas JM, Monaghan P, Sloane J, Peckham MJ . Human tumour xenografts established and serially transplanted in mice immunologically deprived by thymectomy, cytosine arobinoside and whole-body irradiation. Br J Cancer 1980; 41: 52–62.

Green JA, Vistica DT, Young RC, Hamilton TC, Ozols RF . Potentiation of melphalan cytotoxicity in human ovarian cancer cell lines by gluthatione depletion. Cancer Res 1984; 44: 5427–5431.

Karlan BY, Jones JC, Slamon DJ, Lagasse LD . Glucocorticoids stabilize HER-2/neu messenger RNA in human epithelial ovarian carcinoma cells. Gynecol Oncol 1994; 53: 70–77.

Duan Z, Feller AJ, Toh HC, Makastorsis T, Seiden MV . TRAG-3 a novel gene, isolated from a taxol-resistant ovarian carcinoma cell line. Gene 1999; 229: 75–81.

Landen CN, Goodman B, Katre AA, Steg AD, Nick AM, Stone RL et al. Targeting aldehyde dehydrogenase cancer stem cells in ovarian cancer. Mol Cancer Ther 2010; 9: 3186–3199.

Godwin AK, Meister A, O'Dwyer PJ, Huang CS, Hamilton TC, Anderson ME . High resistance to cisplatin in human ovarian cancer cell lines is associated with marked increase of glutathione synthesis. Proc Natl Acad Sci USA 1992; 89: 3070–3074.

Johnson SW, Swiggard PA, Handel LM, Brennan JM, Godwin AK, Ozols RF et al. Relationship between platinum-DNA adduct formation and removal and cisplatin cytotoxicity in cisplatin-sensitive and resistant human ovarian cancer cells. Cancer Res 1994; 54: 5911–5916.

Giannakakou P, Sackett D, Kang Y, Zhan Z, Buters J, Fojo T et al. Pacliaxel-resistant human ovarian cancer cells have mutant β-tubulins that exhibit impaired paclitaxel-driven polymerization. J Biol Chem 1997; 272: 17118–17125.

Andrews P, Murphy M, Howell SB . Differential potentiation of alkylating and platinating agent cytotoxicity in human ovarian carcinoma cells by gluthatione depletion. Cancer Res 1985; 45: 6250–6253.

Cheng L, Lu W, Kulkarni B, Pejovic T, Yan X, Chiang JH et al. Analysis of chemotherapy response programs in ovarian cancers by the next-generation sequencing technologies. Gynecol Oncol 2010; 117: 159–169.

Sunshine M, Varma S, Reinhold W, Pommier Y . CellMiner 2013, http://discover.nci.nih.gov/cellminer/home.do.

Yip KW, Ito E, Mao X, Au PY, Hedley DW, Mocanu JD et al. Potential use of alexidine dihydrochloride as an apoptosis-promoting anticancer agent. Mol Cancer Ther 2006; 5: 2234–2240.

Hu L, Hofman J, Holash J, Yancopoulos G, Sood AK, Jaffe RB . Vascular endothelial growth factor Trap combined with paclitaxel strikingly inhibits tumor and ascites, prolonging survival in a human ovarian cancer model. Clin Cancer Res 2005; 11: 6966–6972.

Hua W, Christianson T, Rougeot C, Rochefort H, Clinton GM . SKOV3 ovarian carcinoma cells have functional estrogen receptor but are growth resistant to estrogens and antiestrogens. J Steroid Biochem Mol Biol 1995; 55: 279–289.

Miyajima Y, Nakano R, Morimatsu M . Analysis of expression of matrix metalloproteinases-2 and -9 in hypopharyngeal squamous cell carcinoma by in situ hybridization. Ann Otol Rhinol Laryngol 1995; 104: 678–684.

Yu D, Wolf JK, Scanlon M, Price JE, Hung M-C . Enhanced c-erb B-2/neu expression in human ovarian cancer cells correlates with more severe malignancy that can be suppressed by E1A. Cancer Res 1992; 53: 891–898.

Shao M, Cao L, Shen C, Satpathy M, Chelladurai B, Bigsby RM et al. Epithelial-to-mesenchymal transition and ovarian tumor progression induced by tissue transglutaminase. Cancer Res 2009; 69: 9192–9201.

Bai F, Feng J, Cheng Y, Shi J, Yang R, Cui H . Analysis of gene expression patterns of ovarian cancer cell lines with different metastatic potentials. Int J Gynecol Cancer 2006; 16: 202–209.

Hu L, Hofmann J, Lu Y, Mills GB, Jaffe RB . Inhibition of phosphatidylinositol 3'-kinase increases efficacy of paclitaxel in in vitro and in vivo ovarian cancer models. Cancer Res 2002; 62: 1087–1092.

Camps J, Chang S, Hsu TC, Freeman MR, Hong S-J, Zhau H et al. Fibroblast-mediated acceleration of human epithelial tumor growth in vivo. Proc Natl Acad Sci USA 1990; 87: 75–79.

Lau DHM, Lewis AD, Ehsan MN, Sikic BI . Multifactorial mechanisms associated with broad cross-resistance of ovarian carcinoma cells selected by cyanomorpholino doxorubicin. Cancer Res 1991; 51: 5181–5187.

Provencher DM, Lounis H, Champoux L, Tetrault M, Manderson EN, Want JC et al. Characterization of four novel epithelial ovarian cancer cell lines. In Vitro Cell Dev Biol Anim 2000; 36: 357–361.

Gorai I, Nakazawa T, Miyagi E, Hirahara F, Nagashima Y, Minaguchi H . Establishment of two human ovarian clear cell adenocarcinoma lines from metastatic lesions with fifferent properties. Gynecol Oncol 1995; 57: 33–46.

Cheung HW, Cowley GS, Weir BA, Boehm JS, Rusin S, Scott JA et al. Systematic investigation of genetic vulnerabilities across cancer cell lines reveals lineage-specific dependencies in ovarian cancer. Proc Natl Acad Sci USA 2011; 108: 12372–12377.

Freedman RS, Pihl E, Kusyk C, Gallager HS, Rutledge F . Characterization of an ovarian carcinoma cell line. Cancer 1978; 42: 2352–2359.

Wilson AP, Dent M, Pejovic T, Hubbold L, Radford H . Characterisation of seven human ovarian tumour cell lines. Br J Cancer 1996; 74: 722–727.

van der Berg-Baker CA, Hagemeijer A, Franklin-Postma EM, Smit VT, Kuppen PJ, van Ravenswaay Claasen HH et al. Establishment and characterization of 7 ovarian carcinoma cell lines and one granulosa tumor cell line: growth features and cytogenetics. Int J Cancer 1993; 53: 613–620.

Romero IL, Gordon I, Jagadeeswaran S, Mui KL, Lee WS, Dinulescu D et al. Effects of oral contraceptives or a gonadotropin-releasing hormone agonist on ovarian carcinogenesis in genetically engineered mice. Cancer Prev Res 2009; 2: 792–799.

Dinulescu D, Ince TA, Quade B, Shafer S, Crowley D, Jacks T . Role of K-ras and PTEN in the development of mouse models of endometriosis and endometrioid ovarin cancer. Nat Med 2005; 11: 63–70.

Dunfield LD, Shepherd TG, Nachtigal M . Primary culture and mRNA analysis of human ovarian cells. Biol Proced Online 2002; 4: 55–61.

Shepherd TG, Theriault BL, Campbell EJ, Nachtigal M . Primary culture of ovarian surface epithelial cells and ascites-derived ovarian cancer cells from patients. Nat Protoc 2006; 1: 2643–2649.

Barker S, Casado E, Gomez-Navarro J, Xiang J, Arafat W, Mahasreshti P et al. An immunomagnetic-based method for the purification of ovarian cancer cells from patient-derived ascites. Gynecol Oncol 2001; 82: 57–63.

Clauss A, Ng V, Liu J, Piao H, Russo M, Vena N et al. Overexpression of elafin in ovarian carcinoma is driven by genomic gains and activation of the nuclear factor kB pathway and is associated with poor overall survival. Neoplasia 2010; 12: 161–172.

Ince TA, Richardson AL, Bell GW, Saitoh M, Godar S, Karnoub A et al. Transformation of different human epithelial cell types leads to distinct tumor phenotypes. Cancer Cell 2007; 12: 160–170.

Karst AM, Drapkin R . Primary culture and immortalization of human fallopian tube secretory epithelial cells. Nat Protoc 2012; 7: 1755–1764.

Kruk PA, Maines-Bandiera SL, Auersperg N . A simplified method to culture human ovarian surface epithelium. Lab Invest 1990; 63: 132–136.

Maines-Bandiera S, Kruk PA, Auersperg N . Simian virus 40-transformed human ovarian surface epithelial cells escape normal growth controls but retain morphogenetic responses to extracellular matrix. Am J Obstet Gynecol 1992; 167: 729–735.

Ando H, Kobayashi M, Toda S, Kikkawa F, Masahashi T, Mizutani S . Establishment of a ciliated epithelial cell line from human fallopian tube. Hum Reprod 2000; 15: 1597–1603.

Auersperg N, Pan J, Grove BD, Peterson T, Fisher J, Maines-Bandiera S et al. E-cadherin induces mesenchymal-to-epithelial transition in human ovarian surface epithelium. Proc Natl Acad Sci USA 1999; 96: 6249–6254.

Levanon K, Ng V, Piao H, Zhang Y, Chang M, Roh MH et al. Primary ex vivo cultures of human fallopian tube epithelium as a model for serous ovarian carcinogenesis. Oncogene 2010; 29: 1103–1113.

Runnebaum IB, Tong XW, Möbus V, Kieback DG, Rosenthal HE, Krell HW . P53 mutant His175 identified in a newly established fallopian tube carcinoma cell line secreting interleukin 6. FEBS Lett 1994; 353: 29–32.

Roby KF, Taylor CC, Sweetwood JP, Cheng Y, Pace JL, Tawfik O et al. Development of a syngeneic mouse model for events related to ovarian cancer. Carcinogenesis 2000; 21: 585–591.

Roberts PC, Mottillo EP, Baxa AC, Heng HH, Doyon-Reale N, Gregoire L et al. Sequential molecular and cellular events during neoplastic progression: A mouse syngeneic ovarian cancer model. Neoplasia 2005; 7: 944–956.

Greenaway J, Moorehead R, Shaw P, Petrik J . Epithelial-stromal interaction increases cell proliferation, survival and tumorigenicity in a mouse model of human epithelial ovarian cancer. Gynecol Oncol 2008; 108: 385–394.

Sloan Stakleff KD, Rouse AG, Ryan AP, Haller NA, von Gruenigen VE . A novel early-stage orthotopic model for ovarian cancer in the Fisher 344 rat. Int J Gynecol Cancer 2005; 15: 246–254.

Lorenzi PL, Reinhold W, Varma S, Hutchinson A, Pommier Y, Chanock SJ et al. DNA fingerprinting of the NCI-60 cell line panel. Mol Cancer Ther 2009; 8: 713–724.

Korch S, Spillman MA, Jacksion TA, Jacobsen BM, Murphy SK, Lessey BA et al. DNA profiling analysis of endometrial and ovarian cell lines reveals misidentification, redundancy and contamination. Gynecol Oncol 2012; 127: 241–248.

Bapat SA, Mali AM, Koppikar CB, Kurrey NK . Stem and progenitor-like cells contribute to the aggressive behavior of human epithelial ovarian cancer. Cancer Res 2005; 65: 3025–3029.

Zhang S, Balch C, Chan MW, Lai HC, Matei D, Schlinder JM et al. Identification and characterization of ovarian cancer-initiating cells from primary human tumors. Cancer Res 2008; 68: 4311–5507.

Szotek PP, Pieretti-Vanmarcke R, Masiakos PT, Dinulescu D, Connolly D, Foster R et al. Ovarian cancer side populations defines cells with stem cell-like characteristics and Mullerian inhibiting substance responsiveness. Proc Natl Acad Sci USA 2006; 103: 11154–11159.

McLean K, Gong Y, Choi Y, Deng N, Yang K, Bai S et al. Human ovarian carcinoma-associated mesenchymal stem cells regulate cancer stem cells and tumorigenesis via altered BMP production. J Clin Invest 2011; 121: 3206–3219.

Hu L, McArthur C, Jaffe RB . Ovarian cancer stem-like population cells are tumorigenic and chemoresistant. Br J Cancer 2010; 102: 1276–1283.

Stewart C, Behringer RR . Mouse oviduct development. Results Probl Cell Differ 2012; 55: 247–262.

Drew AF, Blick TJ, Lafleur MA, Tim ELM, Robbie MJ, Rice GE et al. Correlation of tumor-and stromal-derived MT1-MTP expression with progression of human ovarian tumors in SCID mice. Gynecol Oncol 2004; 95: 437–448.

Fu X, Hoffman RM . Human ovarian carcinoma metastatic models constructed in nude mice by orthotopic transplantation of histologically-intact patient specimens. Anticancer Res 1993; 25: 283–286.

Lee CH, Xue H, Sutcliffe M, Gout PW, Huntsman DG, Miller DM et al. Establishment of subrenal capsule xenografts of primary human ovarian tumors in SCID mice: potential models. Gynecol Oncol 2005; 96: 48–55.

Weroha SJ, Becker MA, Harrington SC, Goodman KM, Gonzalez SE, Al Hill M et al. Ovarian avatar models predictive of platinum response in ovarian cancer patients. Ann Oncol 2013; 24 (suppl 1): 16.

Xu Y, Silver DF, Yang NP, Oflazoglu E, Hempling RE, Piver MS et al. Characterization of human ovarian carcinomas in a SCID mouse model. Gynecol Oncol 1999; 72: 170.

Elkas JC, Baldwin RL, Pegram M, Tseng Y, Slamon DJ, Karlan BY . A human ovarian carcinoma murine xenograft model useful for preclinical trials. Gynecol Oncol 2002; 87: 200–206.

Khabele D, Fadare O, Liu AY, Wilson AJ, Wass E, Osteen K et al. An orthotopic model of platinum-sensitive high grade serous fallopian tube carcinoma. Int J Clin Exp Pathol 2012; 5: 37–45.

Garson K, Gamwell LF, Pitre EMG, Vanderhyden BC . Technical challenges and limitations of current mouse models of ovarian cancer. J Ovarian Res 2012; 5: 5–39.

Xing D, Orsulic S . A genetically defined mouse ovarian carcinoma model for the molecular characterization of pathway-targeted therapy and tumor resistance. Proc Natl Acad Sci USA 2005; 102: 6936–6941.

Kinross KM, Montgomery KG, Kleinschmidt M, Waring P, Ivetac I, Tikoo A et al. An activating Pik3ca mutation coupled with Pten loss is sufficient to initiate ovarian tumorigenesis in mice. J Clin Invest 2012; 122: 553–557.

Orsulic S, Li Y, Soslow RA, Vitale-Cross LA, Gutkind S, Varmus HE . Induction of ovarian cancer by defined multiple genetic changes in a mouse model system. Cancer Cell 2002; 1: 53–62.

Xing D, Orsulic S . A mouse model for the molecular characterization of BRCA1-associated ovarian carcinoma. Cancer Res 2006; 66: 8949–8953.

Connolly D, Bao R, Nikitin A, Stephens KC, Poole TW, Hua X et al. Female mice chimeric for expression of the simian virus 40 TAg under control of the MISIIR promoter develop epithelial ovarian cancer. Cancer Res 2003; 63: 1389–1397.

Laviolette LA, Garson K, Macdonald EA, Senterman MK, Courville K, Crane CA et al. 17 beta-estradiol accelerates tumor onset and decreases survival in a transgenic mouse model of ovarian cancer. Endocrinology 2010; 151: 929–938.

Mullany LK, Fan H-Y, Liu Z, White LD, Marshall A, Gunaratne P et al. Molecular and function characteristics of ovarian surface epithelial cells transformed by KrasG12D and loss of Pten in mouse model in vivo. Oncogene 2011; 30: 3522–3536.

Chodankar R, Kwang S, Sangiorgi F, Hong H, Yen HY, Deng C et al. Cell-nonautonomous induction of ovarian and uterine serous cystadenomas in mice lacking a functional Brca1 in ovarian granulosa cells. Curr Biol 2005; 15: 561–565.

Wu R, Hendrix-Lucas N, Kuick R, Zhai Y, Schwartz DR, Akyol A et al. Mouse model of human ovarian endometrioid adenocarcinoma based on somatic defects in the Wnt/β-catenin and PI3K/Pten signaling pathways. Cancer Cell 2007; 11: 321–333.

Wu R, Baker SJ, Hu TC, Norman KM, Fearon ER, Cho KR . Type I to type II ovarian carcinoma progression mutant Trp53 or PIK3CA confers a more aggressive tumor phenotype in a mouse model of ovarian cancer. Am J Pathol 2013; 182: 1391–1399.

Clark-Knowles K, Garson K, Jonkers J, Vanderhyden BC . Conditional inactivation of Brca1 in the mouse ovarian surface epithelium results in an increase in preneoplastic changes. Exp Cell Res 2007; 313: 133–145.

Quinn BA, Brake T, Hua X, Baxter-Jones K, Litwin S, Hedrick-Ellenson L et al. Induction of ovarian leiomosarcomas in mice by conditional inativation of Brca1 an p53. PLoS One 2009; 4: e8404.

Szabova L, Yin C, Bupp S, Guerin TM, Schlomer JJ, Householder DB et al. Perturbation of RB, p53 and Brca1 or Brca2 cooperate in inducing metastatic serous epithelial ovarian cancer. Cancer Res 2012; 72: 4141–4153.

Flesken-Nikitin A, Choi K, Eng JP, Shmidt EN, Nikitin A . Induction of carcinogenesis by concurrent inactivation of p53 and Rb1 in the mouse ovarian surface epithelium. Cancer Res 2003; 63: 3459–3463.

Piek JM, van Diest PJ, Zweemer RP, Jansen JW, Poort-Keesom RJ, Menko FH et al. Dysplastic changes in prophylactically removed fallopian tubes of women predisposed to developing ovarian cancer. J Pathol 2001; 195: 451–456.

Miyoshi I, Takahashi K, Kon Y, Okamura T, Mototani Y, Araki Y et al. Mouse transgenic for murine oviduct-specific glycoprotein promoter-driven simian virus 40 large t-antigen: tumor formation and it hormonal regulation. Mol Reproduc Dev 2013; 63: 168–176.

Kim J, Coffey DM, Creighton CJ, Yu Z, Hawkins SM, Matzuk MM . High-grade serous ovarian cancer arises from fallopian tube in a mouse model. Proc Natl Acad Sci USA 2012; 109: 3921–3926.

Kim J, Coffey D, Ma L, Matzuk MM A p53 activating mutation accelerates the progression of high-grade serous ovarian cancer arising in the fallopian tube. AACR Annual Meeting 2013; Abstract #328.

Perets R, Muto KW, Bijron JG, Kenneth CT, Poole BB, Crum CP et alA genetically engineered mouse model for high grade serous "ovarian" carcinoma arising in the fallopian tube. AACR Annual Meeting. 2012.

Johnson PA, Giles JR . The hen as a model of ovarian cancer. Nat Rev Cancer 2013; 13: 432–436.

Papasolomontos PA, Appleby EC, Mayor O . Pathological findings in condemned chickens: a survey of 1,000 carcases. Vet Rec 1969; 25: 459–464.

Awadhiya RP . Studies on the pathology of neoplasms in animals. I. Ovarian tumors in fowls. Indian Vet J 1967; 44: 917–920.

Fredrickson TN . Ovarian tumors of the hen. Environ Health Perspect 1987; 73: 35–51.

Eilati E, Pan L, Bahr JM, Hales DB . Age dependent increase in prostaglandin pathway coincides with onset of ovarian cancer in laying hens. Prostaglandins Leukot Essent Fatty Acids 2012; 87: 177–184.

Casagrande JT, Louie E, Pike MC, Roy S, Ross R, Henderson B . "Incessant ovulation" and ovarian cancer. Lancet 1979; 2: 170–173.

Barnes MN, Berry D, Straughn JM, Kirby H, Leath CA, Huh WK et al. A pilot study of ovarian cancer chemoprevention using medroxyprogesterone acetate in an avian model of spontaneous ovarian carcinogenesis. Gynecol Oncol 2002; 87: 57–63.

Giles JR, Elkin RG, Trevino LS, Urick ME, Ramachandran R, Johnson PA . The restricted ovulator chicken: a unique animal model for investigating the etiology of ovarian cancer. Int J Gynecol Cancer 2010; 20: 738–744.

Carver DK, Barnes HJ, Anderson KE, Petitte J, Whitaker R, Berchuck A et al. Reduction of ovarian and oviductal cancers in calorie-restricted laying chickens. Cancer Prev Res 2011; 4: 562–567.

Barua A, Bitterman P, Abramowicz JS, Dirks AL, Bahr JM, Hales DB et al. Histopathology of ovarian tumors in laying hens: a preclinical model of human ovarian cancer. Int J Gynecol Cancer 2009; 19: 531–539.

Ansenberger K, Zhuge Y, Lagman JA, Richards C, Barua A, Bahr JM et al. E-cadherin expression in ovarian cancer in the laying hen, Gallus domesticus, compared to human ovarian cancer. Gynecol Oncol 2009; 113: 362–369.

Alfonso M, Adochiles L, Hendrickson VM, Carver DK, Rodriguez GC, Barnes HJ . Metastatic adenocarcinoma in the lungs of older laying hens. Avian Dis 2005; 49: 430–432.

Hales DB, Zhuge Y, Lagman JA, Ansenberger K, Mahon C, Barua A et al. Cyclooxygenases expression and distibution in the normal ovary and their role in ovarian cancer in the domestic hen (Gallus domesticus). Endocrine 2013; 33: 235–244.

Hakim AA, Barry CP, Barnes HJ, Anderson KE, Petitte J, Whitaker R et al. Ovarian adenocarcinomas in the laying hen and women share similar alterations in p53, ras, and Her-2/neu. Cancer Prev Res 2013; 2: 114–121.

Jackson E, Anderson K, Ashwell C, Petitte J, Mozdziak PE . CA125 expression in spontaneous ovarian adenocarcinomas from laying hens. Gynecol Oncol 2007; 104: 192–198.

Rodriguez-Burford C, Barnes MN, Berry W, Partridge EE . Grizzle WE. Immunohistochemical expression of molecular markers in an avian model: a potential model for precliical evaluation of agents for ovarian cancer chemoprevention. Gynecol Oncol 2001; 81: 373–379.

Gonzalez Bosquet J, Peedicayil A, Maguire J, Chien J, Rodriguez GC, Whitaker R et al. Comparison of gene expression patterns between avian and human ovarian cancers. Gynecol Oncol 2011; 120: 256–264.

Trevino LS, Giles JR, Wang W, Urick ME, Johnson PA . Gene expression profiling reveals differentially expressed genes in ovarian cancer of the hen: Support for oviductal origin? Horm Cancer 2010; 1: 177–186.

Li X, Chiang HI, Zhu J, Dowd SE, Zhou H . Characterization of a newly developed chicken 44K agilent microarray. BMC Genomics 2008; 9: 60.

Burnside J, Neiman P, Tang J, Basom R, Talbot R, Aronszajn M et al. Development of a cDNA array for chicken gene expression analysis. BMC Genomics 2005; 6: 13.

Li Q, Li N, Hu X, Li J, Du Z, Chen L et al. Genome-wide mapping of DNA methylation in chicken. PLoS One 2011; 6: 5.

NCBI, Gallus gallus (chicken) genome 2013, http://www.ncbi.nlm.nih.gov/genome?term=gallus%20gallus.

Nature, Focus: Chicken Genome 2004, http://www.nature.com/nature/focus/chickengenome/.

Trevino LS, Buckles EL, Johnson PA . Oral contraceptives decrease the prevalence of ovarian cancer in the hen. Cancer Prev Res 2012; 5: 343–349.

Hoekstra A, Rodriguez GC . Chemoprevention of ovarian cancer. Cancer Treat Res 2009; 149: 3–34.

Urick ME, Giles JR, Johnson PA . Dietary aspirin decreases the stage of ovarian cancer in the hen. Gynecol Oncol 2009; 112: 166–170.

Ansenberger K, Richards C, Zhuge Y, Barua A, Bahr JM, Luborsky JL et al. Decreased severity of ovarian cancer and increased survival in hens fed a flaxseed-enriched diet for 1 year. Gynecol Oncol 2010; 117: 341–347.

Barua A, Bradaric MJ, Edassery SL, Sharma S, Rotmensch J, Bitterman P et alAnti-tumor antibodies and ovarian cancer in women and hens. AACR International Conference 2006.

Barua A, Edassery SL, Bitterman P, Abramowicz JS, Dirks AL, Bahr JM et al. Prevalence of antitumor antibodies in laying hen model of human ovarian cancer. Int J Gynecol Cancer 2009; 19: 500–507.

Giles JR, Shivaprasad HL, Johnson PA . Ovarian tumor expression of an oviductal protein in the hen: A model for human serous adenocarcinoma. Gynecol Oncol 2004; 95: 530–533.

Barua A, Bitterman P, Bahr JM, Bradaric MJ, Hales DB, Luborsky JL et al. Detection of tumor-associated neoangiogenesis by doppler ultrasonography during early-stage ovarian cancer in laying hens. J Ultrasound Med 2010; 29: 173–182.

Giles JR, Olson LM, Johnson PA . Characterization of ovarian surface epithelial cells from the hen: A unique model for ovarian cancer. Exp Biol Med 2006; 231: 1718–1725.

Kong BW, Carlson DF, Fahrenkrug SC, Foster DN . Application of the sleeping beauty transposon system to avian cells. Anim Genet 2008; 39: 180–186.

Tseng CL, Peng CL, Huang JY, Cheng JC, Lin FH . Gelatin nanoparticles as gene carriers for transgenic chicken applications. J Biomater Appl 2013; 27: 1055–1065.

Neve RM, Chin K, Fridlyand J, Yeh J, Baehner FL, Fevr T et al. A collection of breast cancer cell lines for the study of functionally distinct cancer subtypes. Cancer Cell 2006; 10: 515–527.
Acknowledgements
The impetus for this collaborative compendium arose from the inaugural workshop of the Indiana-Illinois End Epithelial Ovarian Cancer Coalition (IIEEOC) held at the University of Notre Dame in 2012. The IIEEOCC Workshop was supported by the Harper Cancer Research Institute, the University of Notre Dame, the Indiana University Simon Cancer Center and the Indiana Clinical and Translational Sciences Institute. We gratefully acknowledge the lively and informative discussion contributed by all workshop participants. Funding for our work was provided by National Institutes of Health/National Cancer Institute Research Grants, CA086984 (MSS), CA109545 (MSS); CA085289 (KN), CA085289 (KN), the Integrative Cancer Biology Program CA1113001 (KN) and an Ovarian Cancer Research Fund (PPD/IU) to KN and DM; NIH/National Center for Complementary and Alternative Medicine grants AT00408 and AT005295 (BH); National Cancer Institute Award CA133915 (BH); American Institute for Cancer Research 06-A043 (BH); NIH/NCI CA111882 (EL) and an Ovarian Cancer Research Fund (PPD/UofC) to EL. JB was supported by the Ovarian Cancer Research Fund Liz Tilberis Ovarian Cancer Scholar Award (L/T UIC), the American Cancer Society Illinois Division Research Grant RSG-12-230-01-TBG and the Department of Defense OC110133. PH was supported by the Mayo Clinic SPORE in Ovarian Cancer-CA136393.
Ethics declarations
Competing interests
The authors declare no conflict of interest.
About this article
Cite this article
Lengyel, E., Burdette, J., Kenny, H. et al. Epithelial ovarian cancer experimental models. Oncogene 33, 3619–3633 (2014). https://doi.org/10.1038/onc.2013.321
Received:

Revised:

Accepted:

Published:

Issue Date:

DOI: https://doi.org/10.1038/onc.2013.321
Keywords
ovarian cancer

mouse model

cell lines

hen

organotypic models

metastasis