Correction to: Oncogene (2014) 32, 0000-0000; doi:10.1038/onc.2013.96; published online 25 March 2013
The authors of this study have noticed an error in Figures 3C and 4C of their paper. In Figure 3C, the same image from MDA-MB-231 (Oct3/4) was erroneously used for Hey (Oct3/4). The correct image for Hey (Oct3/4) is now provided. In Figure 4C an image with faint yellow was erroneously used for RFP, the correct image for RFP together with matched eGFP and merged image is now provided. The errors were unintentionally introduced during figure preparation and do not in any way alter the results or conclusions of this study. The authors apologize that these errors were not detected earlier. The corrected Figures 3C and 4C are shown below.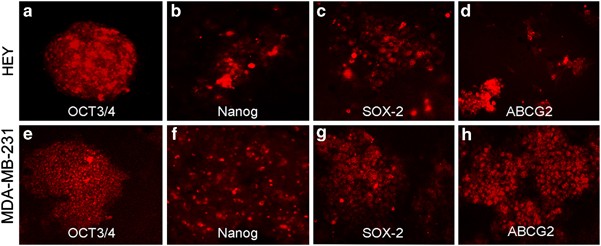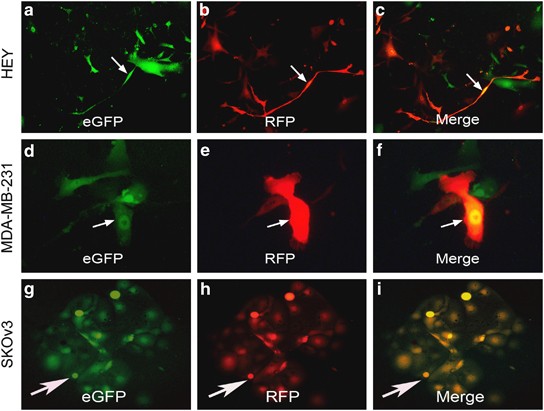 The rare fused SKOv3 cells showed clonal growth with mixed regular sized and large cancer cells.
Further reading
Fei Fei

,

Jie Qu

,

Kai Liu

,

Chunyuan Li

,

Xinlu Wang

,

Yuwei Li

&

Shiwu Zhang

Laboratory Investigation (2019)

Ugo Testa

,

Eleonora Petrucci

,

Luca Pasquini

,

Germana Castelli

&

Elvira Pelosi

Medicines (2018)

Aditya Parekh

,

Subhayan Das

,

Sheetal Parida

,

Chandan Kanta Das

,

Debabrata Dutta

,

Sanjaya K. Mallick

,

Pei-Hsun Wu

,

B. N. Prashanth Kumar

,

Rashmi Bharti

,

Goutam Dey

,

Kacoli Banerjee

,

Shashi Rajput

,

Deblina Bharadwaj

,

Ipsita Pal

,

Kaushik kumar Dey

,

Yetirajam Rajesh

,

Bikash Chandra Jena

,

Angana Biswas

,

Payel Banik

,

Anjan K. Pradhan

,

Swadesh K. Das

,

Amit Kumar Das

,

Santanu Dhara

,

Paul B. Fisher

,

Denis Wirtz

,

Gordon B. Mills

&

Mahitosh Mandal

Oncogene (2018)