Abstract
Persistent activation of the Abl tyrosine kinase in the BCR–ABL fusion protein is the major cause of chronic myeloid leukemia (CML). Among many other substrates BCR–ABL phosphorylates STAT5 and Src family kinases (SFK). Activated pSTAT5 is essential for initial transformation and maintenance of the disease. Cytokine-induced phosphorylation on tyrosine 694 typically leads to nuclear accumulation of pSTAT5 and target gene expression. We verified that in BCR–ABL-positive progenitor cells from a CML patient and in K562 cells pSTAT5 is cytoplasmic. However, upon ectopic expression of BCR–ABL p210 in non-myeloid cells, co-transfected STAT5A is phosphorylated on Y694 and localized in the nucleus arguing for an additional factor mediating cytoplasmic retention in CML cells. Expression of the SFK v-Src, Hck or Lyn together with STAT5A results in phosphorylation on Y694 and cytoplasmic retention. Upon coexpression of BCR–ABL and individual SFK the cytoplasmic retention of activated STAT5A mediated by v-Src and Hck but not Lyn is dominant over nuclear translocation induced by BCR–ABL. Cytoplasmic retention depends on the kinase activity of SFK and is mediated through the interaction of the SH2 domain of STAT5A with the SFK. Interestingly, nuclear accumulation of STAT5A as a result of activation by FLT3-ITD, an oncogene found in acute myeloid leukemia, cannot be prevented by coexpression of SFK. Importantly, inhibition of SFK in K562 cells restored nuclear accumulation of pSTAT5A, enhanced STAT5 target gene expression and increased colony formation. Thus, SFK mediate cytoplasmic retention of pSTAT5A in BCR–ABL-positive cells. Cytoplasmic pSTAT5A in CML cells might balance the controversial functions of STAT5 in cellular senescence and differentiation versus G1/S progression and survival.
Relevant articles
Open Access articles citing this article.
Dirk Fahrenkamp

,

Hildegard Schmitz-Van de Leur

…

Gerhard Müller-Newen

Cell Communication and Signaling Open Access 15 February 2015

A Berger

,

A Hoelbl-Kovacic

…

V Sexl

Leukemia Open Access 22 November 2013
Access options
Subscribe to this journal
Receive 50 print issues and online access
$259.00 per year
only $5.18 per issue
Rent or buy this article
Prices vary by article type
from$1.95
to$39.95
Prices may be subject to local taxes which are calculated during checkout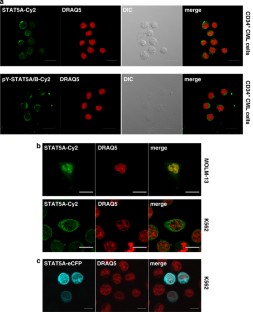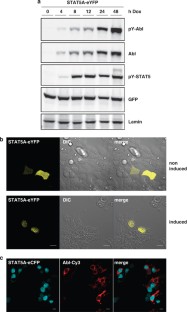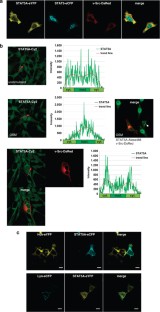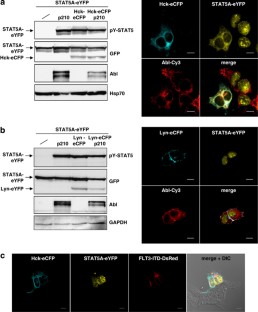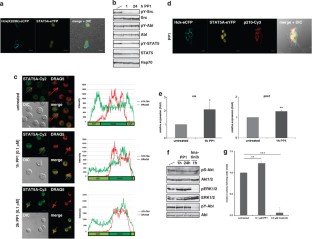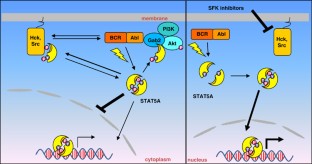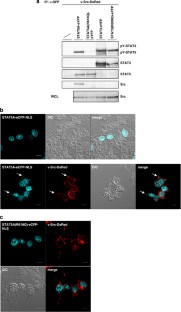 References
Deininger MW, Goldman JM, Melo JV . The molecular biology of chronic myeloid leukemia. Blood 2000; 96: 3343–3356.

Shuai K, Halpern J, ten Hoeve J, Rao X, Sawyers CL . Constitutive activation of STAT5 by the BCR-ABL oncogene in chronic myelogenous leukemia. Oncogene 1996; 13: 247–254.

Hoelbl A, Kovacic B, Kerenyi MA, Simma O, Warsch W, Cui Y et al. Clarifying the role of Stat5 in lymphoid development and Abelson-induced transformation. Blood 2006; 107: 4898–4906.

Hoelbl A, Schuster C, Kovacic B, Zhu B, Wickre M, Hoelzl MA et al. Stat5 is indispensable for the maintenance of bcr/abl-positive leukaemia. EMBO Mol Med 2010; 2: 98–110.

Walz C, Ahmed W, Lazarides K, Betancur M, Patel N, Hennighausen L et al. Essential role for Stat5a/b in myeloproliferative neoplasms induced by BCR-ABL1 and Jak2V617F in mice. Blood 2012; 119: 3550–3560.

Lim CP, Cao X . Structure, function, and regulation of STAT proteins. Mol Biosyst 2006; 2: 536–550.

Hennighausen L, Robinson GW . Interpretation of cytokine signaling through the transcription factors STAT5A and STAT5B. Genes Dev 2008; 22: 711–721.

Bunting KD . STAT5 signaling in normal and pathologic hematopoiesis. Front Biosci 2007; 12: 2807–2820.

Silva CM . Role of STATs as downstream signal transducers in Src family kinase-mediated tumorigenesis. Oncogene 2004; 23: 8017–8023.

Harir N, Pecquet C, Kerenyi M, Sonneck K, Kovacic B, Nyga R et al. Constitutive activation of Stat5 promotes its cytoplasmic localization and association with PI3-kinase in myeloid leukemias. Blood 2007; 109: 1678–1686.

Copland M, Hamilton A, Elrick LJ, Baird JW, Allan EK, Jordanides N et al. Dasatinib (BMS-354825) targets an earlier progenitor population than imatinib in primary CML but does not eliminate the quiescent fraction. Blood 2006; 107: 4532–4539.

Cortes JE, Kantarjian HM, Brummendorf TH, Kim DW, Turkina AG, Shen ZX et al. Safety and efficacy of bosutinib (SKI-606) in chronic phase Philadelphia chromosome-positive CML patients with resistance or intolerance to imatinib. Blood 2011; 118: 4567–4576.

Kazansky AV, Kabotyanski EB, Wyszomierski SL, Mancini MA, Rosen JM . Differential effects of prolactin and src/abl kinases on the nuclear translocation of STAT5B and STAT5A. J Biol Chem 1999; 274: 22484–22492.

Poincloux R, Cougoule C, Daubon T, Maridonneau-Parini I, Le Cabec V . Tyrosine-phosphorylated STAT5 accumulates on podosomes in Hck-transformed fibroblasts and chronic myeloid leukemia cells. J Cell Physiol 2007; 213: 212–220.

Carlesso N, Frank DA, Griffin JD . Tyrosyl phosphorylation and DNA binding activity of signal transducers and activators of transcription (STAT) proteins in hematopoietic cell lines transformed by Bcr/Abl. J Exp Med 1996; 183: 811–820.

Shiotsu Y, Kiyoi H, Ishikawa Y, Tanizaki R, Shimizu M, Umehara H et al. KW-2449, a novel multikinase inhibitor, suppresses the growth of leukemia cells with FLT3 mutations or T315I-mutated BCR/ABL translocation. Blood 2009; 114: 1607–1617.

Costa-Pereira AP, Tininini S, Strobl B, Alonzi T, Schlaak JF, Is'harc H et al. Mutational switch of an IL-6 response to an interferon-gamma-like response. Proc Natl Acad Sci USA 2002; 99: 8043–8047.

Danhauser-Riedl S, Warmuth M, Druker BJ, Emmerich B, Hallek M . Activation of Src kinases p53/56lyn and p59hck by p210bcr/abl in myeloid cells. Cancer Res 1996; 56: 3589–3596.

Hu Y, Liu Y, Pelletier S, Buchdunger E, Warmuth M, Fabbro D et al. Requirement of Src kinases Lyn, Hck and Fgr for BCR-ABL1-induced B-lymphoblastic leukemia but not chronic myeloid leukemia. Nat Genet 2004; 36: 453–461.

Ozawa Y, Williams AH, Estes ML, Matsushita N, Boschelli F, Jove R et al. Src family kinases promote AML cell survival through activation of signal transducers and activators of transcription (STAT). Leuk Res 2008; 32: 893–903.

Tatton L, Morley GM, Chopra R, Khwaja A . The Src-selective kinase inhibitor PP1 also inhibits Kit and Bcr-Abl tyrosine kinases. J Biol Chem 2003; 278: 4847–4853.

Okutani Y, Kitanaka A, Tanaka T, Kamano H, Ohnishi H, Kubota Y et al. Src directly tyrosine-phosphorylates STAT5 on its activation site and is involved in erythropoietin-induced signaling pathway. Oncogene 2001; 20: 6643–6650.

Yu CL, Meyer DJ, Campbell GS, Larner AC, Carter-Su C, Schwartz J et al. Enhanced DNA-binding activity of a Stat3-related protein in cells transformed by the Src oncoprotein. Science 1995; 269: 81–83.

Heltemes-Harris LM, Willette MJ, Vang KB, Farrar MA . The role of STAT5 in the development, function, and transformation of B and T lymphocytes. Ann NY Acad Sci 2011; 1217: 18–31.

Kotecha N, Flores NJ, Irish JM, Simonds EF, Sakai DS, Archambeault S et al. Single-cell profiling identifies aberrant STAT5 activation in myeloid malignancies with specific clinical and biologic correlates. Cancer Cell 2008; 14: 335–343.

Baumgartner C, Cerny-Reiterer S, Sonneck K, Mayerhofer M, Gleixner KV, Fritz R et al. Expression of activated STAT5 in neoplastic mast cells in systemic mastocytosis: subcellular distribution and role of the transforming oncoprotein KIT D816V. Am J Pathol 2009; 175: 2416–2429.

Li G, Miskimen KL, Wang Z, Xie XY, Tse W, Gouilleux F et al. Effective targeting of STAT5-mediated survival in myeloproliferative neoplasms using ABT-737 combined with rapamycin. Leukemia 2010; 24: 1397–1405.

Herrmann A, Vogt M, Mönnigmann M, Clahsen T, Sommer U, Haan S et al. Nucleocytoplasmic shuttling of persistently activated STAT3. J Cell Sci 2007; 120: 3249–3261.

Li S . Src kinases as targets for B cell acute lymphoblastic leukaemia therapy. Expert Opin Ther Targets 2005; 9: 329–341.

Bunting KD, Xie XY, Warshawsky I, Hsi ED . Cytoplasmic localization of phosphorylated STAT5 in human acute myeloid leukemia is inversely correlated with Flt3-ITD. Blood 2007; 110: 2775–2776.

Choudhary C, Olsen JV, Brandts C, Cox J, Reddy PN, Bohmer FD et al. Mislocalized activation of oncogenic RTKs switches downstream signaling outcomes. Mol Cell 2009; 36: 326–339.

Schmidt-Arras D, Bohmer SA, Koch S, Muller JP, Blei L, Cornils H et al. Anchoring of FLT3 in the endoplasmic reticulum alters signaling quality. Blood 2009; 113: 3568–3576.

Hanke JH, Gardner JP, Dow RL, Changelian PS, Brissette WH, Weringer EJ et al. Discovery of a novel, potent, and Src family-selective tyrosine kinase inhibitor. Study of Lck- and FynT-dependent T cell activation. J Biol Chem 1996; 271: 695–701.

Liu Y, Bishop A, Witucki L, Kraybill B, Shimizu E, Tsien J et al. Structural basis for selective inhibition of Src family kinases by PP1. Chem Biol 1999; 6: 671–678.

Warmuth M, Simon N, Mitina O, Mathes R, Fabbro D, Manley PW et al. Dual-specific Src and Abl kinase inhibitors, PP1 and CGP76030, inhibit growth and survival of cells expressing imatinib mesylate-resistant Bcr-Abl kinases. Blood 2003; 101: 664–672.

Klejman A, Schreiner SJ, Nieborowska-Skorska M, Slupianek A, Wilson M, Smithgall TE et al. The Src family kinase Hck couples BCR/ABL to STAT5 activation in myeloid leukemia cells. EMBO J 2002; 21: 5766–5774.

Ferbeyre G, Moriggl R . The role of Stat5 transcription factors as tumor suppressors or oncogenes. Biochim Biophys Acta 2011; 1815: 104–114.

Nosaka T, Kawashima T, Misawa K, Ikuta K, Mui AL, Kitamura T . STAT5 as a molecular regulator of proliferation, differentiation and apoptosis in hematopoietic cells. EMBO J 1999; 18: 4754–4765.

Li G, Wang Z, Miskimen KL, Zhang Y, Tse W, Bunting KD . Gab2 promotes hematopoietic stem cell maintenance and self-renewal synergistically with STAT5. PLoS One 2010; 5: e9152.

Lilly M, Kraft A . Enforced expression of the Mr 33 000 Pim-1 kinase enhances factor-independent survival and inhibits apoptosis in murine myeloid cells. Cancer Res 1997; 57: 5348–5355.

Lilly M, Sandholm J, Cooper JJ, Koskinen PJ, Kraft A . The PIM-1 serine kinase prolongs survival and inhibits apoptosis-related mitochondrial dysfunction in part through a bcl-2-dependent pathway. Oncogene 1999; 18: 4022–4031.

Mallette FA, Moiseeva O, Calabrese V, Mao B, Gaumont-Leclerc MF, Ferbeyre G . Transcriptome analysis and tumor suppressor requirements of STAT5-induced senescence. Ann NY Acad Sci 2010; 1197: 142–151.

Schenone S, Brullo C, Musumeci F, Botta M . Novel dual Src/Abl inhibitors for hematologic and solid malignancies. Expert Opin Investig Drugs 2010; 19: 931–945.

Ziegler P, Manz MG . Mouse models for human hemato-lymphopoiesis. Curr Protoc Toxicol 2007, Chapter 2: Unit2 13.

Vogt M, Domoszlai T, Kleshchanok D, Lehmann S, Schmitt A, Poli V et al. The role of the N-terminal domain in dimerization and nucleocytoplasmic shuttling of latent STAT3. J Cell Sci 2011; 124: 900–909.

Meyn MA, Wilson MB, Abdi FA, Fahey N, Schiavone AP, Wu J et al. Src family kinases phosphorylate the Bcr-Abl SH3-SH2 region and modulate Bcr-Abl transforming activity. J Biol Chem 2006; 281: 30907–30916.

Stanglmaier M, Warmuth M, Kleinlein I, Reis S, Hallek M . The interaction of the Bcr-Abl tyrosine kinase with the Src kinase Hck is mediated by multiple binding domains. Leukemia 2003; 17: 283–289.

Nyga R, Pecquet C, Harir N, Gu H, Dhennin-Duthille I, Regnier A et al. Activated STAT5 proteins induce activation of the PI 3-kinase/Akt and Ras/MAPK pathways via the Gab2 scaffolding adapter. Biochem J 2005; 390: 359–366.
Acknowledgements
The research project was supported by grants from the Deutsche Forschungsgemeinschaft (DFG, SFB 542, projects B12 and Z1 to GMN), the Austrian Science Funds (FWF, SFB F28 to RM) and the core facility confocal microscopy of the IZKF Aachen (Interdisciplinary Center for Clinical Research within the Faculty of Medicine at RWTH Aachen University). We would like to thank Frank-D Böhmer, Tim Brümmendorf, Michael Huber, Isabelle Maridonneau-Parini, Fred Schaper and Veronika Sexl for their critical discussion and helping us with plasmid constructs.
Ethics declarations
Competing interests
The authors declare no conflict of interest.
About this article
Cite this article
Chatain, N., Ziegler, P., Fahrenkamp, D. et al. Src family kinases mediate cytoplasmic retention of activated STAT5 in BCR–ABL-positive cells. Oncogene 32, 3587–3597 (2013). https://doi.org/10.1038/onc.2012.369
Received:

Revised:

Accepted:

Published:

Issue Date:

DOI: https://doi.org/10.1038/onc.2012.369
Keywords
CML

BCR–ABL

STAT5

Src

inhibitors